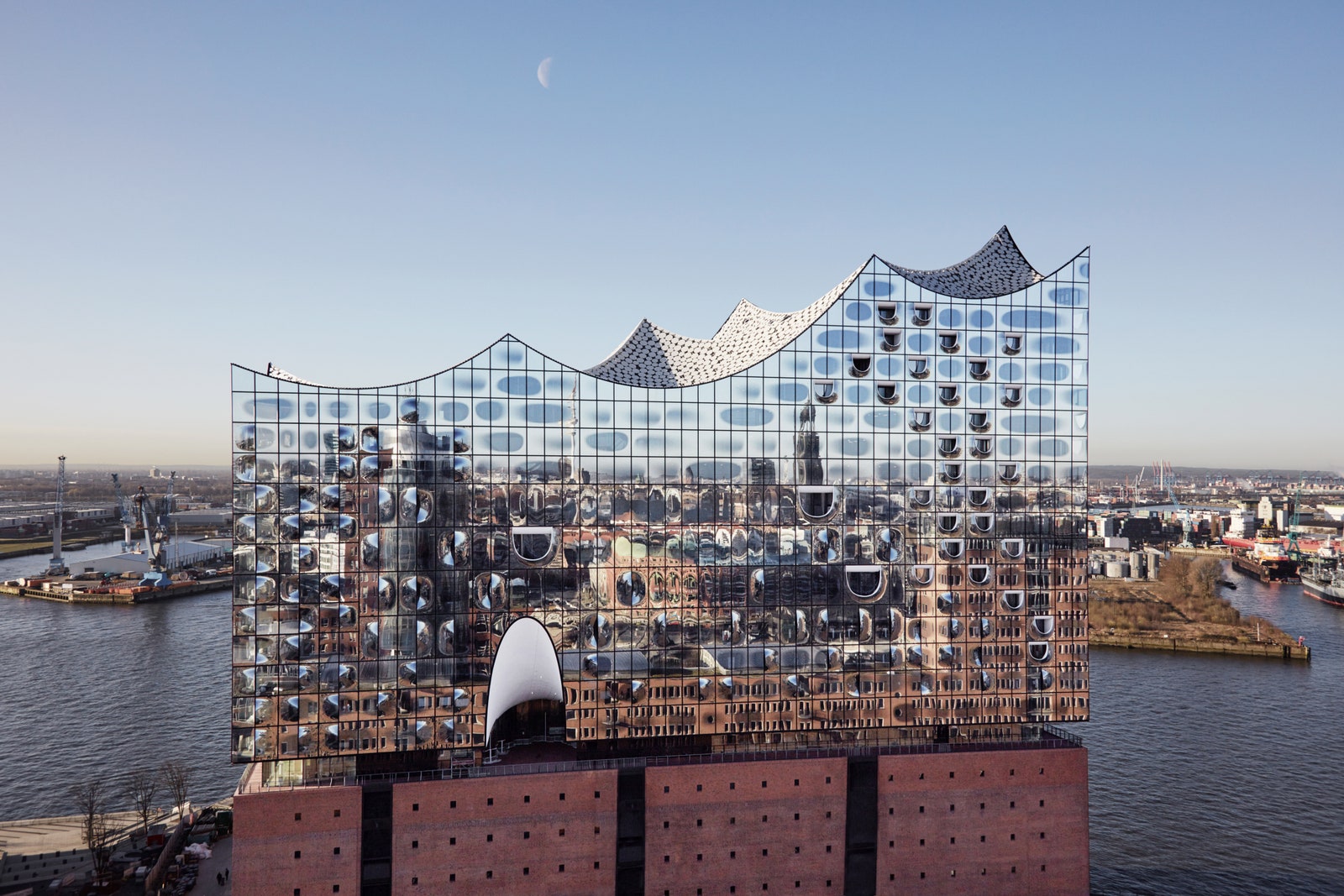 As Jean Nouvel rightly said, "Each New Situation Requires a New Architecture", Parametric is the future, it truly is – The possible refinement of the design processes powered by digital processes has led to a rethinking of an engineer's or designer's approach to various application areas. Prototyping in architecture, parametric modelling software, and designing have all seen exquisite approaches in recent years that have come to be known as 'Parametric Design.'
In the field of architecture and design, the phrase 'What's old is new again' holds a valuable place. Today's breakthrough designs, however, defy convention. Where the conventional styles thrived on – straight lines, acute angles, and sharp corners, Parametric architecture is on free-form architectural ideas and concepts. Each structure owns its individuality and character defined by sweeping lines, irregular shapes and curves.
The development of a digital model consisting of a set of pre-programmed guidelines or algorithms described as parameters is known as 'Parametric Modelling'. Rather than being manually edited – the model or components are generated by internal computation and logic arguments.
Parametric modelling software isn't a new concept for architecture or design. Neither did the PC invent parametric architecture, nor did it redefine engineering; it did, however, provide a vital tool that has subsequently enabled designers to plan and construct innovative structures under increasingly complicated subjective and quantitative constraints.
Let's look at some of the astounding works and structures that could have been impossible to create with the absence of parametric modelling software. Here are our Top 8 picks from some of the finest works in the world of computation.
Learn more about parametric and computational design from pioneers at the CD NEXT conference series:
1. TERA, Upstate New York by AI SpaceFactory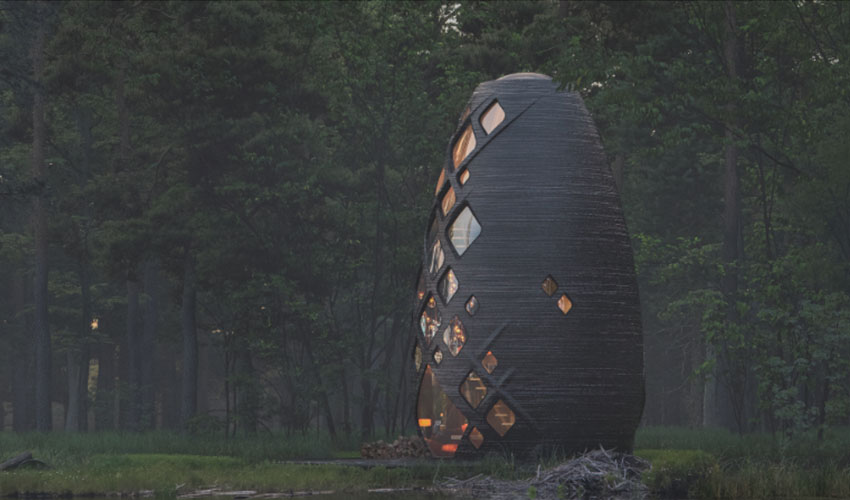 Building Type: Spacefactory's Earth Habitat
Being light years ahead of every known kind of construction, TERA by AI SpaceFactory is the world's most technologically advanced and environmentally friendly structure. Built with the award-winning technology of NASA, the exterior layer of the shell of TERA is 3D printed with recyclable and renewable materials in order to reduce environmental impact and at the same time maintain comfort and performance.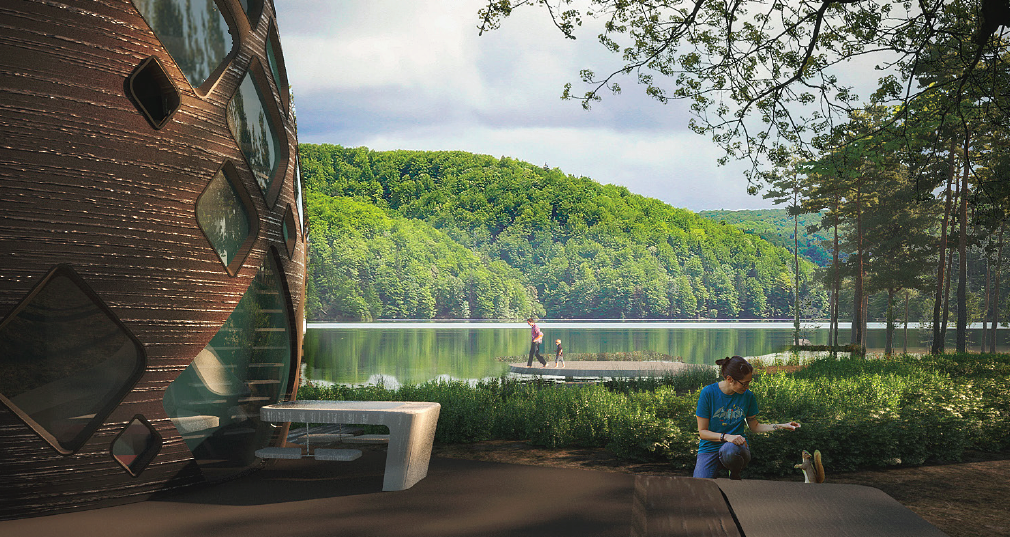 This building provides a more straightforward, long-term solution for a building in this world while also developing systems for existing on another planet. TERA was constructed out of compostable materials with the help of 3D printing and parametric modelling software which was designed for the sustenance on Mars. a material developed from crops like corn and sugarcane – Biopolymer Basalt Composite was tested by NASA to get a confirmation of the material being 50 per cent more robust than concrete. With the use of natural materials and fun decor, TERA is a luxuriously minimalist design.
Learn more: AI SpaceFactory – Sustenance through Sustainability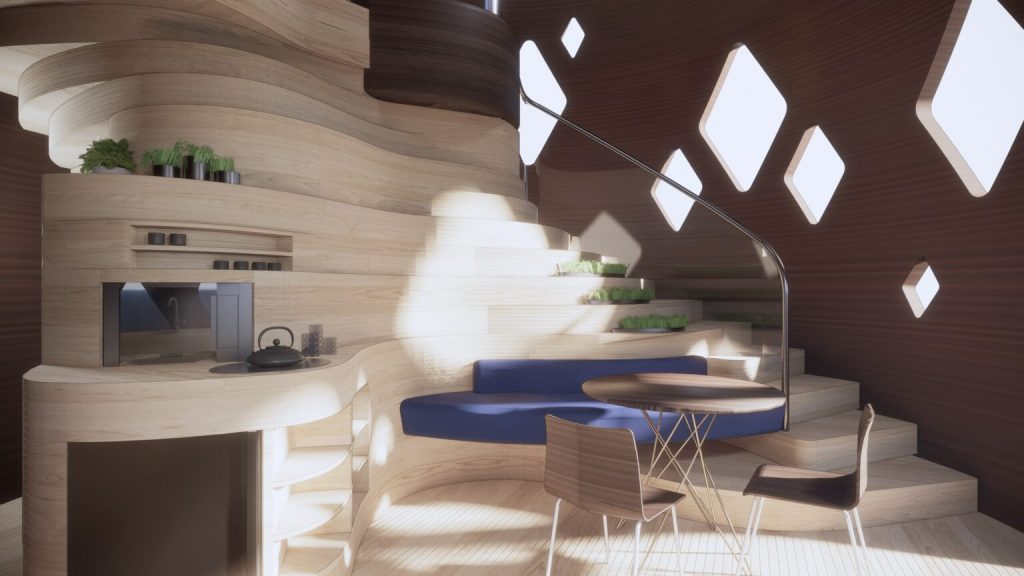 2. The Yas Hotel, Abu Dhabi by Asymptote Architects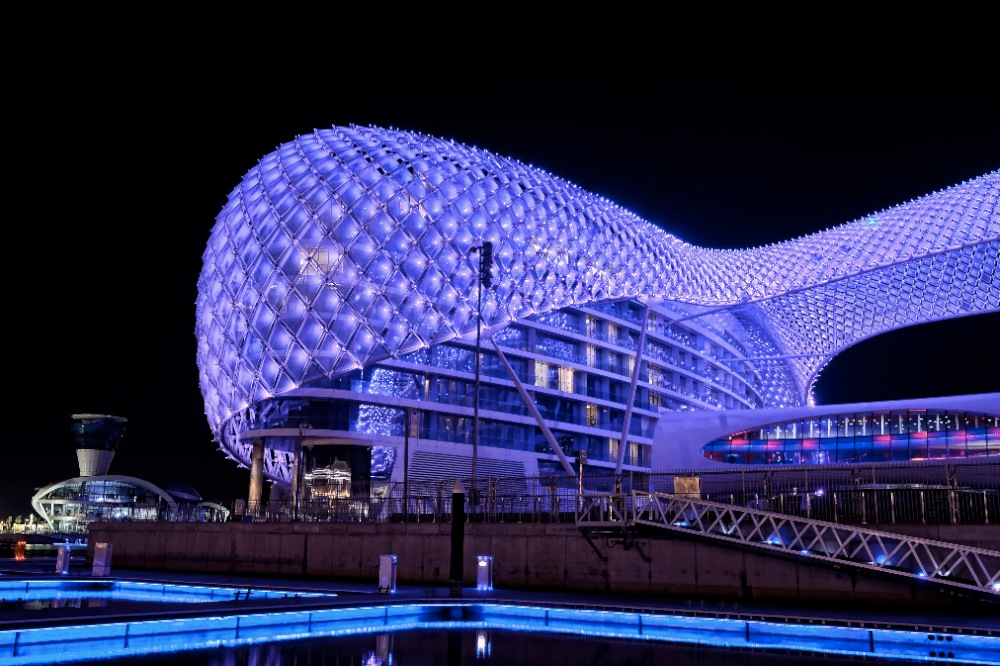 Building Type: Hospitality
The Yas Hotel in Abu Dhabi, United Arab Emirates, by Asymptote Architects is utterly sci-fi. With a weblike shading structure that masks the hotel's two 10-story elliptical towers, the hotel opted for a cutting edge technology and futuristic form. 
The hotel accommodates 500 rooms on a 900,000 square feet land sits on the edge of Yas Marina Formula One race circuit, with a steel bridge knitting the two towers together. The steel and glass latticework on the exteriors, also known as the grid shell, was generated in order to recreate speed, sleek form, and the dynamic energy Formula One racing beholds.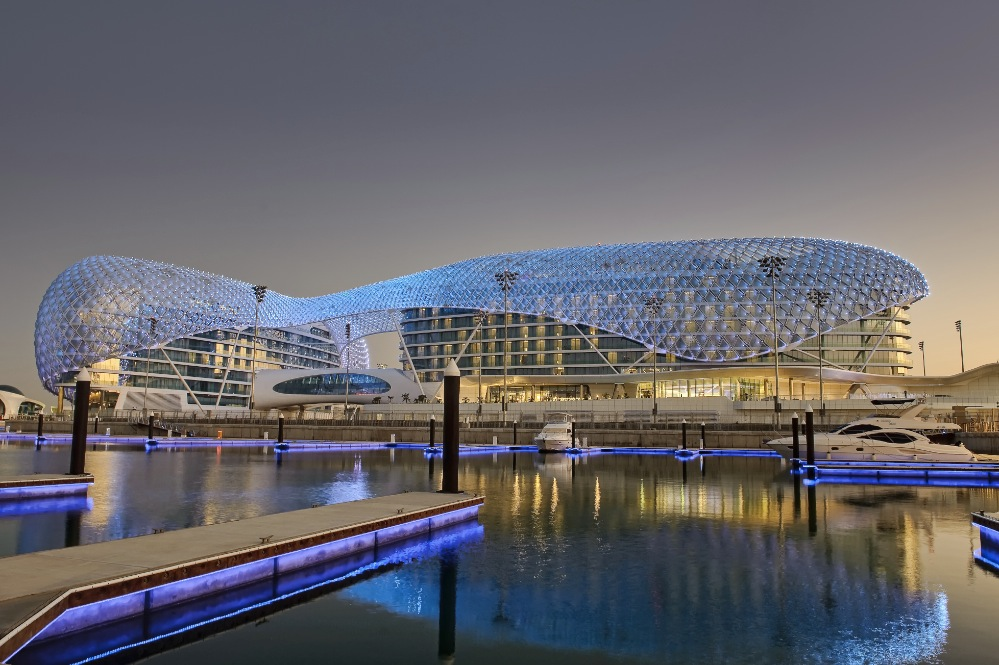 With the help of parametric modelling software and BIM, the curvilinear shape appears to be effortless. The parametric model manages the form and detail of the structure, resulting in precise tolerances and the creation of a universal joint connection. They were also able to deduct the structural members: the grid shell is supported by only ten supports.
Each of the 5000 fritted glass panels that make up the faceted surface has LED luminaires built-in which allows the geometry to transform into a full-spectrum light show at night. This grid shell apart from conveying a sense of high-tech luxury also balances the demands of the harsh desert environment.
3. MX3D bridge, Amsterdam by Joris Laarman & Arup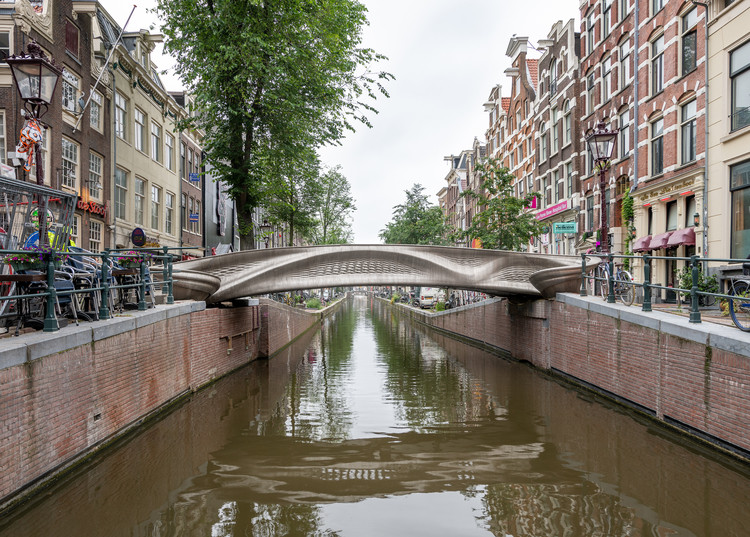 Building Type: Pedestrian Bridge
It is a 12 meter wide 3D printed pedestrian bridge in Amsterdam that took almost a span of six years to built considering its design complexity. Designed by Joris Laarman in association with the Dutch Robotics company MX3D; co-founded by Arup and Laarman, the bridge is a pre-fabricated design by six-axis robotic arms that were equipped with welding gears; which could span across the bridge, which was fabricated from stainless steel rods by six-axis robotic arms equipped with welding gear, spans the Oudezijds Achterburgwal in Amsterdam's Red Light District. Truly a future, where we can say that robots have taken over the construction industry!
The curved form from stainless steel along with the lattice styled perforations were all designed using parametric modelling software. This was also a research project for the Alan Turing Institute where they built a network of sensors around the bridge to collect data like environmental conditions, load changes, pedestrian usage, climatic zones, footfall, etc. The digital twin of this bridge helped the designers to make an informed decision.
This project was heavily supported by the Amsterdam Municipal council as the researchers were going to play a pivotal role in catering to tourism. Through technologies like digital twin, parametric modelling software, robots and 3D printing, the MX3D bridge is a futuristic take on analysing the urban environment to create viable interventions through informed design decisions.
4. Hamburg Elbphilharmonie Auditorium, Germany by Herzog De Meuron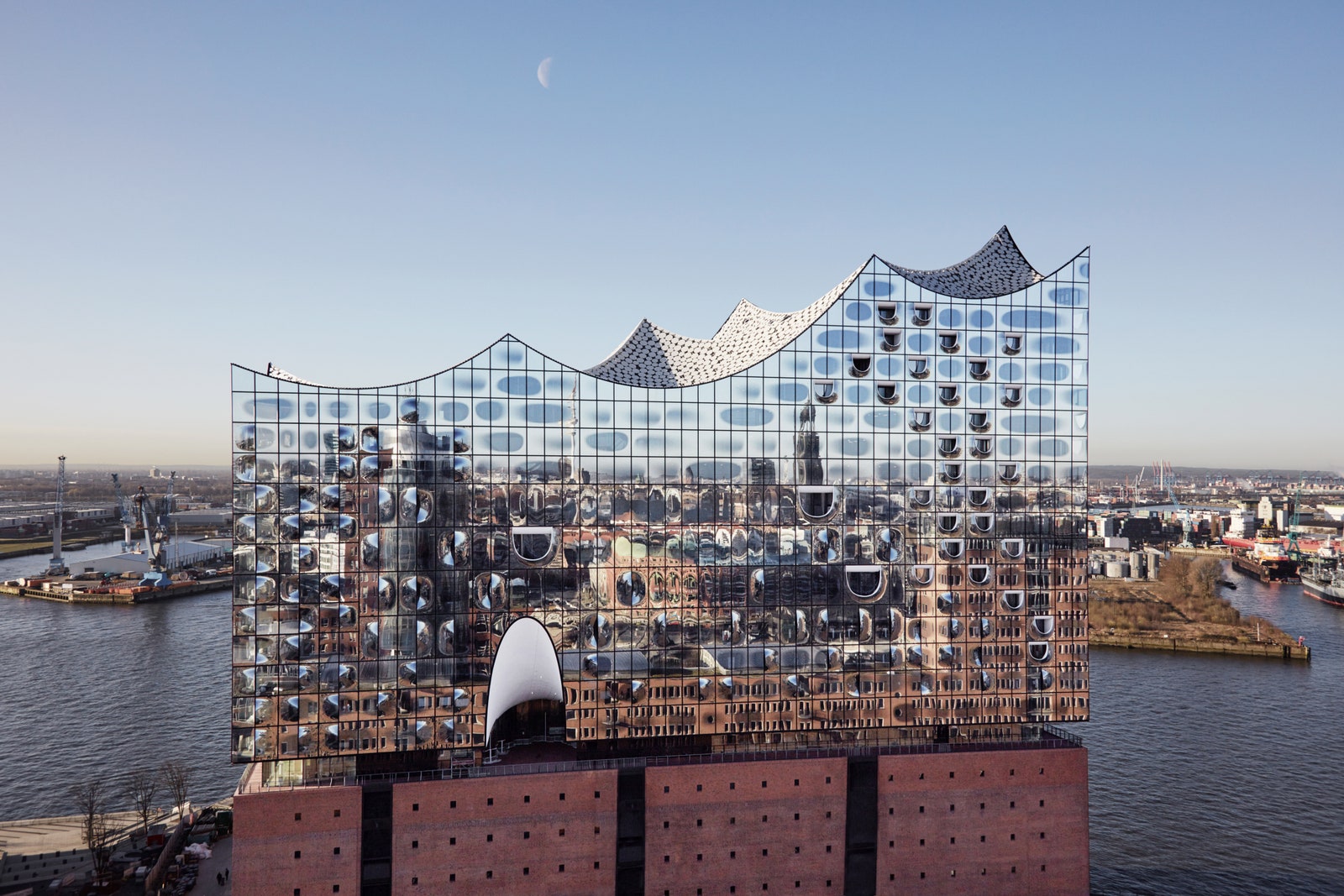 Building Type: Auditorium
Made up of 10,000 individual acoustic panels lining the walls, ceilings, railings and balconies, Hamburg Elbphilharmonie Auditorium by Herzog and De Meuron is an excellent showcase of parametric design possibilities where each panel is made up of one million different-sized cells that help in defining the sound in the environment.
A collaboration of the architects with acousticians was done in order to create the algorithm responsible for the unique panels of the hall.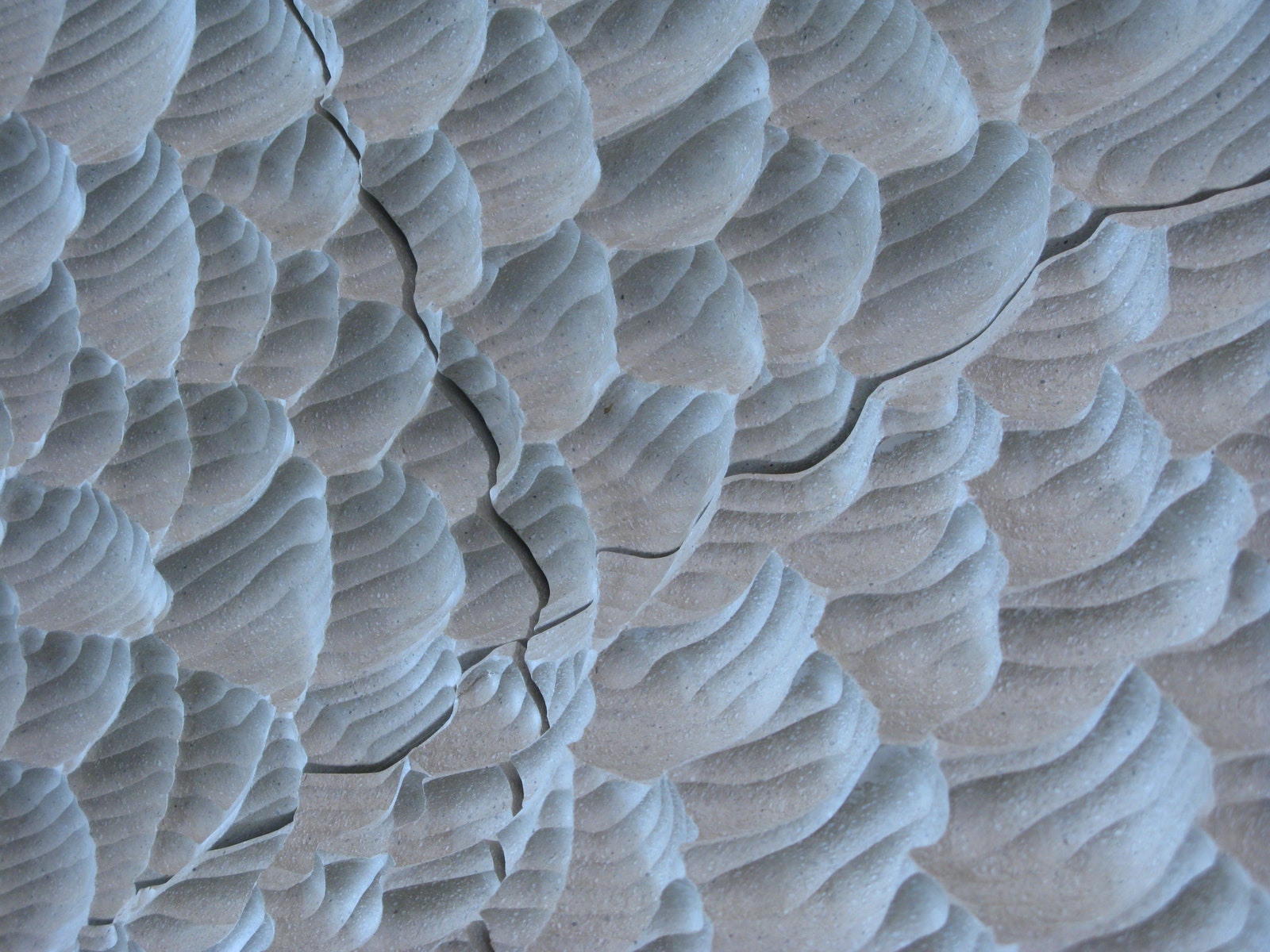 While designing this, the power of the parametric design was conceived as it could create a million cells, each with their own features based on the set of the parameters and the whole set-up of the algorithm was under control. This algorithm was used to impart a unique shape to the gypsum fibre acoustic panels lining the walls like an interlocking piece of a puzzle.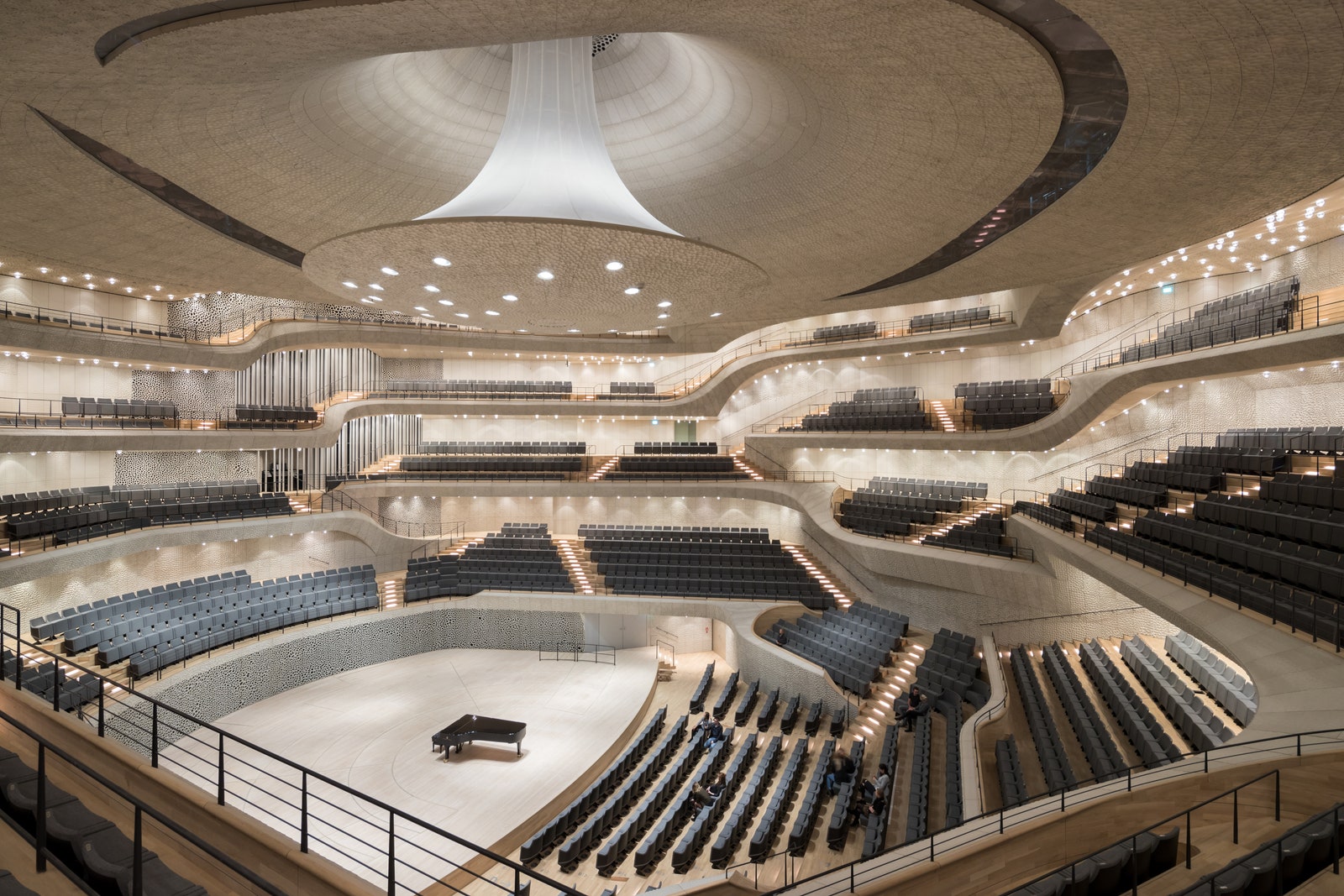 Had this been done manually, the result would have looked less original. Functioning with algorithms helped to generate – intricate, functional and beautiful new and surprising forms.
5. City Of Dreams Hotel Tower, Macau by Zaha Hadid Architects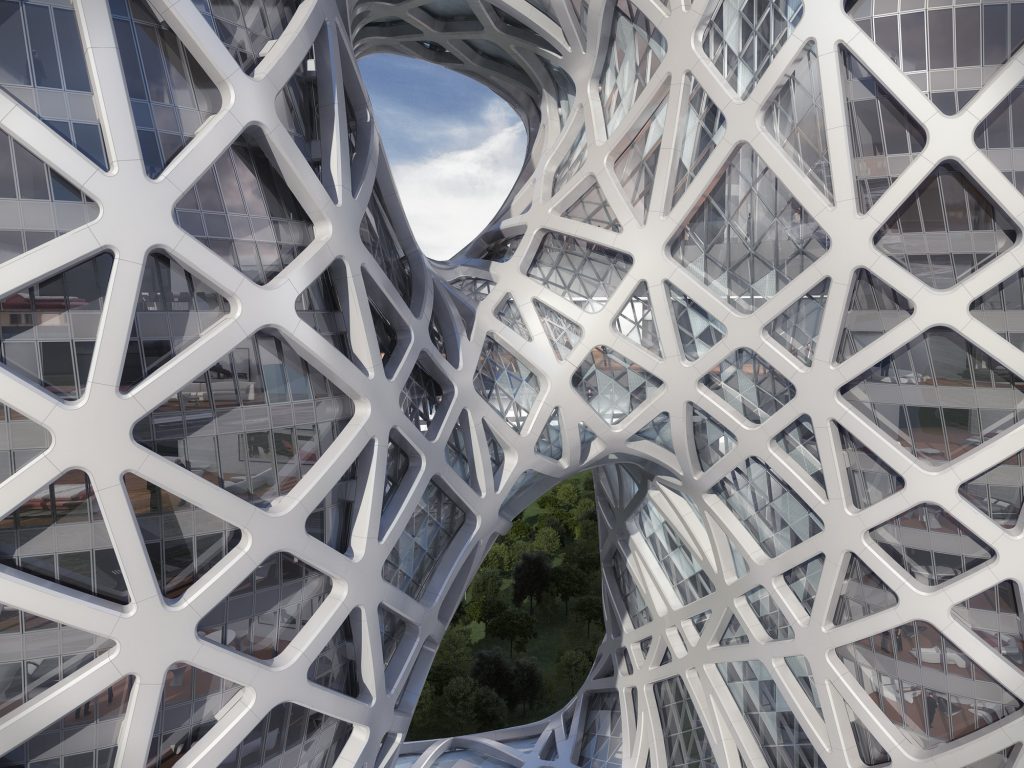 Building Type: Hospitality
A 40-storey luxury hotel designed by Zaha Hadid Architects is an entertainment destination known as the 'City of Dreams.' The simple volume of the two connected towers was extruded from the rectangular site to create this massive monolith of computational design finesse.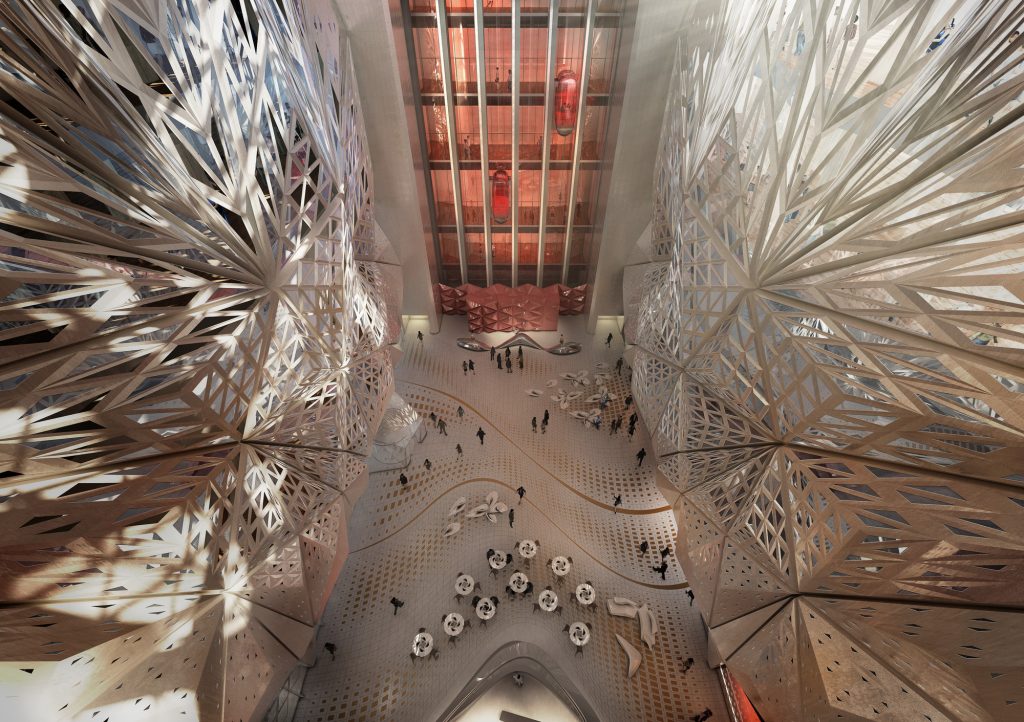 These towers are knitted together at podium and roof level with organically shaped bridges that punctuate the towers central external void. The whole structure is perceived as a 'sculptural element' unified by an exposed exoskeleton mesh structure.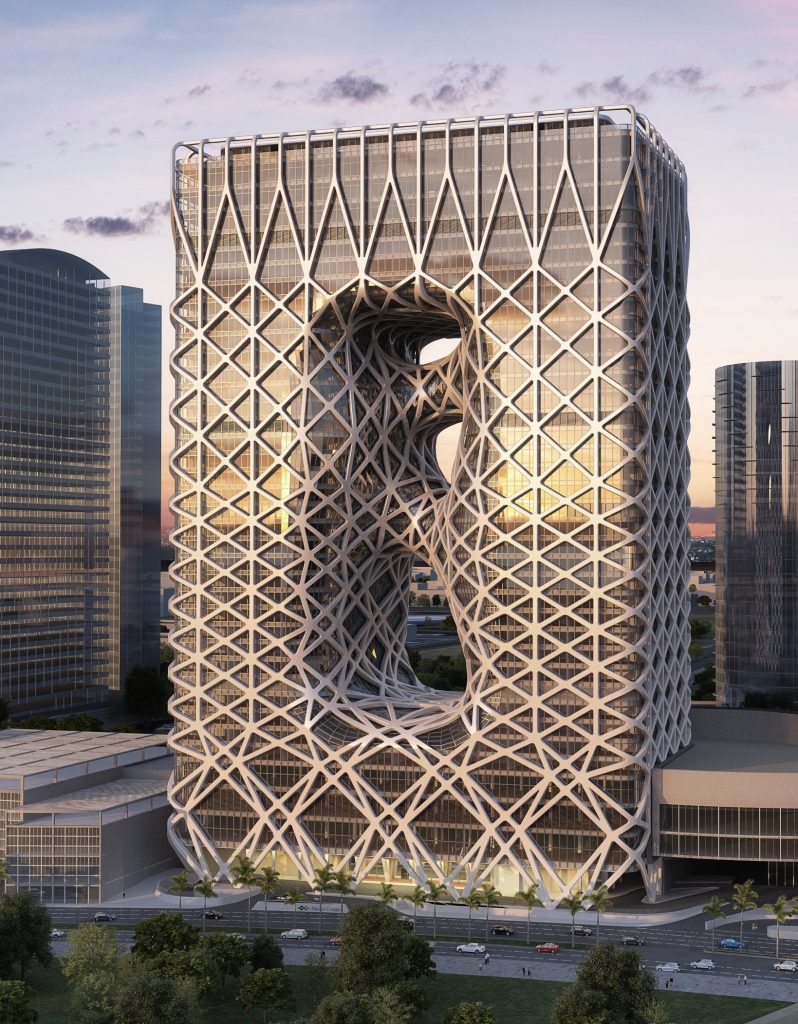 The exposed face which is both expressive and forceful adds to the design's vitality and envelops the building. China's rich traditions of jade carving guided the fluid forms in order to create dramatic public spaces combined with guest rooms with innovation in engineering and formal cohesion.
6. Drift Bridge, Fort Worth, the United States by Volkan Alkanoglu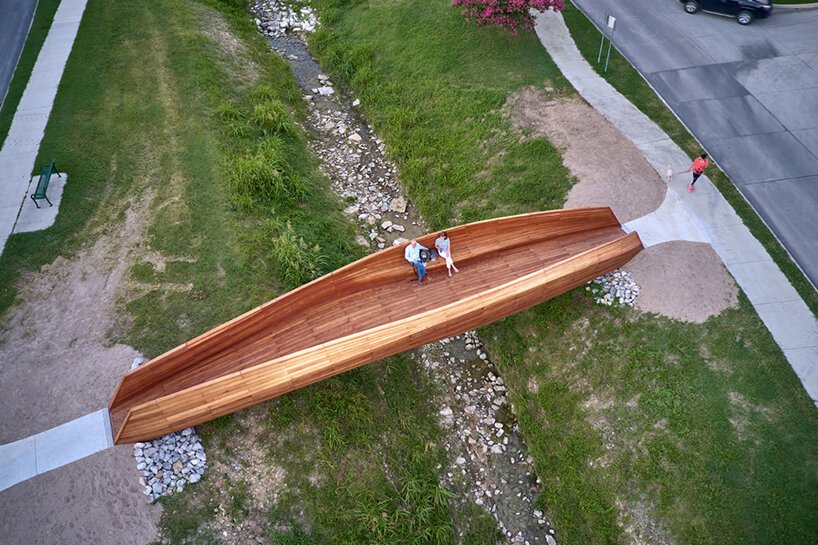 Building Type: Bridge
Volkan Alkanoglu's Drift bridge is an amalgamation of art in urbanism. It is a pedestrian bridge constructed out of timber and steel which is an innovative example of plug-and-play urbanism. It is a sustainable design with an affordable strategy fabricated off-site with only a few hours of project installation.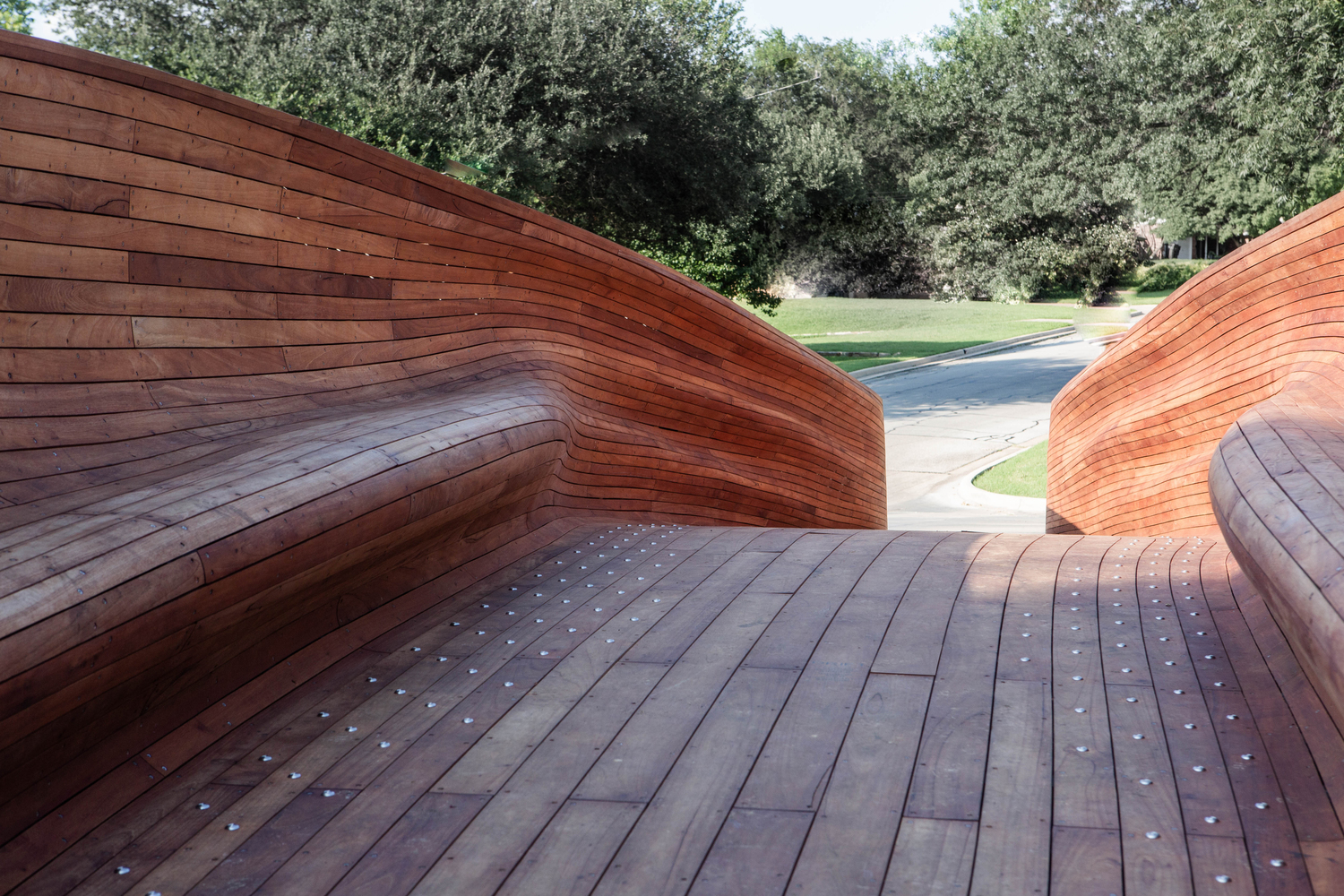 Responding to the site's requirements, this project bridges the physical division of the neighbourhood and park system by a creek. This community-driven project with the employed installation and fabrication techniques can be further applied to communities.
The 62-feet long bridge resembles a ship's hull with a convex underbelly and a concave hull with roadway, railings and benches uniquely incorporated into a single design with uneven undulations and curves. This prefabricated bridge has a complex geometry which deals with timber as a core material. The internal bends and curves form seating spaces which later transition into the exoskeleton. This monolith of a bridge was assembled and executed in one piece on the creek, bridging the gaps within the community, well literally!
7. Dongdaemun Design Plaza, Seoul, South Korea by Zaha Hadid Architects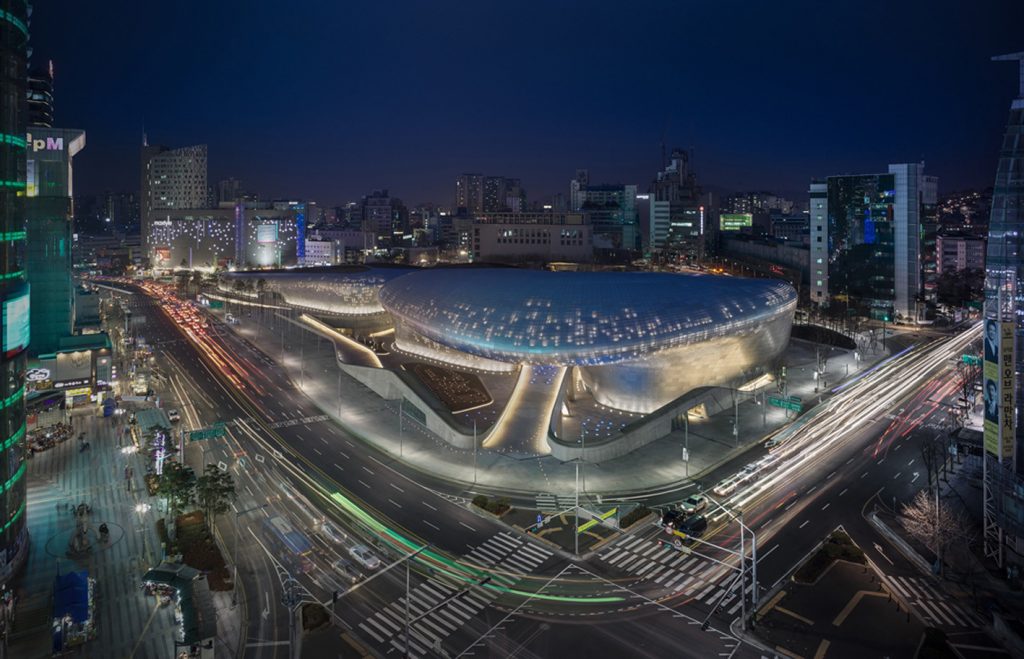 Building Type: Public Architecture
ZHA's Dongdaemun Design Plaza is Korea's first public project that has used 3-Dimensional Building Information Modelling and digital building technologies. The construction requirements were treated as a collection of interconnected spatial relationships throughout the process which defines the social interactions and user's behaviour in and around the project.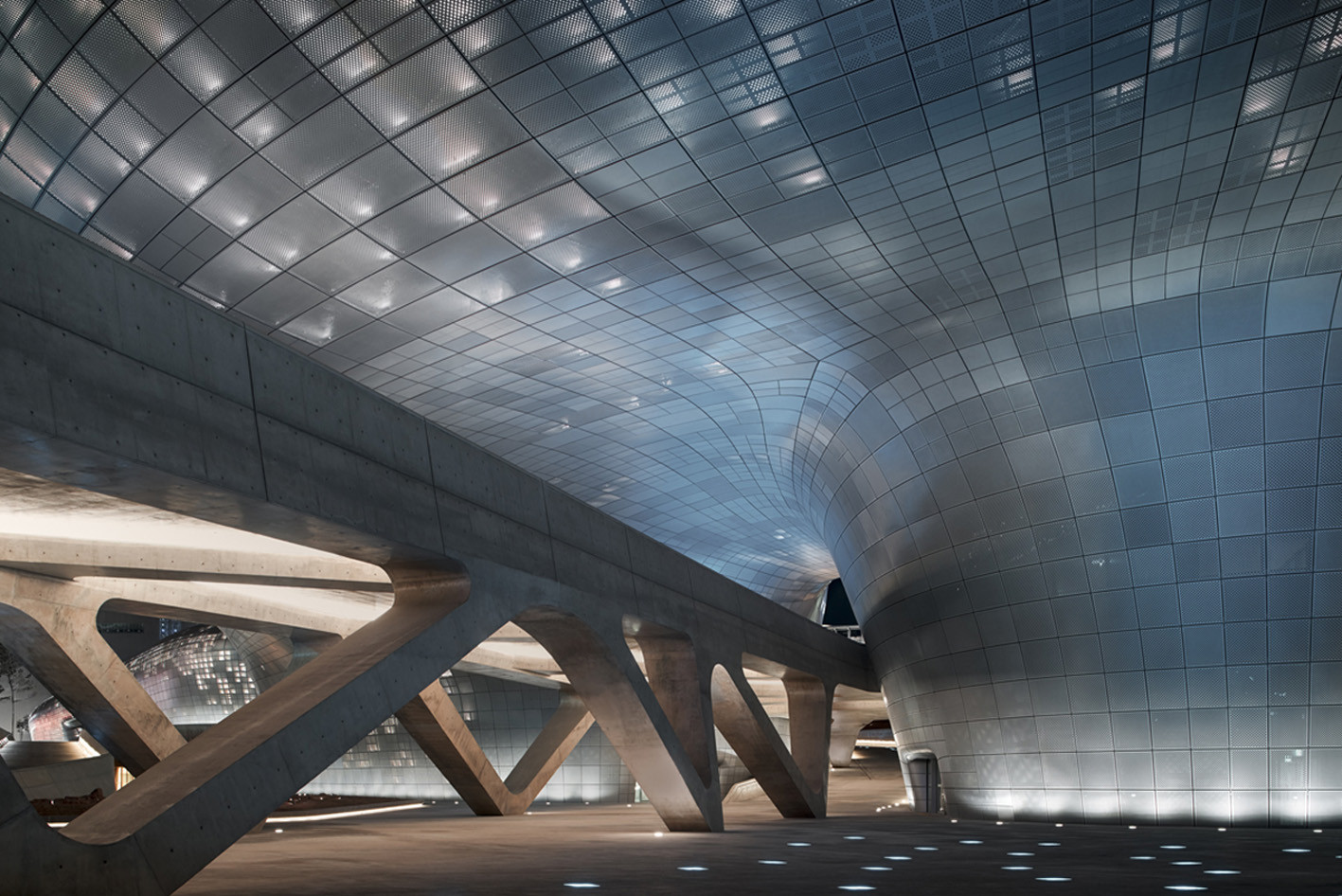 The adaptation of the design with the changing brief, the incorporation of engineering and construction needs was made possible with parametric modelling software and design computation. The use of a parametric modelling system improved the efficiency and also assisted in taking design decisions within a short duration of time.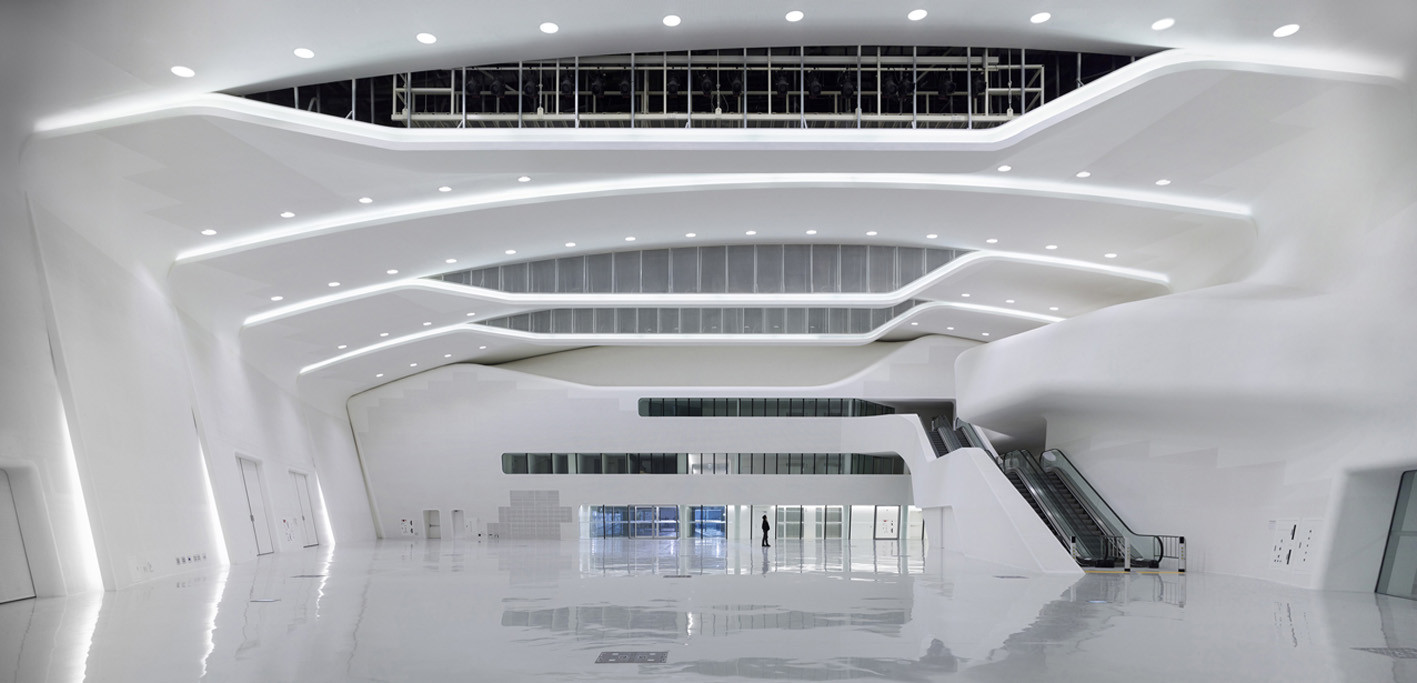 The use of digital technology enables the team to control design details with better precision offered than the conventional methods. The cladding of over 45,000 panels in varying sizes and degrees of curvature was made possible by parametric modelling and was designed at greater cost and with better quality.
8. Walt Disney Concert Hall, Los Angeles by Frank Gehry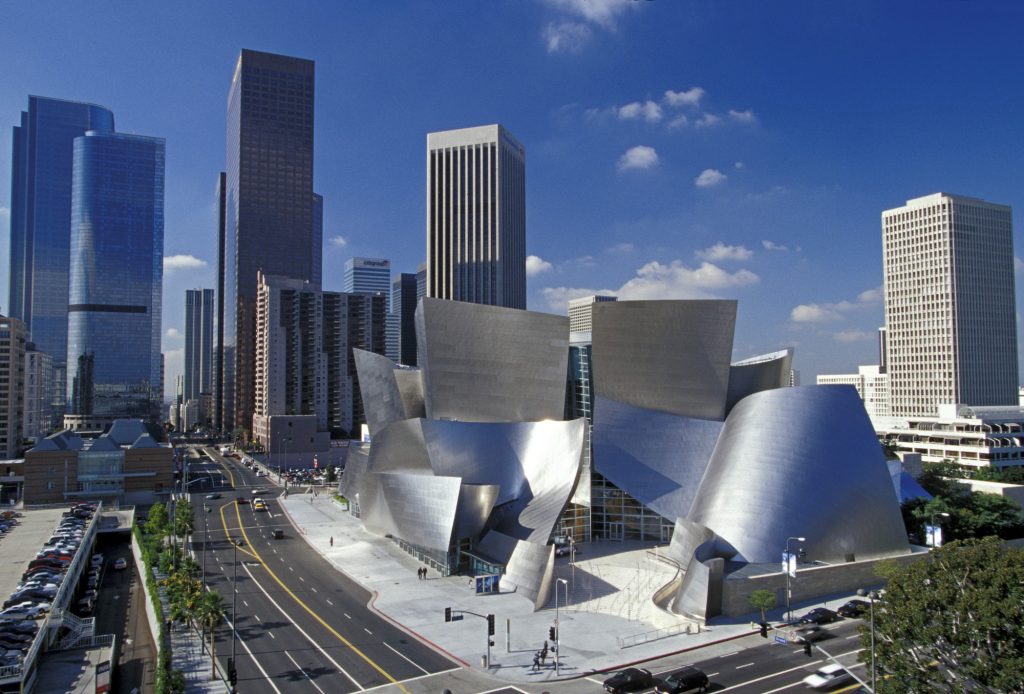 Building Type – Concert Hall
You cannot say, 'Parametric' without Frank Gehry!
Although, parametric modelling software took a fast-paced rather recently in the 21st century. But the Walt Disney Concert Hall was the first-ever parametrically designed buildings.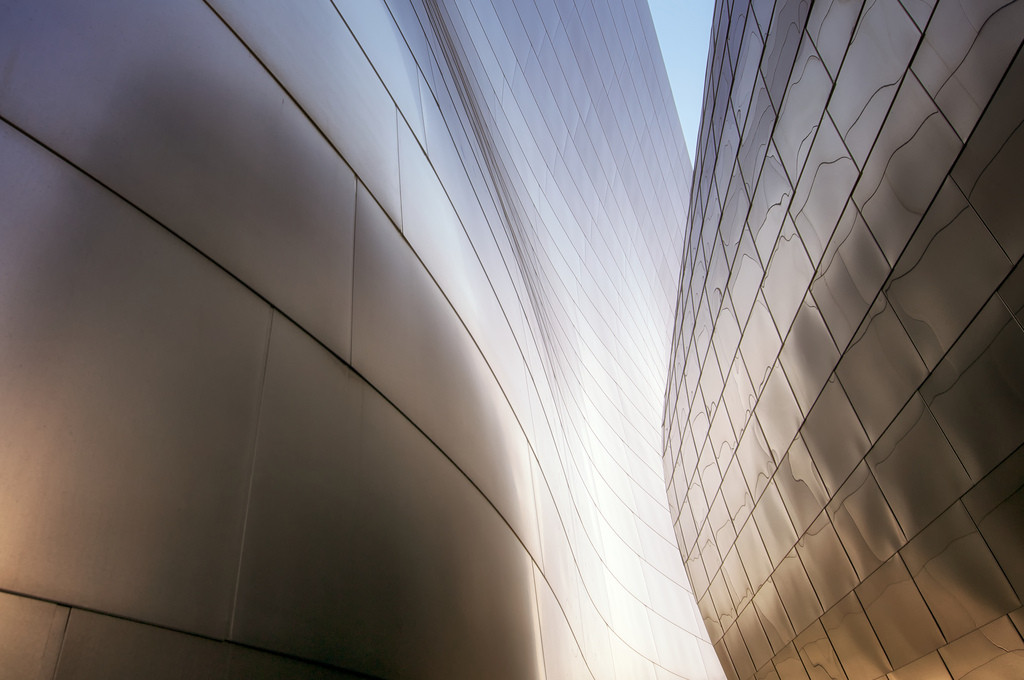 Gehry designed this using a variety of techniques, he combined the usage of sketches and models to think about the exterior. He used various asymmetrical forms to blend into a compact shape; representing the musical movements in a dynamic way. He had to use various parametric techniques too, to make this complex form, a reality. He used computer modelling to study the lopsided entropy of the angles he had created. The computational technique proved to be an asset in the interior and exterior setup.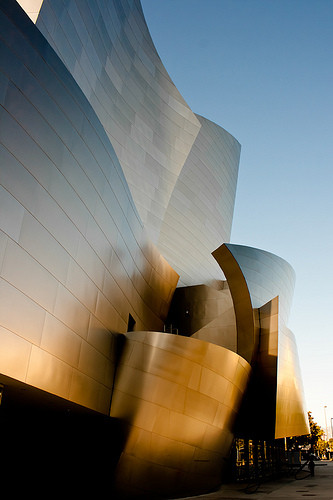 He associated with Minori Nagata, an acoustic engineer to maximise the acoustic potential of the hall. Through 1:10 scale models and computer modelling with parametric design, the acoustical clarity was achieved. The structure even had bent ceilings and curved constructions that were solved through computational modelling and parametric techniques.
The Evolving State of Architecture with Parametric Modelling Software …
The craftsmanship has evolved over years. Ranging from gravity-defying furniture to robotic automation – the knowledge of masons, woodcarvers and other craftsmen is now embedded in digital design processes using geometric computer models, parametric modelling software and machine fabrications – that leads to a new design language in the field of architecture and design. Parametric architecture has brought in a new dimension to design where designers are exploring their ultimate complex ideas. Utopian architecture might be a far-sighted affair, but computation allows architects and designers to have seamless dreams that can be a concrete reality – not just on Earth but even beyond!