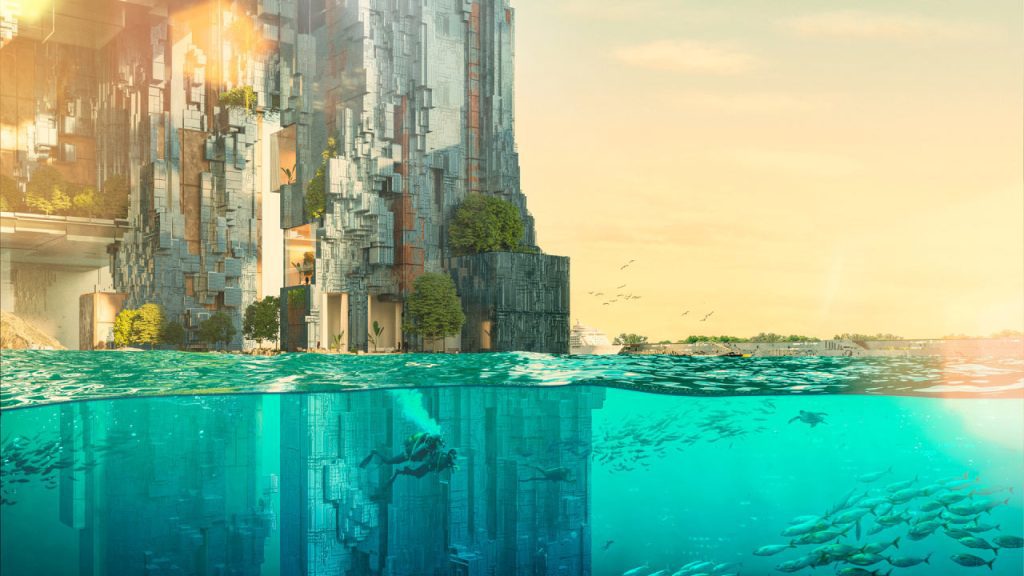 Saudi Arabia is undergoing a series of megaprojects to make the country a dominant global economic force. Through massive investments as part of Saudi Arabia Vision 2030, the kingdom is expanding its economy beyond oil, creating jobs, and elevating its position as a key trade and tourism destination.
The Saudi Vision 2030 is a comprehensive plan aimed at reducing the country's reliance on oil. It seeks to diversify the economy and improve public service sectors, such as health, education, infrastructure, recreation, and tourism. Crown Prince Mohammed bin Salman first announced the plan's initial details on April 25, 2016. The vision is built upon three pillars: positioning the country as the "heart" of the Arab and Islamic worlds, becoming a global investment powerhouse, and transforming the country's location into a hub connecting Afro-Eurasia.
Here is a look at seven ongoing megaprojects set to transform Saudi Arabia:
1. The Line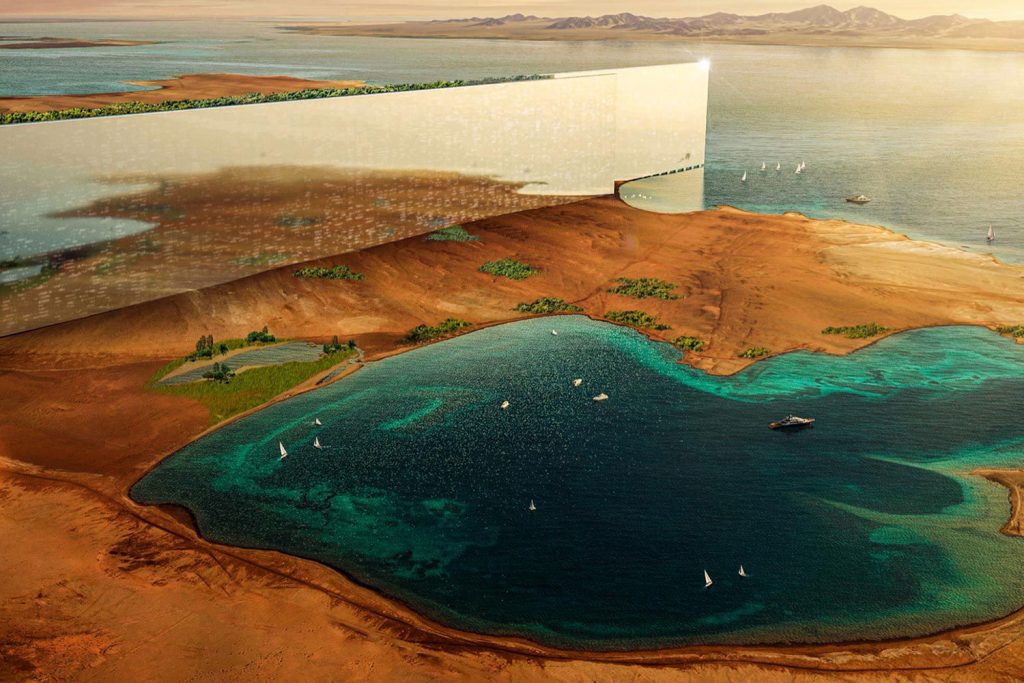 Location: Tabuk, NEOM, Saudi Arabia
Design Firm: Adjaye Associates, Morphosis, Studio Fuksas and Coop Himmelb(l)au, this included Pei Cobb Freed & Partners, Tom Wiscombe Architecture, Oyler Wu Collaborative, HOK, Peter Cook's studio CHAP, Delugan Meissl Associated Architects, Studio Fuksas, UNStudio, and OMA
The megaproject known as The Line is still being debated, with critics focusing on human rights and environmental impacts. NEOM is an important component of Saudi Vision 2030, which seeks to diversify and grow the Kingdom's economy while leading global development. The Line, one of the world's largest and most complex infrastructure projects, is set to begin construction in 2021 as part of NEOM's ongoing development.
The project is a novel type of urban development that stretches for 170 kilometers and includes numerous interconnected communities with natural and pedestrian-friendly spaces. It prioritizes people and the environment; large land areas have been designated for conservation. The 34-square-kilometer footprint of The Line connects the Red Sea coast to northwest Saudi Arabia.
2. Trojena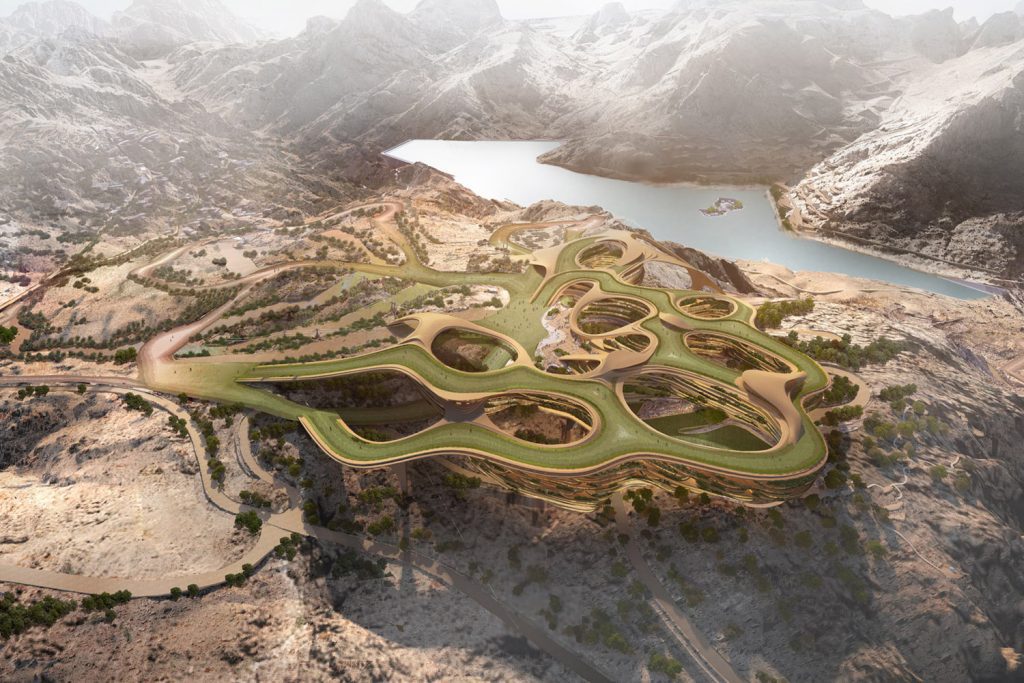 Location: Tabuk, NEOM, Saudi Arabia
Design Firm: BIG, Lava Architecture, Bureau Proberts, Zaha Hadid Architects (and more)
The Crown Prince and Chairman of the NEOM Company Board of Directors, Mohammed bin Salman, announced the establishment of Trojena in May 2022, a new mountain tourism destination that will be part of the NEOM mega-development. Lava Architecture, a German-based design firm, created the masterplan. The project is expected to be completed by 2026.
The new year-round tourist destination will include a ski village, ultra-luxury family and wellness resorts, and various retail stores and restaurants. It will consist of sporting events, art, music, and cultural festivals. By 2030, Trojena expects to attract 700,000 visitors and 7,000 permanent residents to live within the projects and adjacent residential districts.
All construction activities will adhere to NEOM's commitment to minimize environmental disruption and ensure long-term sustainability. Trojena is expected to generate over 10,000 jobs and contribute SAR3 billion to the kingdom's GDP by 2030. Trojena is located in the heart of NEOM, 50 kilometers from the coast of the Gulf of Aqaba. It is divided into six districts: Gateway, Discover, Valley, Explore, Relax, and Fun.
"Trojena will redefine mountain tourism for the world by creating a place based on ecotourism principles, highlighting our efforts to preserve nature and enhance the community's quality of life, which is aligned with the goals of the kingdom's Vision 2030. It also confirms our commitment to be part of the global effort to protect the environment. Trojena will be an important addition to tourism in the region, a unique example of how Saudi Arabia is creating destinations based on its geographical and environmental diversity." said Mohammed bin Salman.
3. Sindalah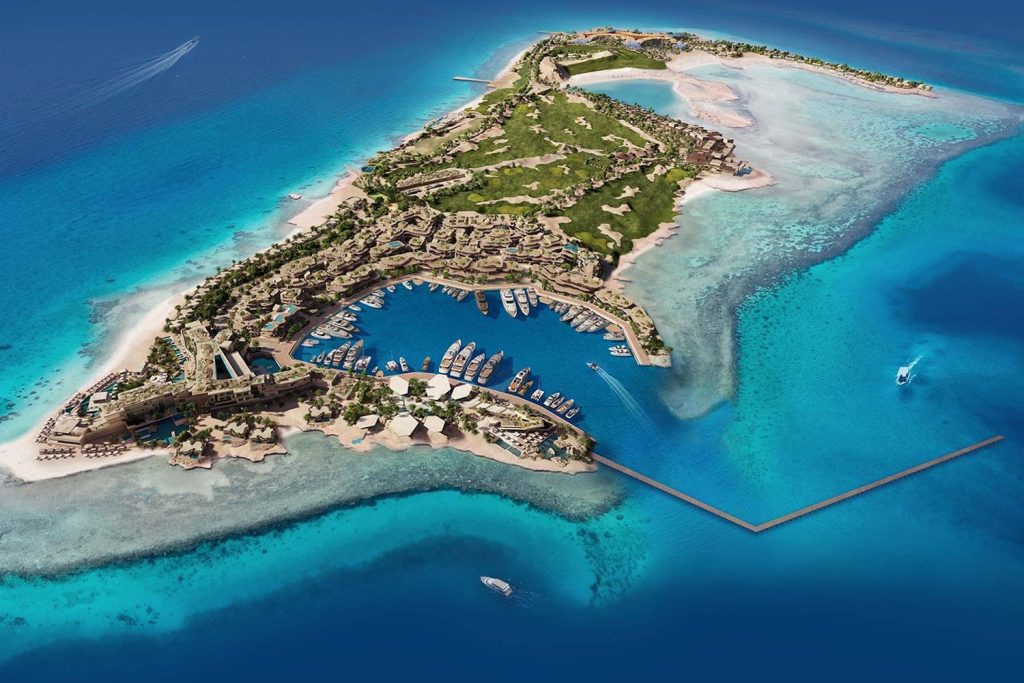 Location: Red Sea Coast, Saudi Arabia
Design Firm: Luca Dini Design and Architecture
Sindalah is a component of Saudi Arabia's 2030 Vision, which aims to diversify the country's economy away from reliance on oil. Sindalah will be the first tourist destination to open in the megacity. The Sindalah island resort, scheduled to open in early 2024, will be the first of ten regions completed as part of the NEOM mega-development in north-eastern Saudi Arabia. This luxury island destination, spread across 840,000 square meters on the idyllic Red Sea, will strongly emphasize conserving its surrounding natural beauty, the majority of which is untouched, through a robust rewilding program.
It will include several upscale hotels, a large yachting marina, a beach club, a wellness center, and luxury shopping outlets. Visitors to Sindalalah can make the most of their trip by participating in kayaking, kite surfing, and water skiing. There will also be excellent opportunities for scuba diving.
The resort will be built around an 86-berth marina and yacht club designed by Luca Dini Design and Architecture, which is best known for creating superyachts.
"Sindalah will be NEOM's first luxury island and yacht club destination in the Red Sea, providing a scenic gateway to the Red Sea that will become the region's most exciting and attractive tourism location," said Bin Salman, added, "It will be a destination where travelers can experience the true beauty of Neom and Saudi Arabia, above and below the water, making Sindalah the future of luxury travel."
4. OXAGON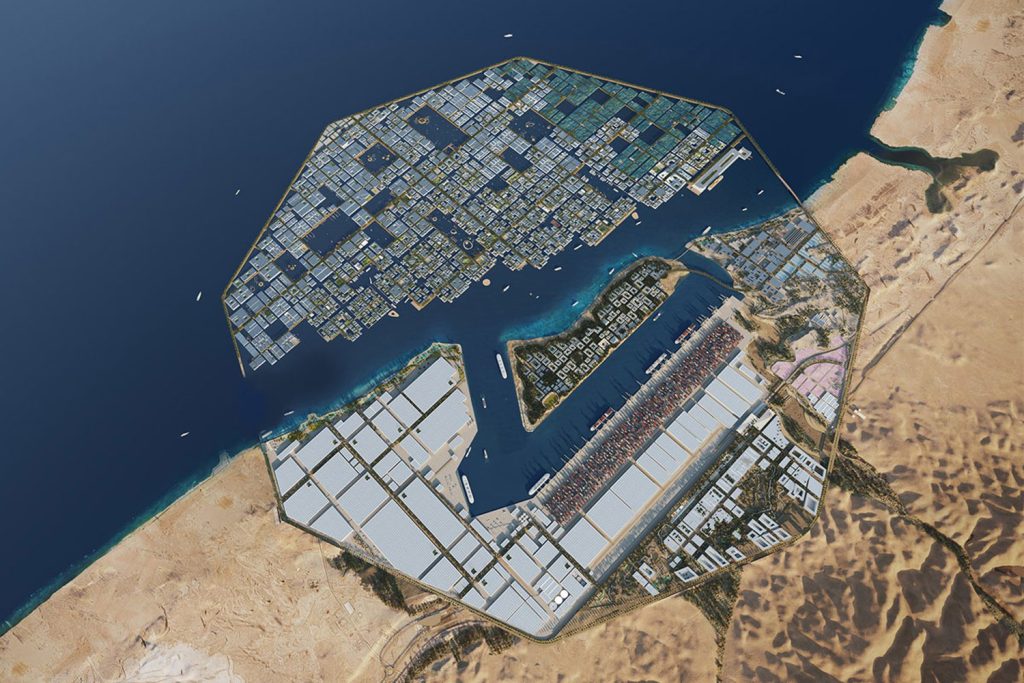 Location: Read Sea, Northwest of Saudi Arabia
Design Firm: BIG (masterplan)
OXAGON, a floating city, is billed as the "world's largest floating structure." It will be built in the southwestern area of NEOM, Saudi Arabia's futuristic new megacity that officials claim will be 33 times the size of New York City. Half of OXAGON will float in the Red Sea, which averages 500 meters deep.
"OXAGON will be the catalyst for economic growth and diversity in NEOM and the Kingdom, further meeting our ambitions under Vision 2030. OXAGON will contribute to redefining the world's approach to industrial development in the future, protecting the environment while creating jobs and growth for NEOM. It will contribute to Saudi Arabia's regional trade and commerce and support creating a new focal point for global trade flows. I am pleased to see that business and development have started on the ground and we look forward to the city's rapid expansion." said Mohammed bin Salman.
OXAGON will offer exceptional livability in harmony with nature, complementing the same philosophy and principles as THE LINE (announced in January 2021). In addition, for NEOM, OXAGON will establish the world's first fully integrated port and supply chain ecosystem. The port, logistics, and rail delivery facilities will be unified, providing world-class productivity with net-zero carbon emissions and setting global standards in technology adoption and environmental sustainability.
5. Amala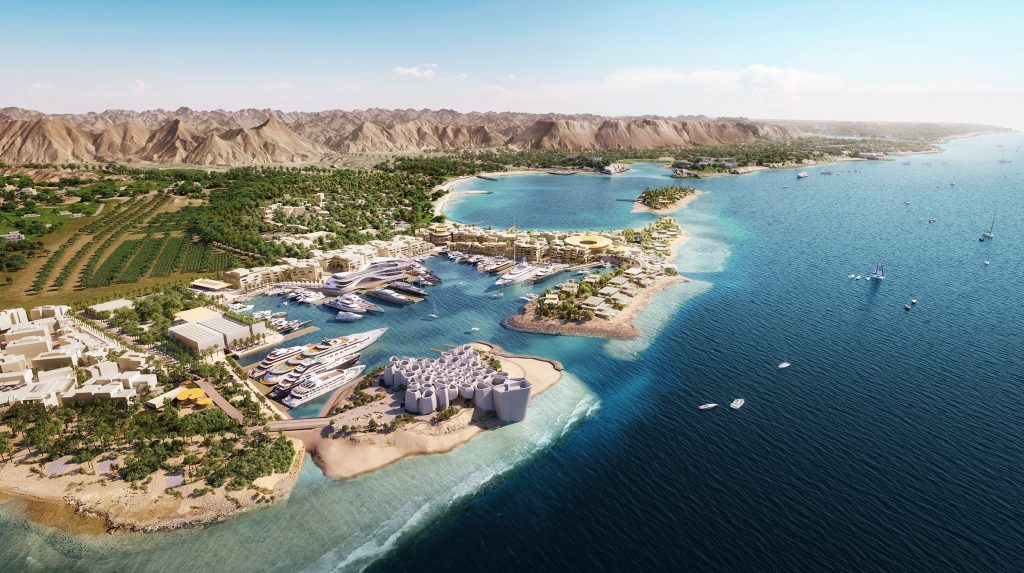 Location: Read Sea, Northwest of Saudi Arabia
Design Firm:
AMAALA is an ultra-luxury tourism destination being developed in northwestern Saudi Arabia along the Red Sea coast. Over 4,000 square kilometers in size. The first development phase is scheduled to be completed by mid-2024 and will include over 1,300 hotel rooms spread across eight different resorts. When finished in 2027, it will have over 3,000 hotel rooms spread across 25 hotels and approximately 900 luxury residential villas, apartments, and estate homes.
Amaala will have three resorts along its 12km coastline, about 800 kilometers north of Jeddah. HKS is designing two of the complexes. At the Amaala, British firm Foster + Partners is creating "the world's first fully immersive experiential marine life center." In addition, Foster + Partners is designing an airport for the Amaala resort.
AMAALA is inspired by Bedouin tribes, who deeply respect the ancestral lands and seas that have sustained them for centuries. According to the statement, AMAALA will only welcome 500,000 visitors per year to minimize any environmental impact.
6. The Red Sea Project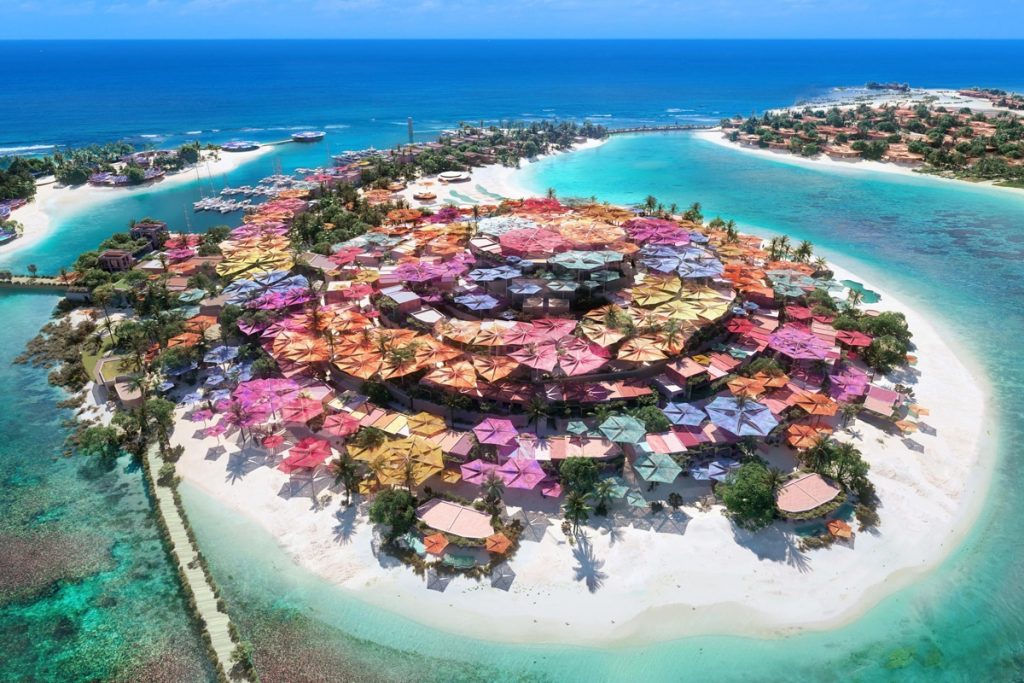 Location: Read Sea, Northwest of Saudi Arabia
Design Firm: Kengo Kuma and Associates and Foster + Partners
Kengo Kuma and Associates and Foster + Partners are designing The Red Sea Project, a tourism development on an archipelago of Saudi Arabian islands with its dedicated airport. The Red Sea Project will be built on 90 undeveloped islands between Umluj and Al Wajh on Saudi Arabia's west coast.
Kengo Kuma and Associates will design 100 holiday villas for the scheme, Foster + Partners will create an airport to serve the development and several hotels.
The Red Sea Development Company describes the development as "grounded in sustainability and sustainable tourism," and both architecture teams have aimed to minimize the impact of the structures being built.
"Our proposals are respectful of the extreme environmental sensitivity of the region, taking a 'light-touch' approach that will have the least detrimental impact on the wonderful biodiversity of the islands," Foster + Partners head of the studio Gerard Evenden said.
The Red Sea Project will have developed five of the archipelago's islands and two inland sites by 2022. When the project is finished in 2030, 22 islands and six inland sites will have been developed.
7. Diriyah Gate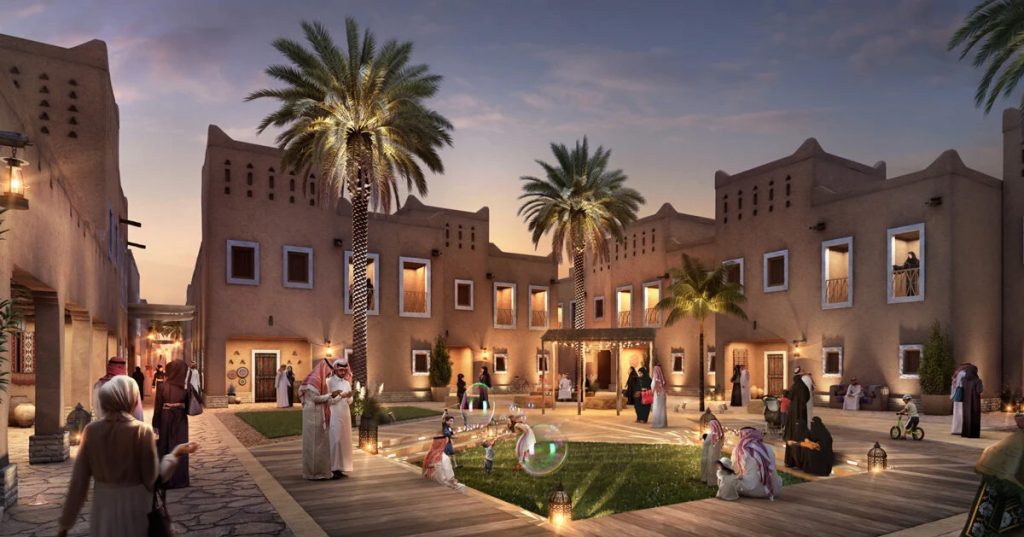 Location: At Turaif, Saudi Arabia
Design Firm: Atkins Middle East – Planning, Landscape, and Urban Design Team
The Diriyah Gate master plan was designed around the UNESCO World Heritage site of At Turaif, representing the modern Saudi Kingdom's original capital. Taking inspiration from the At Turaif context, the project aims to create a one-of-a-kind district that preserves heritage, emulates traditional urban form, and conserves the natural environment while enhancing it for managed use.
Master plan layout developed by UNESCO view cones, development proximity, and other requirements. A selected list of 100 stories dedicated to Diriyah has been incorporated across the site in various forms ranging from physical assets, activities, performances, sculptures, wayfinding, trails, and place names as experience creators. The eastern district developed with key assets, including an Arena, Opera House, Convention Centre, Museum of Contemporary Art, Grand Mosque, and Innovation Cluster along a grand boulevard that connects to King Saud University to the east of the site.