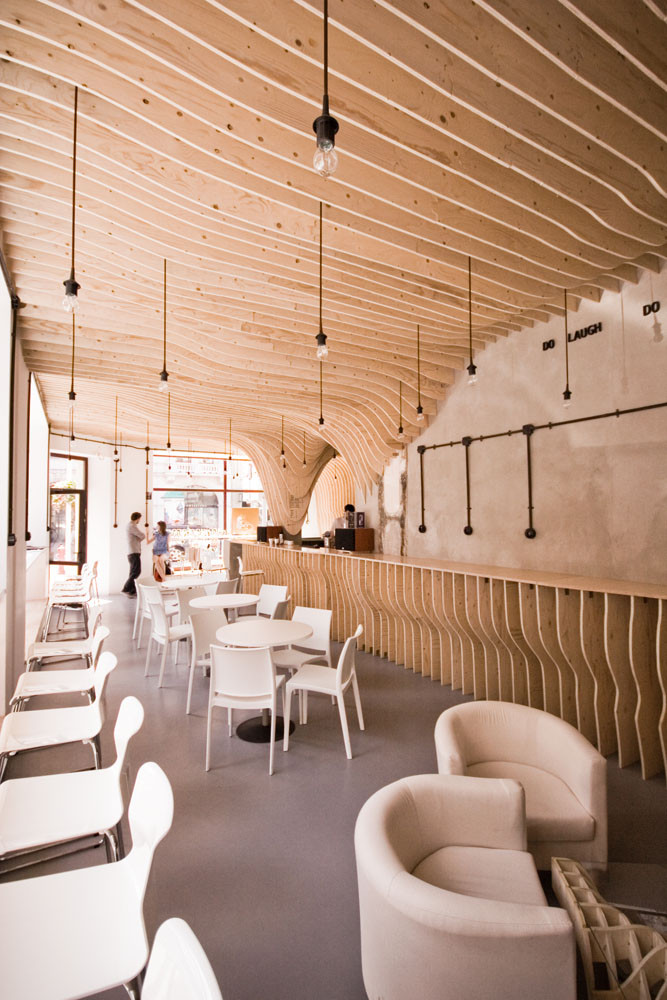 Zmianatematu by xm3 is situated right in the center of Łódź, Poland, on Piotrkowska, one of the city's main streets, The street, which was once the model of wealth in one of the wealthiest towns in this part of Europe, now serves as the center of a neighborhood that is largely disadvantaged and in decay while still retaining some of the area's impressive pre-World War II architecture.
The architecture firm constructed an exceptional location to organize artistic and cultural festivals for the city's creative people on a low budget. The restaurant's owners want to suggest a location for events, exhibitions of art, and other locations that are related to the arts. They believe that the space should be a place of inspiration and creativity, where artists, intellectuals, and entrepreneurs can come together to explore and cultivate new ideas.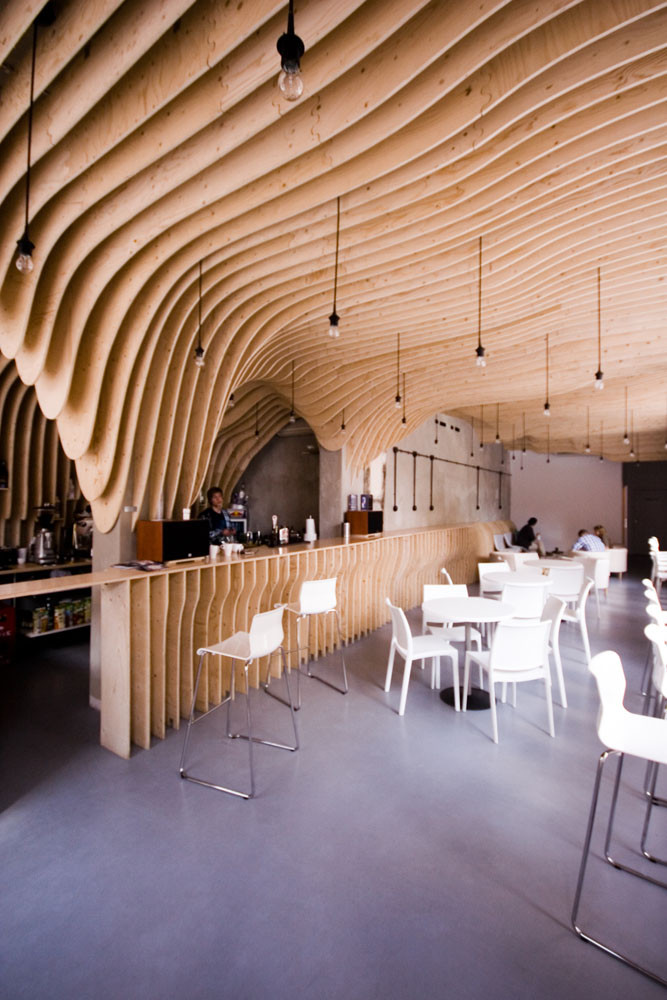 Young architects from Warsaw and local art-oriented youth investors attempted to target the city's situation and goals to build something that reminded them of the innovative environment that is linked to the city's identity.
Inspired by the Boston BanQ restaurant, they attempted to create a blobfish form akin to the boat roof form that morphs into the space of the old monumental building. The building originally dates from the late nineteenth century. The architecture of the elevation is Neo-classical. The ground floor's role was altered multiple times over the years. The inside, now that it was vacant and unfinished, provided them with the opportunity to use and adapt. They decided to keep it as natural as possible. The idea was to remove the electrical installation from the walls and cover them with steel, black tubes. The walls were to remain raw roughcast and the floor would be made of epoxy mass.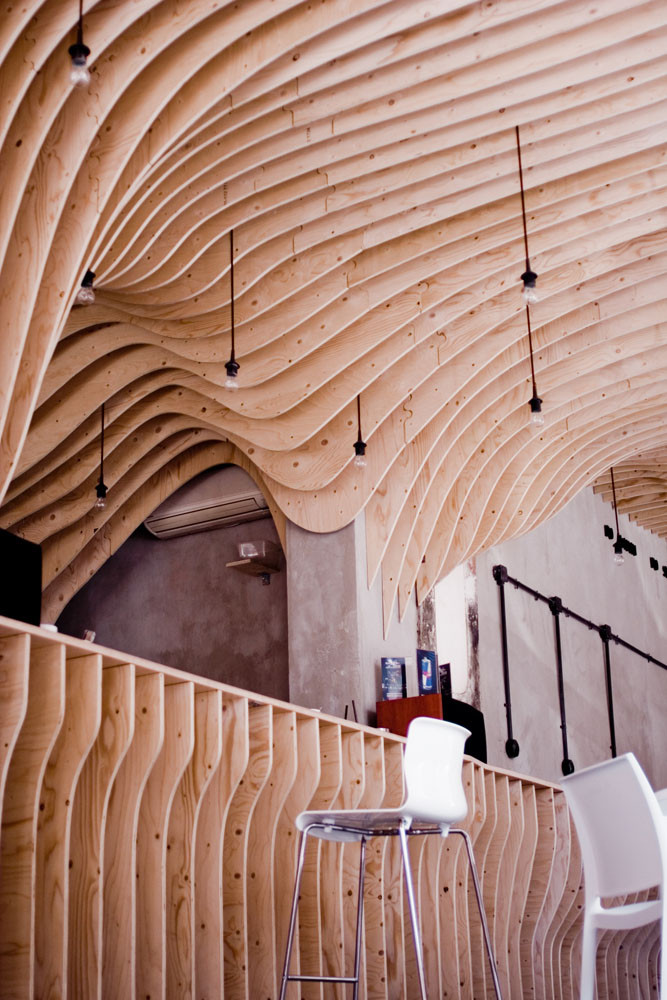 The only thing that has been newly introduced is this strange shape a "hub" that creeps up to the volume from the inside of the building and divides the area into numerous useful portions by creating the bar. Another split is also visible. This is what is new and connects to the freshly refurbished exterior elevation of the building (the outside classical world). Internally, the separating and constructing walls, as well as the ceiling, are made of raw roughcast.
The "hub" is made of CNC-cut plywood. It is created by sectioning the form, which is generated by adapting to the space and any hidden installations.
Rhino/Grasshopper software was used for sectioning and fabrication preparations. They opted to provide some more furniture for the restaurant as a mock-up of the actual structure during the prototyping phase. The coffee tables, built of sectioned grid plywood, and the seat that morphs from the bar counter, are created for the inside.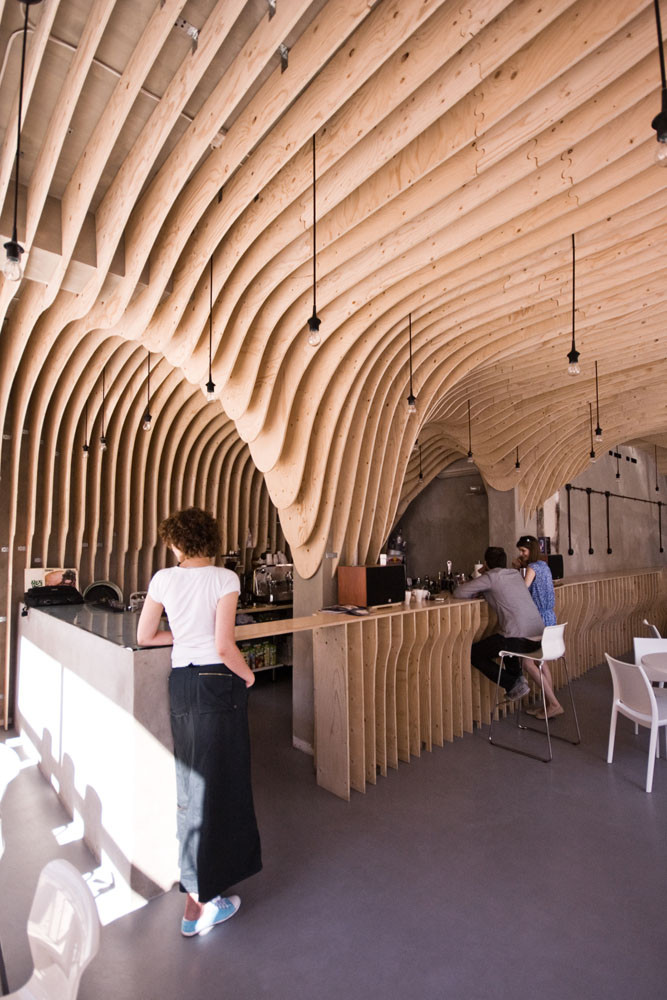 Project Info
Location: Łódź, Poland
Client: Eudezet S.C.
Total Area: 104 m2
Usable Area: 62 m2
Volume: 369 m3
Design: 2010
Construction: 2011