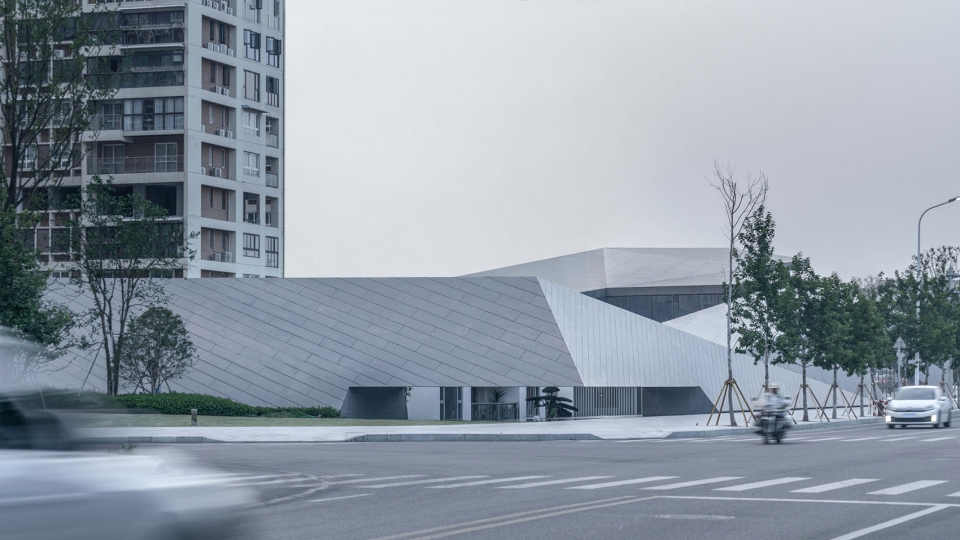 Designed by Lacime Architects, Wenzhou Central Park Culture Club is located on Sanyou Road, Lucheng District, Wenzhou City, separated from the city's central axis of "Municipal Government-Century Plaza". The land is long and narrow, backed by high-rise residential areas and facing the verdant Green Axis Park. In this billboard-like position, a Green Axis Emerald Cultural Center will be built as an urban living room and cultural display.
The building follows the momentum of the green axis, starting from the orientation towards the sky, planning the future scenery for the existing and future high points.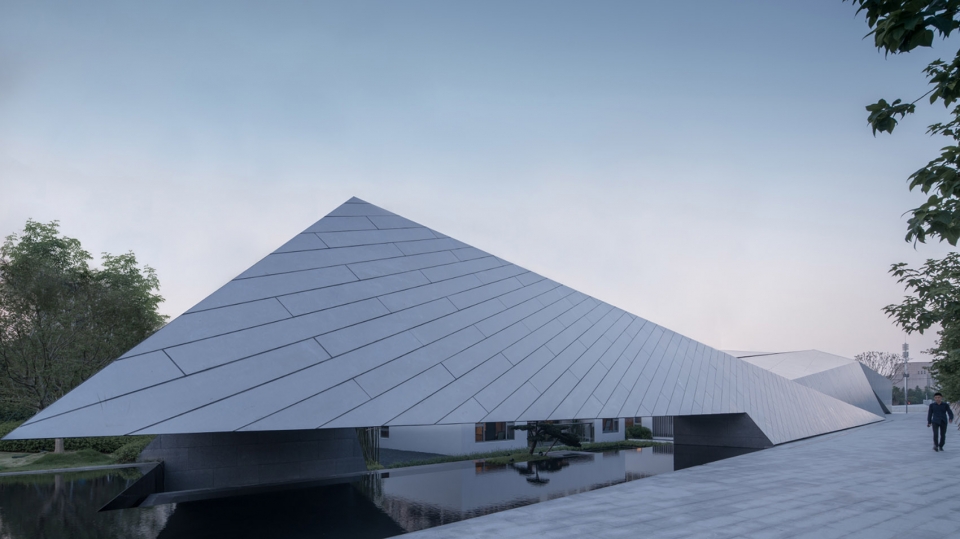 At the corner of the street, different from the practice of being full of commerce and advertisements, the building uses a cantilever of more than ten meters to open the corner that might have been closed, to capture the city landscape for the inner courtyard, and to provide a peephole for passers-by. Be fancy to form a dramatic behavioral interaction.
Along the street, the mountains and rocks intend to resort to sculptural shapes, forming an extraordinary interface in places where people travel, breaking the sameness. The landmark effect will attract more people to inject vitality into the place. The Wenzhou Central Park Culture Club, itself becomes the watchman of the scenery at the bridgehead, incorporating the impression of the green axis.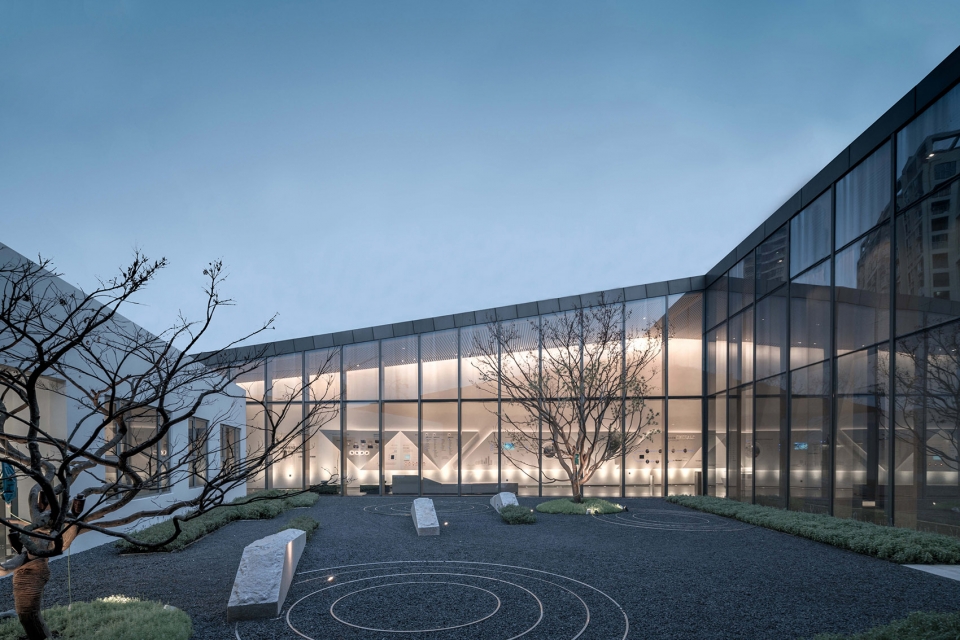 A piece of paper is cut and folded to form a continuous surface and space. In fact, such an approach dissolves the boundary between the wall and the roof in form, and minimizes the influence of partitions and even columns on the flow of space in terms of space combination. Of course, this also puts unconventional requirements on the structure and curtain wall design.
The solid west wall that runs through the whole building is the main shear wall and becomes the supporting body. The bathroom area is designed as a cylindrical shear wall. In addition, 3 steel columns are hidden in the stone curtain wall, and only 1 column is exposed indoors.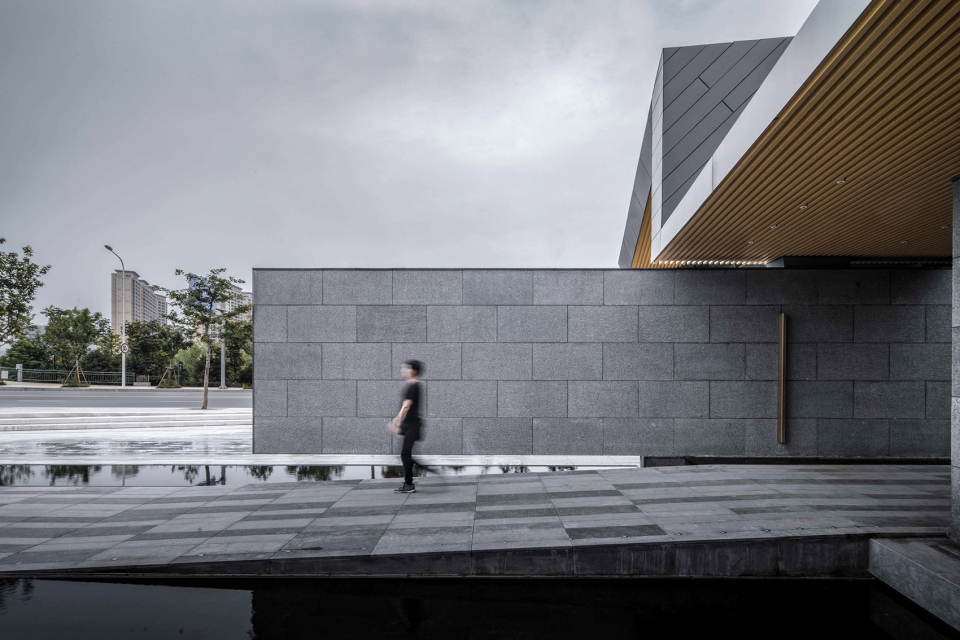 The secondary structure system adopts the combination of steel structure and curtain wall keel, the façade glass curtain wall and the roof aluminum plate share the L-shaped curtain wall truss keel, and the section is a lattice column of 250 x 60mm. The concept of curtain wall design is introduced at the beginning of structural design, which not only saves structural cost but also simplifies component size.
The interior is mainly open and large, with an average indoor height of 10 meters. In order to improve the energy efficiency of the air conditioner, the air conditioner uses ground outlet air, so the ground structure is designed as a box foundation, and a large number of equipment is built under the indoor floor, which also simplifies the indoor space.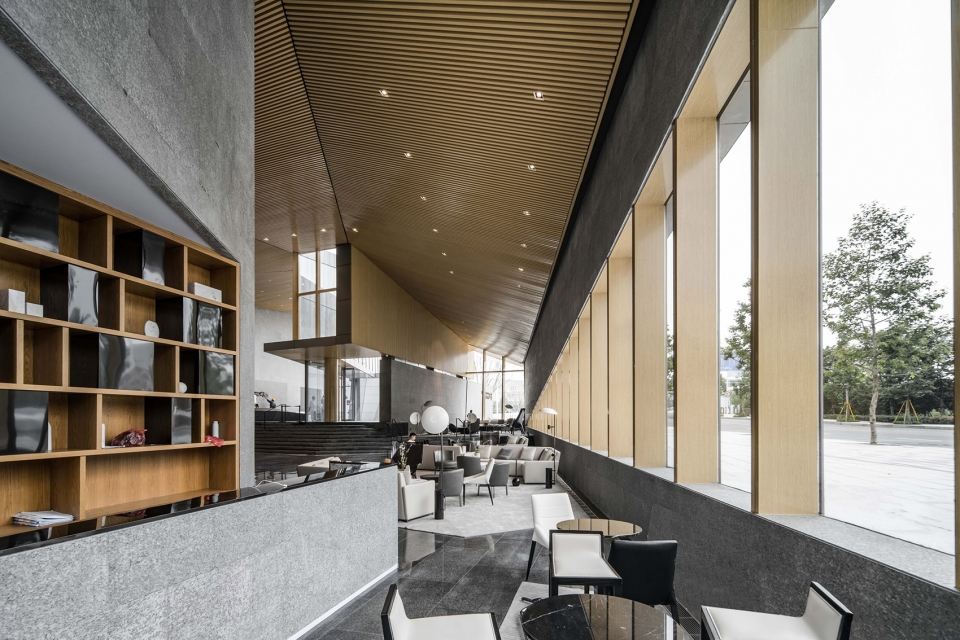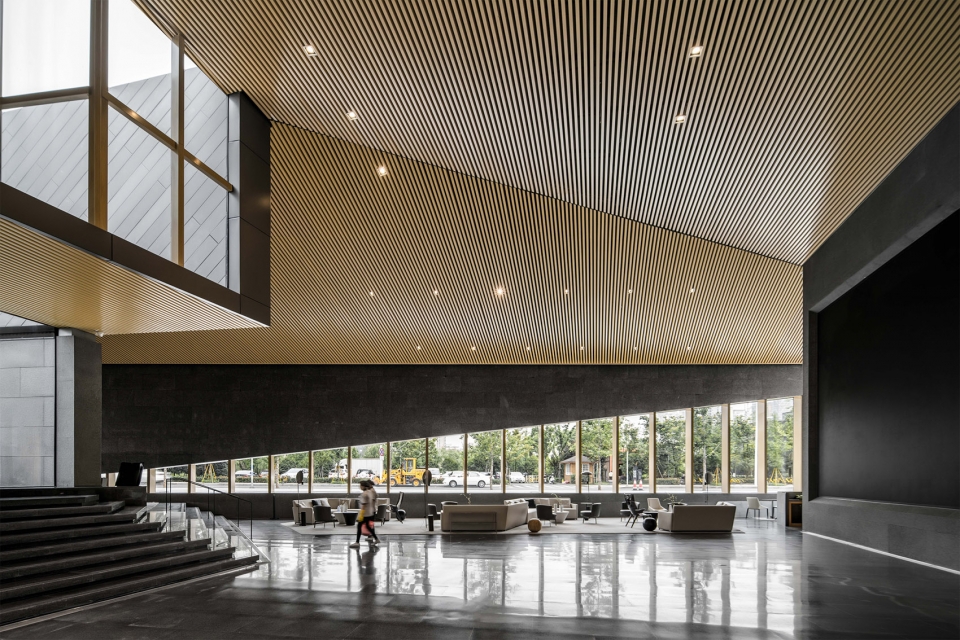 Project Info
Project Location: Sanyou Road, Lucheng District, Wenzhou City, Zhejiang Province, China
Client: Zhejiang Zhe'nan Vanke Real Estate Co., Ltd
Architectural Design: Lacime Architects
Chief Architect: Song Zhaoqing
Design team: Chu Ziyuan, Guo Dan, Wang Yuge, Nie Jichang
Landscape Design: RAND Design Associates ( RDA )
Interior Design: Le Shang Decoration Design Engineering Co., Ltd.
Curtain Wall Design: Construction Curtain Wall Design and Research Institute of Zhejiang Zhongnan Construction Group Co., Ltd
Steel Structure Design: Zhejiang Zhongnan Construction Group Steel Structure Co., Ltd.
Construction Drawing Design: Shanghai Zhongfang Architectural Design Co., Ltd.
Construction Area: 1753.2 sqm
Design Cycle: 2017 – 2018
Architectural Photography: XingzhiArchitecture