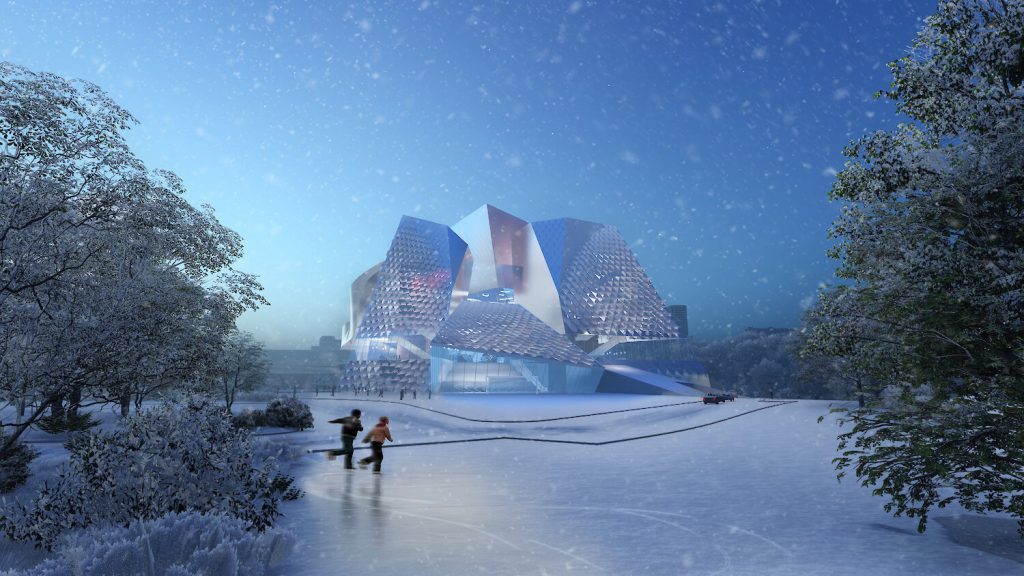 Designed by COOP HIMMELB(L)AU, The Museum and Theater Complex will create a new cultural spot and will serve as a future architectural landmark in Kemerovo's cityscape.
The structure is built on artificially raised ground between the city and the Iskitimka River. The site's exposed location allows for all-around visibility, making the building stand out in the urban setting. It is divided into four sections: the arts center, the museum towers, the opera, and the open lounge area suspended between the three main volumes.
The opera will be linked to a large network of public promenades and squares as part of the future embankment development.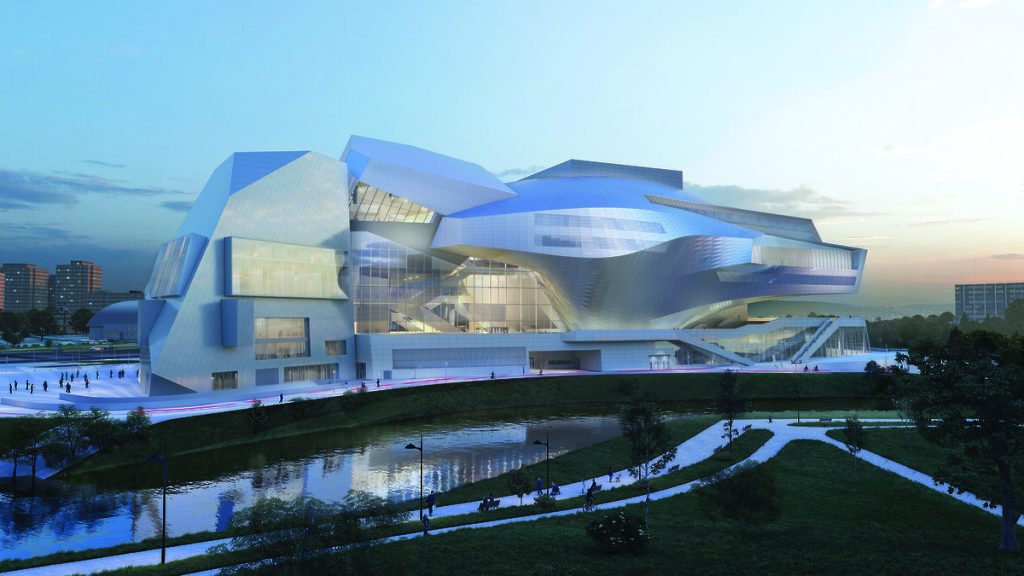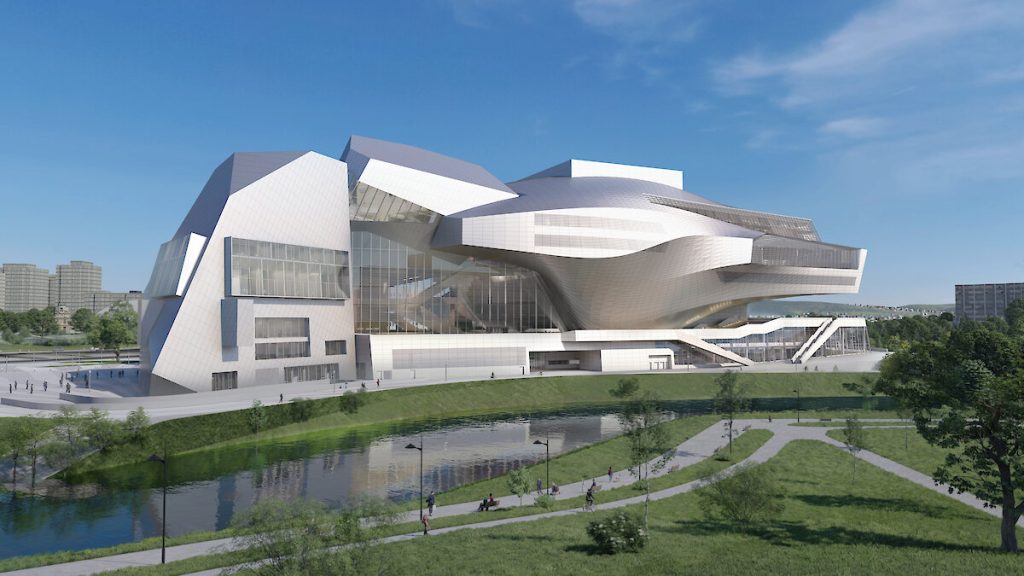 The design of the Museum and Theater Complex reflects not only Kemerovo, the administrative center of the Kuzbass region, but also its history as an important industrial city. The project's formal language combines the rational structure and organization of a modern opera house and museum typology with modernist architecture's floating spaces. The cultural venue's design allows it to serve multiple events at the same time, with a total capacity of 2.282 seats.
The complex's public space, known as the 24H Foyer, is generously glazed towards the outside and provides spectacular views of the surroundings. It not only directs visitors to the various functions, but it also serves as a new meeting place for the city. The exhibitions and events planned for the foyer, as well as the restaurant, will contribute to Kemerovo's cultural life.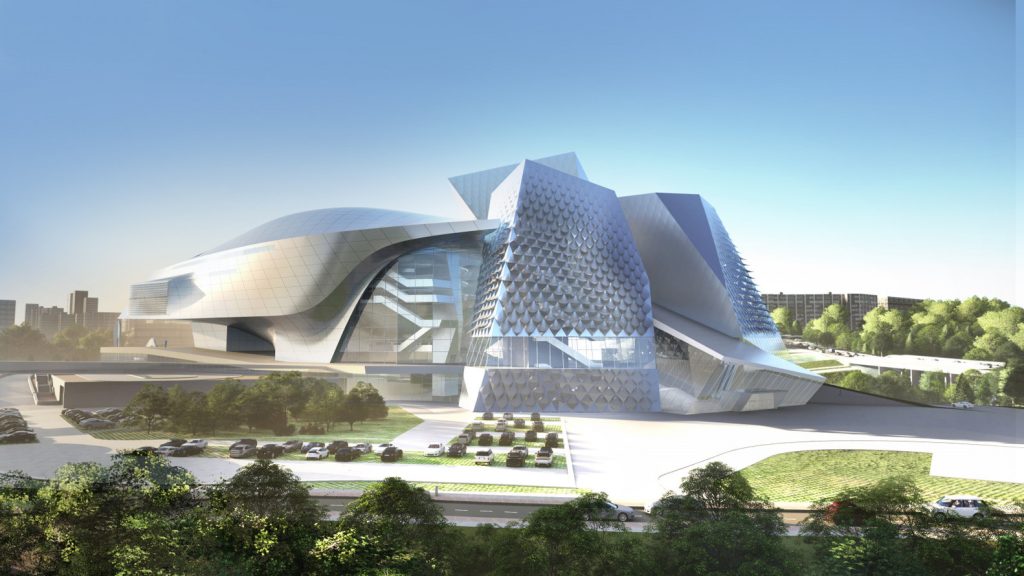 The opera, which includes a 959-seat auditorium, a stage tower, and back-of-house areas, is located in the center of the building. Behind the stage, tower are additional functions such as offices, VIP rooms, and rehearsal rooms. A cloud-shaped shell connects the opera-related parts of the building.
Kemerovo has a harsh climate, with hot summers and bitterly cold winters. The annual average temperature is 0°C. Buildings must be highly insulated and efficient in January, with an average temperature of 18°C. The fact that the cultural complex is shared by three users allows for more efficient use of space, HVAC systems, and public spaces.
The building's shape and cantilevers provide shade from the sun, snow, and rain. The omnipresence of concrete in the façade, a material with very high thermal inertia, optimizes the complex's insulation. Locally sourced materials are also used in the design.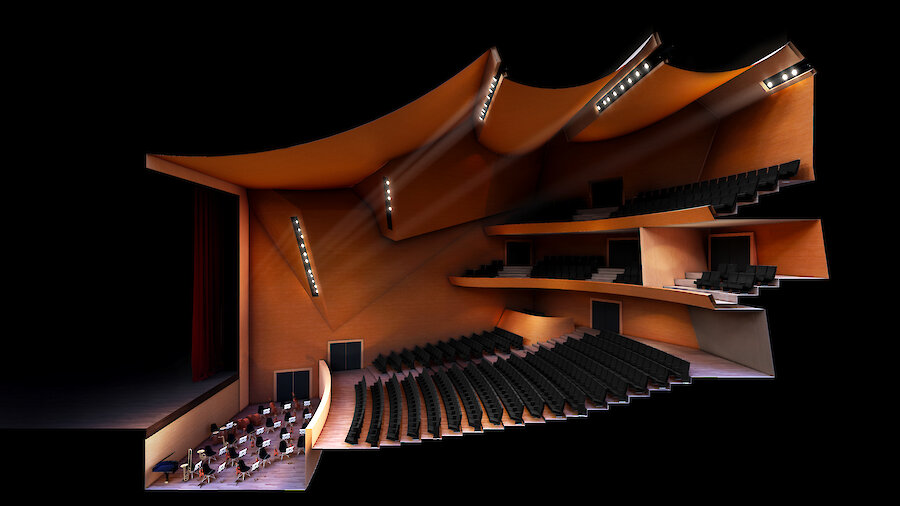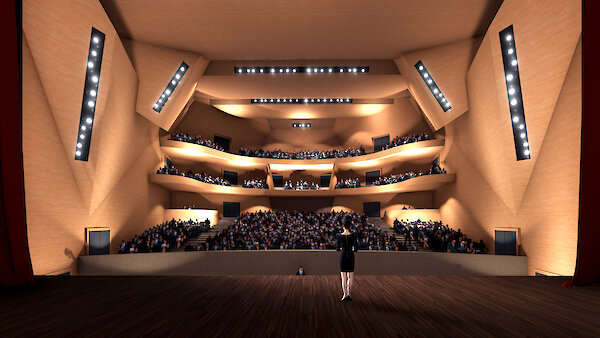 Project Info
Location: Kemerovo, Russia
Client: LLC GORKA
Start of planning: 2020
Start of construction: 2021
Opening: 2023
Site area: 44 466 sqm
Gross floor area: 73 550 sqm
Footprint: 17 666 sqm
Height: 65.67 m
Length: 223.5 m
Width: 121 m
Number of floors: 13
Capacity theatre: 959 seats
Capacity chamber hall: 313 seats
Stage size: 16m x 16m