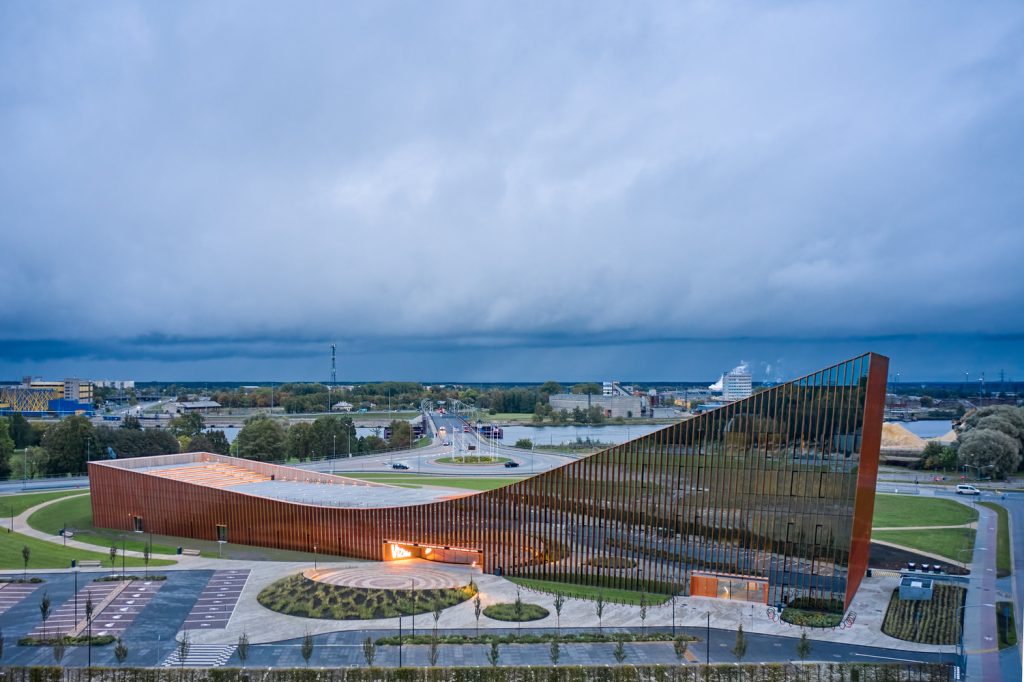 The Science and Innovation Center, VIZIUM, was designed as a union of architecture and landscape by Audrius Ambrasas Architects and is located in Ventspils, Latvia.
Instead of proposing a milestone in the bridge's axis, architects leave it open and welcoming. The silhouettes of the building and the hill oscillate here. New public spaces, such as the science hill rising from the plain, an open-air terrace, and a gazebo, are designed for residents and visitors alike.
VIZIUM stated, "The idea of establishing a science center was born 10 years ago, with the aim to raise the interest of children and young people in science and technology, as well as to create a place that would be appealing to tourists, families with children, and schools not only during the tourist season but throughout the entire year."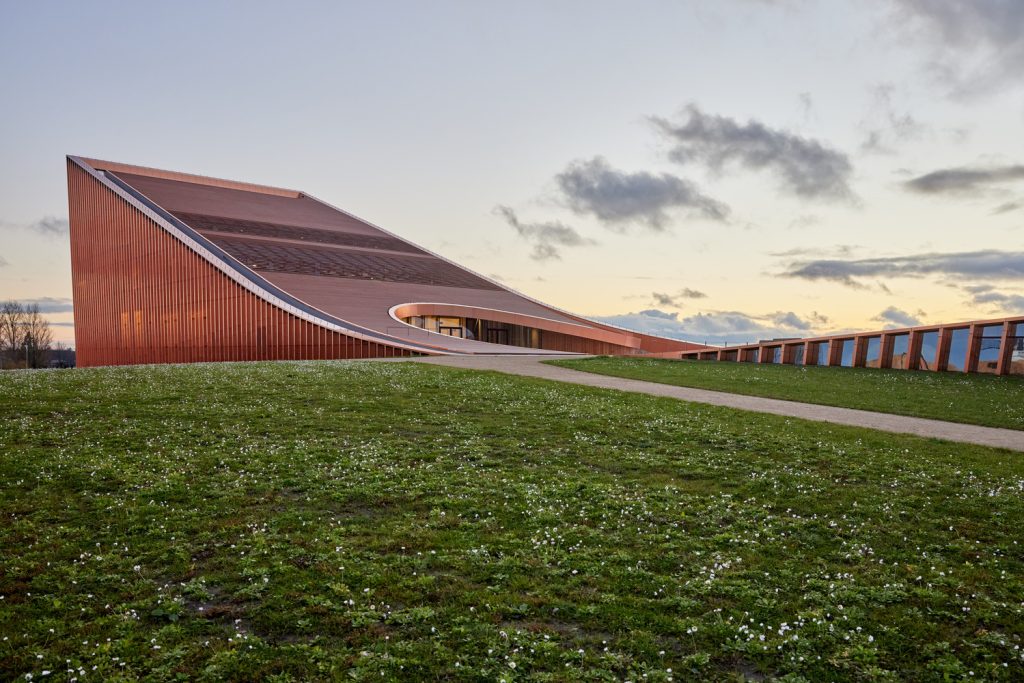 The construction plan of the building was developed by the PS AMBRASAS PB and coordinated by the SIA ARHITEKTA J. POGAS BIROJS. Additionally, Norway Grants support the center, and the aim of the project "Development of Innovation center in Ventspils city" is to promote knowledge development and career choice in the field of STEM (science, technology, engineering, and mathematics) with a special focus on natural sciences and information and communication technologies of pre-school children, pupils, and students.
The Science and Innovation Center VIZIUM's layout divides the site in two. The western part houses the access to the vehicles and the parking lot, while the technical transport access is separated from the arrival of the visitors: it arrives at the building from the south.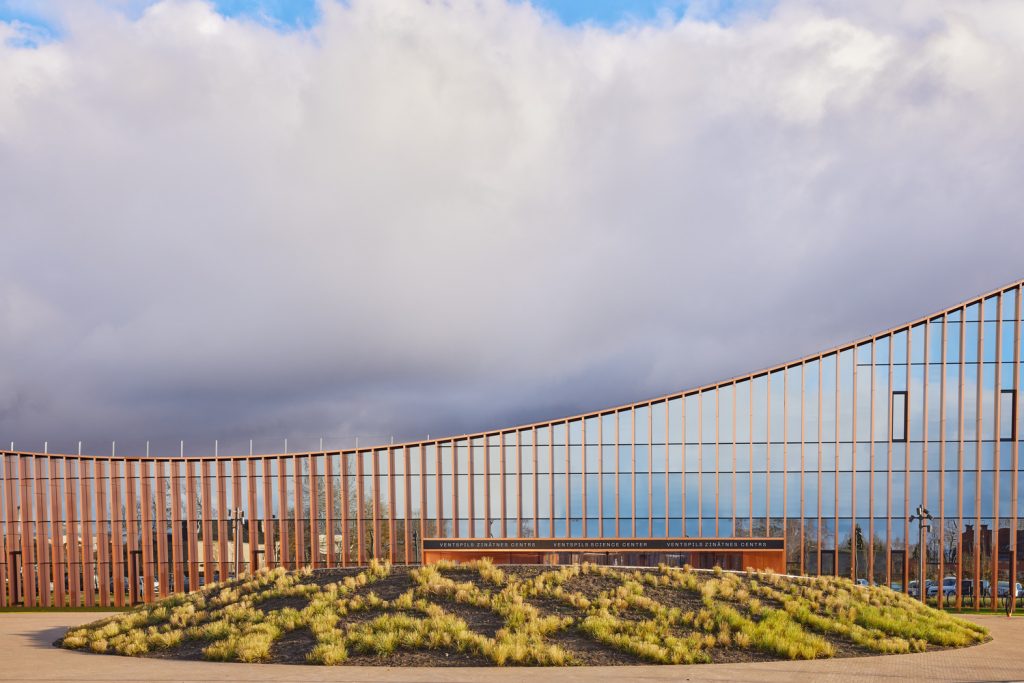 The eastern part of the compound is formed by the hill, which is a place for picnics and outdoor events and offers views of the river. The hill leads to the roof terrace with access to the public facilities (cafeteria, conference room, and access to the main lobby) area on the first floor.
The knowledge of the building and the city continues along the sloping roof towards the viewpoint that opens up panoramic views. The building is divided in two for functional reasons: the Science Center occupies the lower part of the volume, while the Innovation Center occupies the 6 upper floors.
VIZIUM states, "The façade of the building is made of glass with copper finishing sheets. In order to prevent the copper from losing its dark golden tone over time, these metal sheets have been specially treated by means of a technique used for the first time in Latvia. Worth mentioning is the lobby floor of the science center. Made of more than 600 000 Murano glass mosaic tiles, the floor of the lobby is designed as a world map with a total area of 365 m2. Ventspils is located in the center of the map. At this very spot, beneath the ground, there is a time capsule with a message for future generations built in the foundations."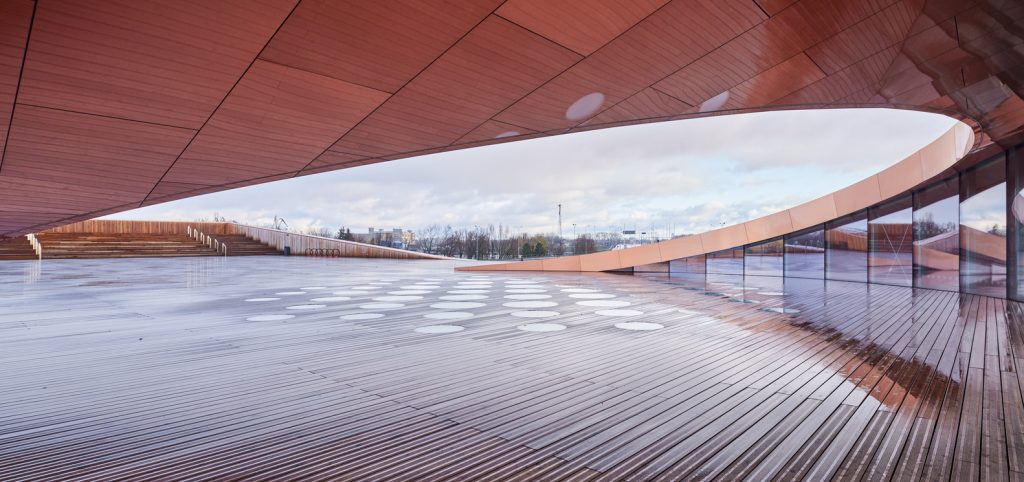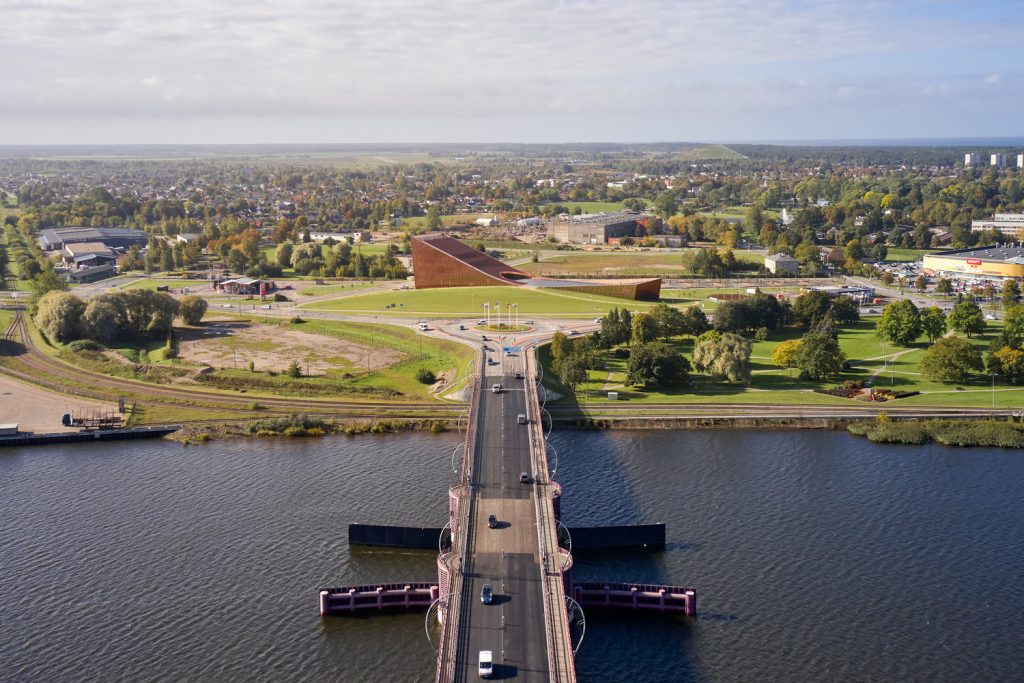 Project Info
Architects: Audrius Ambrasas Architects
Area: 6653 m²
Year: 2022
Manufacturers: TECU
Lead Architects: Audrius Ambrasas
Architect: Audrius Ambrasas, Vilma Adomonyte, Jonas Motiejunas, Viktorija Rimkute, Justas Jankauskas
Local Architects: Juris Poga birojs
Photographs: Norbert Tukaj