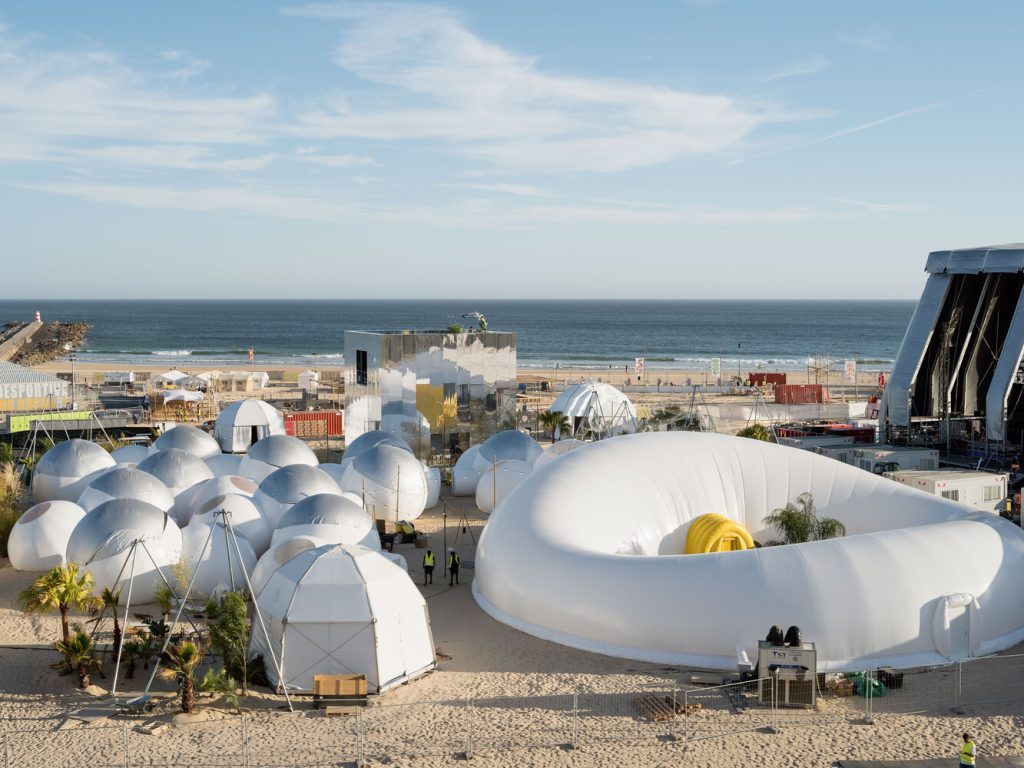 Designed by Langarita Navarro, Olimpo Nomade is a "mobile city" for the festival's performing artists. It's where musicians prepare before a show, relax, and hang out with their peers after a concert or show. It is a lightweight, collapsible, transportable "galactic" city.
Olimpo Nomade rolls out for the first time on the sands of Portimão Beach, Algarve, Portugal. A series of services meet the festival's needs while creating important spaces and external rest and entertainment areas protected from the sun by palm trees and fishing nets.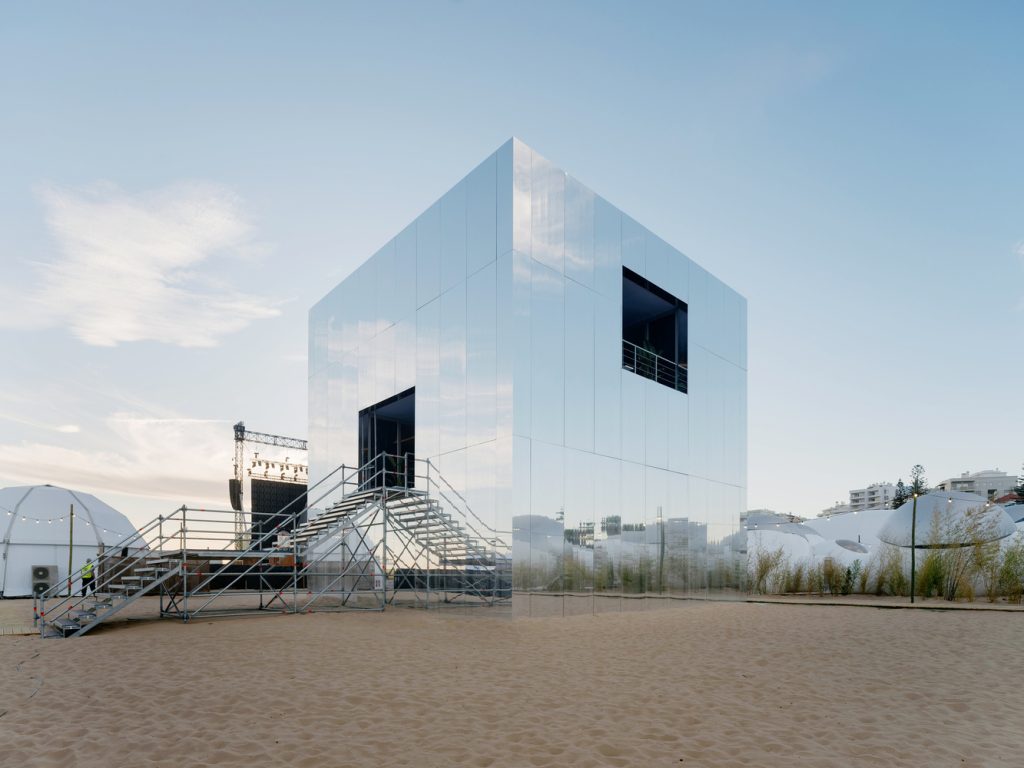 Emerging in an "oasis" of sand and palm trees, a majestic complex contains a sprawling doughnut, bubble camp, and a reflective palace that disappears into its surroundings. ​The "bubble camp" functions as a locker room. Each powder room is composed of two bubbles of different sizes, one of which is a dressing room, and the other has a large skylight, a communal area shared by performers with friends and staff before going on stage.
The Doughnut is a living room; it is a continuous, white, edgeless, inflatable structure covering 500 sqm, composed of a yellow cylinder interlaced with triangular prisms that act as vents and Emergency passages and exits. Inside the structure is a tranquil courtyard planted with palm trees.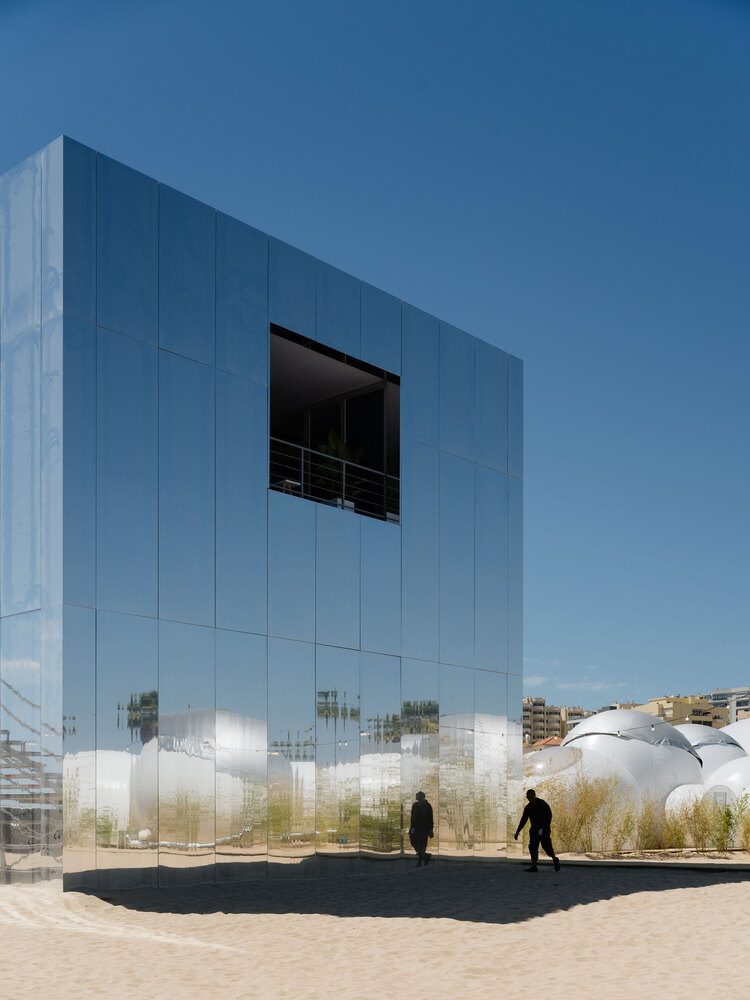 The "Palace of Reflections" provides three dressing rooms for performers. On a scaffolding structure of 9 x 9 x 9 meters, there is a perfectly mirrored cube with a 3 x 3 x 3-meter void on each side for private terraces and independent access.
On the roof, a blue-carpeted observation deck with reflective railings seems to soar above its surroundings, creating a singular and otherworldly image.
The project aims to provide the festival with a practical, lightweight, durable, collapsible infrastructure that can be stored and transported with a minimum of containers and retains its aesthetic identity for as long as possible without losing a sense of magical remembrance sex. Build a portable Olympus for contemporary gods.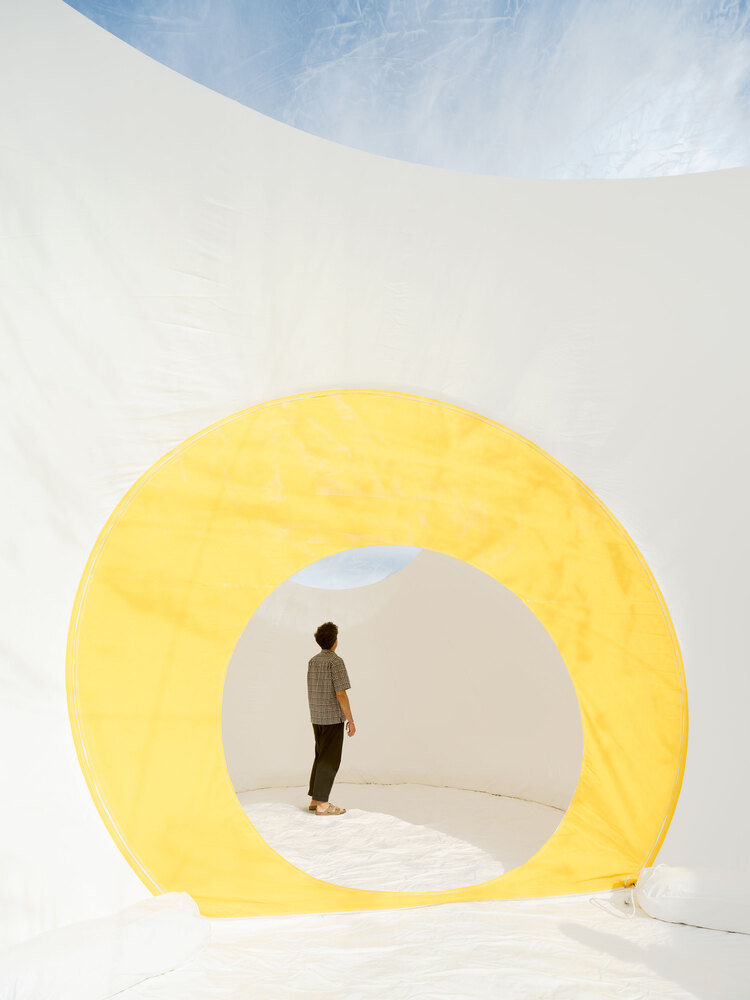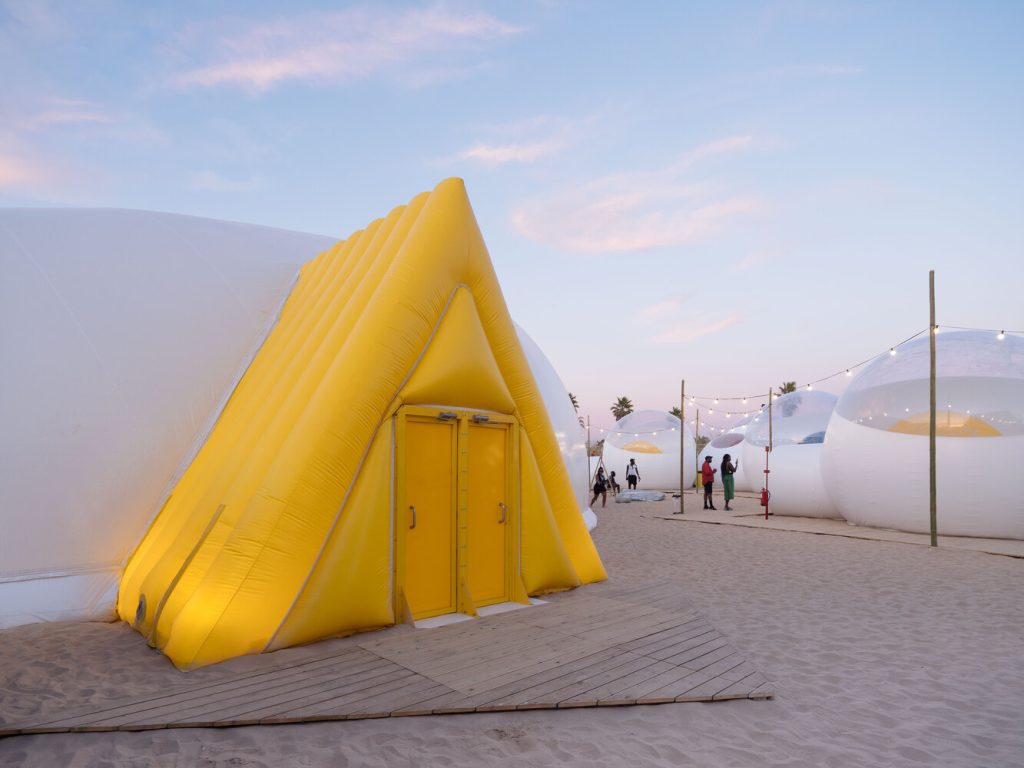 Project Info
Project Name: Olimpo Nomade
Completion Year: 2022
Scale: Backstage for an itinerant music festival
Project Location: Portimao, Portugal
Landscape/Architecture Firm: Langarita Navarro
Lead Architects: María Langarita and Víctor Navarro
Design Team: Javier Estebala Alández, Antonio Antequera Reviriego and Fran Abellán Estevan.
Inflatable architecture: Espacio La Nube. Álvaro Gomis, Hugo Cifre, Miguel Ángel Maure.
Festivals: Afronation + Rolling Loud
Backstage Managers: Elliott Jack, Dominik Prosser, Raul Caldeira & Theodora Karakassi.
Install / Inflate / Operational Team: Roberto, André, Bruno, Cabral, Miguel, Igor, Janeta, Mauro, Ricardo, Hugo Morals, Luis Claudio, Andre Paulino de Oliveira, Gleison Barbosa Flor, Wallace Sousa, Mateus, João Figueirinha
Photo Credits: Luis Díaz Díaz