Nine Bridges Country Club by Shigeru Ban Architects in Yeoju-gun, Gyeonggi-do, South Korea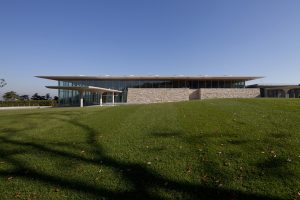 Shigeru Ban Architects, quite well known for their innovative use of traditional building materials, unveiled their new masterpiece- Nine Bridges Country Club for a premier golf course in Yeoju-gun, Gyeonggi-do, South Korea in the year 2009. Built on an area of about 21,000 sq. meters, the program for the clubhouse includes three main spaces-a clubhouse for regular members, a VIP members area, and accommodations for the club's VIP members.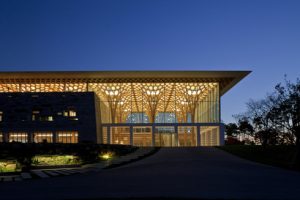 A different structural and constructional system that uses Reinforced Cement Concrete, Steel and Wood, has been conceived to distinguish each of the three otherwise continuous spaces. Clearly visible from the outside through a mere glass wall is the the main atrium space in the clubhouse.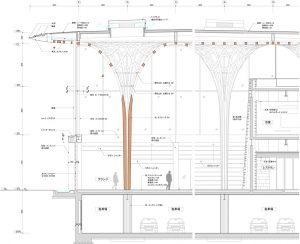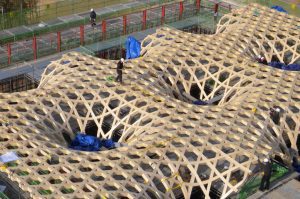 This atrium space contains radially arranged exposed wooden columns that climb up and change orientation to become horizontal members flowing across the entire ceiling space in a hexagonal grid. Reflected in the clear water body immediately in front of the atrium space, these wooden members almost appear to float and are reminiscent of some kind of medieval fairy-tale forest of trees.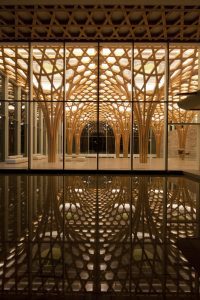 Interestingly, the glass curtain wall outside this three storied high atrium space utilizes top stacking glass shutter system allowing it to be opened up completely to the outside and blend with the green. Wood also acts as a natural insulating material creating warmth in the main atrium space during the colder weather.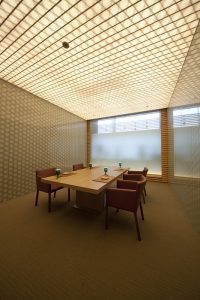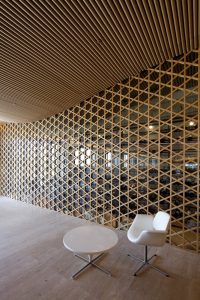 Adjoining the main atrium space in the clubhouse area is the lower podium which houses the more private functions of Locker rooms, washrooms, a spa and building services etc. The podium uses a more conservative traditional local stone in a shade of non invasive neutral gray, effectively merging with the wood and glass of the atrium.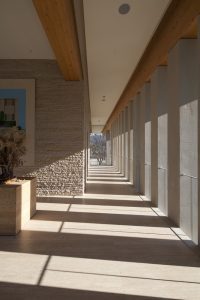 The VIP members clubhouse consists of staggered blocks built in Reinforced Cement Concrete, which receive unobstructed views of the green, whereas the smaller residential VIP accommodations are built in steel. The entire low-rise clubhouse that on first sight invokes the memory of some of Mies Van Der Rohe's projects, is truly an architectural delight.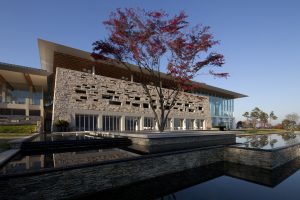 Architects : Shigeru Ban Architects
Location : Yeoju-gun, Gyeonggi-do, South Korea
Architect in Charge : Shigeru Ban Collaborator: KACI International, Inc.
Client : CJ Group
Area : 20977.0 m2
Project Year : 2009
Photographs : Hiroyuki Hirai
Manufacturers : Blumer Lehmann, SIMES
> Via arch2o