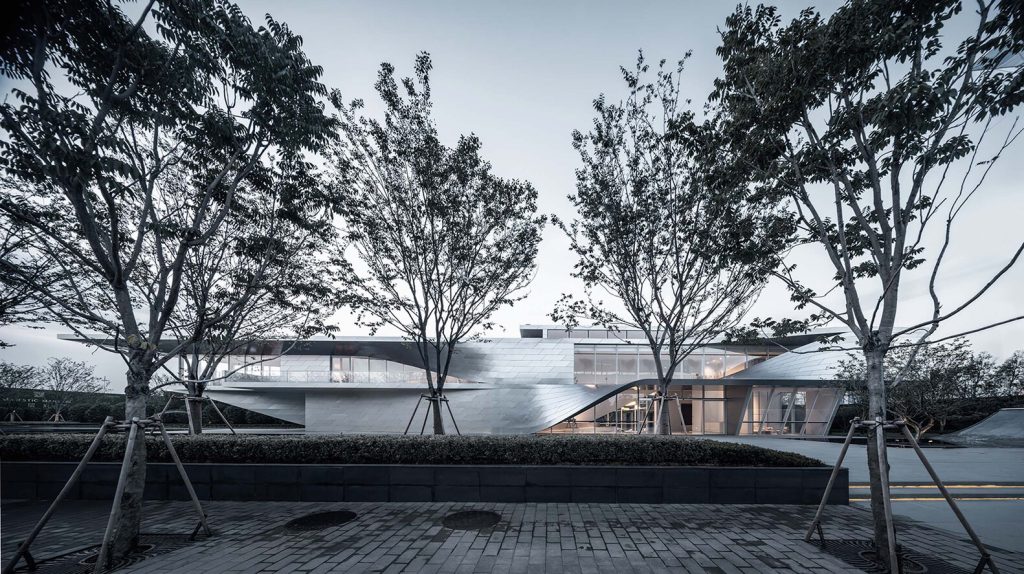 The Nanjing Art Center is located at the southernmost tip of Nanjing Xincheng, where three rivers intersect to create a landscape called "Fish Mouth". The area around the site is a new district that will become the central business district of Nanjing.
The project fuses architecture and landscape to create a public space with an iconic presence and a local landmark. The design concept comes from a series of winding folding walls that rotates 90 degrees in sections to combine the 'wall' and 'floor' into one gesture. This creates a rich spatial experience, connects the inside and outside, and makes the building unified complete strategy of setting the building back from the street creates a compositional contrast with the tall and dense urban context, and the design maximizes this difference by placing a gorgeous reflective pool in front of the building has lush green landscapes and offers a respite from the hustle and bustle of city life.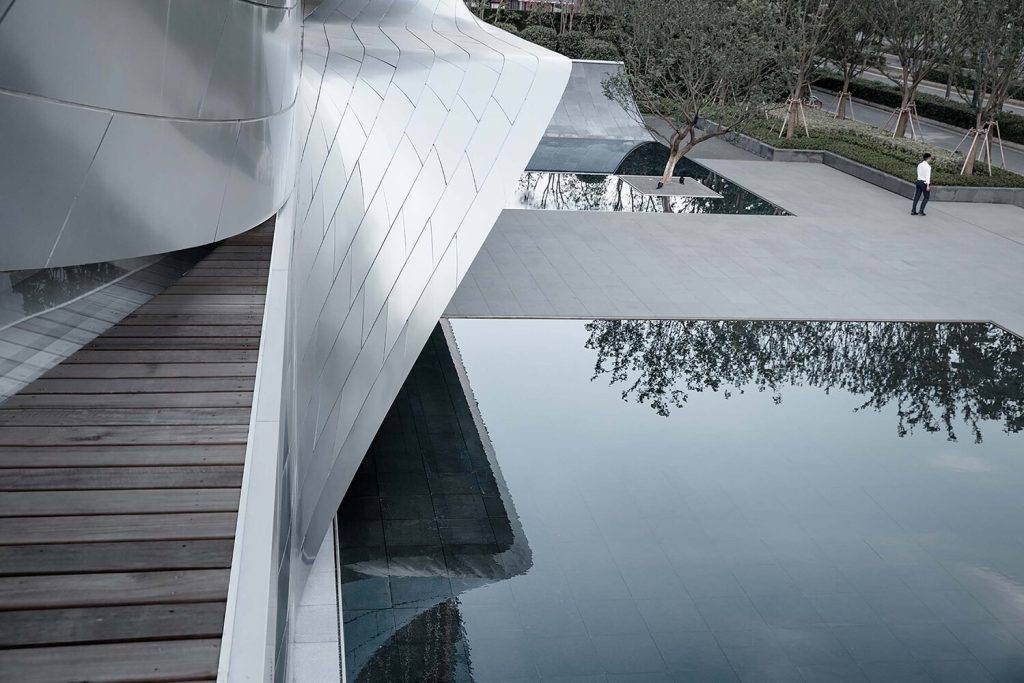 A well-manicured courtyard is on the north side of the art center, with a Japanese garden and a covered bridge that crosses the Qinhuai River to the easternmost "insect" section with an urban landscape. The outer skin of the building consists of 3 mm thick stainless steel panels and the inner surface is defined by wooden pallets. Form, space, and light enhance the perceivable dimension and conceptual experience of the interior.
The vertical space of the Nanjing Art Center volume allows for three distinct spatial zones. The first is a double-height gallery space with skylights, the second is a long ramp zone that provides a smooth vertical transition to the VIP zone on the third floor, and the third is a curvilinear straight line that enhances the design concept. It's a typical wall.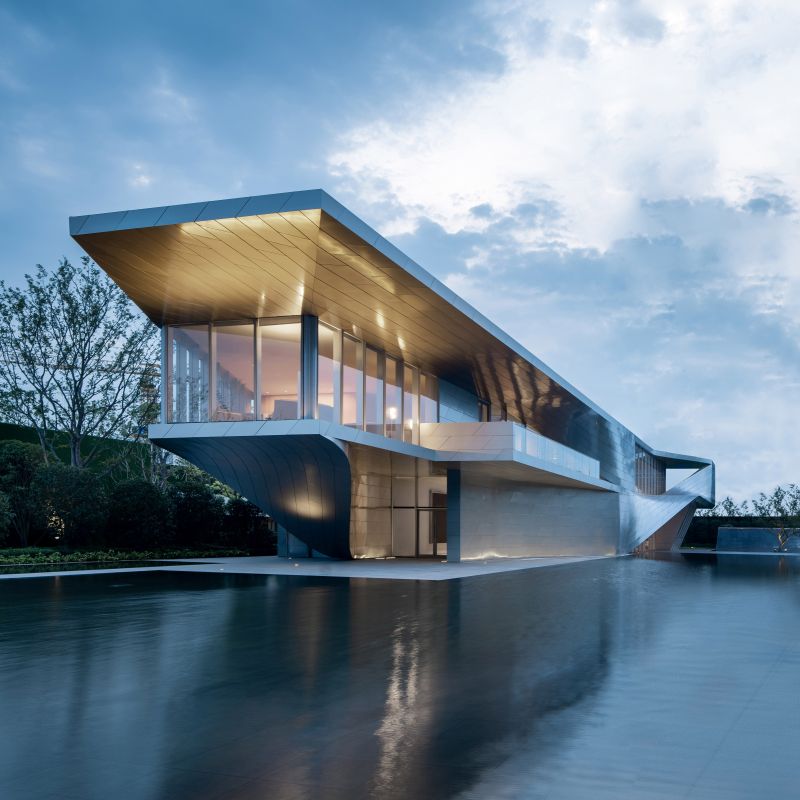 The building's main public staircase is created by folding the inner vertical wall into a horizontal plane, creating a distinctive curved wood zone. After optimizing the folded, upside-down wall into a saddle-shaped surface, the architects extracted fractal lines on the surface to create a series of fan-shaped open steel trusses. These beams support the load of the entire building and provide column-free space in the main areas, as well as the strength of the curtain wall secondary structure.
The folded walls not only achieve a thin wall thickness but also take on important spatial functions on both sides of the hyperboloid. The whole building is low-key and unique. The elongated shape records the passage of time along the Qinhuai River, reflecting Nanjing's future beautiful life.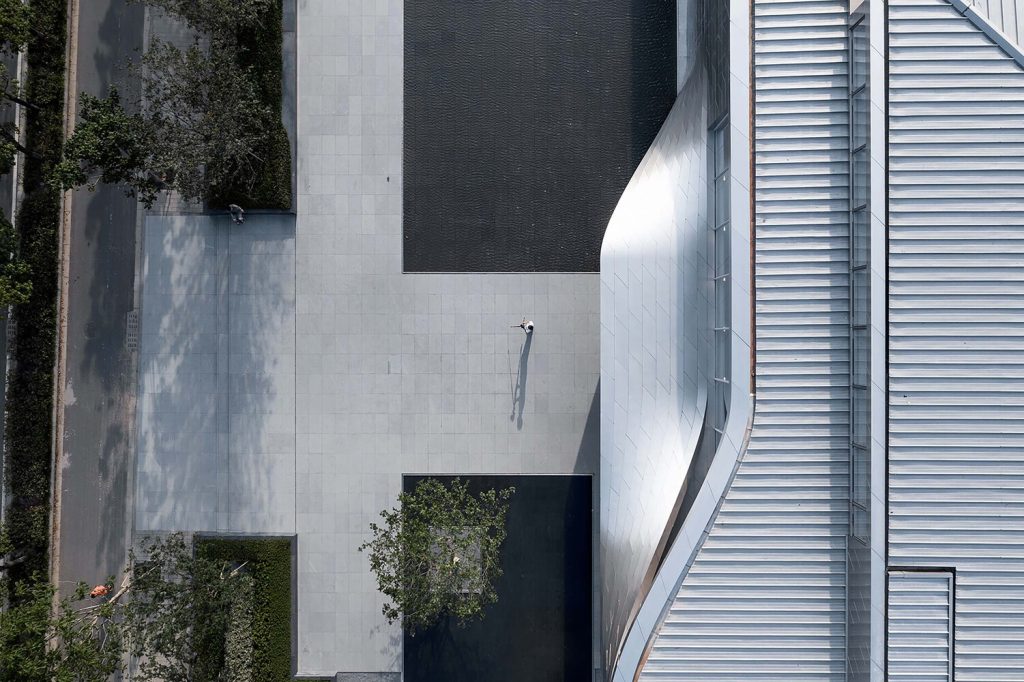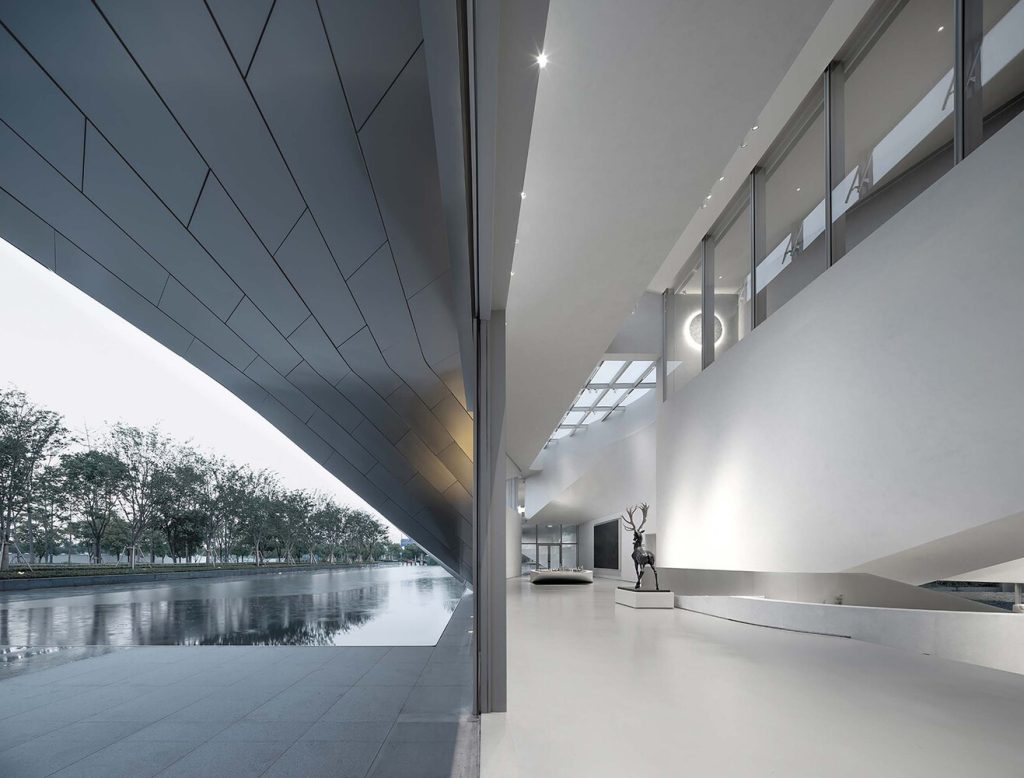 Project Info
Architects: Studio Link-Arc
Area: 1176 m²
Year: 2019
Photographs: Qingshan Wu
Lead Architect: Yichen Lu
Structural Design: WS (XingJian Engineering Co., Ltd)
Interior Design: YU STUDIO
Landscape Design: Metrostudio Landscape
General Contractor: CR LAND