World's First 3D-Printed Steel Bridge Unveiled at Dutch Design Week
Dutch robotics company MX3D has completed 3D Printing the worlds largest Steel Bridge designed by Joris Laarman over Amsterdam canal. The Bridge is being previewed at Dutch Design Week between 20 and 28 October.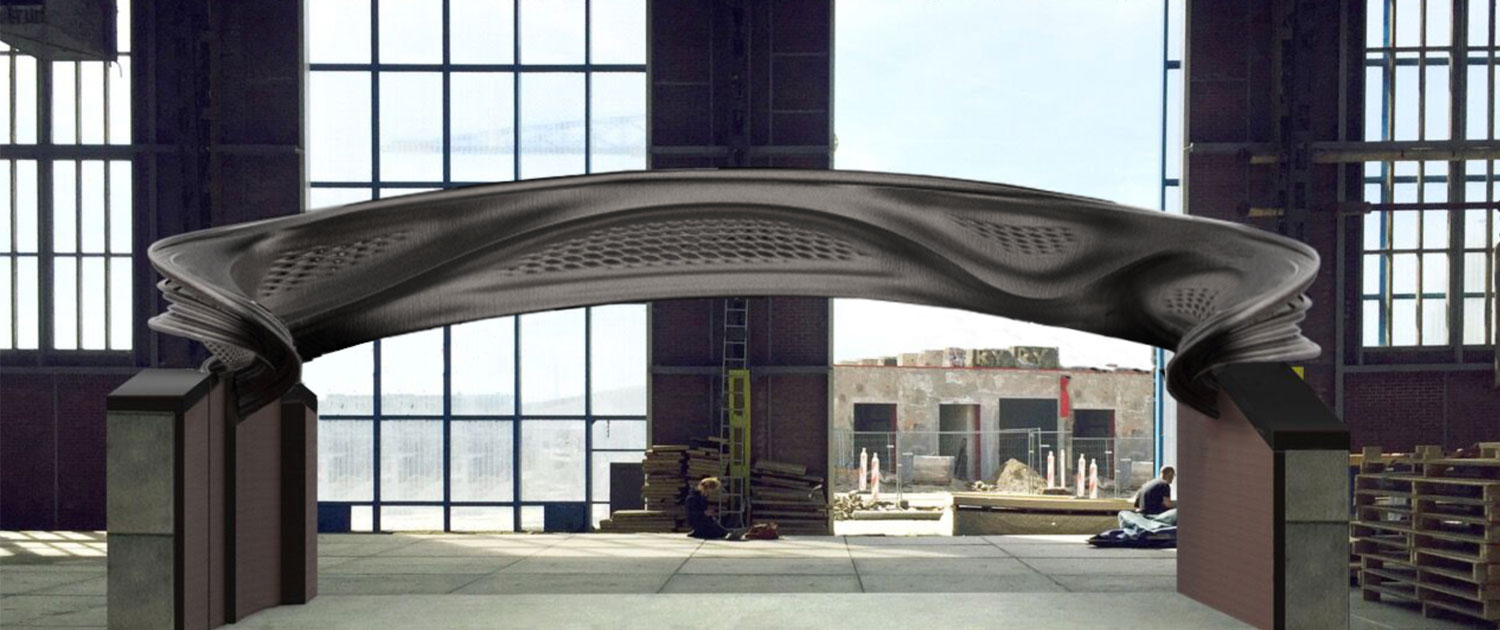 Amsterdam's robot printed steel bridge, to be installed in the city's Red Light District upon completion, is a 12-metre long design masterpiece with curved, raw steel balustrades that belie its high-tech origins.
The award-winning design, a collaboration between Dutch technology startup MX3D and designers Joris Laarman Lab, is the culmination of a long-running dream that welds traditional steelwork and advanced digital modelling into a tangible reality.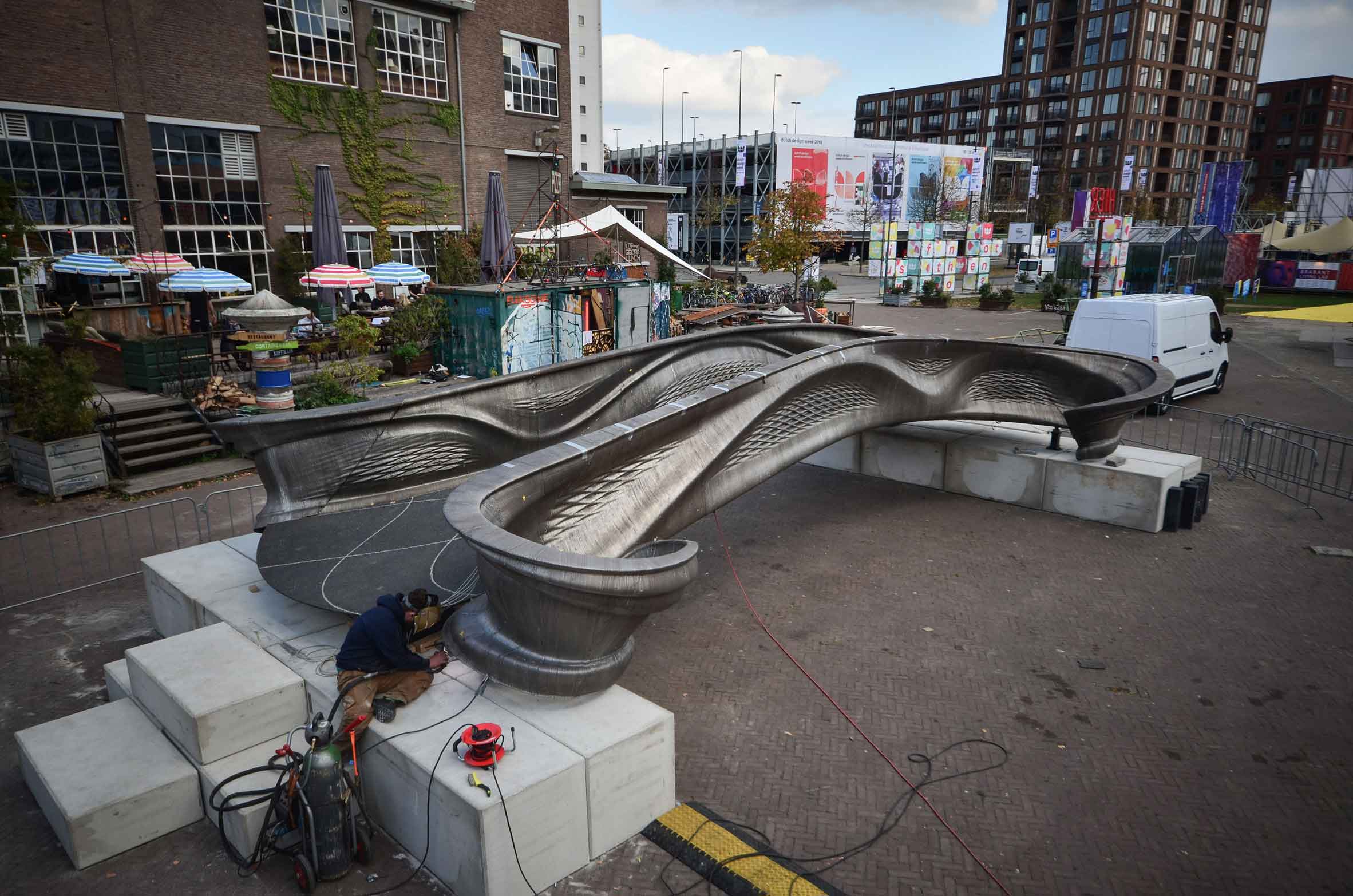 The pedestrian bridge, which will be installed on the Oudezijds Achterburgwal, offers a glimpse of what this state-of-the-art robotic welding technology could offer our cities in the near future.
With Arup involved as lead structural engineer, MX3D created intelligent software that transforms welding machines into 3-D robotic printers to produce a fully functional steel bridge.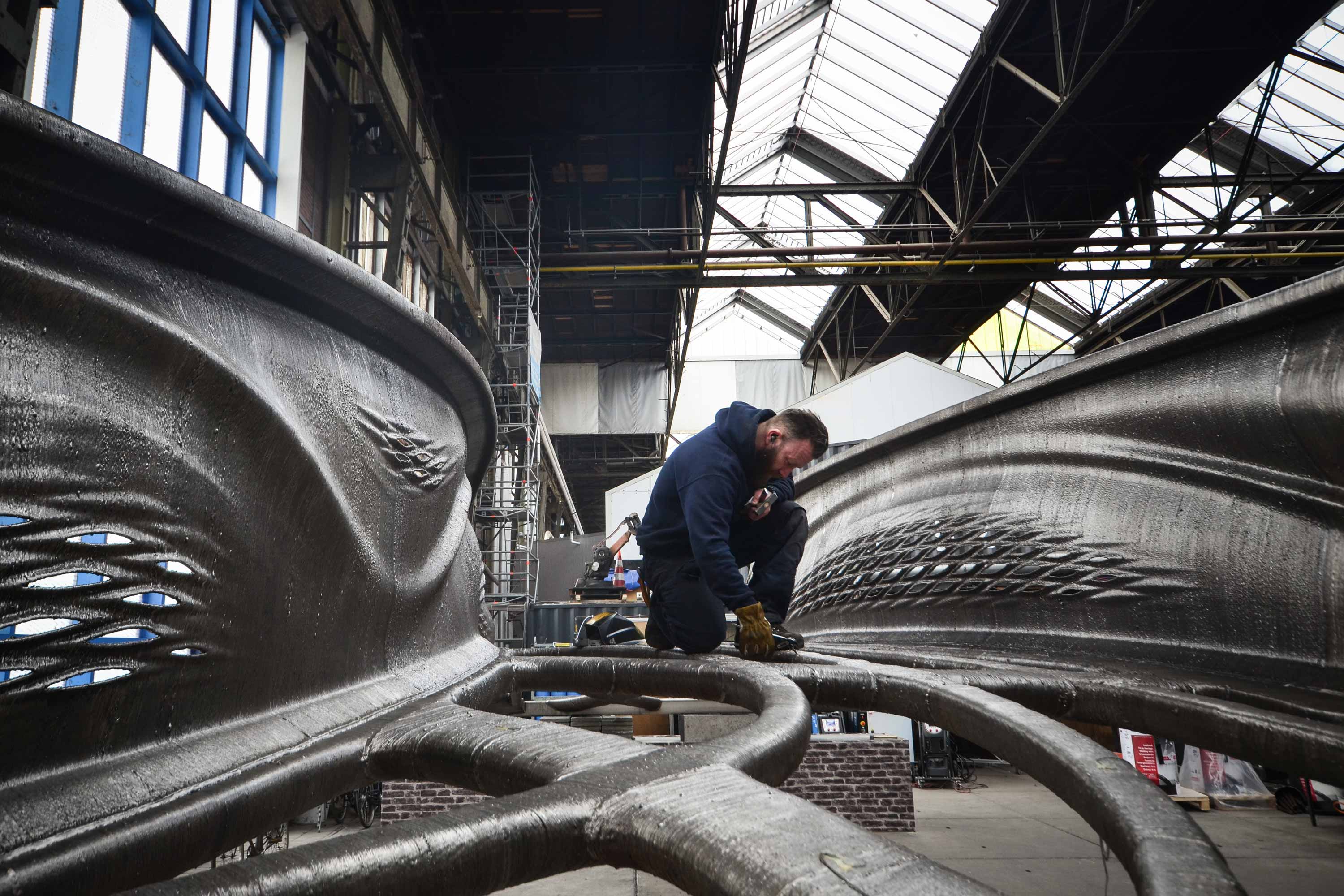 3D printing, also known as additive manufacturing, is a novel method of manufacturing parts directly from a digital model by building layer after layer of a material. This new, high-precision technique provides opportunities and architectural freedom to designers and engineers alike, while potentially reducing the amount of materials used and wasted.
IAAC and WASP Develop New 3D Printing Strategies Towards The Realization of Load-bearing Earthen Structures IAAC and WASP present an innovative prototype of a 3D printed wall designed and engineered by IAAC and realised by Crane WASP within the Open Thesis Fabrication research (OTF), a programme of the Institute for Advanced Architecture of Catalonia (IAAC) …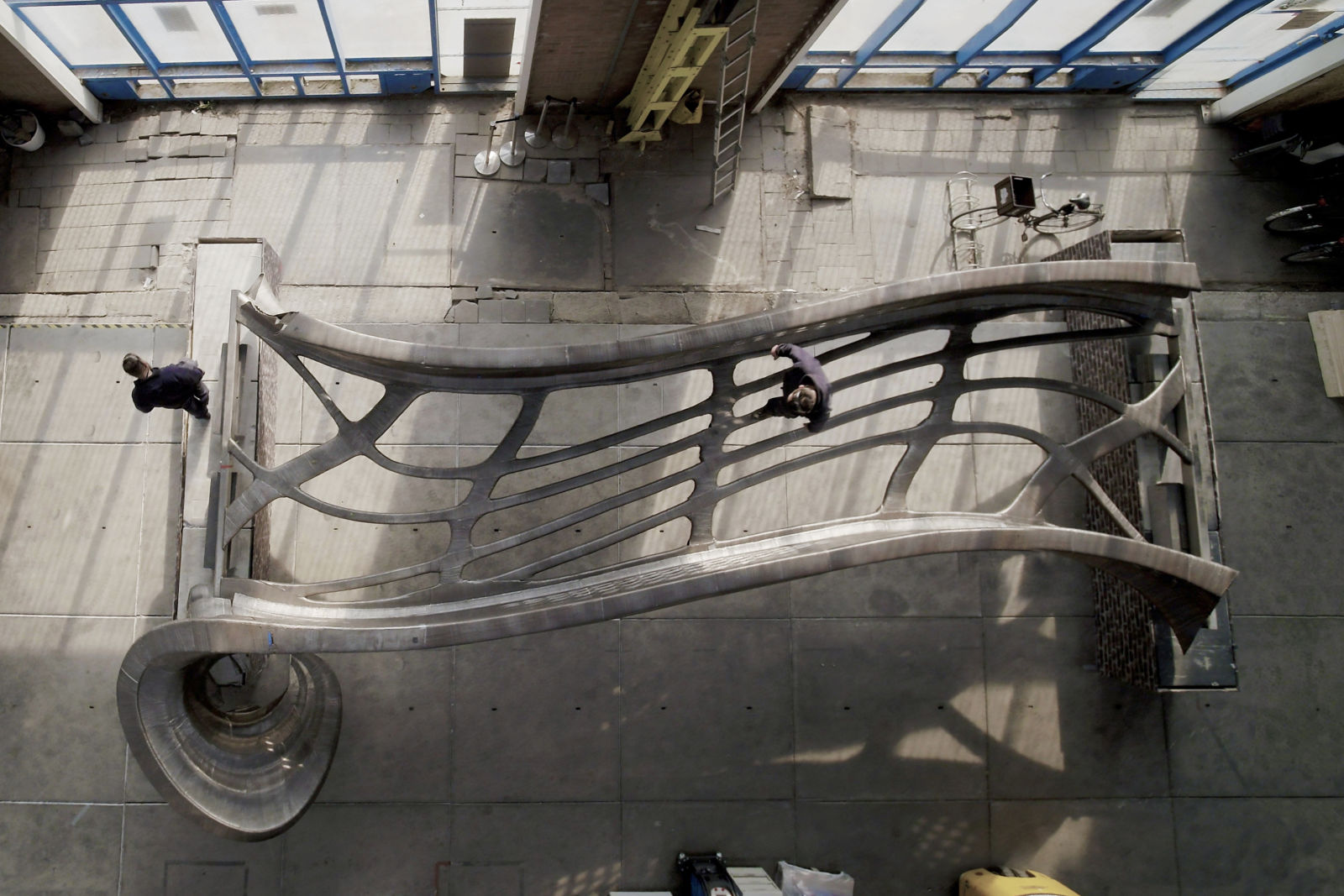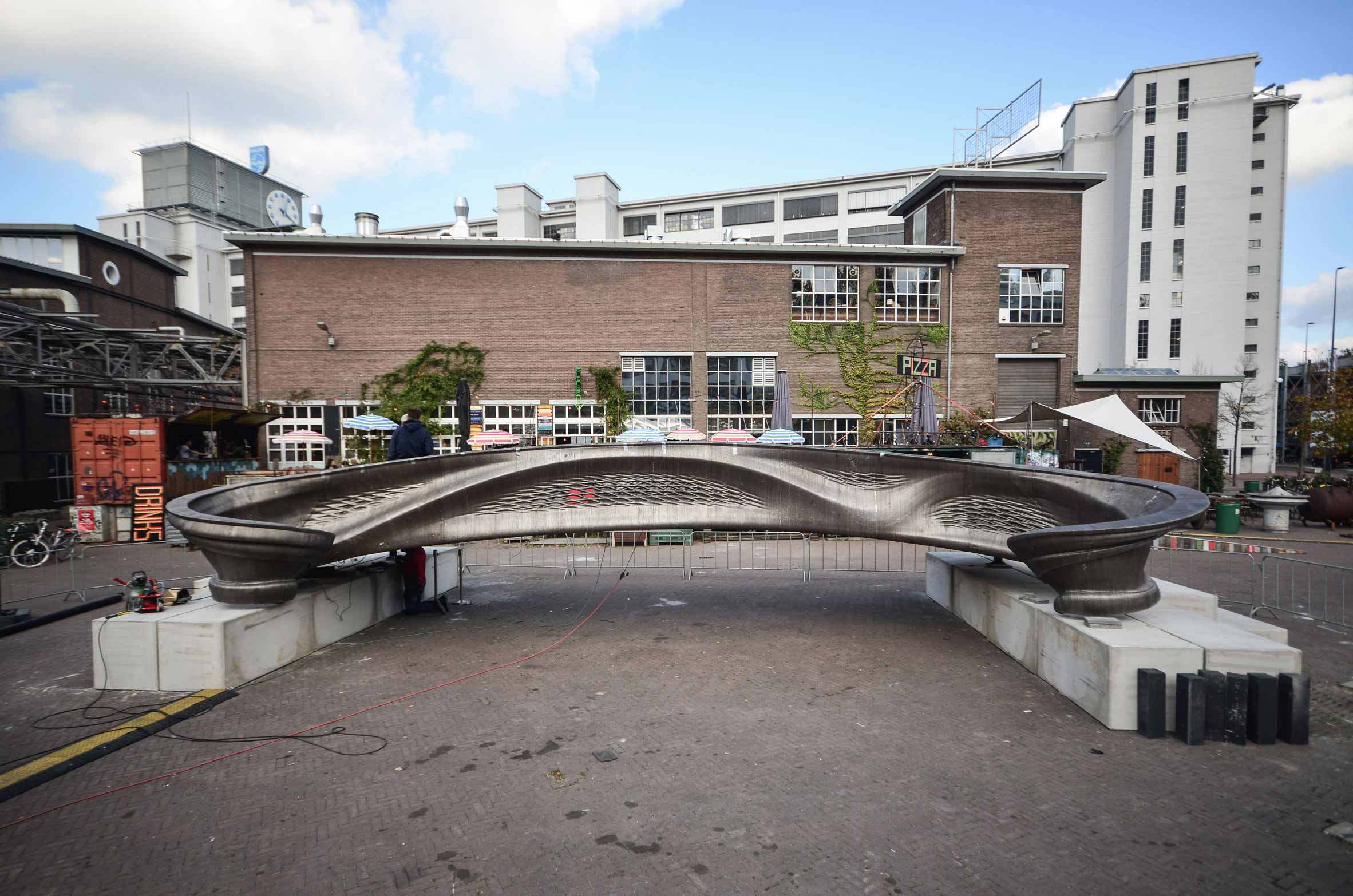 The project encountered several pivots. The initial design for the 12m bridge has changed significantly. As knowledge of the safety requirements, material properties and technical potential grew, a final model emerged in early 2017.
"The initial design changed significantly due to the engineering concerns," said MX3D. "The lightweight tree-like structure is built on four main bearers. The concern was that if one of these bearers gets hit by a boat, the structure could critically fail."
"Therefore a totally new concept was created that took into account everything we learned until then about the material, the local specifications and regulations," explained the company.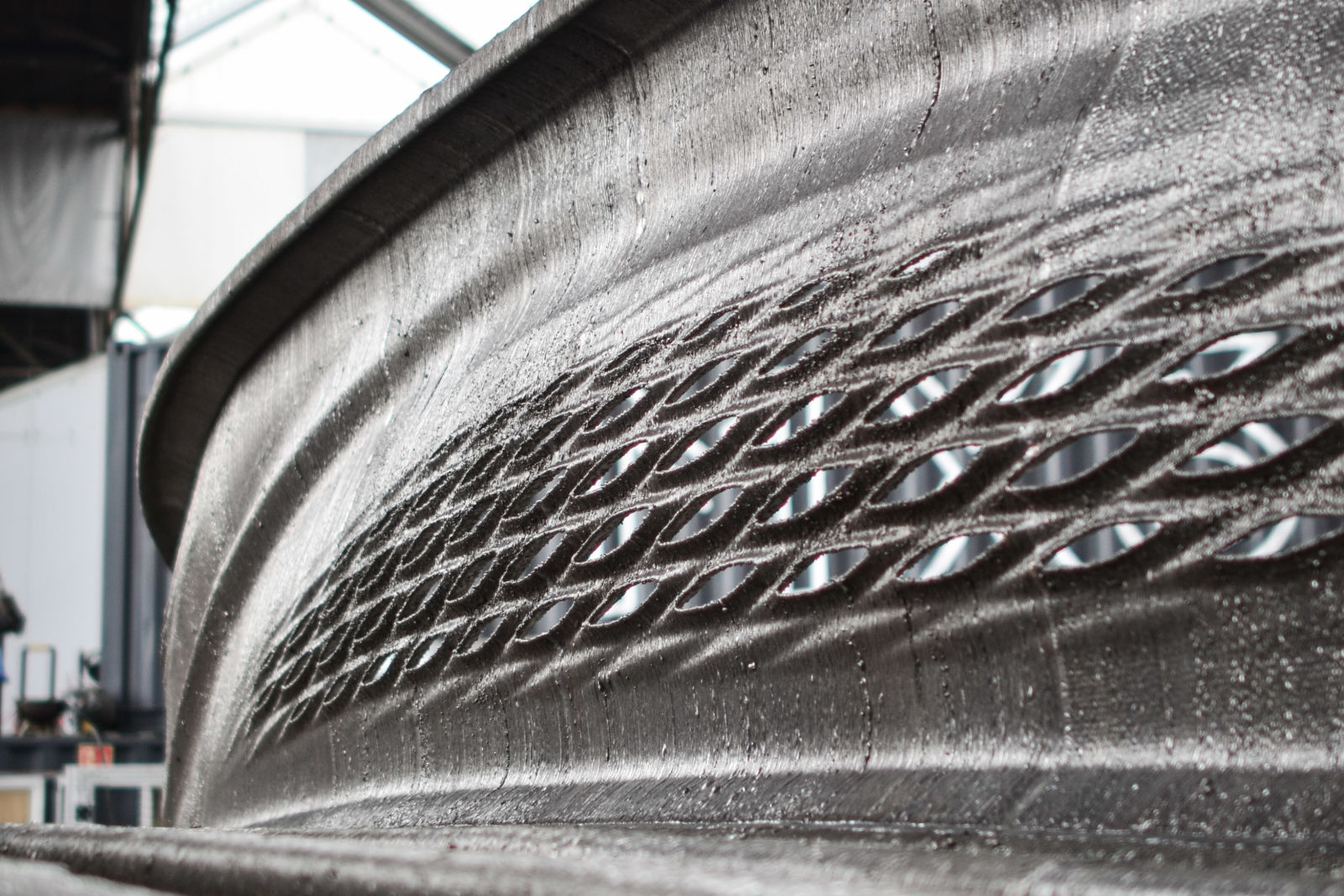 "We have set a vision in which robots would be able to autonomously 3D print infrastructural interventions in our built environment," said a spokesperson.
"Over the last three years, we have been able to create the technology required for this plan but we did not get permission to do it by the city government."
"Our timeline and budget also made it hard to realise this vision so we focused primarily on 3D-printing a fully functional pedestrian bridge, including a sensor network," they continued.
In March 2017, the printing and assembly of the large bridge parts began, and ıt has completed in October 2018. The bridge will be equipped with a sensor network, allowing the partners to gather data which will be used to build a Digital Twin monitoring the health of the bridge.
This digital twin will be used to track performance under different environmental conditions and under changing dynamic loads, enabling the development of a data-centric design language.
Location : Amsterdam, Netherlands
Client : MX3D, Joris Laarman Lab
Design : Joris Laarman Lab
Partners & Collaborators : Autodesk, ArcelorMittal, Force Technology, Imperial College London, Air Liquide, ABB Robotics, Heijmans, Lenovo, Lloyds Register Foundation, TU Delft, AMS Institute, Municipality of Amsterdam
Phorographs : Joris Laarman Lab, Adriaan de Grott and ARUP
Awards : STARTS Prize 2018, awarded by the European Commission and Dutch Design Awards 2018
Via ARUP
3d Printed Installation, Cheekwood Playhouse by Gould Turner Group in Cheekwood Botanical Gardens, Nashville, Tennessee, USA in 2016 Gould Turner Group partnered with Branch Technology to create the first large-scale 3D printed open-cell structure in the country for the Cheekwood International Playhouse Design Competition in Nashville, Tennessee.
Luai Kurdi is an architect with designer who is exploring and investing in parametric design and digital fabrication . Emergence of technologies such as 3D Printing has enabled him to combine both design and fabrication disciplines using a 6-axis robotic arm (Kuka ) to 3D Print with Concrete.