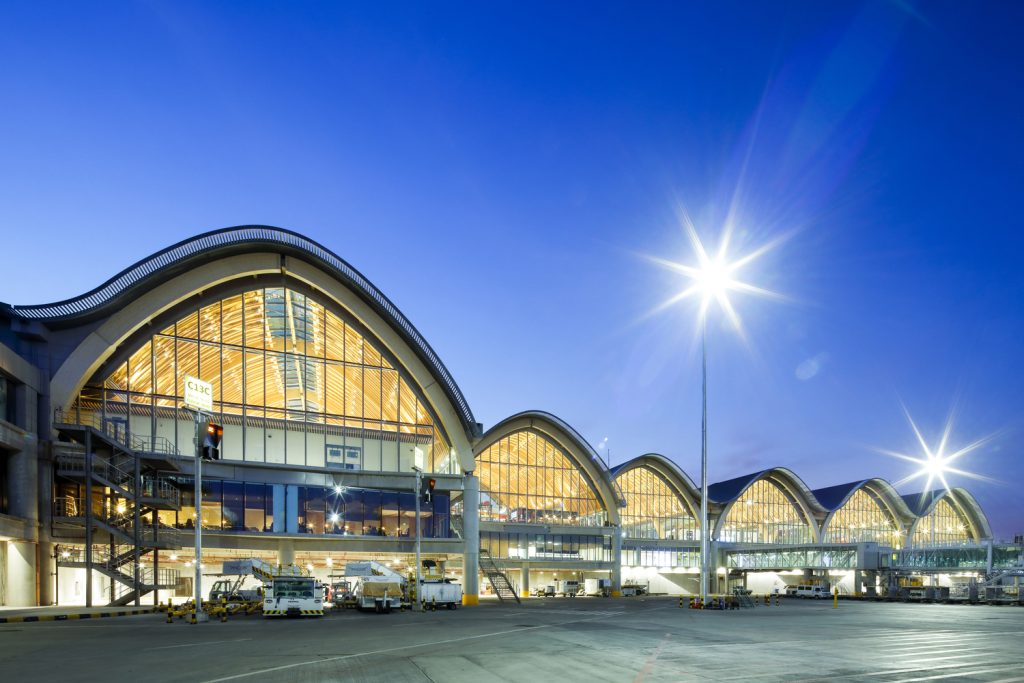 Integrated Design Associates designed Mactan Cebu International Airport T2 on the tiny island of Cebu as a "symbolic entrance to the Philippines" and took inspiration from rolling waves for its undulating timber roof. The terminal facility, which is located in Lapu-Lapu City, the island's primary urban core in Metro Cebu, is designed to handle up to 12.5 million passengers per year, including visitors traveling to the Visayan Islands and other vacation areas in the Philippines. Hong Kong studio, Integrated Design Associates supervised this architectural design with assistance from indigenous firm Budji Royal and industrial designer Kenneth Cobonpue.
The current Terminal 1 will be converted to domestic usage after T2 is finished in order to accommodate the increased traffic demands. A new Terminal 2 that will be used for international traffic is planned to support the existing Terminal 1. A world-class international hub and MCIA's primary entrance to the central Philippine area, the new facility is anticipated to transform MCIA from a small municipal airport. The new Terminal 2 is initially planned for 4 million passengers per annum (MPPA) and is expected to rise to 8 MPPA within the next ten years. The terminal's modular design allows for progressive expansion, with a fundamental building block structured for maximum adaptability to future development. Mactan Cebu International Airport T2 highlights MCIA's status as a world-class international hub, with an expectation of progressive expansion over the next decade and a modular design to ensure maximum adaptability to future growth.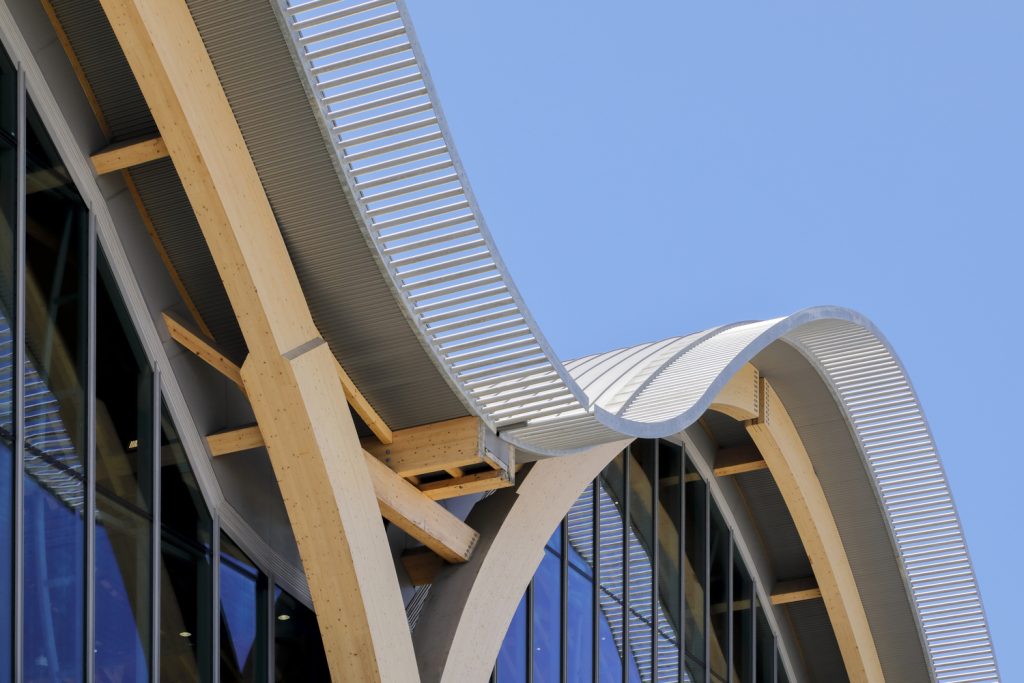 Mactan Cebu International Airport T2 is intended to have a resort-like ambiance while still serving as a transportation interchange. The terminal's high-pitched roof and low eaves help to block solar heat and glare, much like a magnificent tropical indigenous house in the Philippines. The highest structure is designed to be lightweight in order to endure seismic activity, and its shape is effectively braced against typhoons. The superstructure is made of sustainable materials and will be constructed by local artisans. This design provides a practical solution to the climate and energy needs of the region while providing a culturally relevant aesthetic that further enhances the environment. The structure oozes simplicity and warmth, setting it apart from the institutionalized coldness that characterizes many airports.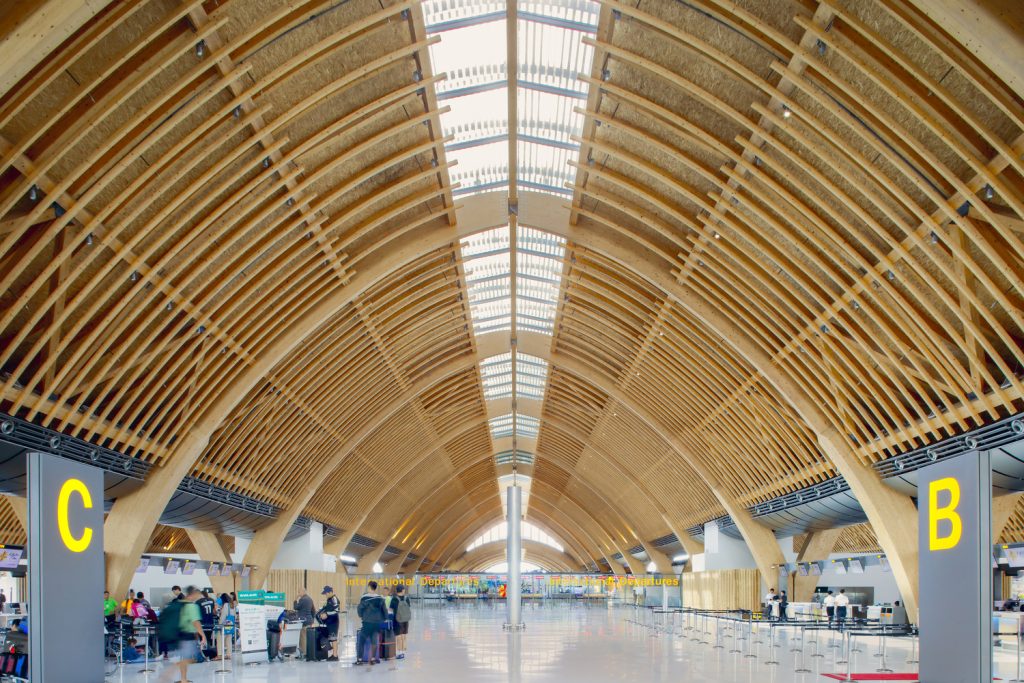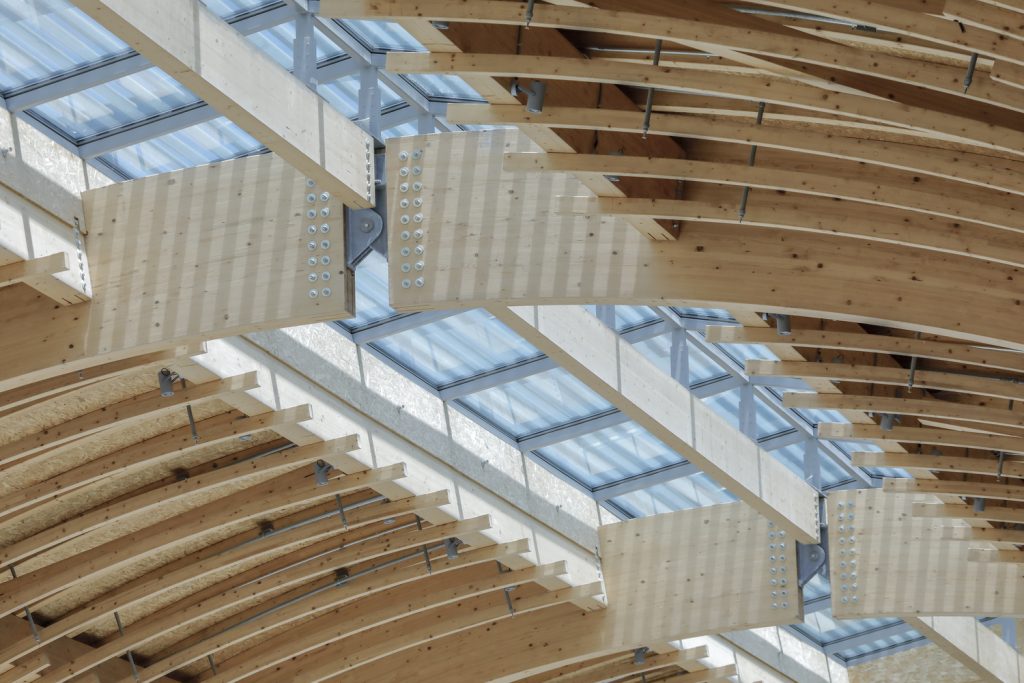 MCIA has developed a building material that has never been seen of this magnitude in Asia. The wave-form roof, inspired by indigenous Bangka Canoesù, is supported by glue-laminated (glulam) wood arches covering a total of 65,000 m2, making it one of the world's largest supporting structures built entirely of glulam timber. Air-conditioning conduits are totally integrated into the vaulted roof valleys, while skylights provide natural light at the arch's apex. The major south and north façades are 15 m high and covered by roof overhangs, providing clear, unobstructed views out of the structure. The roof's orientation and excellent vision from curbside to aircraft give passengers traveling through the building a clear sense of direction.
The terminal and the drop-off forecourt are connected by a 100-meter footbridge. Another first for a large transport facility in Asia is the use of laminated timber, which was chosen due to its low-carbon footprint, ease of assembly, and natural self-finish. Known as a landmark, a source of pride, and a display of the best that Cebu has to offer, the daring design is a well-known feature. The project is ideally aligned with the government's objective to promote equitable and sustainable growth in the nation through the construction of new infrastructure while preserving a distinct Filipino aesthetic that expresses the country's warmth and friendliness.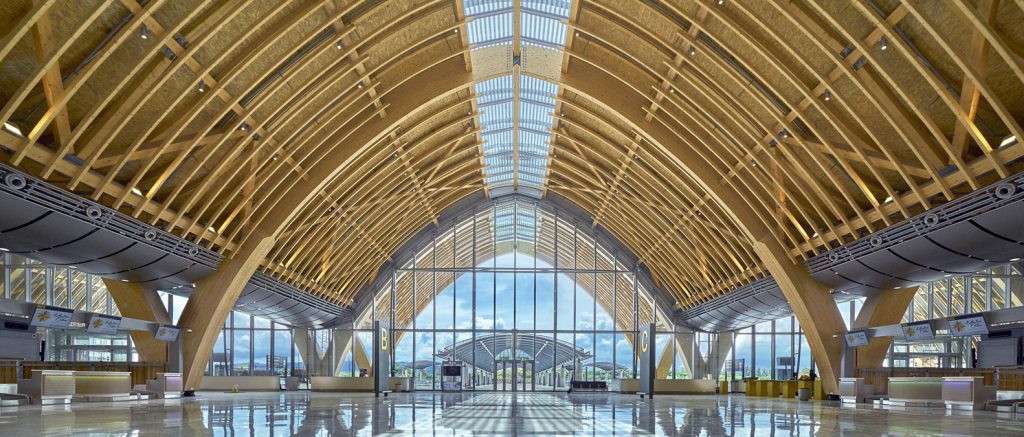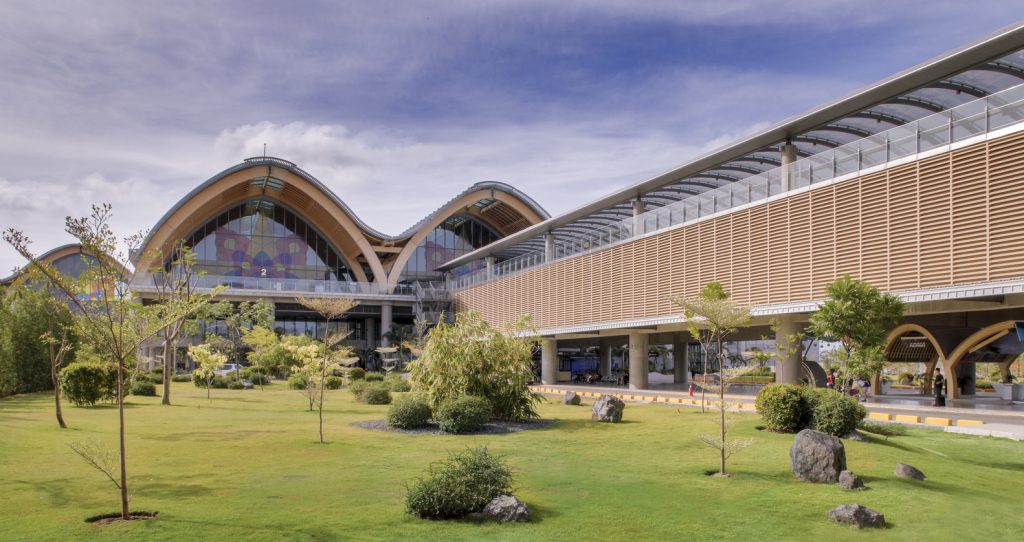 Project Details:
Architects: Integrated Design Associates
Area: 53000 m²
Year: 2018
Photographs: Steve Lee, John Nye, IDA, Chubby Atillo
Manufacturers: DURLUM, Dedon, RUBNER, Riverclack
Lighting Design: Lighting Plan Inc (LPI)
Architect In Charge: Winston SHU, Winston SHU
Client: GMR-Megawide Cebu Airport Corporation (GMCAC)
Aviation Planning: Arup
Structure / Mep / Baggage Engineering: Arup
Retail Design: Retail Concepts Design (RCD)
Glulam Specialist: Rubner Holzbau
Collaborator: ASYA Partner
Structure Engineering: Arup
Mep Engineering: Arup
Baggage Engineering: Arup