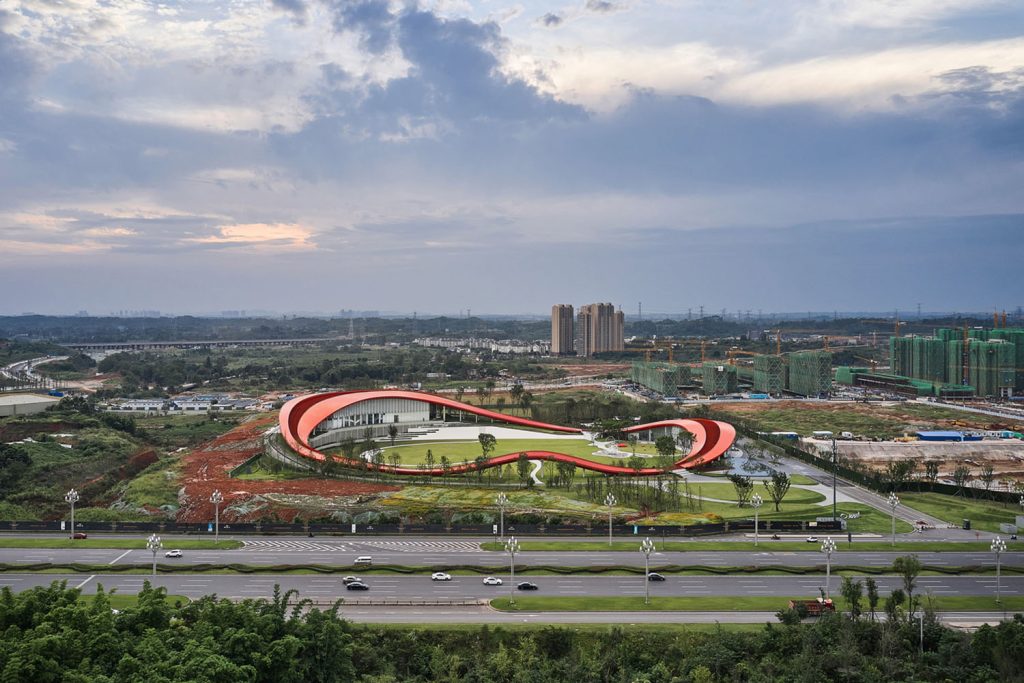 Located in the Tianfu New District of Chengdu in Sichuan, Unis Chip City is one of the many new construction projects that are rising up along Tianfu Avenue. Located next to this significant artery, The Loop of Wisdom Museum grabs attention with its fluid design and striking red color. This striking building serves as a beacon for the future community and a magnet to draw in new residents, as it is the first finished structure in this new development.
The design by Powerhouse Company for this new technology museum and reception center mixes recreation with a thought-provoking exhibition. The Loop of Wisdom, designed as a continuous ring, represents an organic and geometric ideal of fluidity and adaptability. Powerhouse Company also served as a consultant for the development, which consists of apartment complexes, workplaces, shopping centers, and schools, in addition to developing the Loop of Wisdom. They also developed other parts of the concept, such as the mixed-use offices currently being built.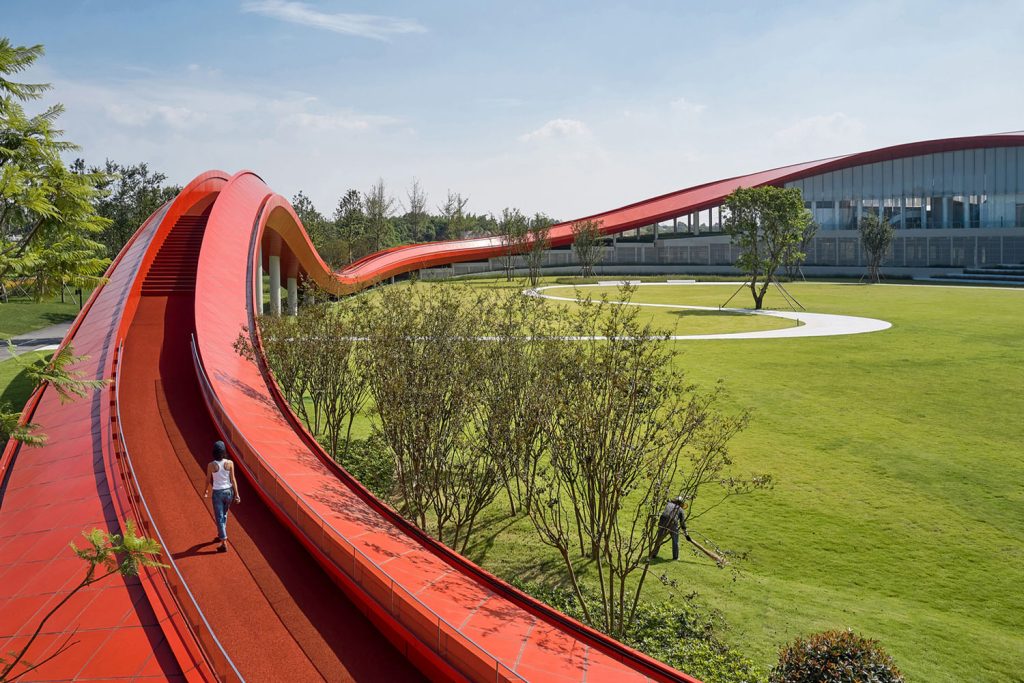 The rooftop walkway, which is 698 meters in length and rises 25 meters above its ground-level entrance, provides an expansive view of the neighborhood and the distant mountains. Rubber asphalt covers its surface, making it perfect for both walking and running. This grid-like rooftop surface is made up of 15,218 aluminum metal tiles over the track. Large spans of windows and natural wooden interiors highlight the site's surroundings in the building's exhibition areas.
The wooden ceilings and wide windows that provide a view of the surrounding countryside give the exhibition areas beneath the red roof a cozy and natural ambiance. The facades have glass reinforcing fins that extend 13 meters up from the structural glazing. The distinction between indoor and outdoor is blurred by this transparency, further strengthening the sense of connectedness to nature. The LED lights change the building into a luminous sculpture at night.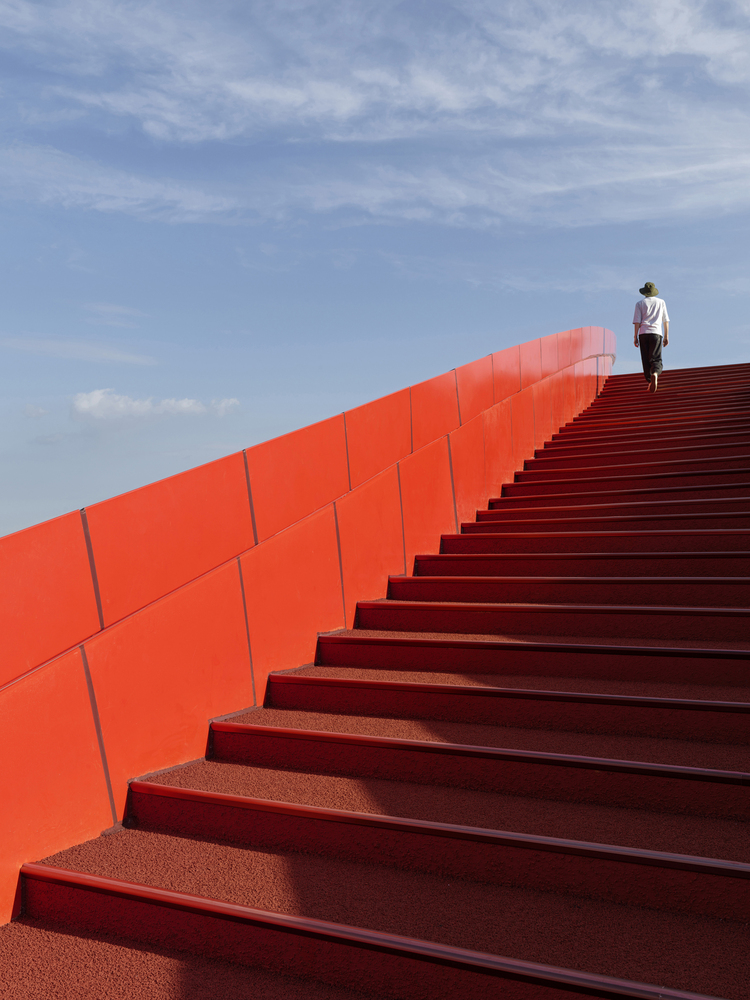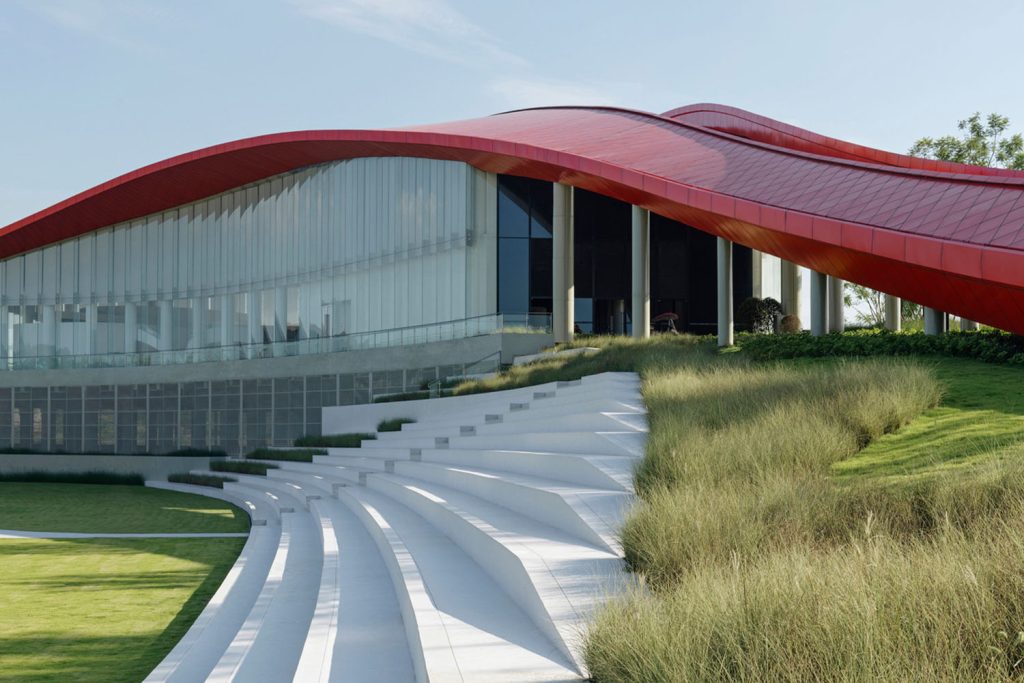 It only took a little over a year from design to completion for the Loop of Wisdom building to be constructed, including the interior design and the exterior landscaping. With the use of modern parametric drafting tools linked to the architects' BIM model, the design went from sketch to blueprint in a couple of days. Powerhouse Company's corporate office in Rotterdam and the site in China were separated by only six hours of time, allowing for effective communication with constant check-ins at the beginning and conclusion of each day. A new school will also be eventually constructed next to the Loop of Wisdom.
The structure will begin its second phase of use as a library and sports complex with an Olympic-sized running track, keeping its central position in the neighborhood. The building is inherently sustainable because of its lengthy lifespan.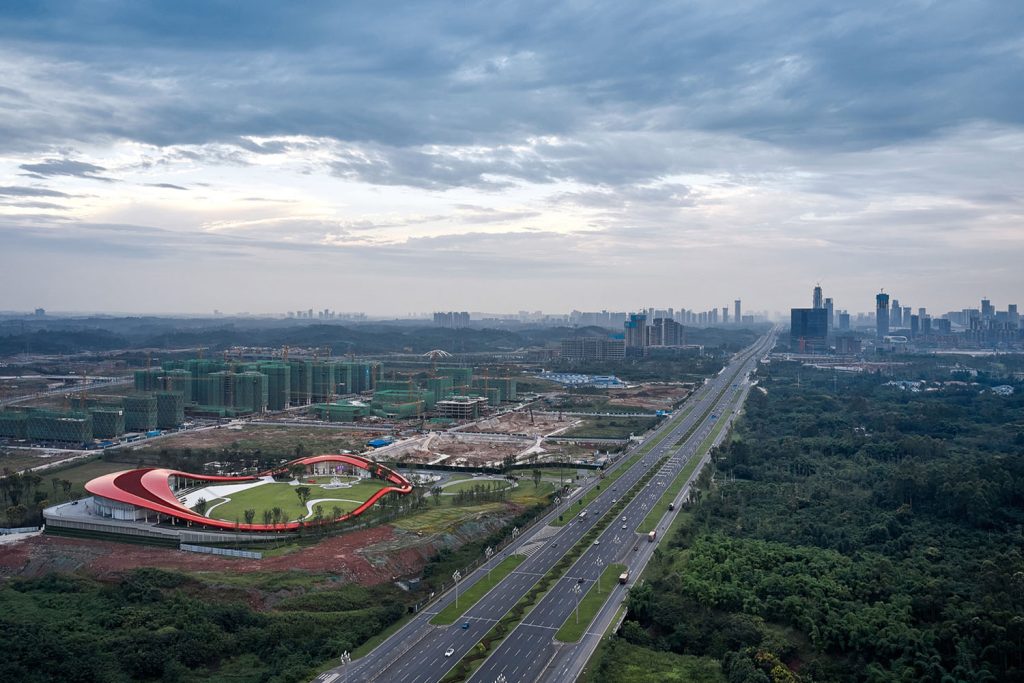 Project Info
Architects: Powerhouse Company
Area: 5000 m²
Year: 2020
Landscape Architects: AECOM, Wisto Design
Interior Architects: CCD, Xenario
Urban Planners: Woods Bagot
MEP Consultant: Chengdu JZFZ Architectural Design Co.Ltd.
Structural Engineer: Chengdu JZFZ Architectural Design Co.Ltd.
Contractor: CSCEC, Kelida
Partners In Charge: Stijn Kemper, Nanne de Ru
Project Lead: Niels Baljet
Project Team: Rui Wang, Albert Takashi Richters, Maarten Diederix, Meagan Kerr, Remko van der Vorm, Daan Masmeijer, Michiel Bosch, Niek Koning, Stavros Voskaris, Filip Galić, Severino Iritano, Davide del Sante, Reto Egli, Penny Uni, Dries Brøns, Caroline Desplan, Eli Keijser, Gert Ververs, Giovanni Andrea Coni, Rafael Zarza Garciá, Yanni Huang, Kimi Fei
Co-Architect: Chengdu JZFZ Architectural Design Co.Ltd.
Facade Engineer: Chengdu JZFZ Architectural Design Co.Ltd.
Lighting Advisor: Minka
Visualisations: Mir., ATCHAIN, Mir.ATCHAIN
Façade Engineer: Chengdu JZFZ Architectural Design Co.Ltd.
Lighting Advisor: Minka
Location: Chengdu, China
Photographs: Jonathan Leijonhufvud Architectural Photography