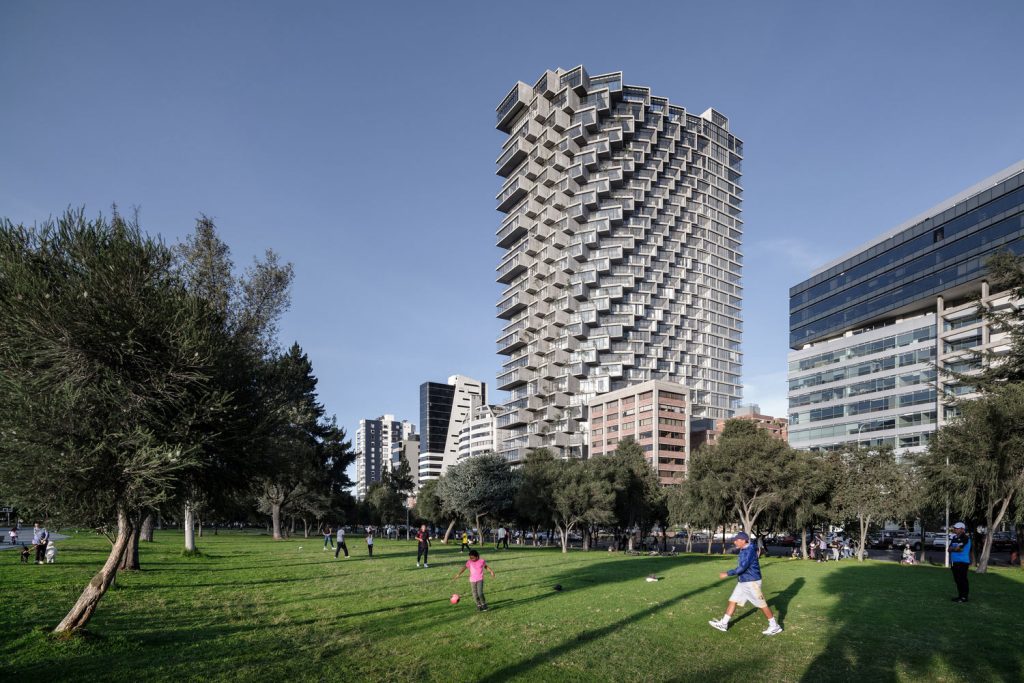 Uribe Schwarzkopf hired BIG in 2017 to design a 390,000-square-foot mixed-use residential building. The IQON is Bjarke Ingels Group's first building in South America and the tallest building in the Ecuador capital, Quito.
IQON is organized as a vertical community and an extension of the neighboring Parque La Carolina. The building presents a remarkable curved corner, wrapped by terraces that continue around the perimeter of the building with views of the park, the city, and the Pichincha volcano.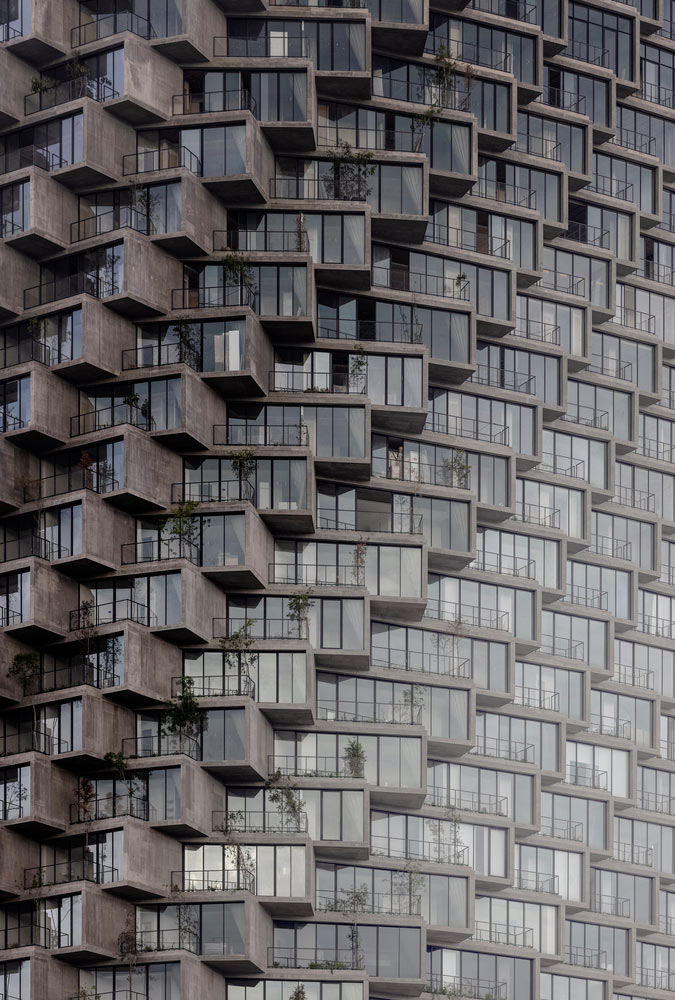 IQON's architectural identity is characterized by its "stripped back" façade; the rough revealed concrete functions simultaneously as the structure of the building. Individual "pixels" are stacked 32 stories high and rotated to provide the best possible views while also creating terraces for the apartments.
The ground floor plaza includes public spaces, retail space, and public art. This central plaza functions as a new path from east to west, connecting the park with the rest of the neighborhood. Entering the foyer, the material palette shifts from the stark, minimalist exterior to a more refined aesthetic; marble stone pavers complement the custom millwork reception desk, and concrete touchpoints nod to the façade.
Quito's biophilia is brought from the public spaces below to the private domain of each home through the sculptural planters that are integrated into the architecture of the building. The planters become a unique concrete sculpture within the apartments, creating space for the root zone of the tree for the terrace of the apartment above while transforming the building's façade into a celebration of Quito's verdant biodiversity.
The building also acts as an urban farm: once the vegetation planted on the terraces outgrows its window box, it can be replanted in parks across the city. In this way, the building becomes part of a green cycle: from park to building and back to park.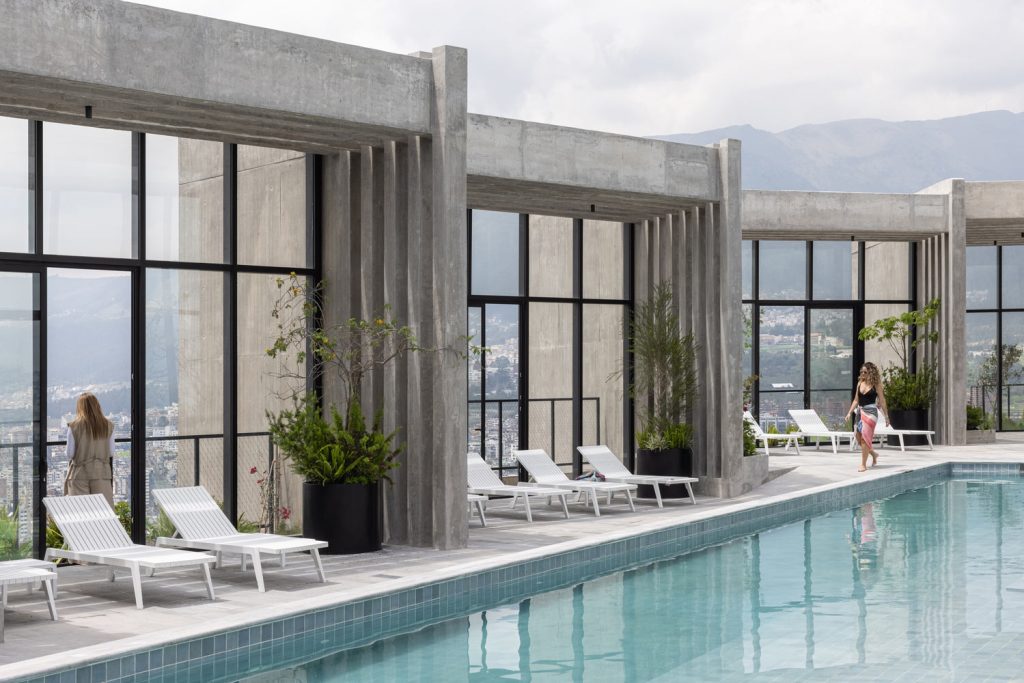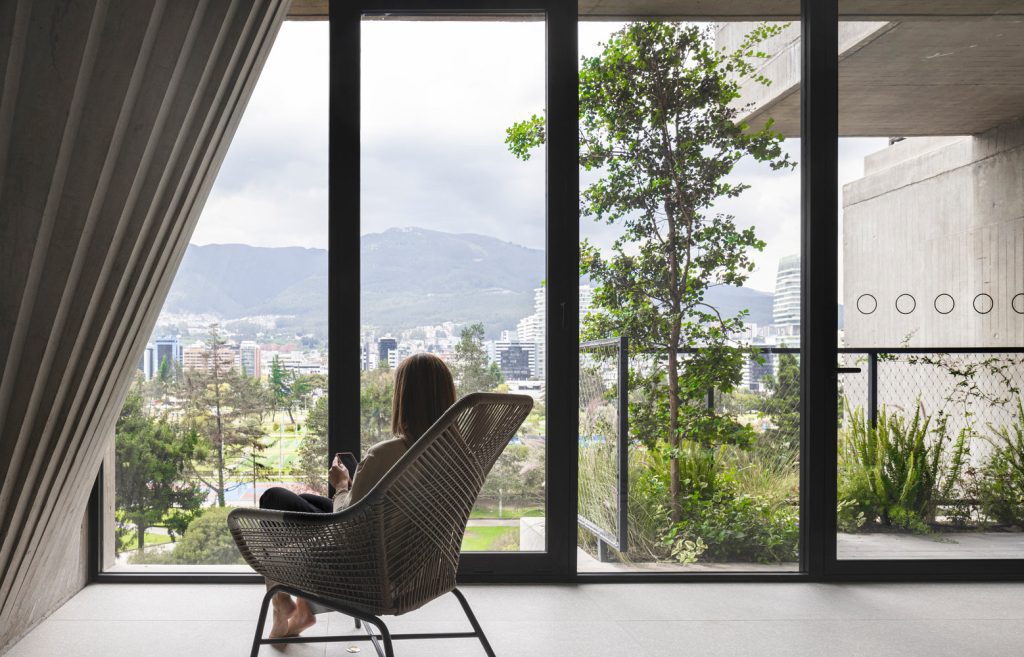 "We've tried to take all the iconic qualities of Quito – such as the enjoyment of living in one of the most biodiverse places on the planet, in a city on the equator where the seasons are perfect for both human and plant life – and bring that experience into the vertical dimension. IQON is an entire vertical community of individual homes; an extension of La Carolina Park that now climbs all the way up to the rooftop," says Bjarke Ingels, Founder, and Creative Director, of BIG.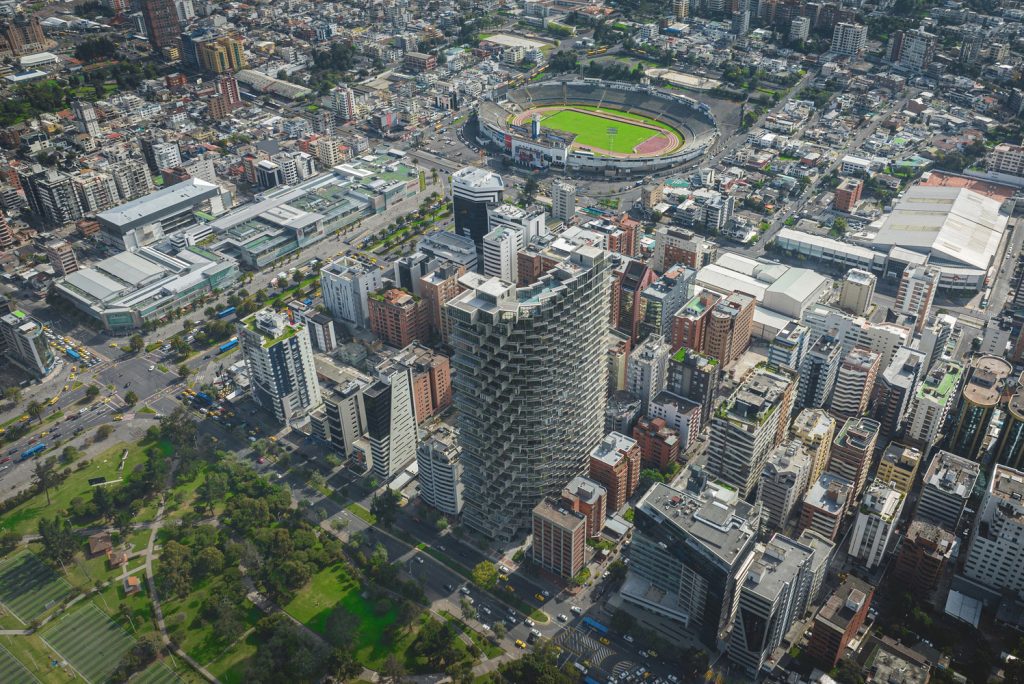 Project Info
Architects: Bjarke Ingels Group
Area: 55000 m²
Year: 2022
Civil Consultants: Geo Estudios
Mechanical Consultants: Trialmech
Electrical Consultants: Consel
Partners In Charge: Bjarke Ingels, Thomas Christoffersen
Project Architects: Lucia Sanchez Ramirez, Stephanie Choi
Team: Amir Mikhaeil, Andrea Di Pompeo, Angel Barreno Gutiérrez, Benjamin Caldwell, Benjamin Novacinski, Chi Yin Kwok, Chengjie Li, Claire Djang, Clara Sanfeliu, Deborah Campbell, Douglass Alligood, Francesca Portesine, Jason Wu, Jan Leenknegt, Josiah Poland, Juan David Ramirez, Ma Ning, Magdalena Narkiewicz, Margaret Tyrpa, Maria Sole Bravo, Peter Sepassi, Rune Wriedt, Sebastian Grogaard, Sijia Zhou, Stephanie Choi, Stephanie Mauer, Terrence Chew, Tracy Sodder, Ying Yi Cai, Ziad Shehab
Local Structural Engineers: Rene Lagos Engineers and Fernando Romo
Consultant: Estrusa
Wind Consultants: CCP Wind Tunnel
Plumbing Consultants: Incoayam
Photographs: BICUBIC, Pablo Casals Aguirre