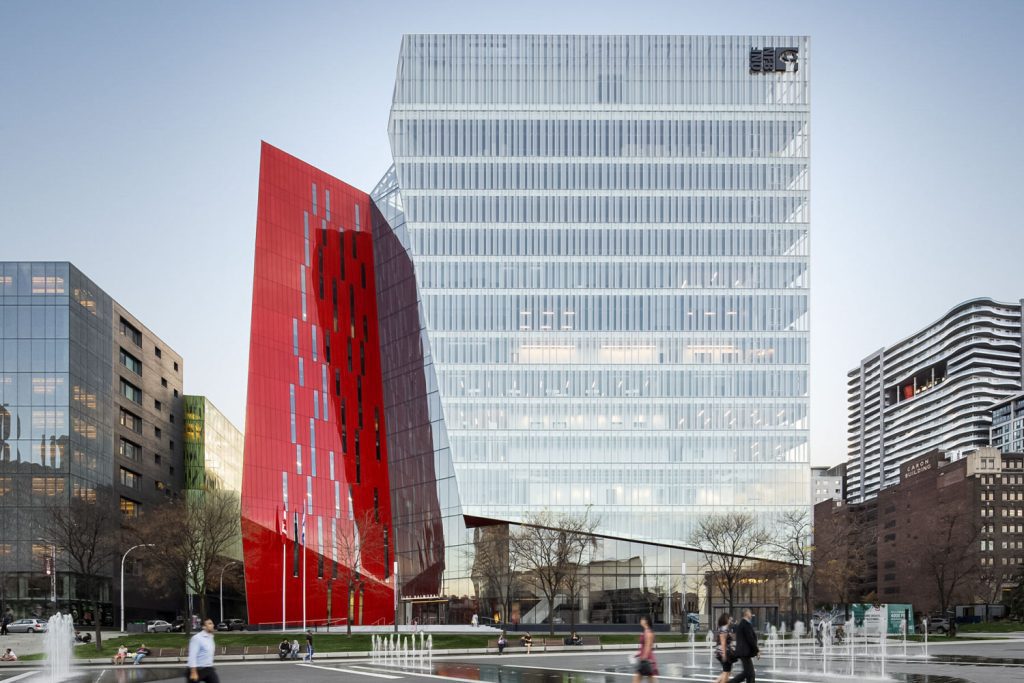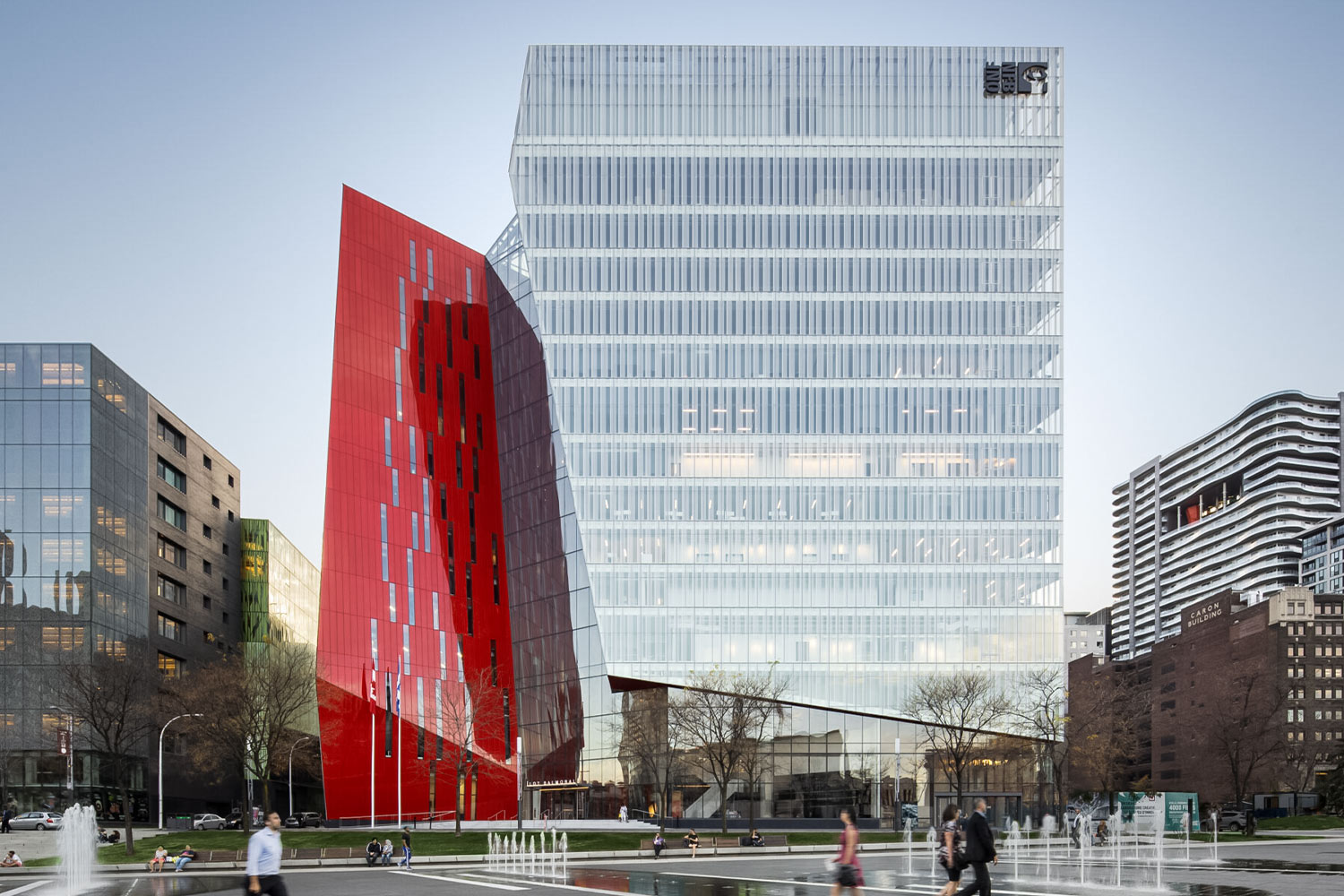 Îlot Balmoral, developed by Société d'Habitation de Montréal (SHDM) and designed by Provencher_Roy, a 13-floor mixed-use office building is part of the "Quartier des Spectacles" located in Îlot Balmoral, Montréal.
Îlot Balmoral is home to National Film Board (NFB) head office explicitly designed for its filmmaking activities.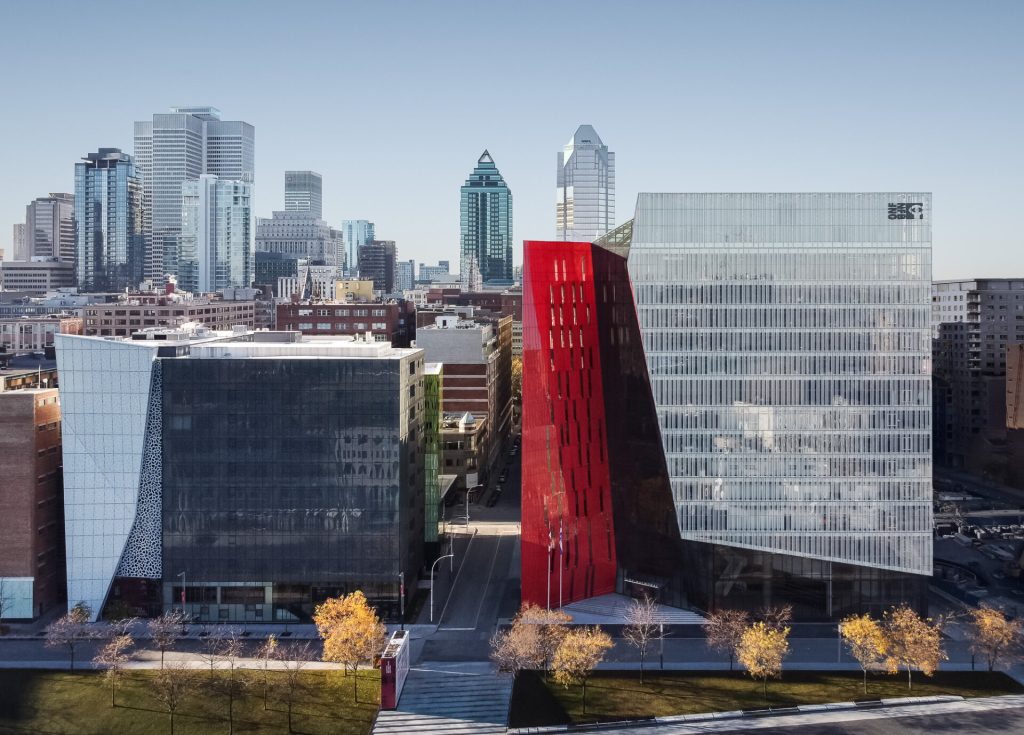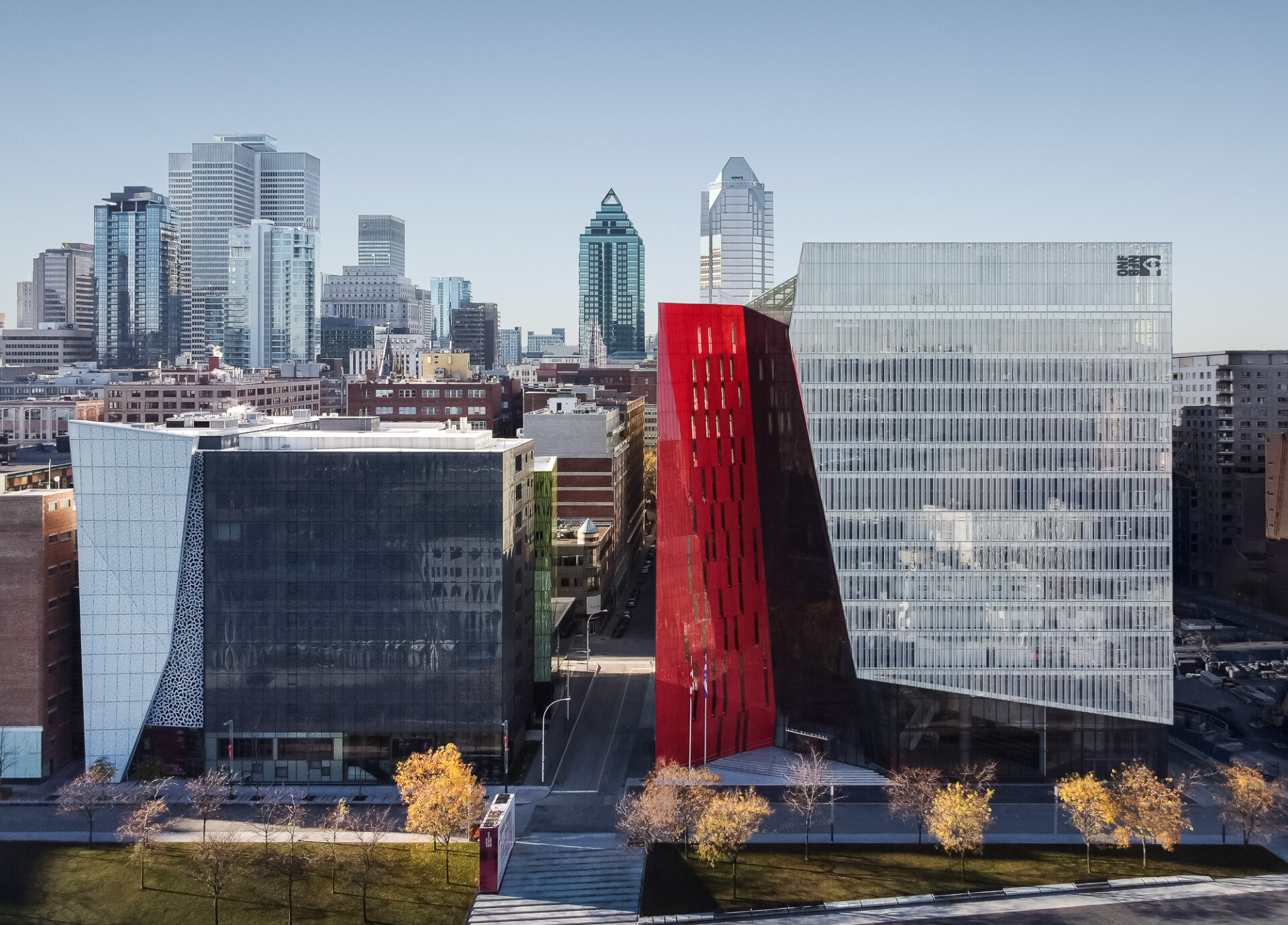 Architect Claude Provencher, the co-founder of Provencher_Roy, explains the project's story: "We developed four visions of what an office building designed specifically for the cultural economy could look like. Îlot Balmoral was designed to accommodate the town's highly capillary and dynamic nature. The Quartier des Spectacles is now almost a cultural center of its own movement of resurrection and transformation in the urban fabric surrounding the Place des Arts."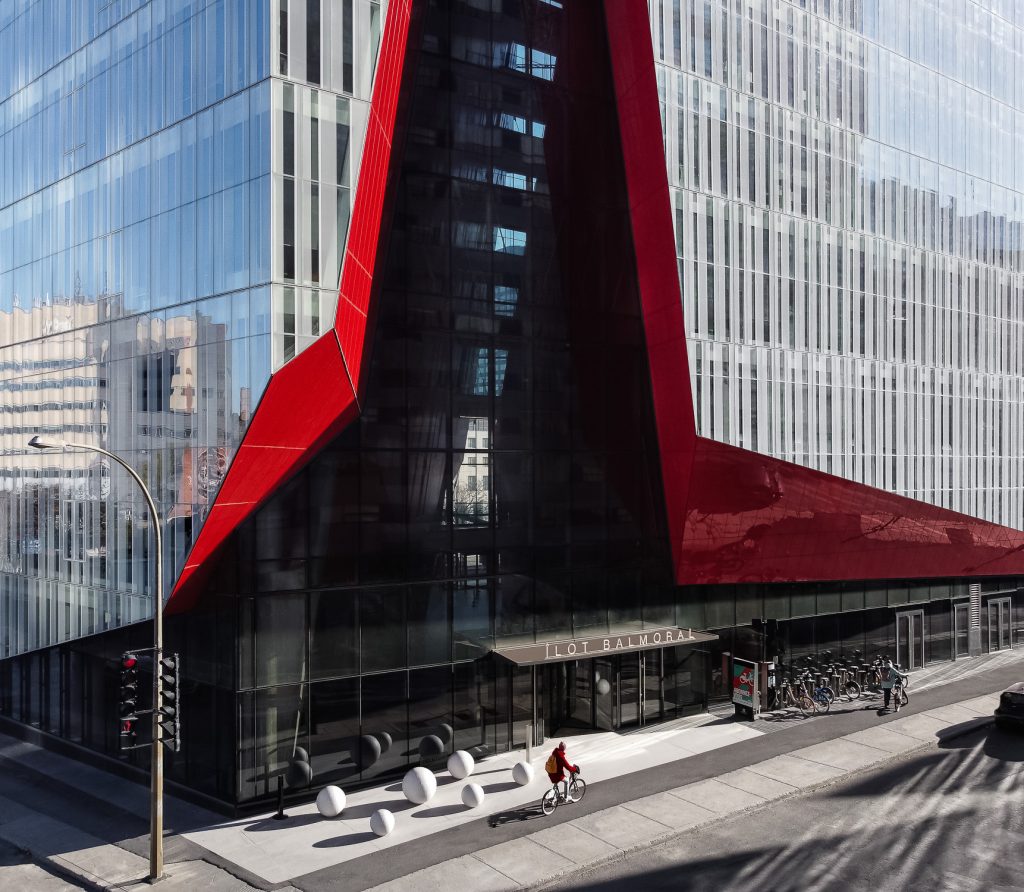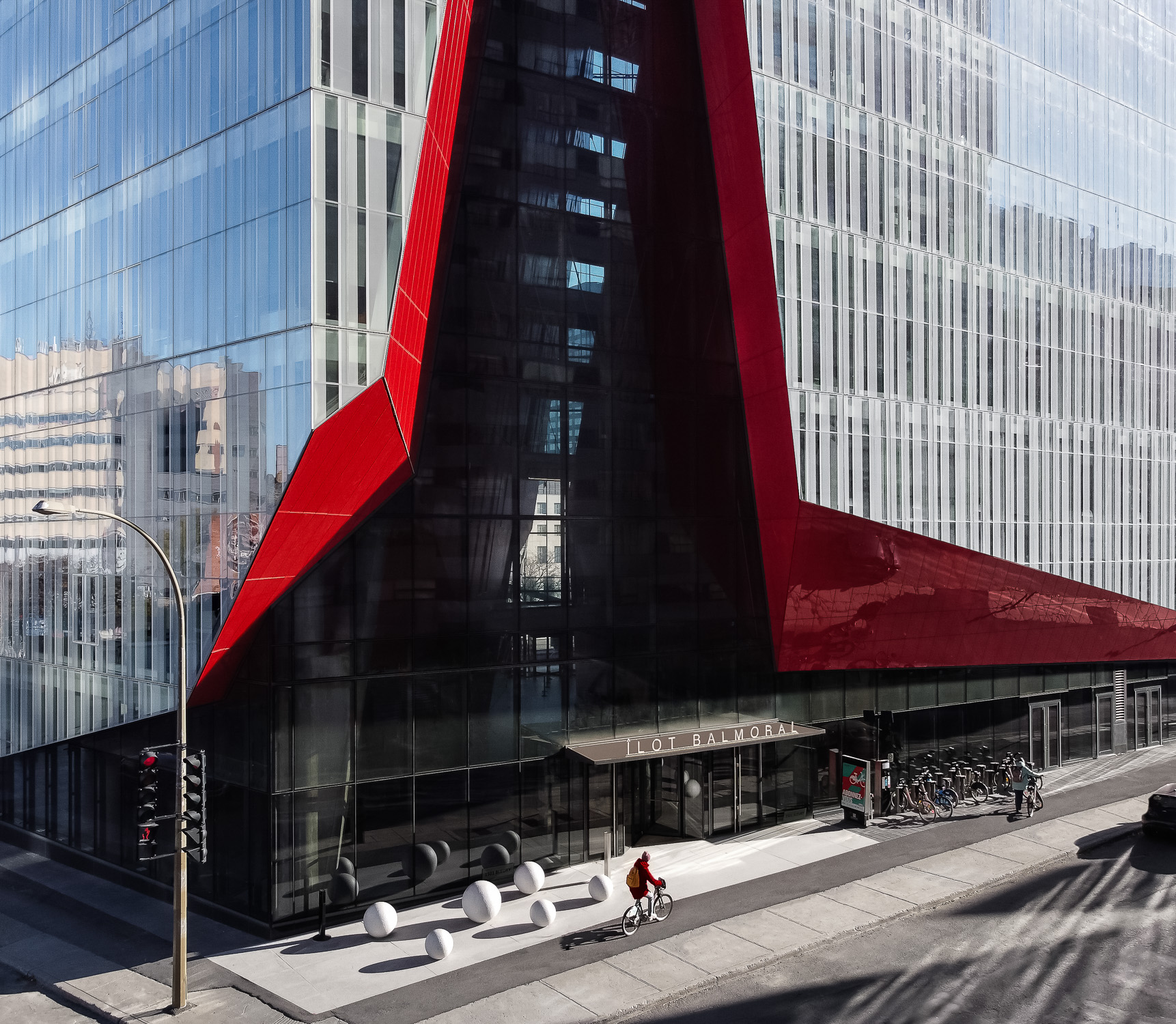 Îlot Balmoral rotates around two architectural structures of 13 stories, separated by an atrium that provides excellent natural light.
Îlot Balmoral is an almost perfect cube, the color of white glass powder, rising from the urban fabric. The light and smooth façade of the building can be used as a huge screen. The glass powder texture also provides heat gain control indoors. This effect on heat gain also meets the company's LEED Gold sustainability target.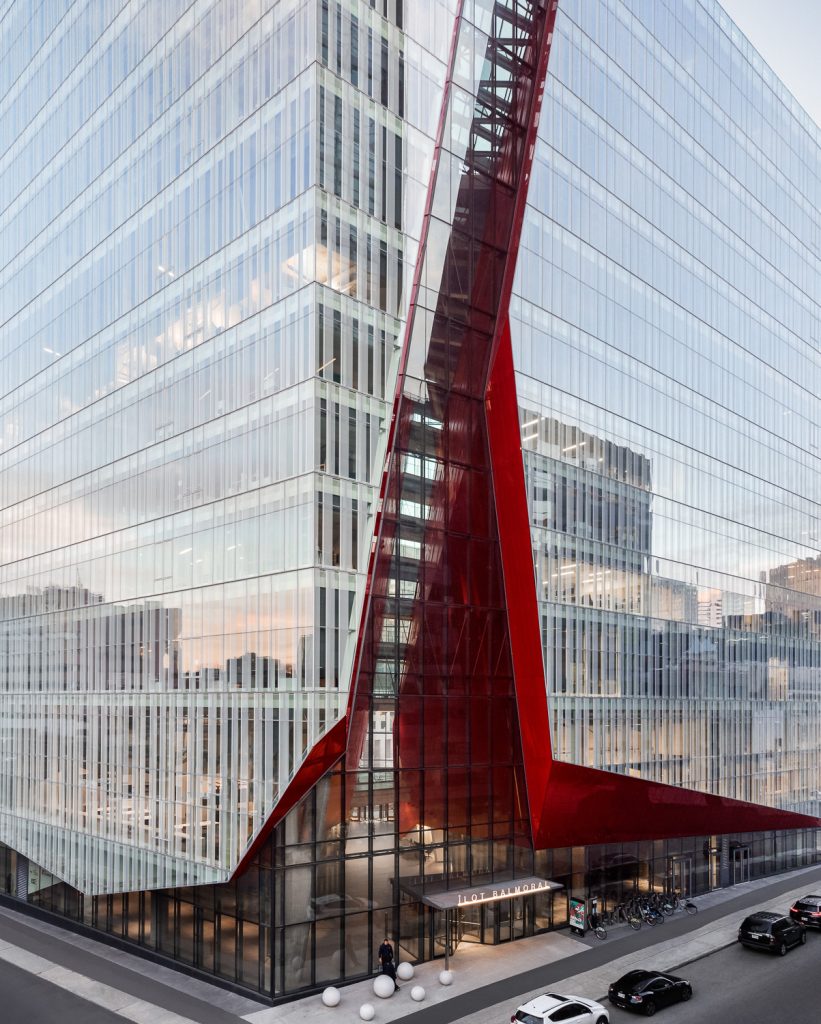 The large inner courtyard, illuminated by the light filtering in from the exterior, divides the center of the building into a slant to create two volumes. The shape of the axis is based on the pedestrian flow that runs between Place des Arts Metro Station and Place des Festivals.
To depict the rift and point of the building on the horizon, a bright red interior finish was chosen to contrast with the white and shiny outer shell. This color choice sets Îlot Balmoral apart from the more traditional office buildings in the surrounding area.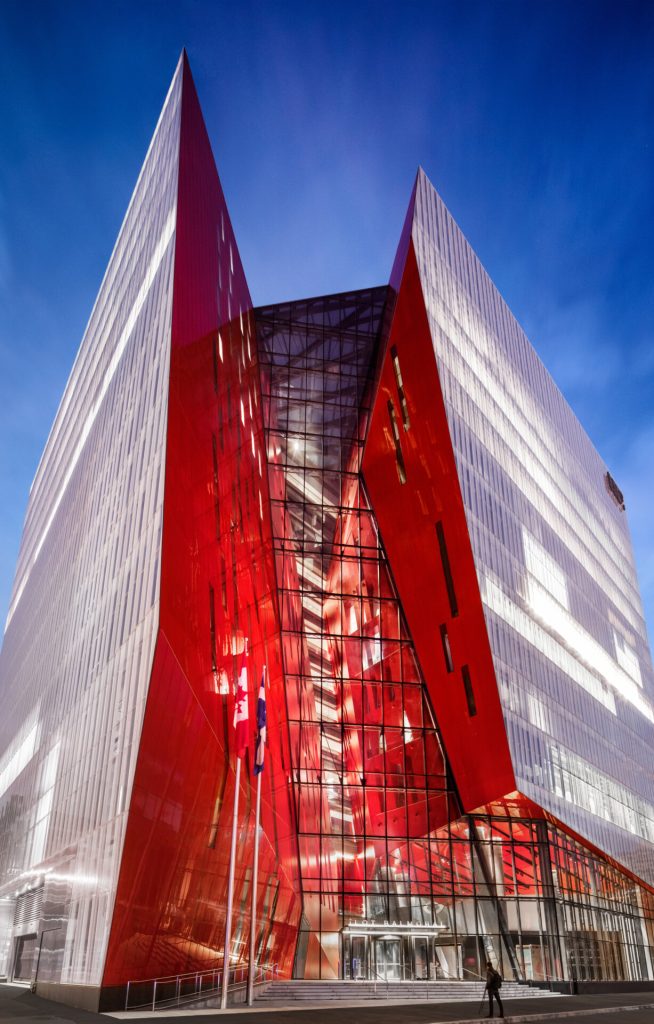 Project Info
Architect: Provencher_Roy
Developer: Société d'Habitation de Montréal (SHDM)
Year: 2019
Total Construction Area: 27.850 sqm
Main Contractor: Groupe TEQ
Lighting Design: CS Design
Structure: Nicolet Chartrand Knoll Ltee
Contractor: Construction management: Groupe TEQ
Electromechanical: Dupras Ledoux inénieurs
Acoustic Consultant: Davidson Legault
Other Collaborators: AECOM / Exim / Go multimédia / Technorm
Photograph: Stéphane Brügger