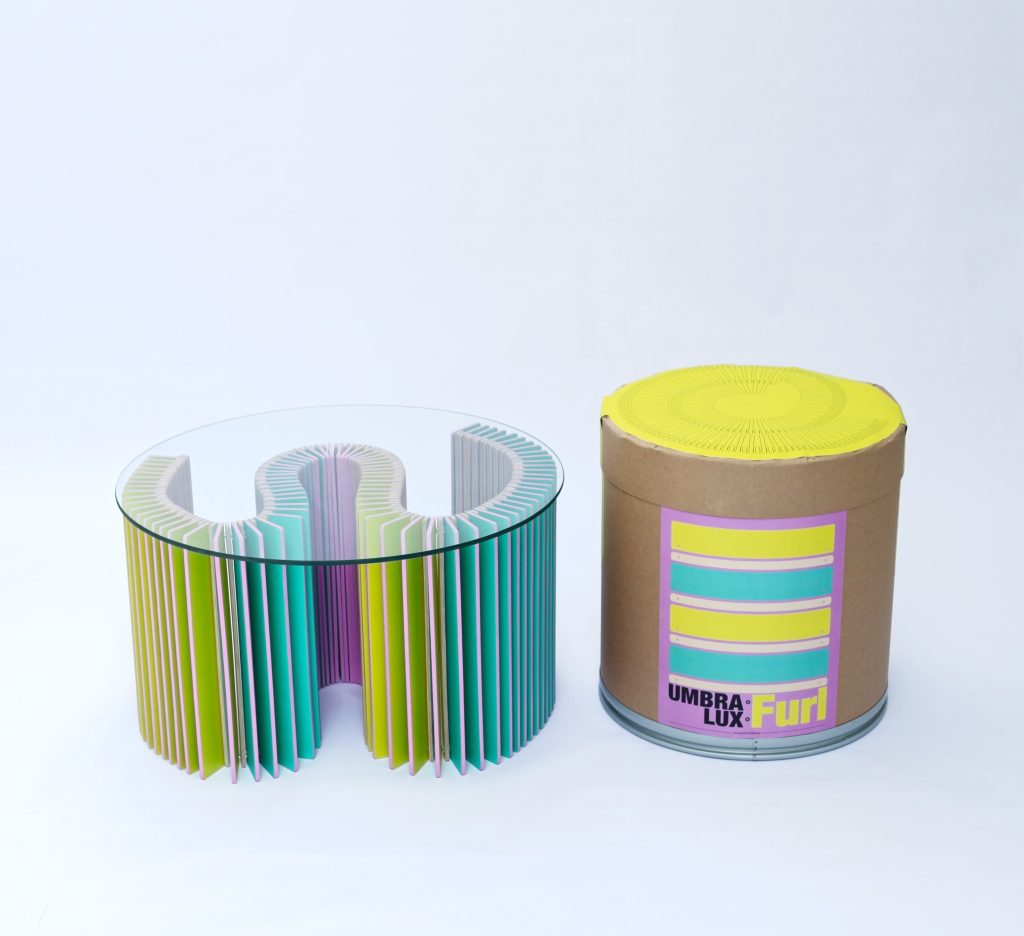 Charlie Firth launched the 'Umbra Lux' concept with the presentation of the 'Furl' table variations. This work presents a design that is very adaptable, and it encourages people to engage in lighthearted activity with the vibrant combination of colors and contours that it possesses.
The table is shipped to you in a small cylindrical barrel. The user unfolds the table and shapes it into their own distinctive configuration before placing the glass tabletop on top. This technique can be reset an unlimited number of times, making it one of a kind. Even though the fins only come in two primary colors, which are divided by a contrasting edge, the viewers' perception and experience shift as they move around the assembled work because of the play of light (shadow), as well as an obvious change of color, which continually modifies the sculpture. This occurs despite the fact that the fins only have two colors in total. 'Furl' is a finely handcrafted piece that was designed to evoke a sense of joy. It is also carefully tailored and decorated with hand-painted finishes, all of which offer an ever-changing aesthetic thrill.
At first look, Furl could appear to be somewhat complicated; nevertheless, with closer investigation, its fundamental straightforwardness will become apparent.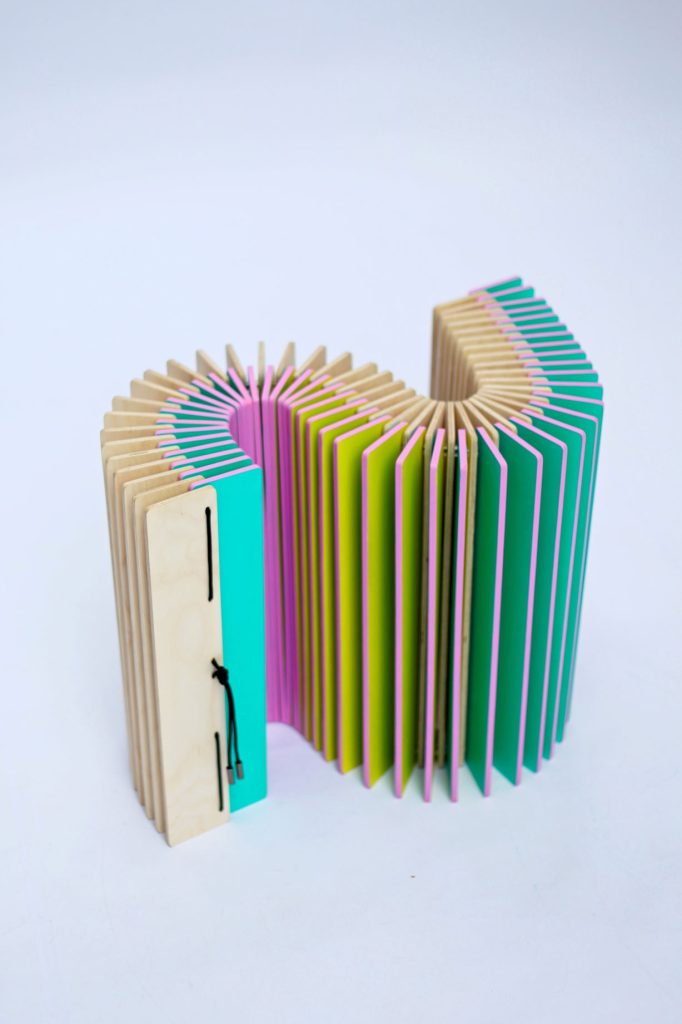 "While studying at university (2022), the emergence of COVID-19 presented a significant challenge both mentally and physically. This unprecedented pandemic forced me to reevaluate my perspective on contentment, happiness, and overall well-being. I observed how color had the inherent power to influence emotions. Color was the solution! I embarked on a transformative journey with my Umbra Lux Aurora & Solis tables. My graduation pieces consisted of a fixed waved form with transitional colored fins. The Umbra Lux 'Furl' table, in contrast, is dynamic; it moves!" said Charlie Firth, the founder of FirthByDesign.
Paper and foam structures that were able to stretch and have their surface textures manipulated were among the materials that Firth tested in his experiments. The idea captivated him: he could manipulate the form, the surface, and the texture, and watch shadows emerge in reaction to his actions. The end result is a framework that is both visually appealing and active. When color is added to the mix, this effect is heightened even further.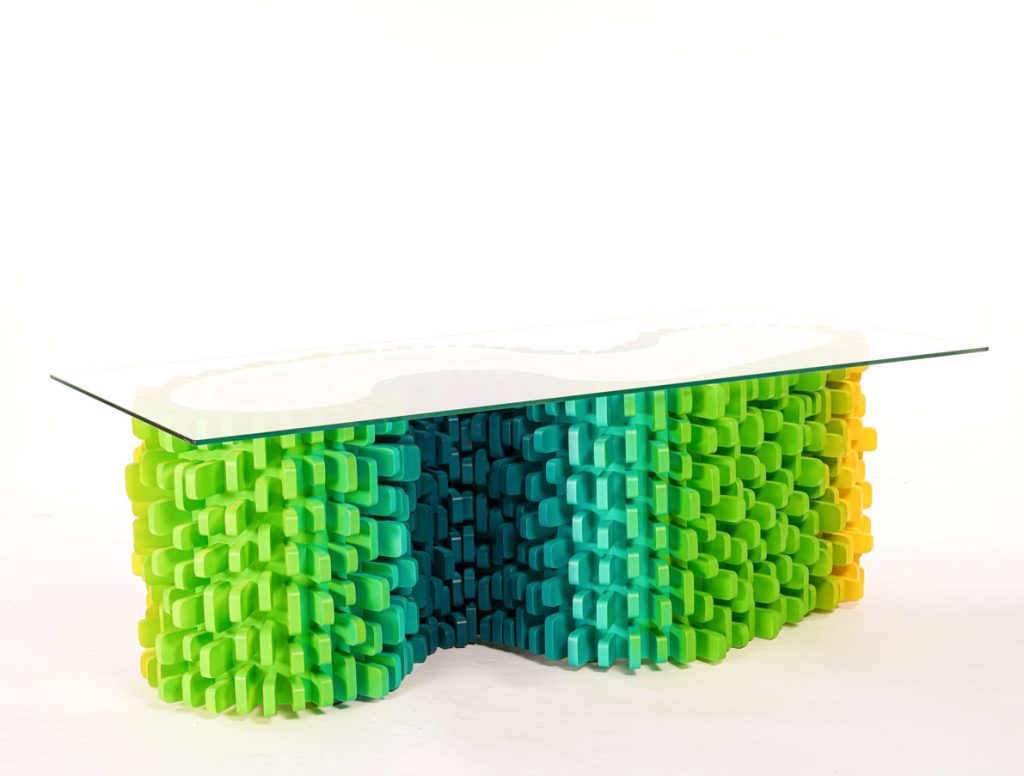 When he designs, he likes to make people feel good. Clearly, a design has to function, but equally good design can offer so much more. He would like to think that my designs go beyond the functionality of a table, they are playful, interactive installations.
The Furl table is hand-made in a small workshop located in southwest Wales. Its distinctive appearance is brought to life through the application of CAD software and precise machining techniques. Every single fin is hand-made, painted, and finished. The intriguing Furl structure comes to life when its four parts are pieced together in the correct order. Due to the absence of adhesives, the structure can be completely disassembled, and the individual components can be extracted without difficulty.
In the process of further creating the Umbra Lux Furl, Charlie Firth has experimented with a number of different profiles that further enhance the appearance of the product. He did this by scaling and transforming a parametric wave profile into a new variant of the Furl Table using one of his samples.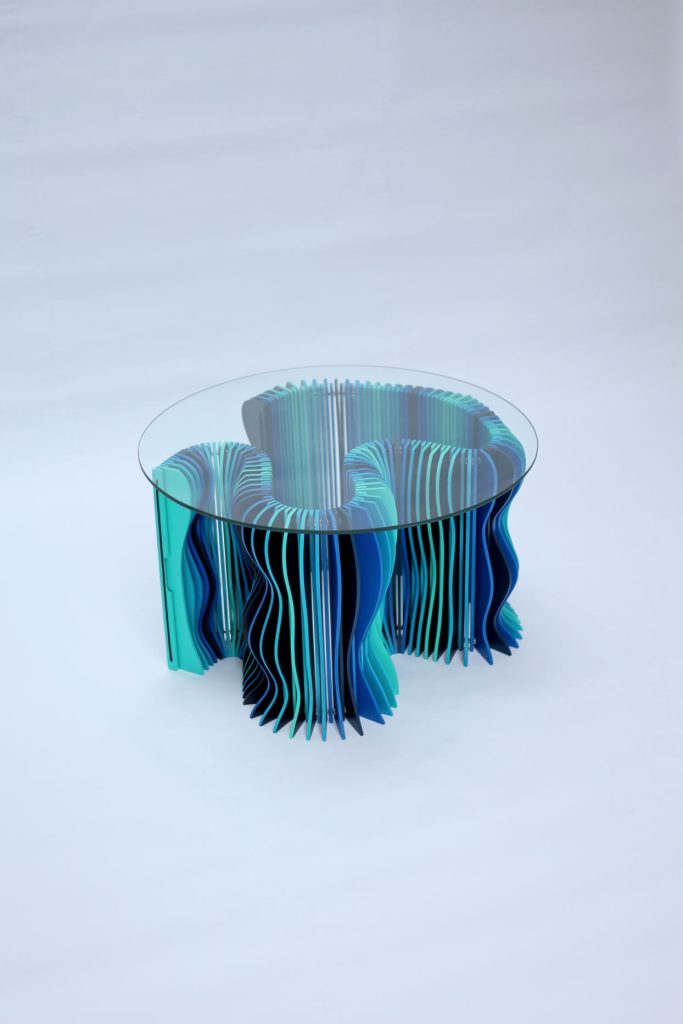 The Side Table version investigates the potential benefits of a double-sided design, enabling the user to invert the structure and unveil another face and color palette. These adjustments enhance the playful and transforming visual elements that Firth aims to achieve in his goods. The exploration of furniture serves as an initial step in this concept, prompting Firth to further investigate alternative sheet materials and explore various scales. This enterprise offers comprehensive solutions for both commercial and residential design needs. According to Charlie Firth, the potential of this phenomenon is endless.