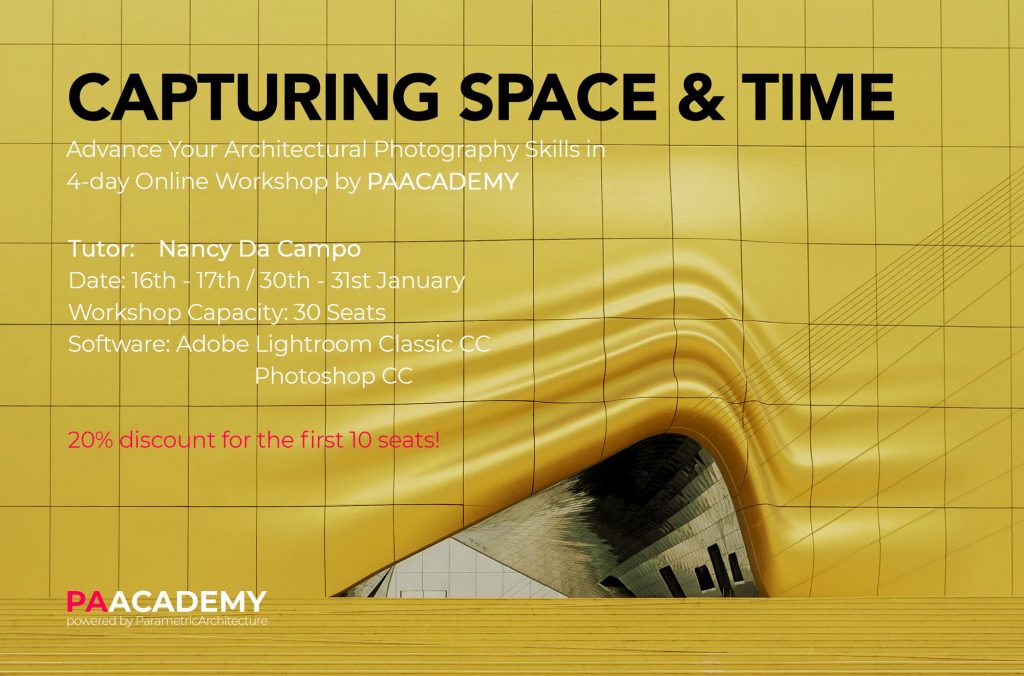 Topic: Capturing Space And Time – Architectural Photography
Time: January 16-17 / 30-31, 2020
Starts: 16th Jan, 14:00 UTC
Ends: 31st Jan, 16:00 UTC
Duration: 4 Days
Total hours: 8 hours
Format: Online
Location: ZOOM
Registration Deadline: 10th January 2020
Workshop Capacity: 30 Seats
Fee: €100 EURO
First 10 Seats: €80 EURO (20% Discount for the first 10 seats) Closed
Organized By: PAACADEMY
Advance Your Architectural Photography Skills in a 4-day Online Workshop by PAACADEMY.
Description:
Whether you have a lot of experience or you are just getting started with a new camera, this online workshop will take you from beginner to advanced photographer in the architecture field.
You will learn professional techniques to develop and advance your photography skills.
This online course covers the fundamentals of photography including everything on how the camera and lenses work as well as the technical aspect of photography like exposure, focus, depth, lighting, and more.
Key lessons include:
How to fully understand and master your DSLR or mirrorless camera
Balance shutter speed, aperture, and ISO for perfect exposure and getting out of "auto-mode"
How to correctly shoot for a quick and smooth edit
How to get the perfect composition
Rescuing a problematic image through editing
Filled with detailed walk-throughs, easy-to-follow explanation and plenty of examples you will learn to train your eye in order to capture dynamic and interesting architecture shots, crafting subtle changes to enhance your images and bring your photography work to a professional level.
Schedule:
16 January (Photography Essentials – Understanding The Basics)
Balancing the exposure triangle
Aperture, shutter speed and ISO
Camera modes
RAW vs JPEG
Photography gear (focus on digital cameras, lenses, tripods and
accessories)
17 January (Photographing Architecture – Composition & Shooting
Techniques)
What is architecture photography
Composition
Light & weather conditions
Preparing to shoot
HDR for real estate photography
Cityscape photography
Photographing tall buildings
Long exposure photography
30 January (Photo Editing)
What is photo editing
Photo editing vs photo manipulation
Most common architecture photo edits
Live stream image post-processing
31 January (Mobile Photography + Student's Work Review)
DSLR camera vs smartphone camera
Phone photography equipment
Smartphone camera tips
Mind your lines
Focus and exposure
Rules of composition
Editing images on mobile
– One-on-one critique to discuss developing work
Software and Techniques:
The Workshop will run using Adobe Lightroom Classic CC and Adobe Photoshop CC for the photo editing section – no previous experience necessary.
For the mobile editing tutorial, the free app Snapseed will be used – no previous experience necessary.
Level of knowledge:
This workshop is designed for:
Beginner photographers with little to no experience who want to improve their photography skills
Intermediate photographers who want a deeper understanding of photography concepts
Anyone who wants to improve their general knowledge of photography in order to capture beautiful architectural images
About the tutor:
Nancy Da Campo (Architecture photographer and educator).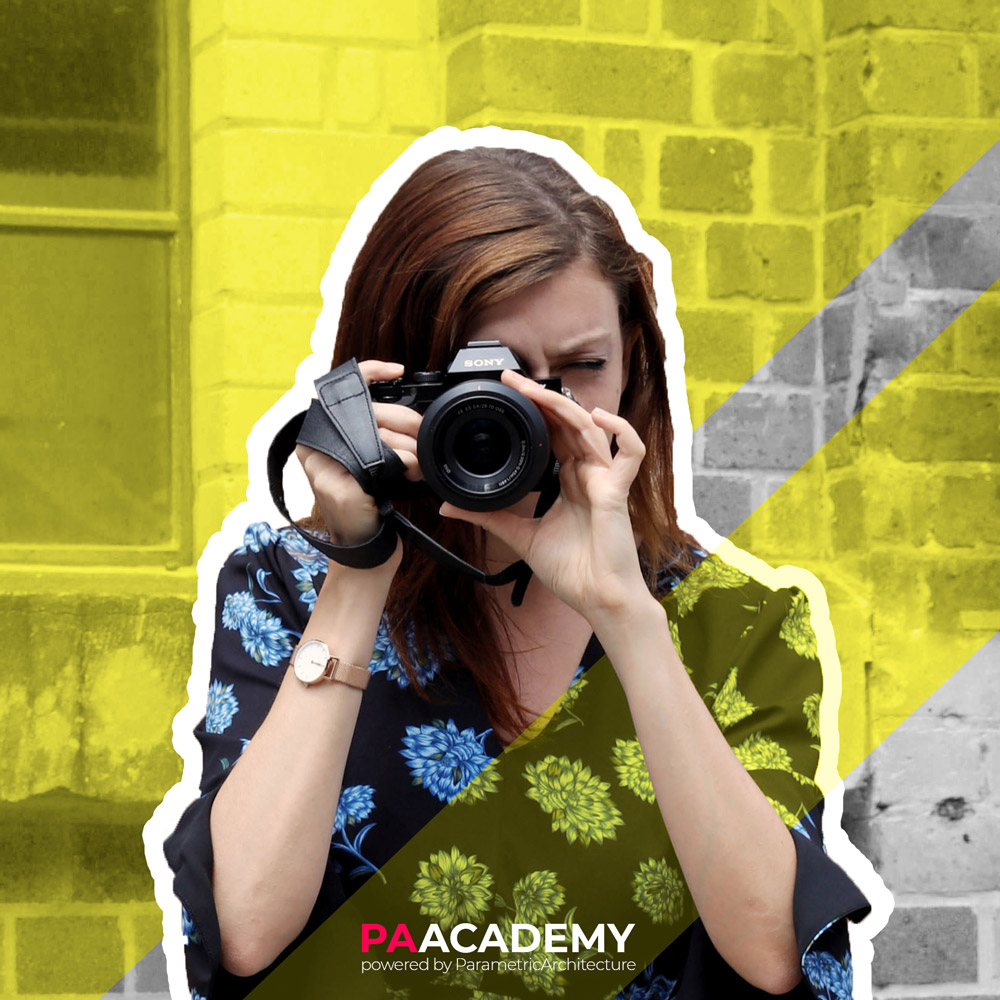 Nancy Da Campo is a freelance architecture and interiors photographer born in Milan, Italy, and currently traveling extensively to discover and capture the beauty of the built environment.
Perspectives and the use of lines are two central pillars of her content and she is always looking for new and interesting angles to show her interpretation of a certain building through her camera or drone lens. She regularly works with architectural and cultural institutions, tech brands and tourism boards.
Registration Fee:
Payment link will be shown at the end stage of the registration.
After the payment you will need to email us the photo of the receipt to next@parametric-architecture.com by putting (Your name – Capturing Space And Time) in subject.
You will receive the link for the workshop room after 5th January.
The entire workshop will be recorded and after the event, you will have the access to all the videos and data of the workshop with the password.
*The workshop has a limited attendance. Tickets are non-transferable & non-refundable.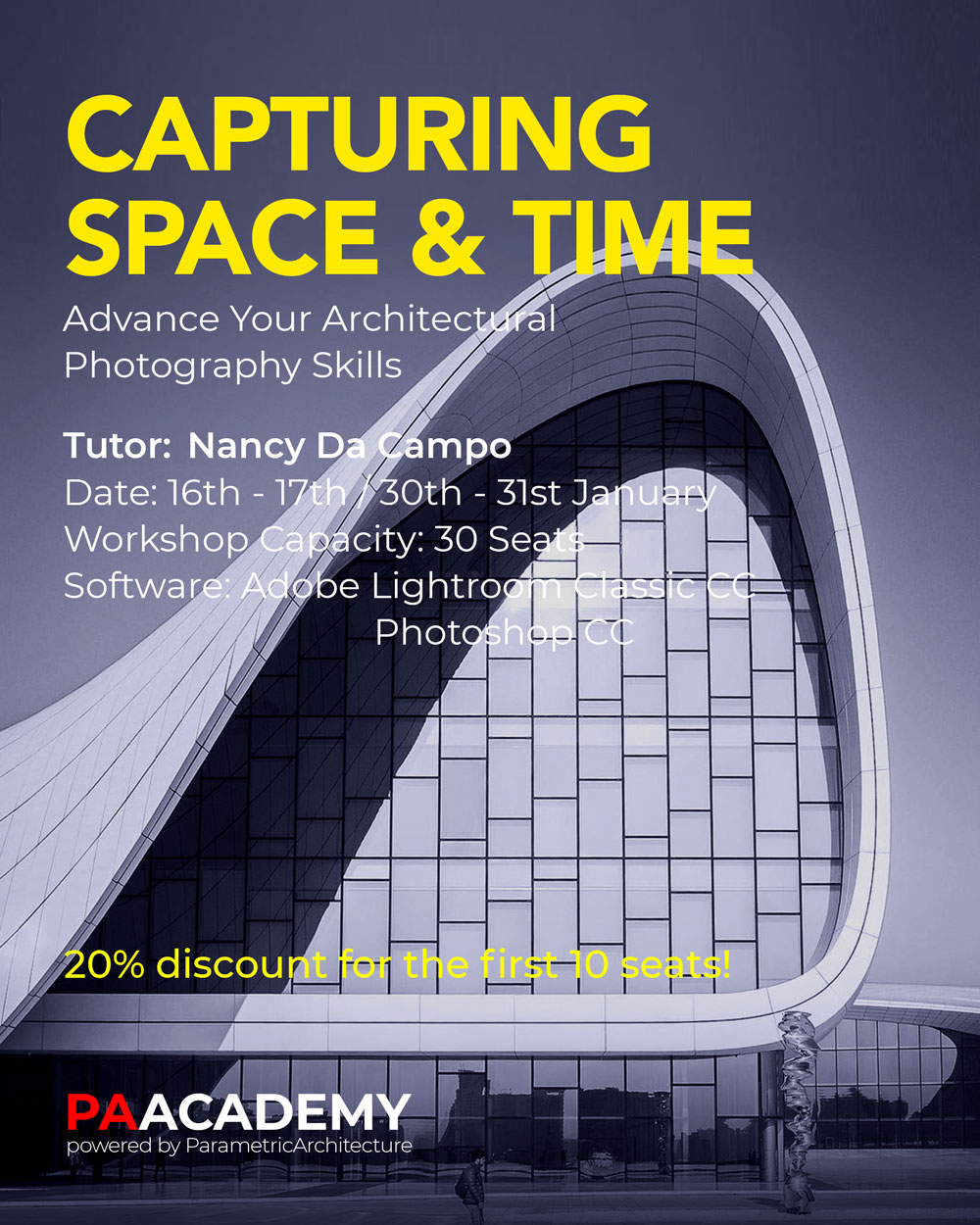 Topic: Capturing Space And Time – Architectural Photography
Time: January 16-17 / 30-31, 2020
Starts: 16th Jan, 14:00 UTC
Ends: 31st Jan, 16:00 UTC
Duration: 4 Days
Total hours: 8 hours
Format: Online
Location: ZOOM
Registration Deadline: 10th January 2020
Workshop Capacity: 30 Seats
Fee: €100 EURO
First 10 Seats: €80 EURO (20% Discount for the first 10 seats) Closed
Organized By: PAACADEMY