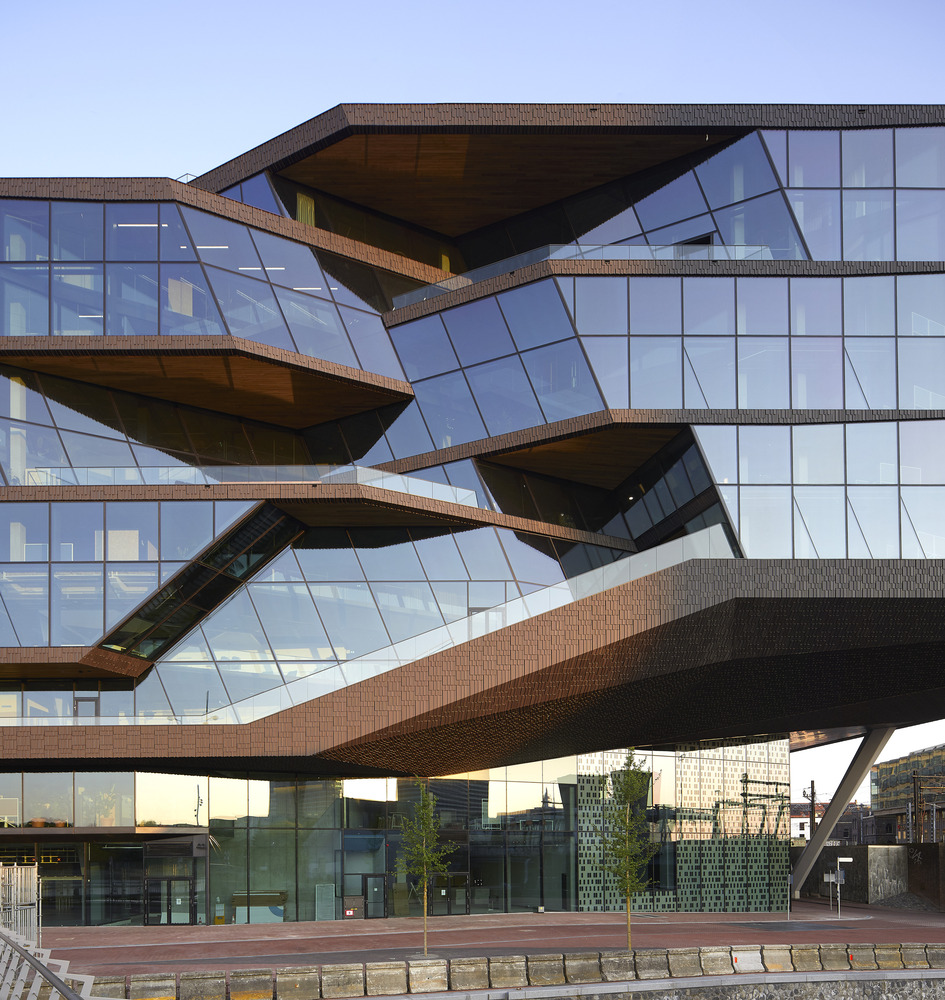 In 2015, UNStudio was chosen by Booking.com and BPD to design their new campus in the heart of Amsterdam. Heading the project's interior design, Lead Interior Architect Hofman Dujardin oversaw cooperation and direct oversight of this new campus. The project brought together various interior architects and design firms, creating an inclusive workplace for over 6,500 employees. Welcome areas, restaurants, service points, balconies, auditorium, event spaces, workplaces, breakout spaces, and conference rooms were all created by a one-of-a-kind partnership by interior design teams from CBRE Design, i29, Linehouse, Studio Modijefsky, and UNStudio.
In a joint effort, they established a captivating hub where employees and tourists could collaborate, live, work, and play. The novel facility is also at the forefront of sustainability, garnering recognition for its distinguished BREEAM Excellent Design Certificate. A sophisticated building management system has also been integrated to ensure a seamless environment for all personnel and operatives. The architectural blueprint for the interior was envisioned by Lead Interior Architect Hofman Dujardin, who collaborated and oversaw the interior design. At the same time, the campus' urban approach and overall architecture were masterminded by UNStudio, who crafted a continuous spatial journey. The interior arrangement was fashioned with the concept of 'Booking Home' in mind, aiming to foster a homely ambiance for all the employees.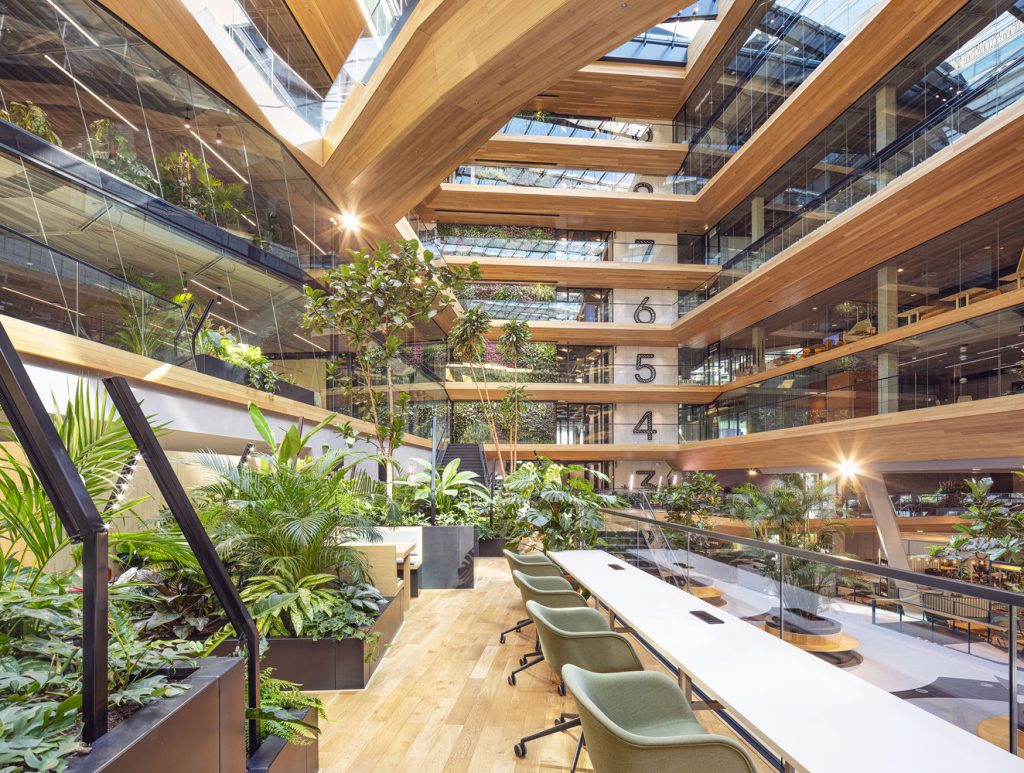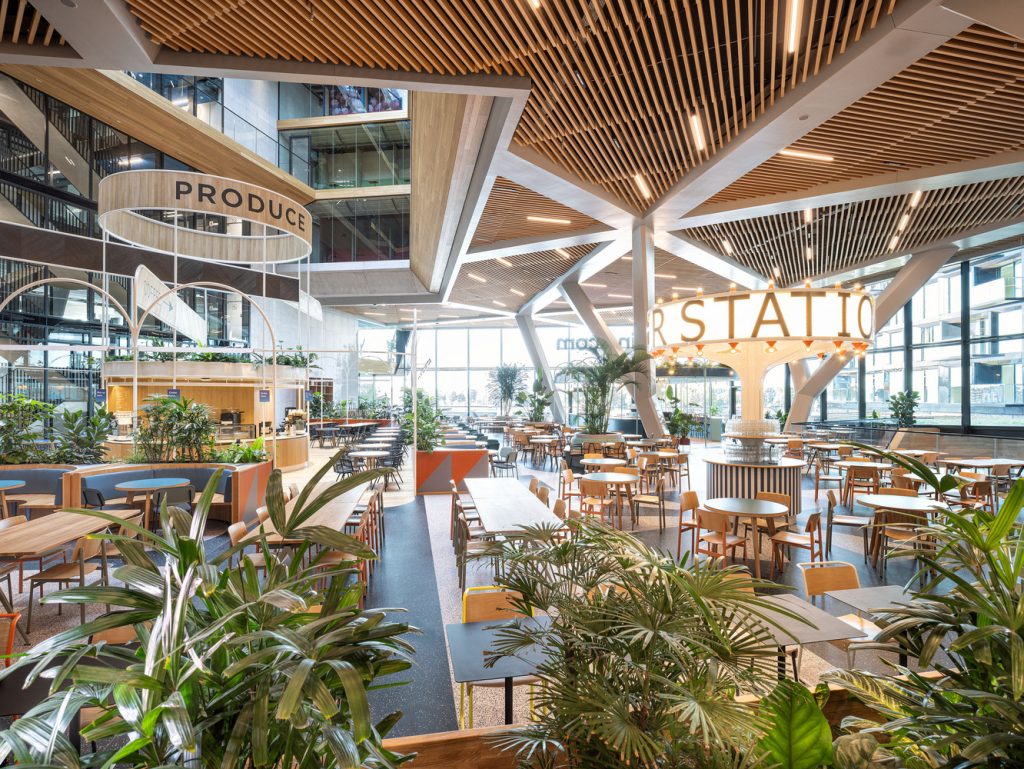 To embrace individuality, Hofman Dujardin devised an innovative strategy. The design team of Booking.com City Campus broke down the interior into various themed areas, each with its own principles and mood boards. Each zone designer was then tasked with following these rules and infusing their creative flair into the spaces. Professional designers meticulously crafted the campus surroundings, incorporating greenery, lighting, carpeting, and visual installations.
The architecture of Booking.com City Campus itself entices people to explore its spaces, employing staircases, bridges, and galleries on every level. Notably, even the emergency stairs align with this concept, adorned with glass on the atrium side. This design decision promotes both practical uses and provides striking views from the stairs and various vantage points throughout the building. The food and beverage offerings within the campus were also thoughtfully planned.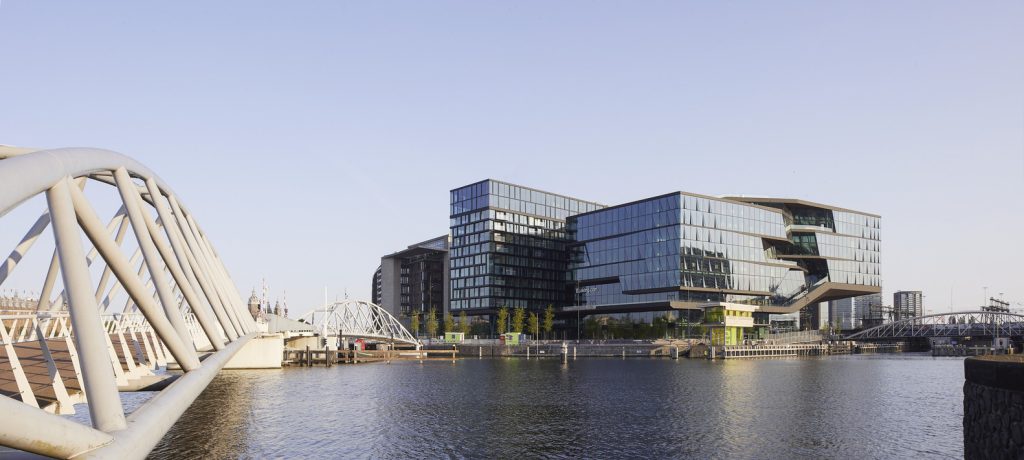 The parking locations for automobiles and bikes are created to be unique in order to symbolize the wonder of discovering new places. Antarctica's massive ice sheets inspire the automobile parking area. In contrast, the bike parking area features a giant, sun-like light that changes colors, providing riding aficionados with a nice surprise each morning. 28 breakout spaces across the building are themed after various tourist places.
These rooms are styled after numerous destinations, allowing visitors to enjoy simulated excursions through the busy avenues of New York City and Rio de Janeiro, relax on the tranquil Greek Islands, and explore deep into the Amazon jungle. Employees can take pauses from their computers to interact with their coworkers, which increases their innovation and efficiency. Booking.com City Campus is embellished with photos of employees and souvenirs from their travels, providing as a continual reminder of their adventures and piquing people's interest.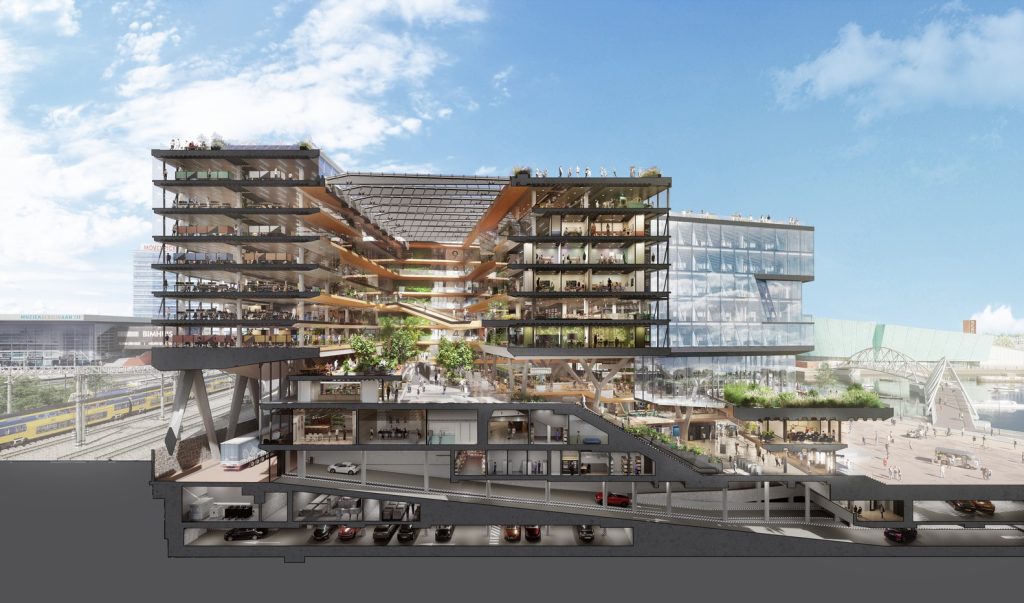 Project Info
Architects: HofmanDujardin, UNStudio
Year: 2023
Manufacturers: Hunter Douglas Architectural (Europe), Kone, Sorba
Lighting Design Consultant: a.g LICHT
Structural Engineering: Aronsohn
Building Physics: DPA
Acoustics Consultant: DPA
Quantity Surveying: IGG
MEP Consultant: Techniplan
Vertical Transportation: Techniplan
Architecture: UNstudio: Ben van Berkel with Arjan Dingsté, Marianthi Tatari, Marc Hoppermann, Misja van Veen, Juergen Heinzel, Ariane Stracke, René Toet and Albert Gnodde, Albert Laarman, Anna Garazdowska, Ardit Curraj, Ayax Abreu, Bruno Peris, Clare Porter, Cristina Bolis, Ergin Birinci, Georgios Siokas, Guilherme Miranda, Ivo van Capelleveen, Izak Kljakovic, Jolien Bruin, Juan Luis Mayen Moran, Ka Shin Liu, Luke Tan, Mahmoud Meligy, Mark Maas, Martin Zangerl, Maya Christodoulaki, Menida Avram, Mitchel Verkuijlen, Olivier Yebra, Pieter Doets, Robbie Neijzen, Ryszard Rychlicki, Alex Tahinos, Argyrios Delithanasis, Bart Bonenkamp, Gary Polk, Ke Quan, Kyle Tousant, Mahmoud Meligy, Ryan Henriksen, Xinyu Wang, Yan Ma, Derrick Diporedjo, Gys le Roux, Jahan Tahamtan, Lu Ding
Lead Interior Architect: HofmanDujardin
Interior Area Designers: CBRE Design Collective, HofmanDujardin, i29 interior architects, Linehouse, Studio Modijefsky, UNStudio
Interior Layer Designers: Mijksenaar, MOSS, Powerplant, Scholten & Baijings, Studio Rublek
Green Specialist: Moss
Interior Lighting Design: Studio Rublek
Interior Acoustic Consultant: Rhdhv
Av Consultant: Heuvelman Sound & Vision
F&B Consultant: Enbiun
Bim Manager: B+M
Photographs: Hufton+Crow, Matthijs van Roon, Ewout Huibers, Maarten Willemstein