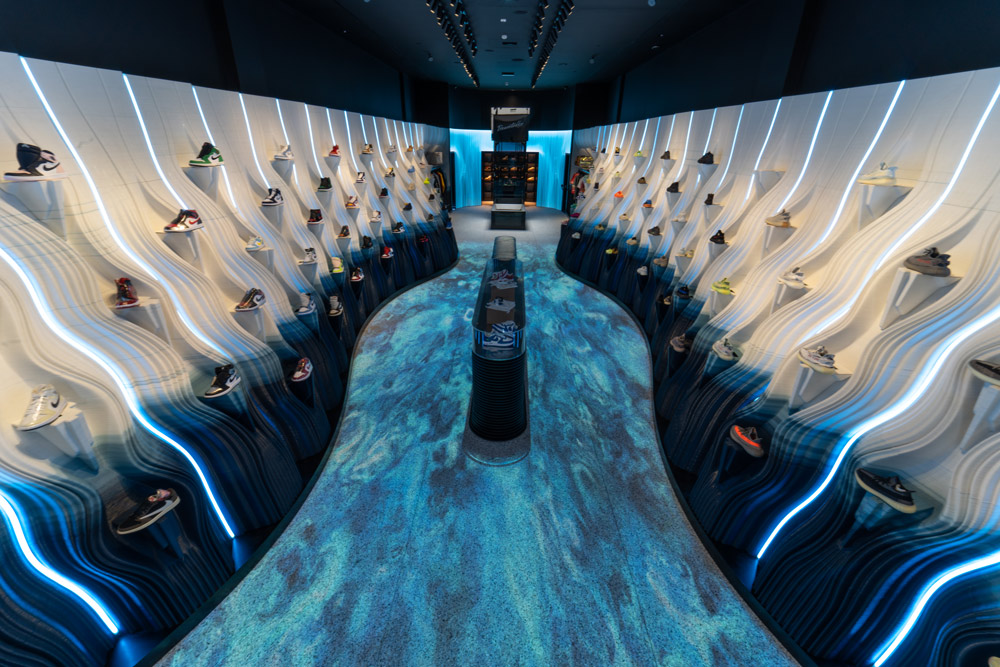 Presentedby, the iconic luxury sneaker, and streetwear store continues its Middle Eastern development with the launch of a new store in Saudi Arabia's capital Riyadh. Designed by External Reference, the Barcelona-based architecture studio founded and led by Carmelo Zappulla.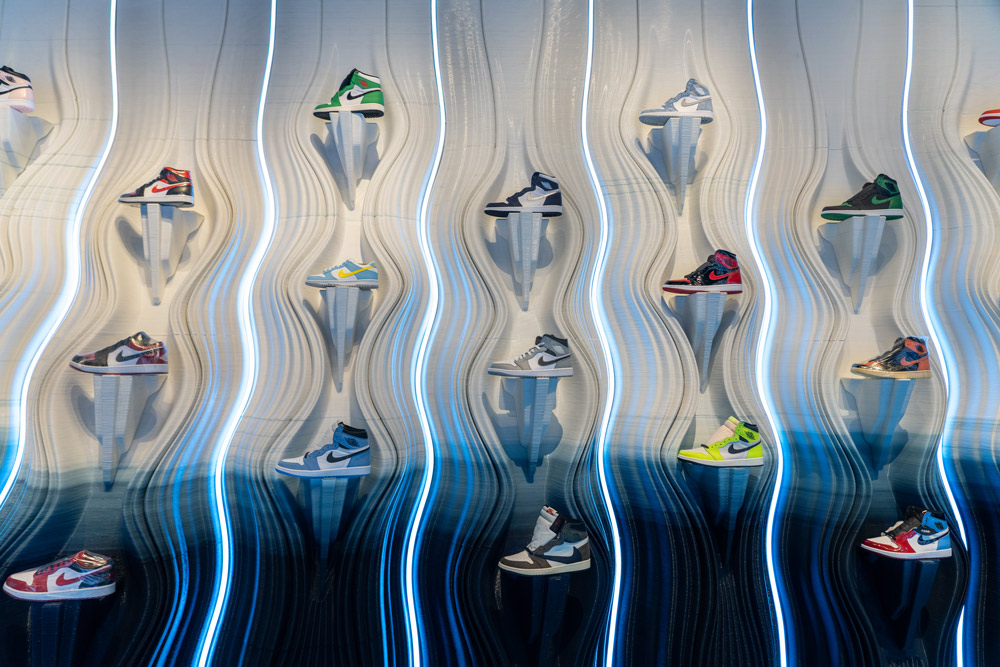 The new Presentedby in U-Walk by Arabian Centres in Riyadh, created in collaboration with the Silkway Company, a subsidiary of Al Hokair Group, is inspired by the oasis that dots the Saudi desert and the role of water in these systems. Water physically and symbolically shapes the terrain. The store's design is a water-reflective texture. Understanding and converting its physical shape into parametric sculptures and virtual computer simulations.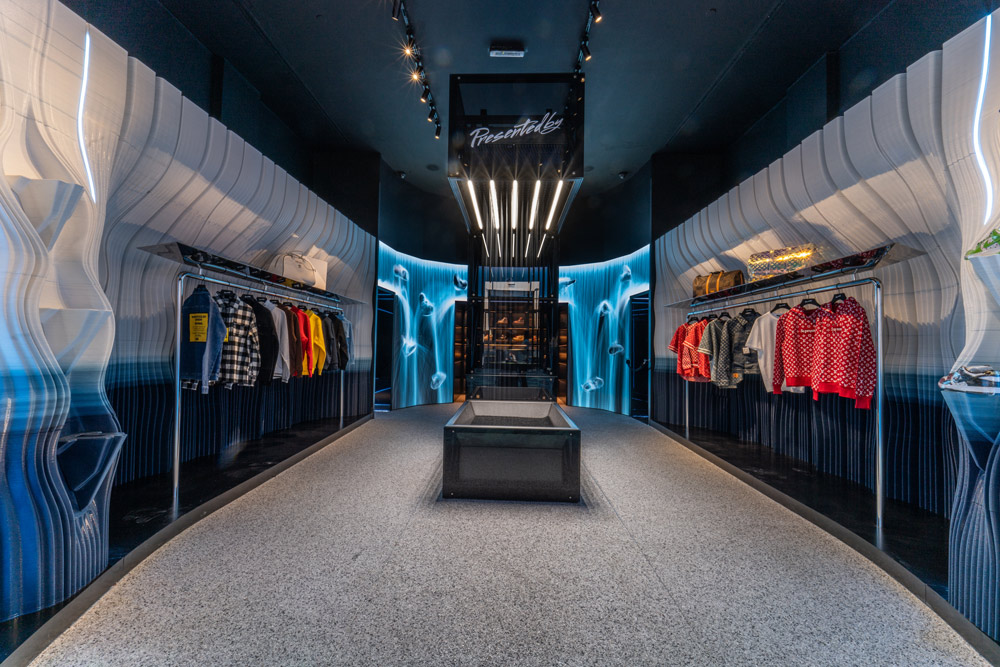 Before entering the store, the consumer may pass through a programmed water curtain that divides the oasis from the outside. The programmable system of nozzles and valves produces a responsive waterfall that opens to enable access to the interior area.
This technology takes center stage in the store's core, where a customized water printer creates moving water holograms and sculptures, not only making a strong visual effect but also renewing the environment and transporting the customer's mind with the sound of falling water.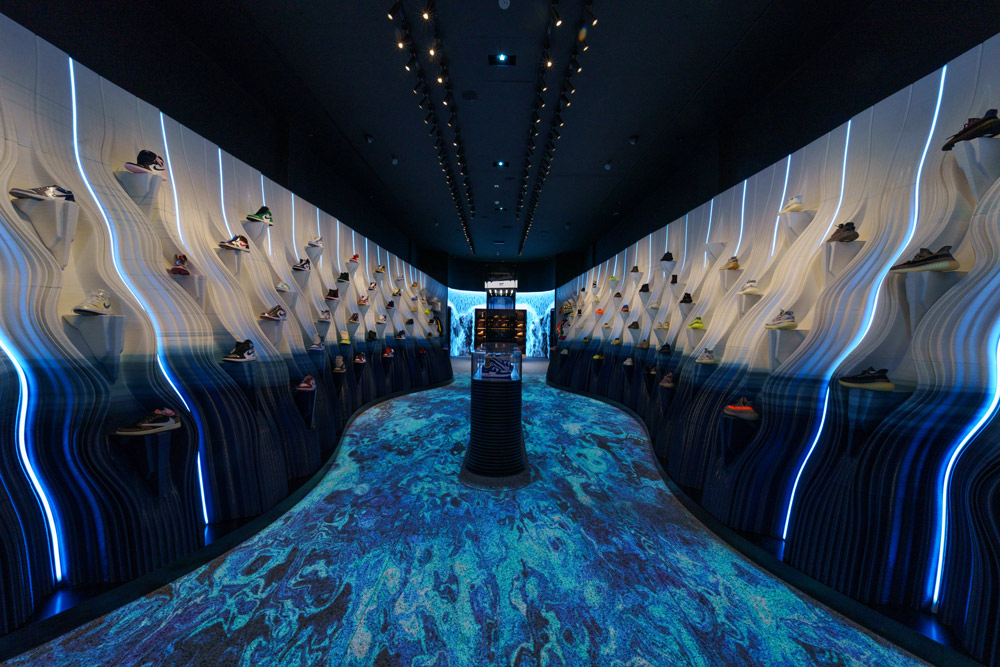 Flowing water is used to create the morphological displays where the items are shown in the shop. The lateral exhibits are sculptural representations of falling water. Water is frozen in time as it falls through the shoes, creating 17-metre-long and 3.5-meter-tall exhibition walls on either side of the shop. La Máquina 3D printed the walls entirely out of PLA and PURE.TECH material. The area is a total of 240 sqm.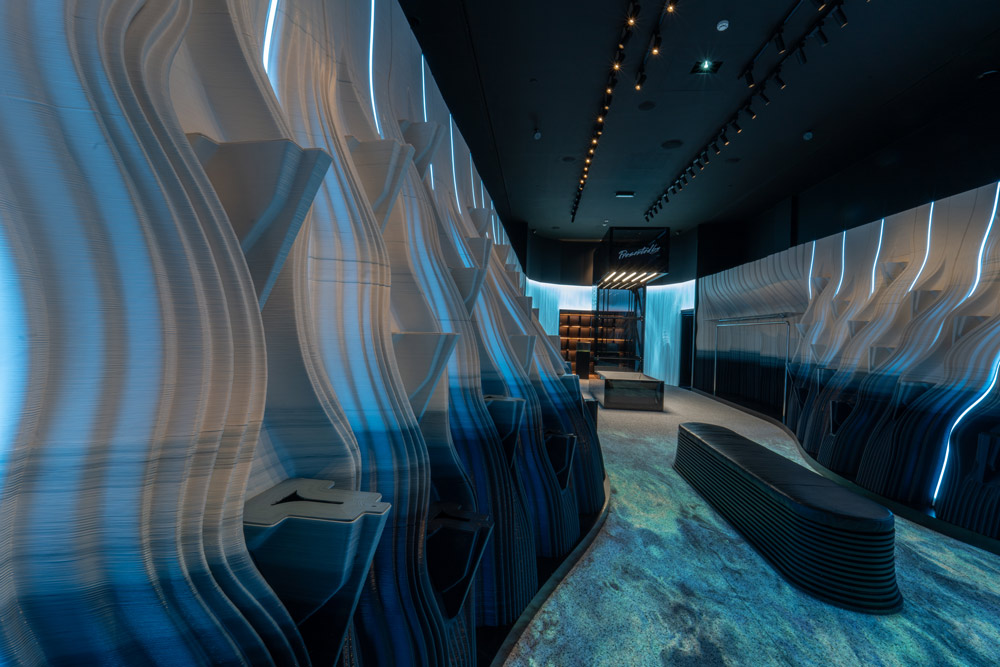 The collaboration with Presentedby
External Reference created the concept for the first Presentedby shop, which is now its London flagship, and has subsequently been tasked by this prominent business with designing its additional locations globally. The brand's Chief Creative Officer is Carmelo Zappulla.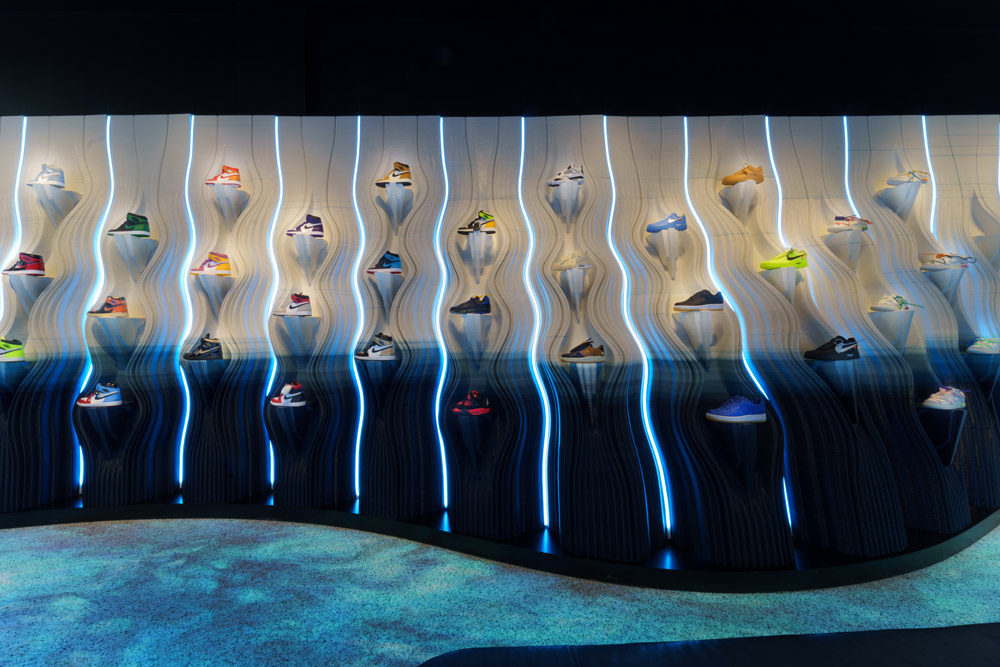 The design of each Presentedby store takes into account its individual urban surroundings, even if each Presentedby store stands out as a separate, original, creative industry profoundly connected with the brand's unique character and with the location where the shop is located.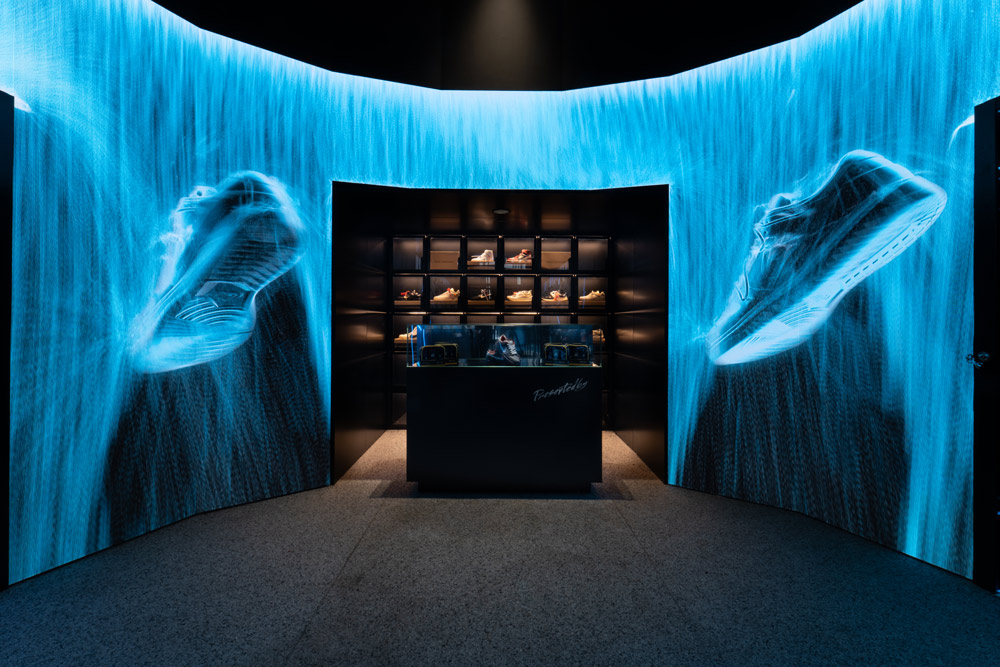 About External Reference
Carmelo Zappulla created and directed External Reference, an award-winning Barcelona-based architecture office founded in 2007. The business, which has considerable expertise in commercial, interior, and exhibition design, develops experimental places that push the frontiers of architecture, art, and digital tools.
Over the years, the studio has created an extensive network of collaboration with worldwide specialists, allowing it to promote the merging of craftsmanship and new digital technology, bringing engagement, interaction, and emotions to unique works made worldwide.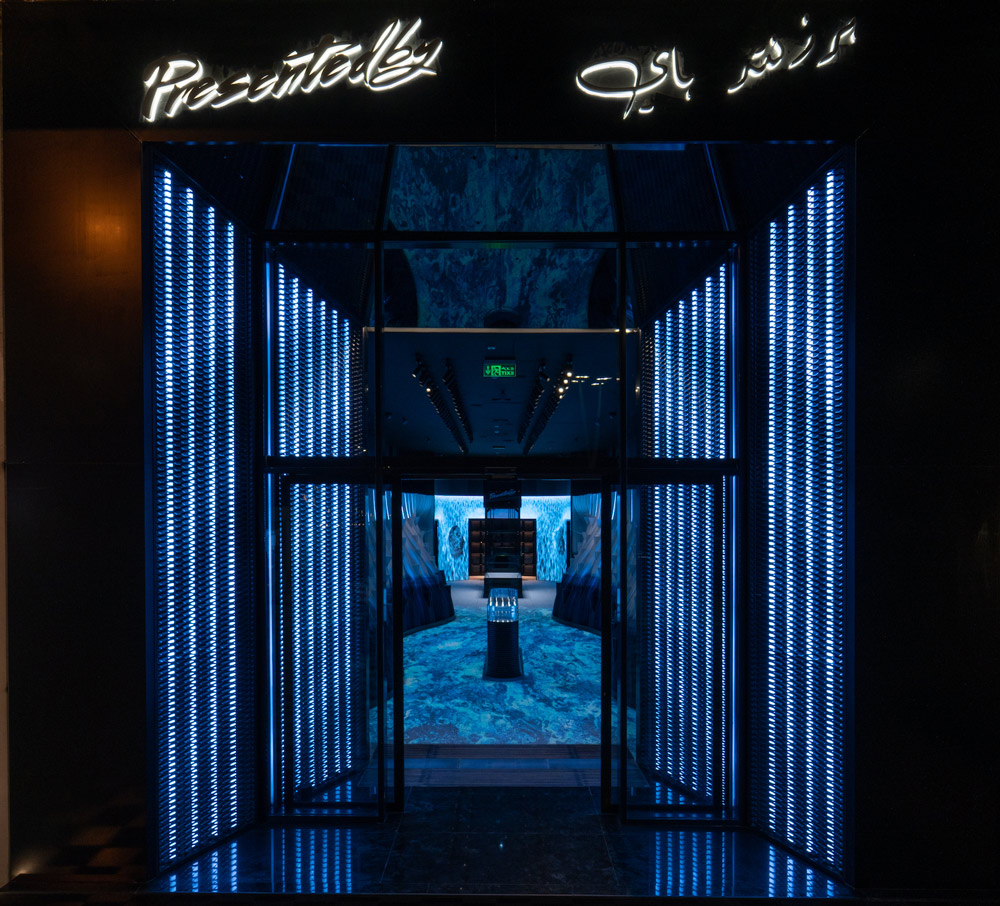 Project Info
Project Director: Carmelo Zappulla
Team Leader: Sebastian Amorelli
Design Team: Sebastian Amorelli, Forum Shah, Ivan Marchuk, Irina Shaklova, Jihad Al Ojaili
Project Management: External Reference
3D Printing: La Máquina by Noumena
Metal Fabrication: Oxido Taller
Audiovisual: Lloc Audiovisuales