In our ever-evolving and fast-moving lives, one can consider accessibility and connectivity to play a vital role. Automobiles have sped things up and improved our commute and travel time considerably. With a rise in 3D printing technology, its application has expanded to various sectors of society (Construction, Medicine, Automotive, Consumer product sectors, etc.).
The automotive sector is developing with modern-age technology that includes introducing 3D printing in the process. 3D printing has proved valuable in creating prototypes, production or even creating automotive parts. In the long run, 3D printing will assist in developing modern and innovative 3D-printed cars that will revolutionize the automobile industry.
Advantages of 3D printing application in the automotive sector
Listed here are some benefits of 3D printing in the automotive sector;
Easy to assemble products/parts
Reduces the weight of the automobile
Reduces the time required for manufacturing
Customized automobiles (cars, motorcycles, etc.)
Strong and Lightweight products/parts can be produced
Materials utilized for Automotive 3D printing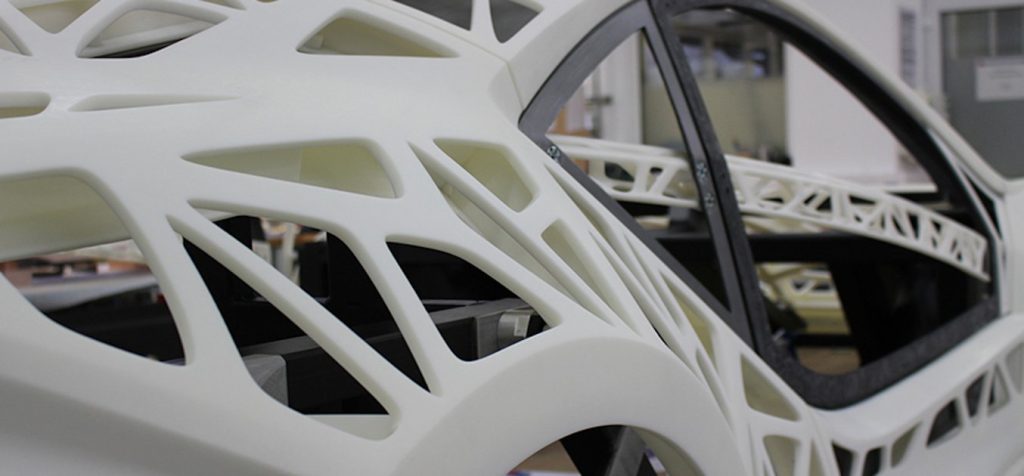 The commonly utilized materials for 3D printing cars are plastic, metal, and composites.
Plastic – It is the primary material used for 3D printing automobile products/parts. Some common methods utilized for plastic 3D printing; are SLS (Selective layer sintering), FDM (Fused deposition modeling), and SLA (Stereolithography).
Metal – It is a new material utilized for 3D printing in the automotive industry which is being used extensively. Metal printing utilizes methods such as electron beam printing, power bed, SLM (Selective laser melting), etc.
Composites – Composite materials are utilized for 3D automobiles which have better characteristics. Materials like carbon and glass fibre composites can be used for several parts like bodywork, etc.
Some examples of innovative 3D Printed cars
1. The Blade
Manufacturer: Divergent Blade
The blade is the world's first 3D-printed supercar designed and created by a California-based startup Divergent 3D (Introduced in 2015). This auto was created using patented mill technology where 3D printed aluminum parts are connected to carbon fibre, creating a car that is 90% lighter in comparison to conventional vehicles.
The entire chassis of the sleek sports car was 3D printed (3D printed aluminum node joint made of carbon fibre tube connections). The aluminum and carbon parts are printed on-site which not only saves time but also costs.
2. Urbee 2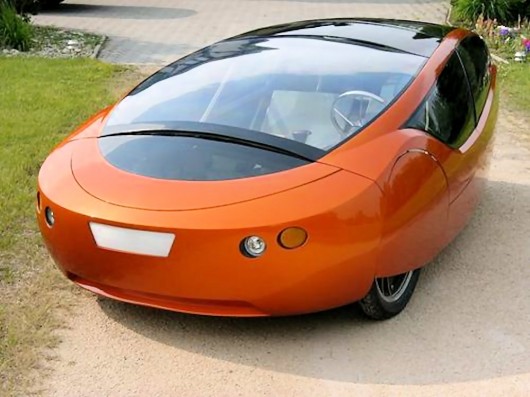 Manufacturer: Kore Ecologic
Urbee 2 (Urbee – Urban Electric with Ethanol) is the world's first environment-friendly 3D printed car manufactured by Kore Ecologic (Funded through Kickstarter). The entire body is 3D printed making it a lightweight automobile. This hybrid automobile consists of two electric motors with 16 horsepower with a maximum speed of 70 mph.
This two-passenger car's body parts are 3D printed (60% of the exterior and interior body components are 3D printed). The body components do not require extensive manufacturing facilities for production.
3. Light Cocoon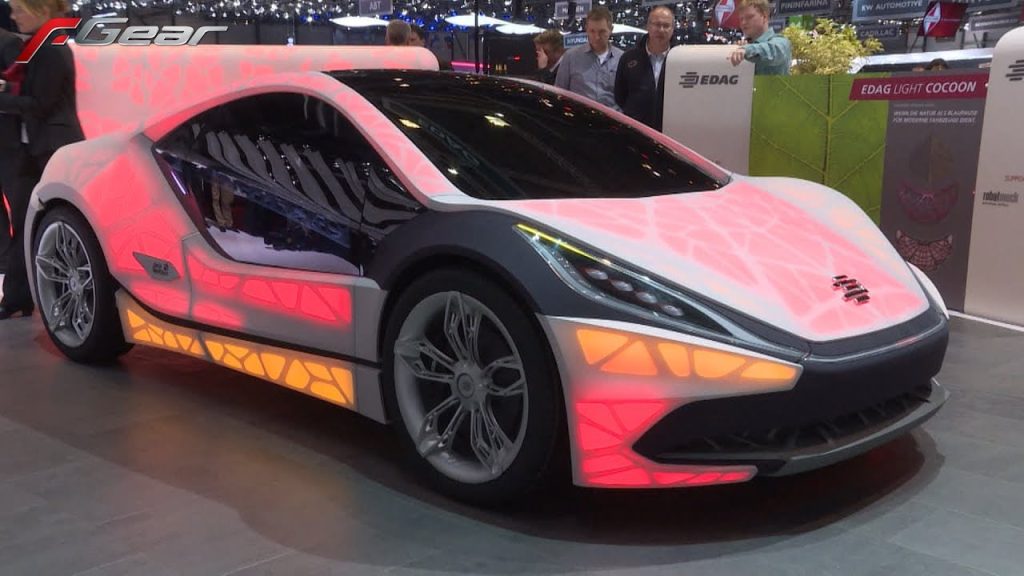 Manufacturer: EDAG
The German engineering company EDAG has developed a 3D printed auto body inspired by leaf's construction. The car consists of an exterior polymer skin that is lightweight and a weatherproof textile cover made of Texapore Softshell (Lightweight skin). EDAG designer's vision was to create a 3D printed car that is sustainable (Efficient, Lightweight, and Less wastage).
The external polymer fabric skin weighs about 19 grams every square meter adding a unique touch to the car. The polymer composite skin has a self-healing property that will prevent and heal cracks and dents formed.
4. Honda Micro Commuter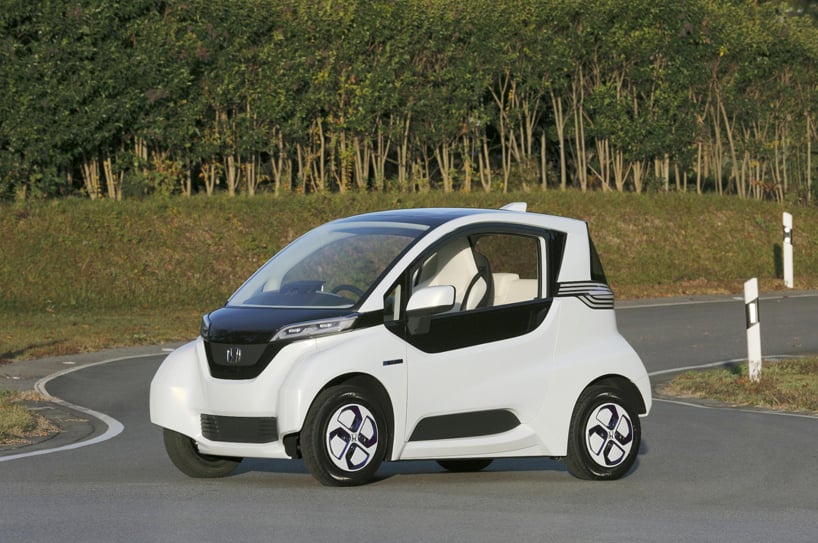 Manufacturer: Honda
The Micro Commuter designed by Honda is an electric car that is 3D printed. This micro auto is a part of their vision of creating multipurpose and customizable automobiles. The exterior of the car is entirely 3D printed on a Stratasys printer. The 3D-printed car is a flexible automobile that can be customized for functions and appearance.
The electric Honda Commuter has a range of about 80km (50 miles) and consists of a chargeable battery. The micro commuter was designed for Toe Shyama, a Japanese cookie company that requires and plans to utilize the car.
5. Toyota UBox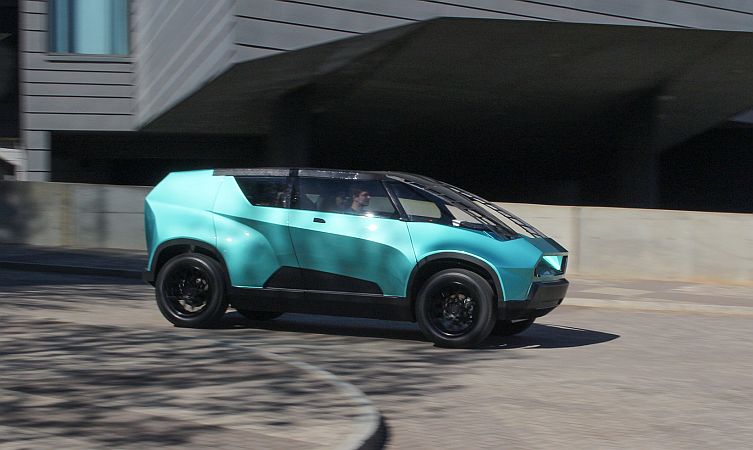 Manufacturer: Toyota Motor North America & Clemson University International Center for Automotive Research
Toyota Ubox was designed by students in collaboration with Toyota motors, a car that is customizable by 3D printing. Toyota Ubox is a two-year collaboration resulting in a modular and custom component design. The Ubox is a futuristic design with features such as LED daytime running lights, suicide rear doors, a curved glass roof, electric automobile.
The car utilizes functional parts that were traditionally created, and Toyota has experimented with 3D-printed interiors.
6. Strati
Manufacturer: Local Motors
The Strati (Italian meaning "layers") is a small electric double seater 3D printed automobile designed by Arizona-based manufacturers Local Motors. It is an electric car that has been printed, produced, and assembled within the time period of 44 hours. The majority of body components of the automobile are composed of carbon fibre reinforced ABS plastic, other components which are produced traditionally.
The manufacturers have designed and reduced the number of car parts from 25,000 to less than 50 parts. The time required to print was about 244 hours with 227 layers and 50 parts.
7. LSEV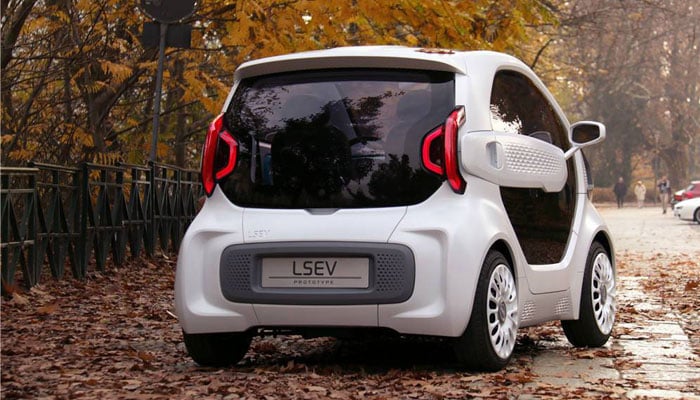 Manufacturer: XEV and Polymaker
LSEV (Low-Speed Electric Vehicle) is the world's first mass-produced 3D printed car designed by XEV (an Italian electric car company) and Polymaker (a Chinese 3D printing company). The exteriors and interiors of the car have been 3D printed completely except for their tires, windows, and seats.
The LSEV electric car is composed of 57 (Interiors and Exterior) 3D-printed parts completed in a period of three days. Freedom of creativity and Low investment makes this 3D-printed electric car beneficial.
8. Nanyang Venture 8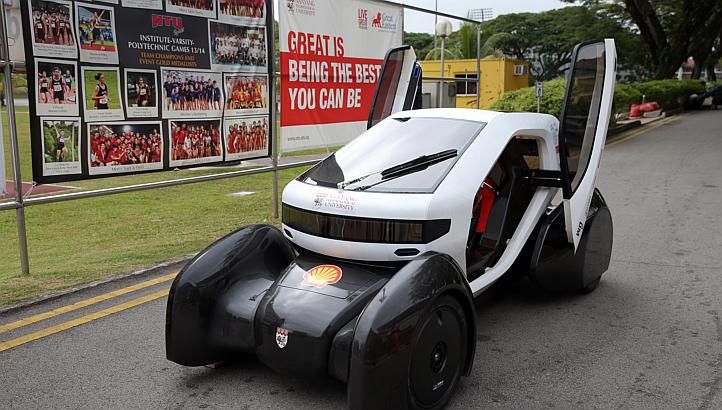 Manufacturer: Students of Nanyang Technological University
This electric microcar was designed as a part of the competition sponsored by shell cooperation Eco-Marathon (2015). This electric-powered motor (Lithium-ion batteries) was designed and printed by the students of Nanyang Technological University in three months. They aimed to showcase the application of 3D printing in large objects such as cars.
The concept of the micro car is that the upper body of the car can be customized to the needs of the individual user. The 3D-printed shell body is mounted on a strong lower body made up of carbon fibre chassis.
9. Audi Type C Replica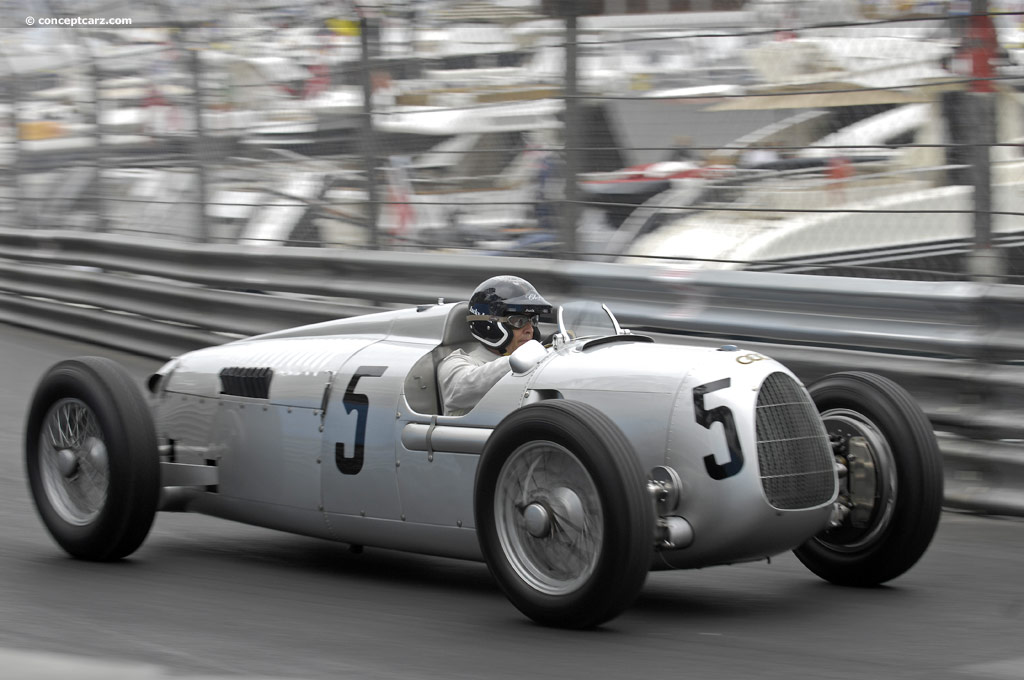 Manufacturer: Audi
Audi to showcase the possibilities of metal 3D printing have replicated an Auto Union Type C Grand Prix car design. The manufacturers utilized a metal selective laser sintering process for 3D printing this metal car replica. This 1:2 scale replica is the first completely 3D-printed automobile (car). All the metal parts utilized are all 3D printed (SLS 3D printer) and later they are arranged and assembled to form a completed car.
10. PUV ORNL
Manufacturer: Oak Ridge National Laboratory's AMIE Project
The PUV is a 3D-printed car developed as a part of Oak Ridge National Laboratory's AMIE Project. The project aims to create an innovative 3D-printed car that utilizes and store energy with the ability to transfer electricity to and fro. This innovative car runs up to 35 miles on a full charge which can transfer energy.
This 3D printed car is a lightweight design as it utilizes body panels that not only decrease the weight and also the cost of the car.