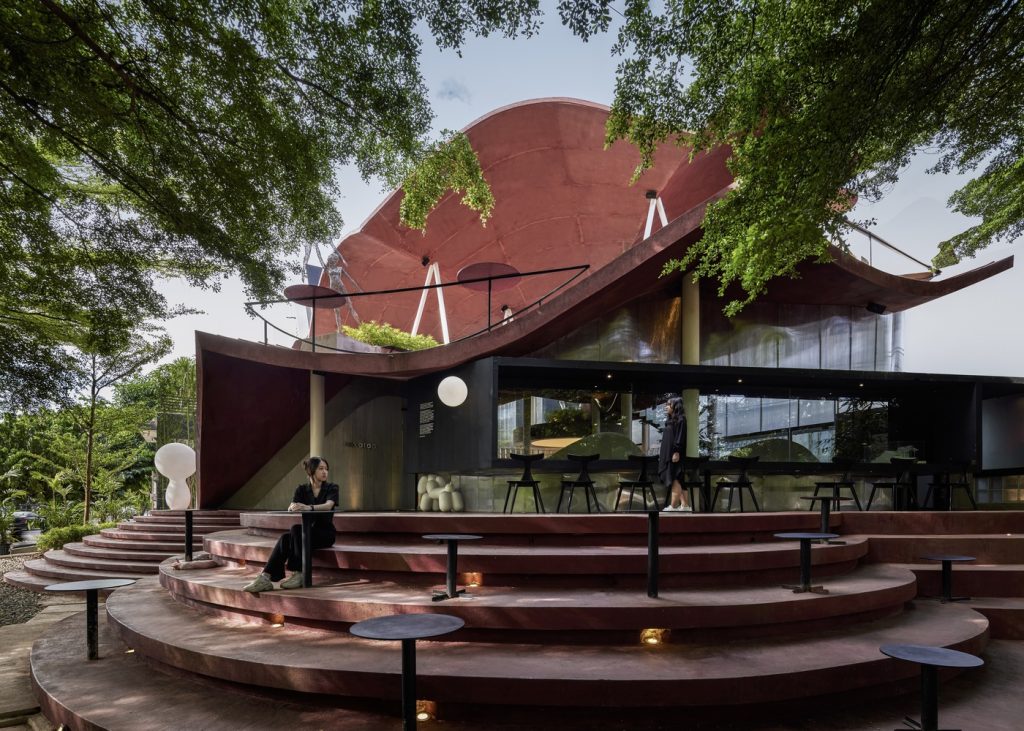 Tanatap Canopy Garden Café and Restaurant were designed by RAD+ar (Research Artistic Design + architecture), celebrating visibility by being as open and transparent as possible. The building is a double multi-axle colored concrete slab floating over a garden. A very light feel is created by the shell-emphasized structure, as an extension of the garden itself he creates a series of rooftop seating areas that characterize the ground floor space.
The Tanatap Canopy Garden was built as a commercial garden in the middle of a compact residential area with a very high thermal environment in Bekasi (35 degrees Celsius), and like many other experimental Thanathap commercial garden designs, this special Given macro-environmental challenges, low-power passive commercial designs are still achievable and viable in tropical developing countries.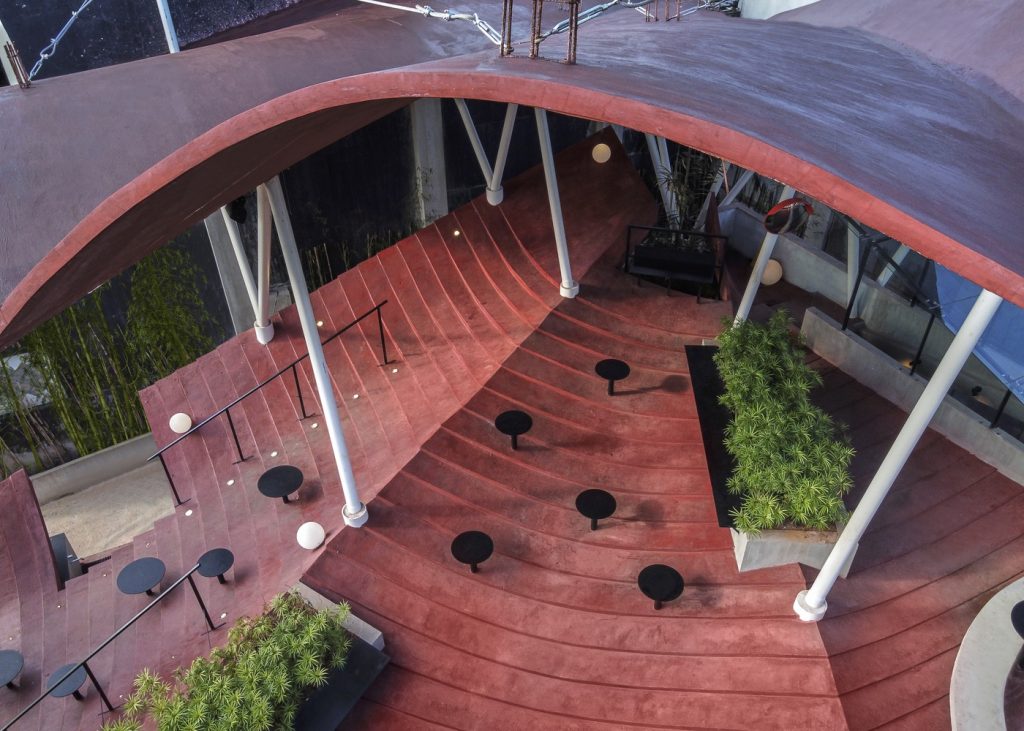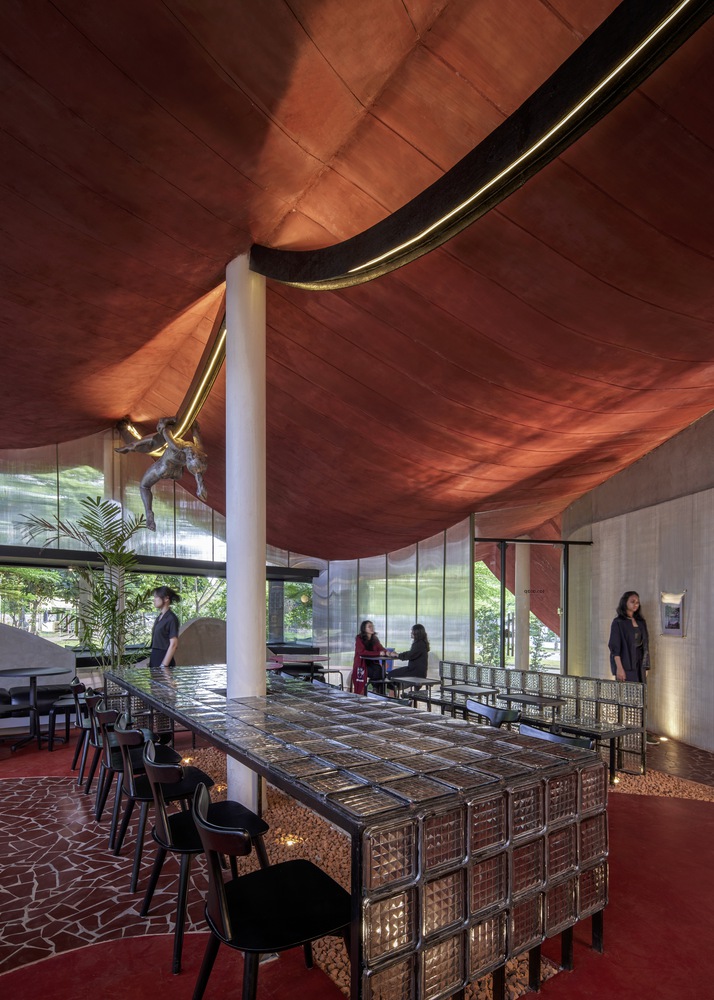 The overall atmosphere is heavily influenced by the rows of weaves in the existing tropical almond tree canopy, which contrasts with those shades and the open plan layout to allow air to circulate throughout the unit. It is RAD+ar Director Antonius Richard said: A visitor's overall experience of Canopy Garden is largely curated by a series of playful harmonies of varying spatial leveling, natural lighting with colors and shades, integrated architectural furnishings, and its unique interior.
The juxtaposition of multi-axis colored concrete and translucent elements on both floors enhances the exterior view of the tropical almond garden, making this elegant gathering place the perfect place to pause, relax and unwind. It has become. RAD+ar is optimized for a tailor-made, experimental tropical experience. Indoor and outdoor concepts are united through a series of floating concrete shades that create a different atmosphere for each hour. This is achieved through a seamless extension of the roofing material that touches the existing canopy, inviting visitors to the unique experience of dancing among tropical almonds in his canopy.
The open layout creates an efficient internal unified flow and interaction of the bar area, communal tables, and circulation. Staying true to Tanatap's vision of decentralizing sustainable buildings through sustainable economies in developing countries like Indonesia, the design seeks to house the creative community within the gallery's commercial garden setup.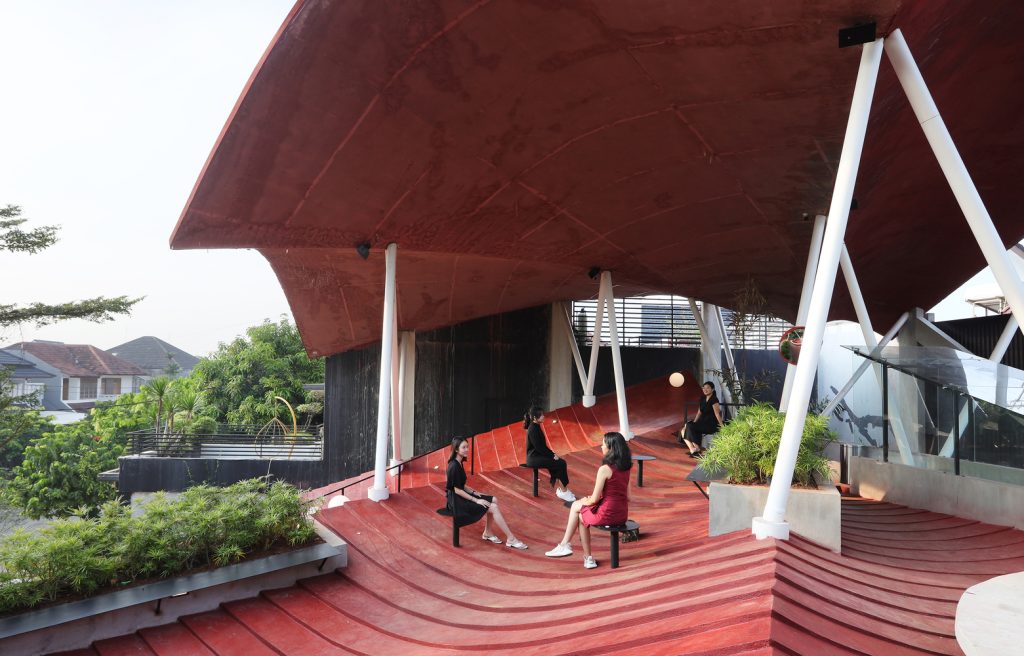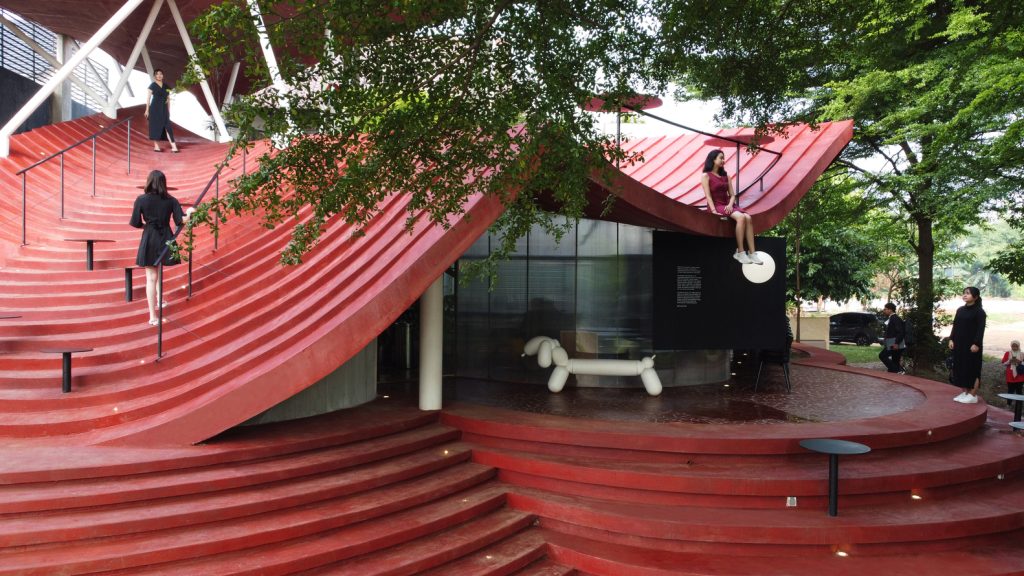 Project Info:
Architects: RAD+ar (Research Artistic Design + architecture)
Area: 450 m²
Year: 2022
Photographs: KIE, Sonny Sandjaya Photography
Manufacturers: Holcim, Mulia, Toto
Lead Architect: Antonius Richard
Architectural Designers: Junovan, Felda Zakri, Partogi Pandiangan, Leviandri