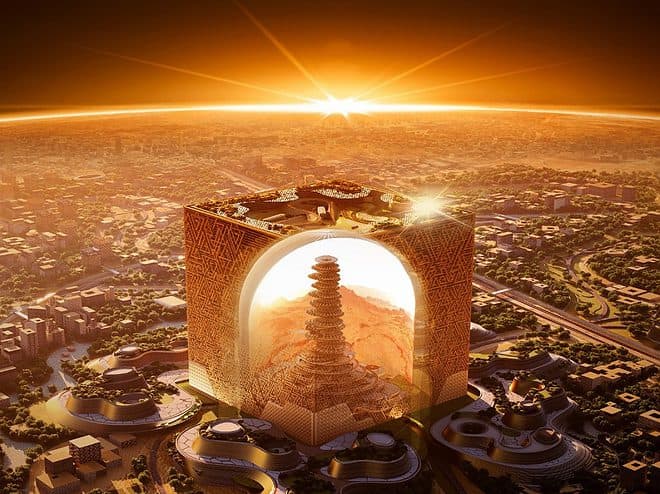 Have you seen Saudi Arabia's new mega project proposal in Riyadh? Saudi Arabia's Public Investment Fund has announced a bold new project that promises to be the world's largest modern downtown and would be large enough to hold 20 Empire State Buildings. The Mukaab is a 400-meter-tall, 400-meter-wide cube city that will form the centerpiece of a new downtown area in Riyadh.
The Mukaab will be part of the wider New Murabba project, a development scheme that aims to transform a 19-square-kilometer area to the northwest of Riyadh into a vibrant mixed-use district. Crown Prince Mohammad bin Salman bin Abdulaziz announced the project, which will be overseen by the New Murabba Development Company, in February 2021.
The building will be based on the modern Najdi architectural style, but with a futuristic twist. Developers say that The Mukaab will offer "ever-changing environments" using digital and virtual technology to create holographic displays that interact with the surrounding urban landscape.
Let's say Saudis love outstanding ideas! The cube will enclose a tower on top of a spiral base and a structure featuring 2 million square meters of floor space that will be a hospitality destination with retail, cultural, and tourist attractions. It will also feature residential and hotel units, commercial spaces, and recreational facilities. In total, the New Murabba project will feature 104,000 residential units, 9,000 hotel rooms, 980,000 square meters of retail space, and 1.4 million square meters of office space. There will also be 1.8 million square meters of space dedicated to community facilities.
The New Murabba project is set to become a model for sustainable urban development, with green areas and walking and cycle paths designed to promote healthy lifestyles. The district will also be home to a museum, a technology and design museum, a theatre, and more than 80 entertainment and cultural venues.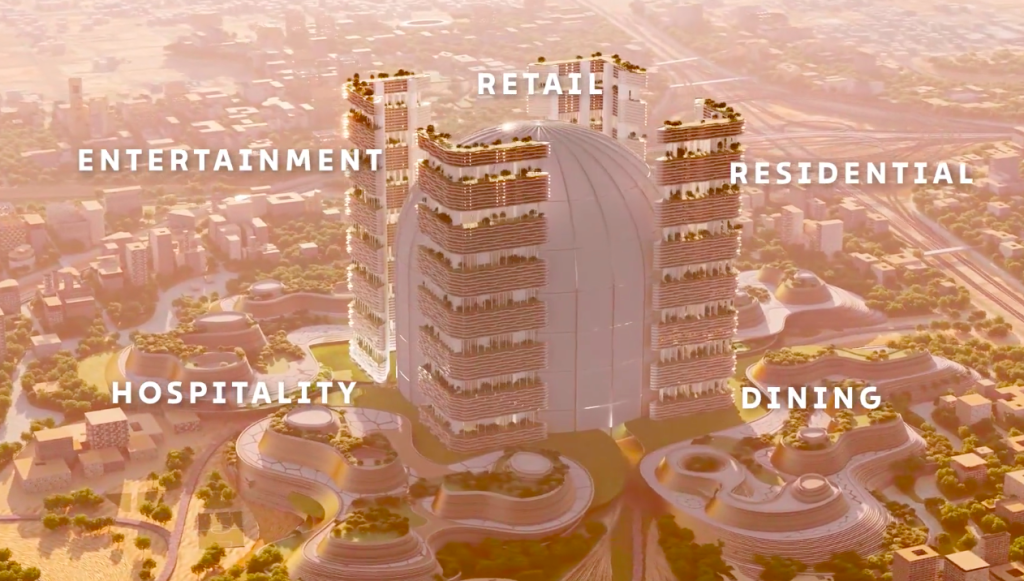 Residents of New Murabba will have access to living, working, and entertainment spaces within a 15-minute walking radius, while the airport will be a mere 20-minute drive away. The developers of the project say that it will create more than 350,000 jobs, making it a significant driver of economic growth in the region.
The entire New Murabba project is scheduled for completion by 2030, with the Mukaab due to be finished several years earlier. The project's completion will be a major milestone in the ongoing transformation of Saudi Arabia's economy, as the country looks to diversify away from its reliance on oil and gas exports.
The Mukaab and the wider New Murabba project are a clear indication of the ambitions of the Saudi Arabian government, which is determined to position the country as a leader in the fields of technology, innovation, and sustainable development. If successful, the project could set a new benchmark for large-scale urban development projects around the world.