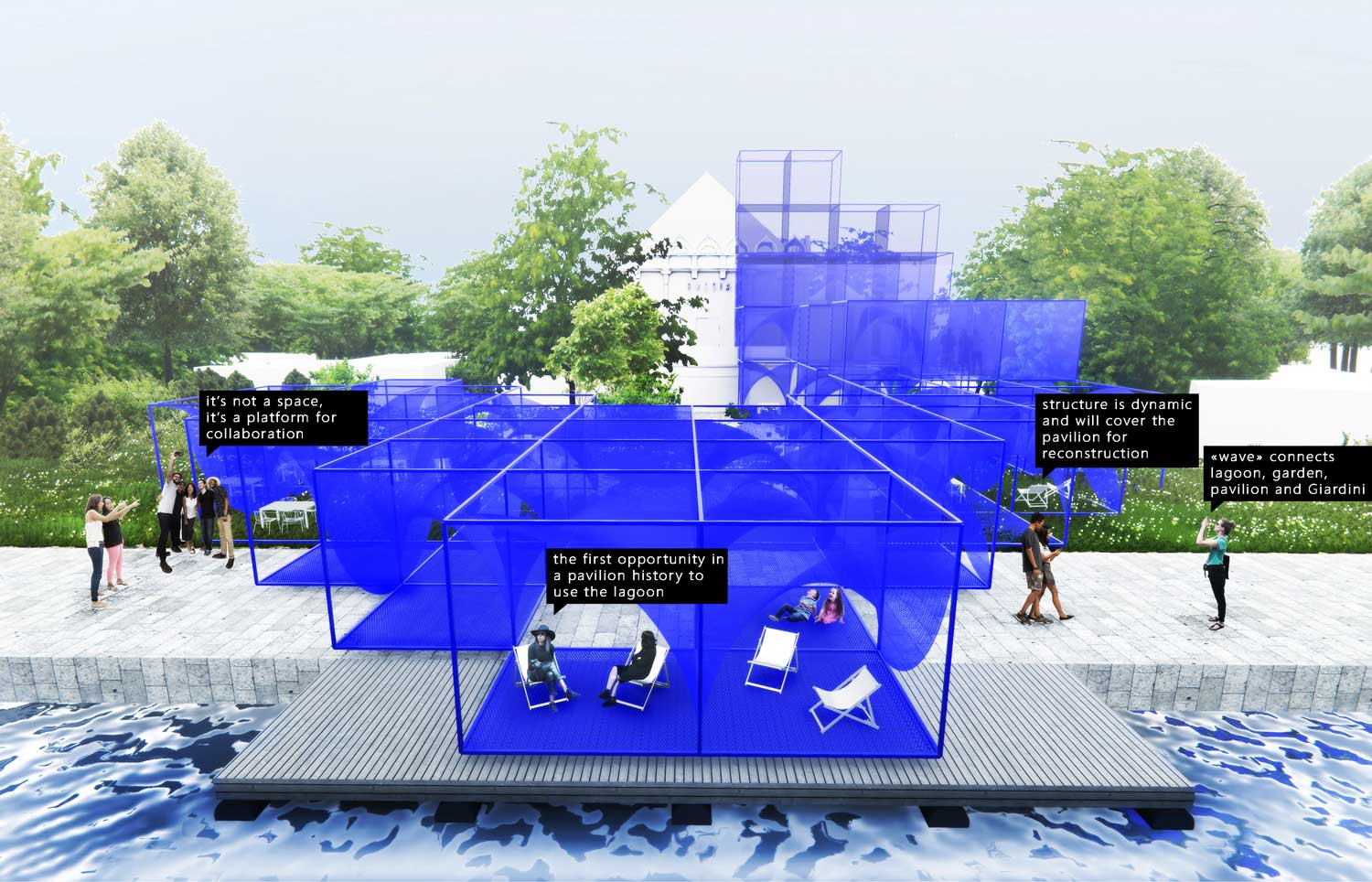 'Open Residence Open Platform' is the concept of transformation of The Russian pavilion at the Venice Biennale into a cross-disciplinary residence. Architects expanded the space for the exhibition and involved not only the existing building, but also the entire surrounding area, including the garden and lagoon. Russia pavilion is the only pavilion that has possibility to connect with lagoon, but didn't use it yet.
The construction of the pavilion itself is a starting point, opening up opportunities for adjacent territories and spaces. The pavilion, garden and lagoon are physically connected by a modular adaptive structure in the form of a wave. For the duration of the biennale, the structure "grows" out of the lagoon as a system of temporary objects, first on the water, and then moves into the park area and surrounds the entire pavilion, giving it a new shape and silhouette. A gradually growing wave enveloping space symbolizes creative progress and the flow of new ideas.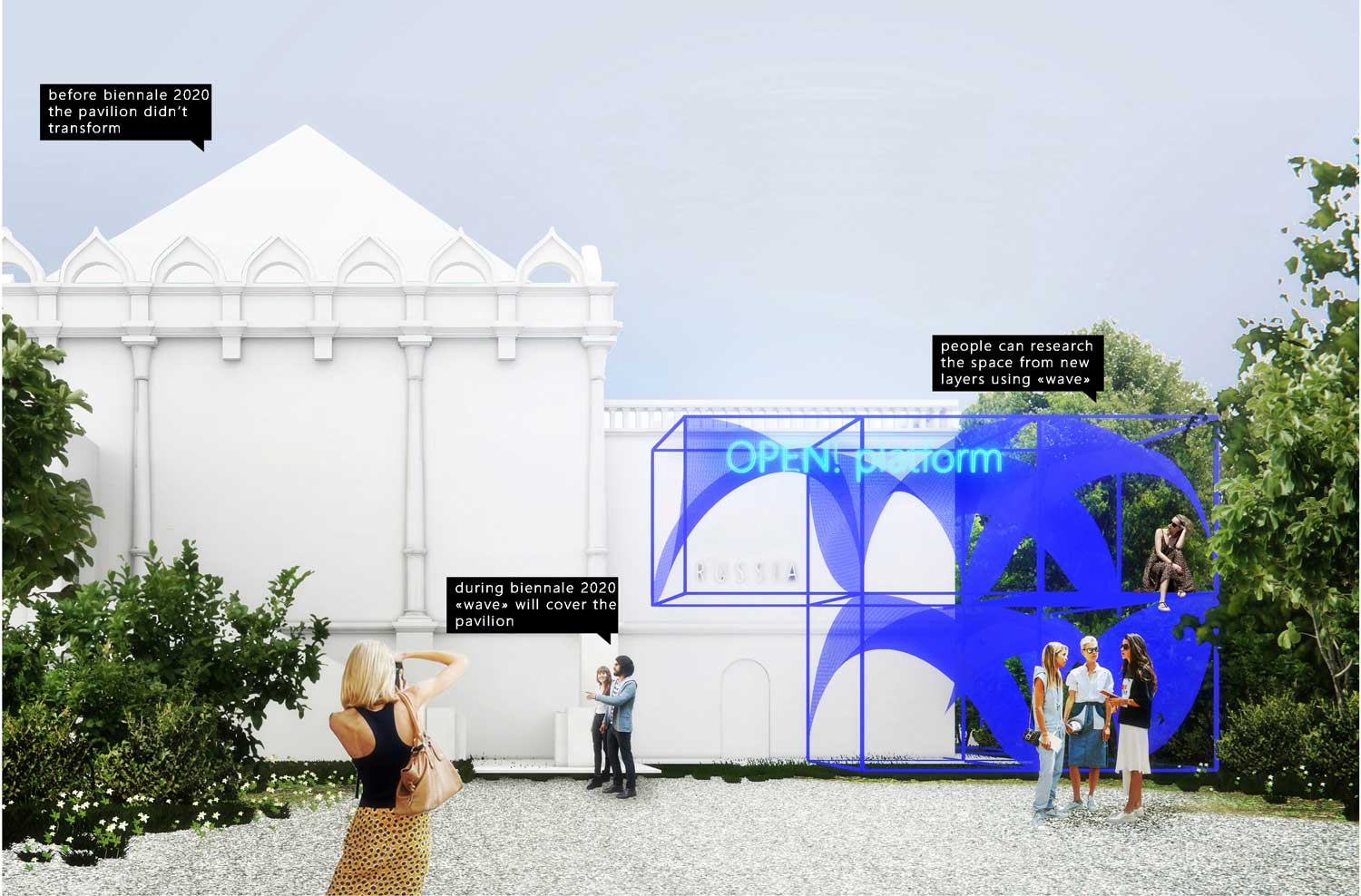 The design form was created using a script based on cellular automata – a natural algorithm for the growth of living organisms. One cell – one module that can be programmed and used for different scenarios. For the period of the studio's work, modules will act like workplaces, a bar, a discussion platform, places for prototypes, digital and physical archives, on pontoons – a meeting place and performances.
The construction of the wave is an aluminum frame, in fact it is a kind of scaffolding. The design consists of two main elements: an aluminum frame and a blue mesh that gives volume and shape. Such a system allows you to easily and quickly transform modules for changing functions and tasks. After completion of the exposition, aluminum scaffolding will be used in the reconstruction of the pavilion. Such an approach is very sustainable at the core. Aluminum is one of the most reused material. The frame, as well as the mesh, is easily delivered, assembled and reassembled on site, without the necessity of a heavy construction equipment and unnecessary CO2 emissions.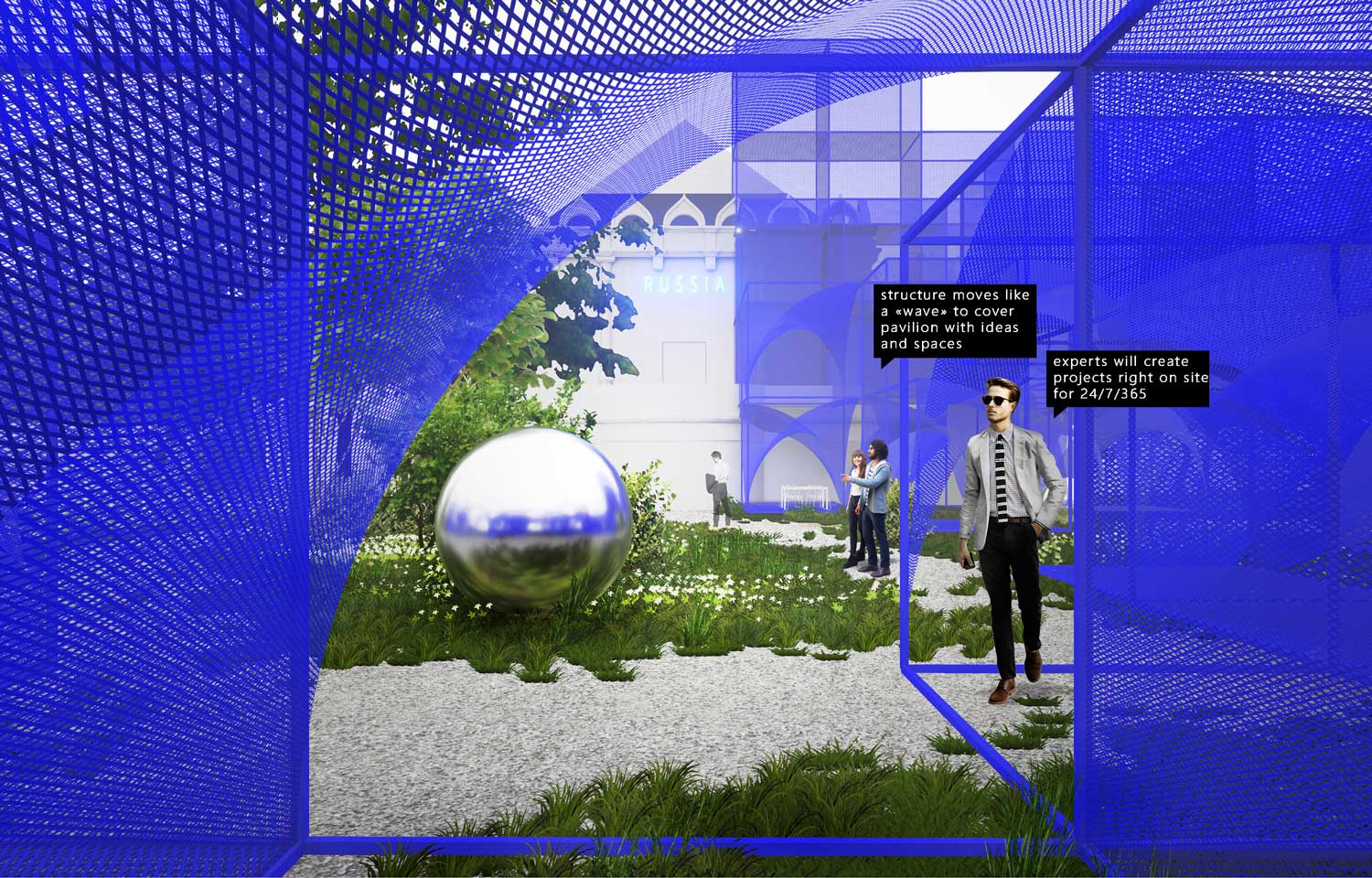 Open! Residence / Open! Platform is an open platform for dialogue between different disciplines and creating something really relevant. This is a fundamentally new object that is constantly changing in terms of form and content. The historical heritage of the pavilion remains untouched.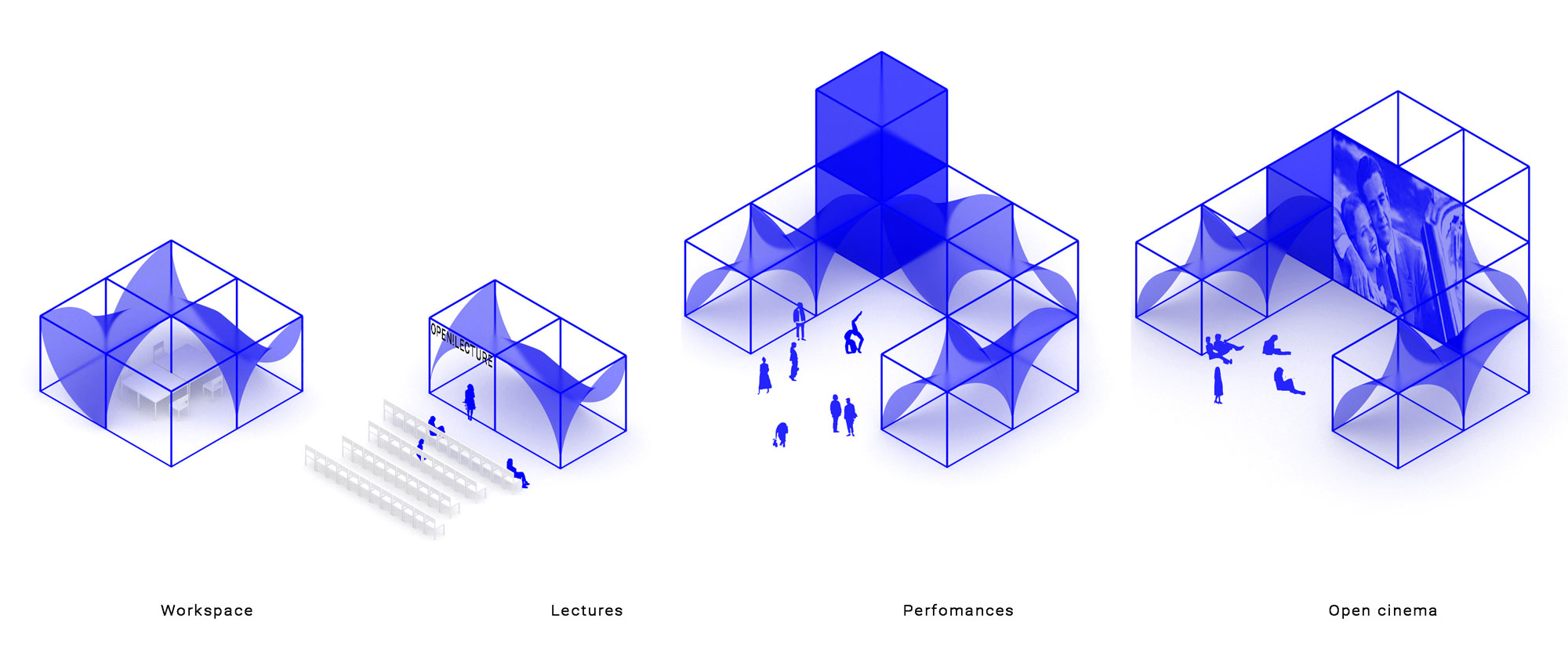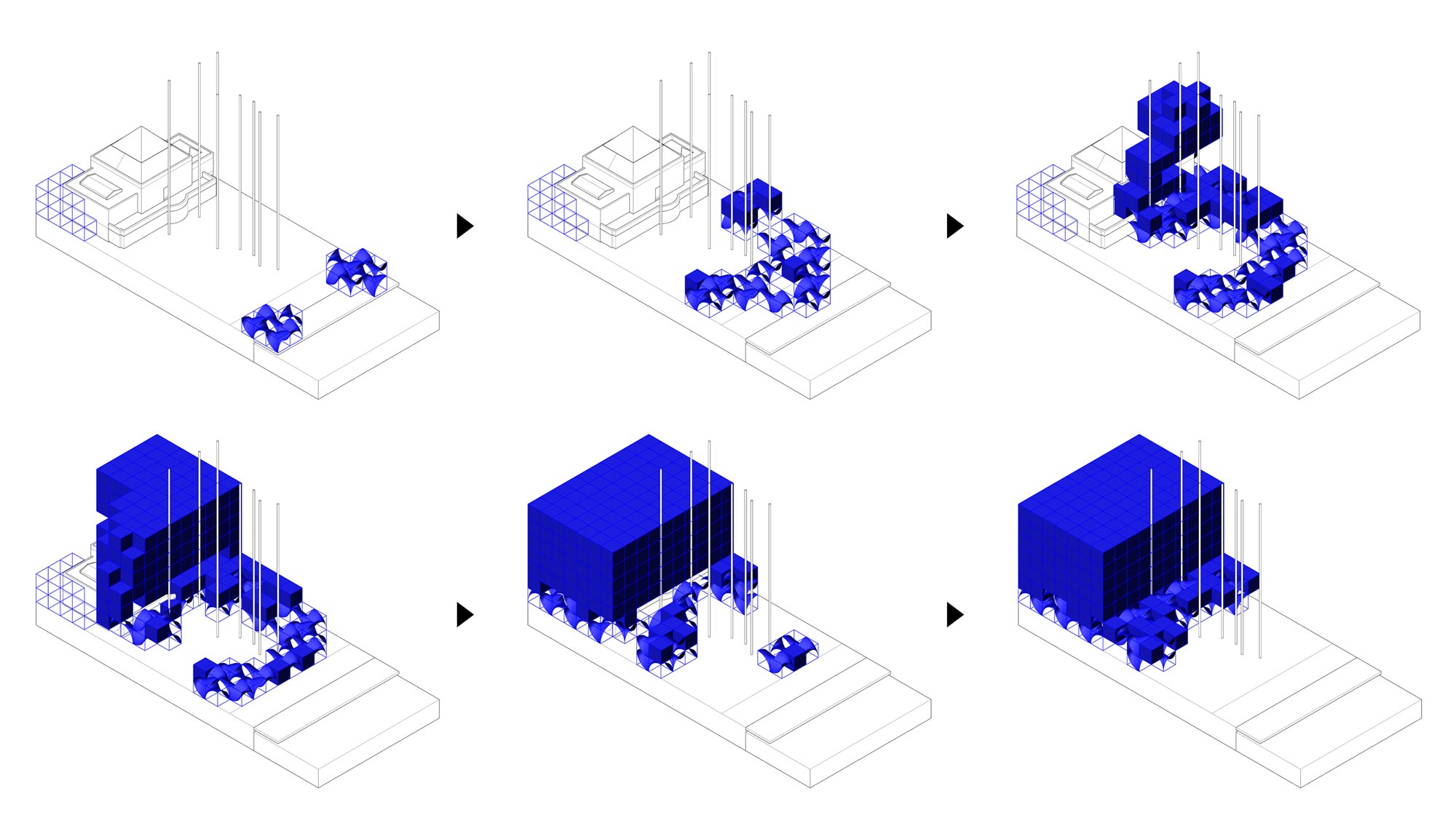 The new structure visually contrasts with the historical heritage, integrates into it, if necessary, and personifies a dynamically developing future. Participants will be involved in the discussion process, as well as in the process of changing structure and space. The program of the pavilion is designed for 10 years of work and stay 24/7. Projects for demonstration do not need to be brought, they are created inside. Which also decreases the amount of resources needed to produce and bring the exposition in the pavilion.
'Open Residence Open Platform' concept designed for open-call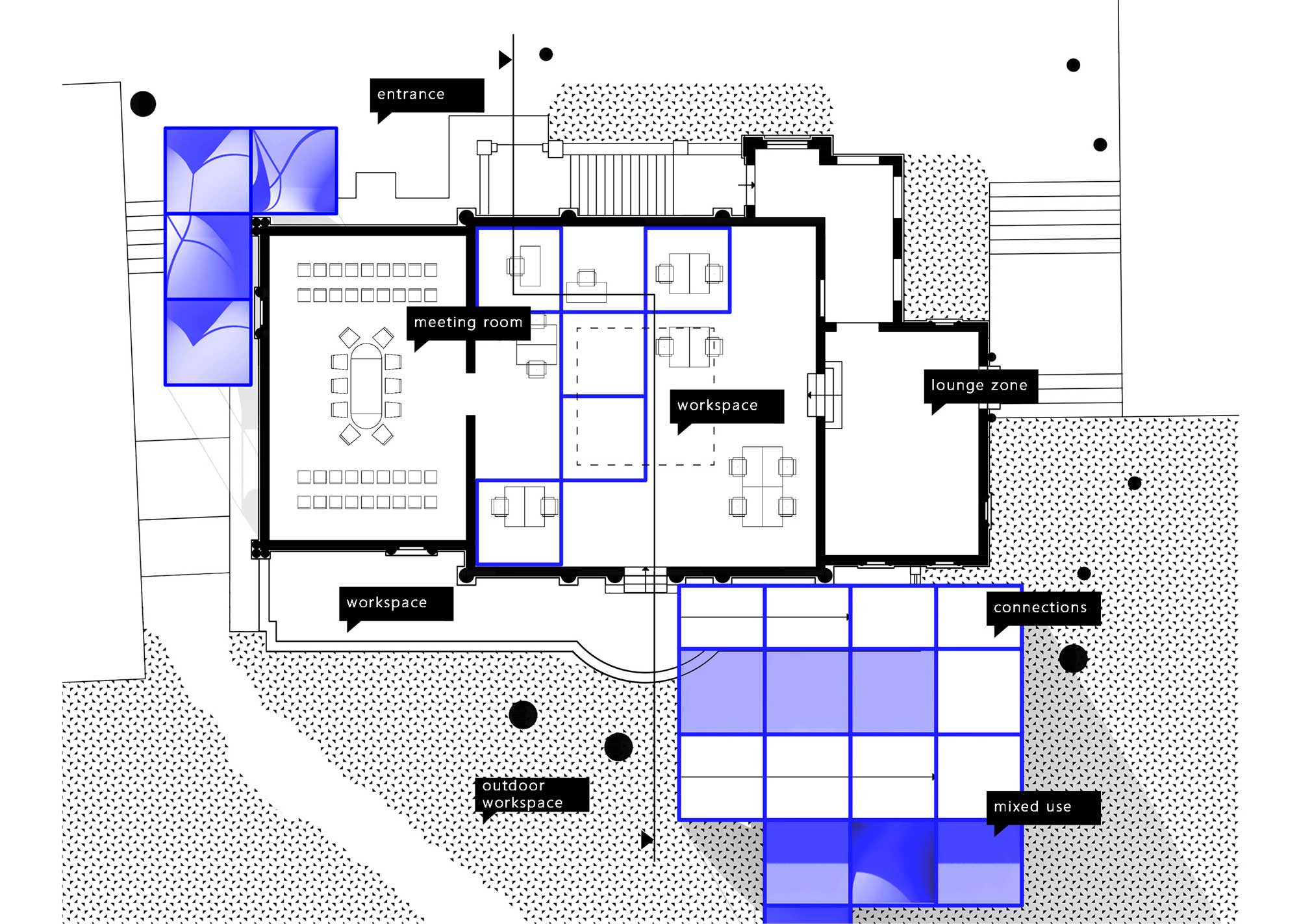 Project Name: Open! Residence/Open! Platform
Architect: SA lab & ludi architects
Location: Venice, Italy
Program: reconstruction
Status: concept
Year: 2020