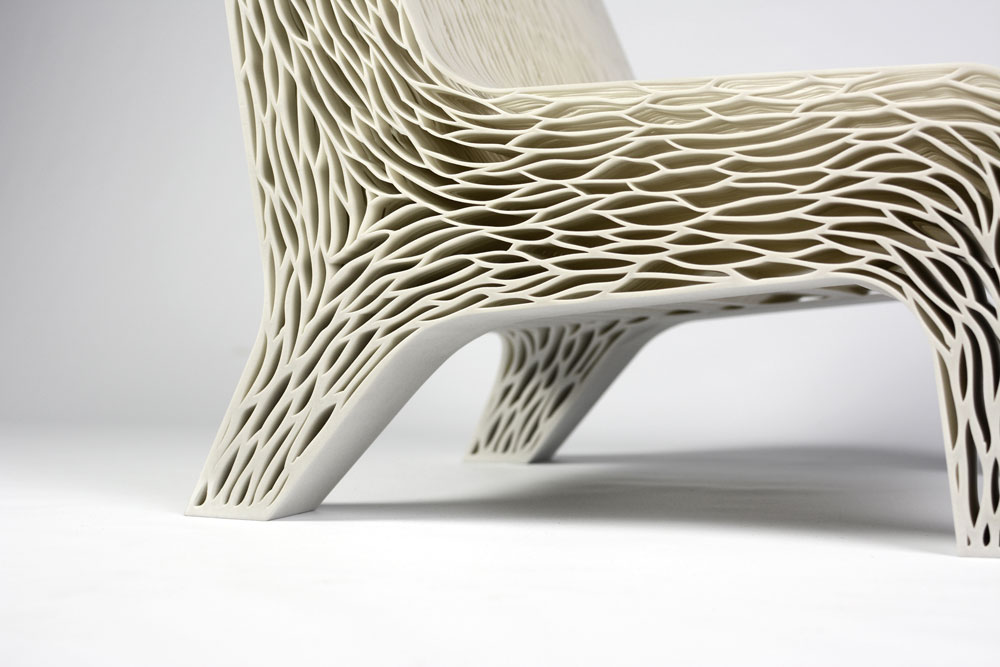 Lilian van Daal bridges the gap between the natural and the artificial or designed worlds. She experiments with cutting-edge technologies and materials to meticulously mimic nature. She hopes that the resulting objects will provide insights and contribute to more sustainable production methods. Lilian van Daal believes that nature and organic processes provide solutions and inspiration. Looking at the ordinary from a different angle opens up new possibilities. She takes the experiment and turns it into useful connections, collaborations, and applications.
Here are some of the works that she shared with us. Let's take a look!
Biomimicry – 3D printed soft seat (2014)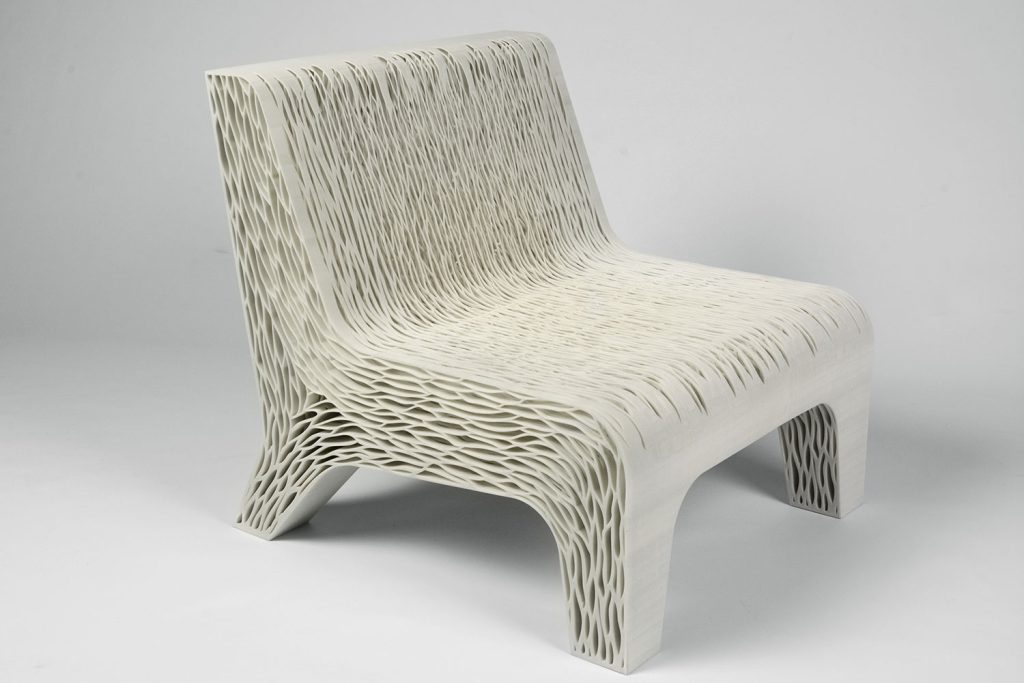 Biomimicry; 3D Printed soft seat is the starting phase of Lilian's extensive research into organic structures in order to optimize the soft seating industry. In this, she peeled off the layers of the current industry. Various materials are collected from all over the world and it is rare to find interior products that are produced locally. On top of that the assembly involves chemical substances like glue which also makes upcycling or recycling very difficult. Lilian came up with the soft seating of a chair that can be locally produced and inspired by plant cell structures. The result is soft seating that is adaptable to personal needs and that contains all functions made out of one material.
Mother nature fabricates single material patterns that serve a wide scale of functions on many levels; from leaves to spider webs. To achieve this, she plays with form and structure. Lilian is exploring these and due to developments in the 3D printing industry, she's able to mimic these on a meticulous level. This results in a comfortable and adaptable 3D-printed seat that can be tailored to meet the personal and ergonomic needs of the buyer.
Shapes of Sweden (2015)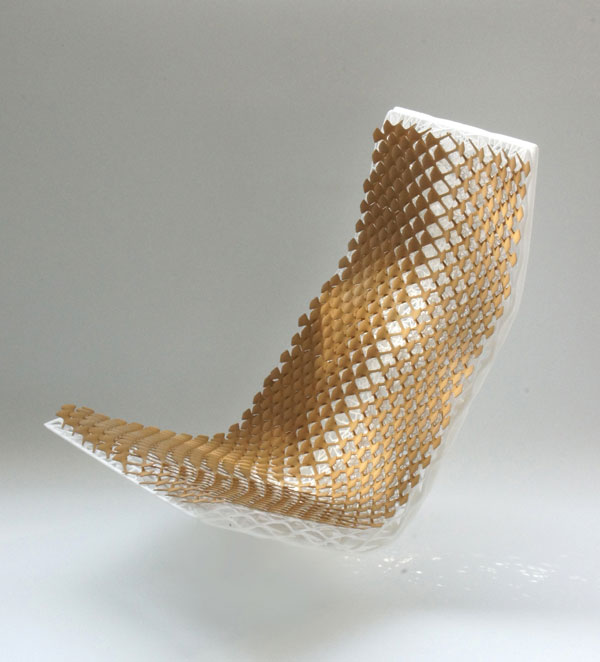 The project Shapes of Sweden was developed for the Volvo Design Challenge that Lilian won in 2015. For this challenge, she dived into the Swedish environment and the brand proposition of Volvo. She merged the essences of these together with her biomimicry approach. After extensive material research with several bio-materials, she concluded with a 3D printed structure out of pine wood and resin that serves some essential functions of a chair: flexibility, resilience, and stability. In Sweden, the pine woods providing this resource are available in abundance.
Nature was the source of the design: the structures were inspired by different aspects of trees. Roots are used for the construction of the chair, branches in different levels of densities for comfort and flexibility, leaf veins and; from roots to branches, and even leaf veins and scales of pinecones for ventilation and tactility.
Radiolaria #1 – fragments of nature (2018)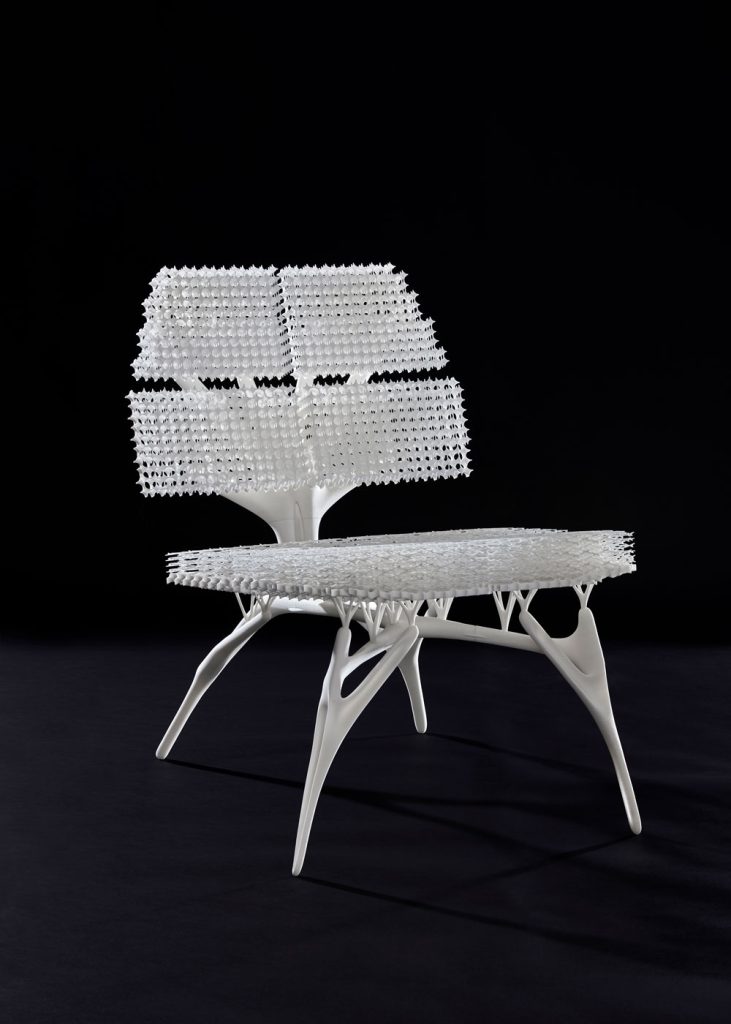 Radiolaria #1 is a real-size 3D printed model of a chair made out of a single material that incorporates all functionalities: flexibility, adaptability, firmness, and stability. With Radiolaria #1, Lilian van Daal continues her quest to improve, adjust and innovate the production of soft-seating by making use of nature's laws. In this project design, nature, and 3D printing come together to use energy and material in the most efficient way. This result is a chair constructed without glue out of a single material: recycled polyamide (PA 12), provided by Oceanz 3D printing.
Inspiration from nature
What can nature and its smallest life forms teach us? These small life forms are the starting point of Lilian van Daal's research. The microorganisms Radiolaria and Bryozoa form the main source of her inspiration. Radiolaria are unicellular organisms that are found as zooplankton throughout the ocean and take their name from the radial symmetry of their skeletal spines. The structure of Radiolaria amplified by 3D printing affords various levels of flexibility and comfort without using different types of foam like in common soft seating. Bryozoa are moss animals that live in tropical waters and freshwater environments. The lattice of connections within Bryozoa skeletons inspired Van Daal to create a system of connection points for the assembly of the chair without extra materials such as glue. In general, the leading principle in Radiolaria #1 is formed by symmetry which is also the main character in all unicellular organisms.
"The intricate shapes of flowers. The mesh networks of fungi. The perfect geometry of organisms. They have been crafted, remodeled, and burnished during billions of years of biological trial and error. Implementing their unique and meticulous properties in design has been difficult, but recent technology has fueled possibilities for the new development of products and systems." said Lilian.
Bridging technology and nature through design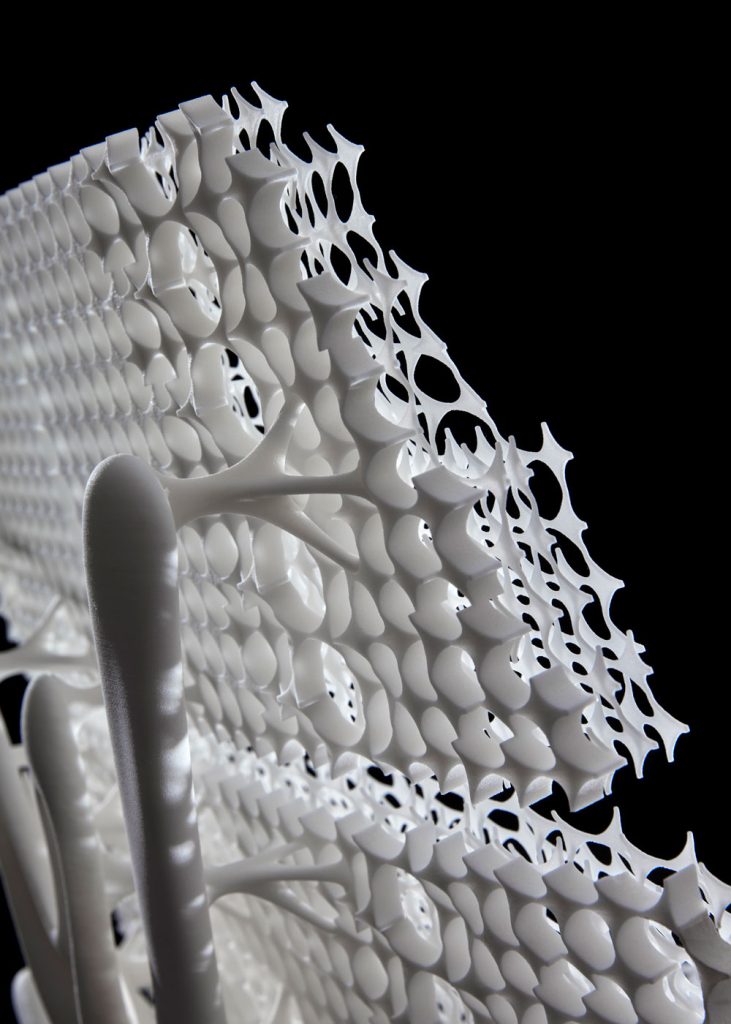 Radiolaria #1 is a successor to Van Daal's graduation project Biomimicry Soft Seating presented in 2014. Since the very first soft seating project, production time and energy consumption have both been decreased by 50% due to optimizations in the design that allow all elements of one chair to fit in one production run of the 3D printing machine. Novel material research conducted by Oceanz has allowed Van Daal to use recyclable materials for printing.
Radiolaria #1 was produced by Oceanz 3D printing which provides cutting-edge machines with which structures can be created that mimic natural solutions for durability, flexibility, and connectivity on a microscopic level. The result is a blend of technology, design, and nature celebrating the best of all three.
"Nature may seem at first glance random and free-flowing, but if you look on a microscopic level, you can find symmetry and geometry in almost all cell structures." said Lilian van Daal.
Stroncq (2022)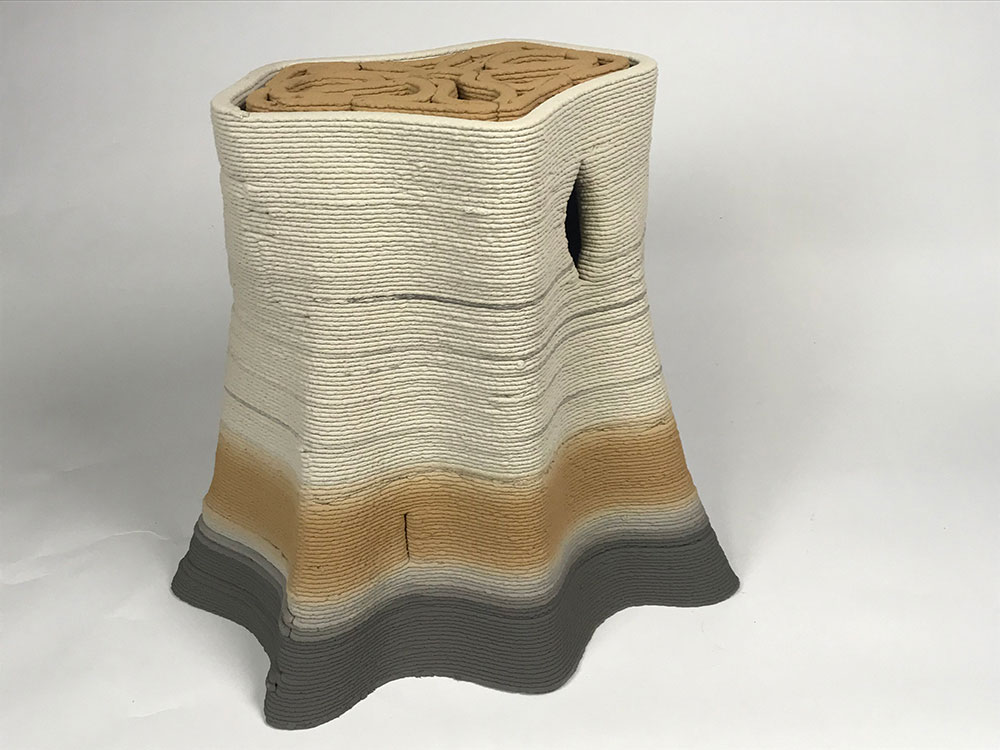 Stroncq is an ecological and biodegradable embankment reinforcement tile inspired by the strength of the root structure of plants. A project in collaboration with Omlab.
Inspiration from nature
How can we create the strongest possible embankment reinforcement by imitating natural principles? And how can we create something that will eventually be taken over by real nature? The project is a symbiosis of design, biology, material, and technology.
​Plant roots are the most efficient embankment reinforcement we can think of. In our "man-made" world, we are sometimes looking for fast solutions. This embankment reinforcement tile is made from a 3D printable, ecological material developed by Omlab, with 98% residual flows from sewage and drinking water treatment.
Lime in the 3D-print paste counteracts the acidification of the soil. Seeds can be added to the paste and after a while, the root structure of plants will take over the strength of the biodegradable tile.
This project was a showcase for a call for product ideas: Maacq Waar(de), a co-op of AquaMinerals and Omlab. To show the great potential of the material and technology, the embankment reinforcement tile forms the seat of Stroncq. A seating object that shows the strength of the material.