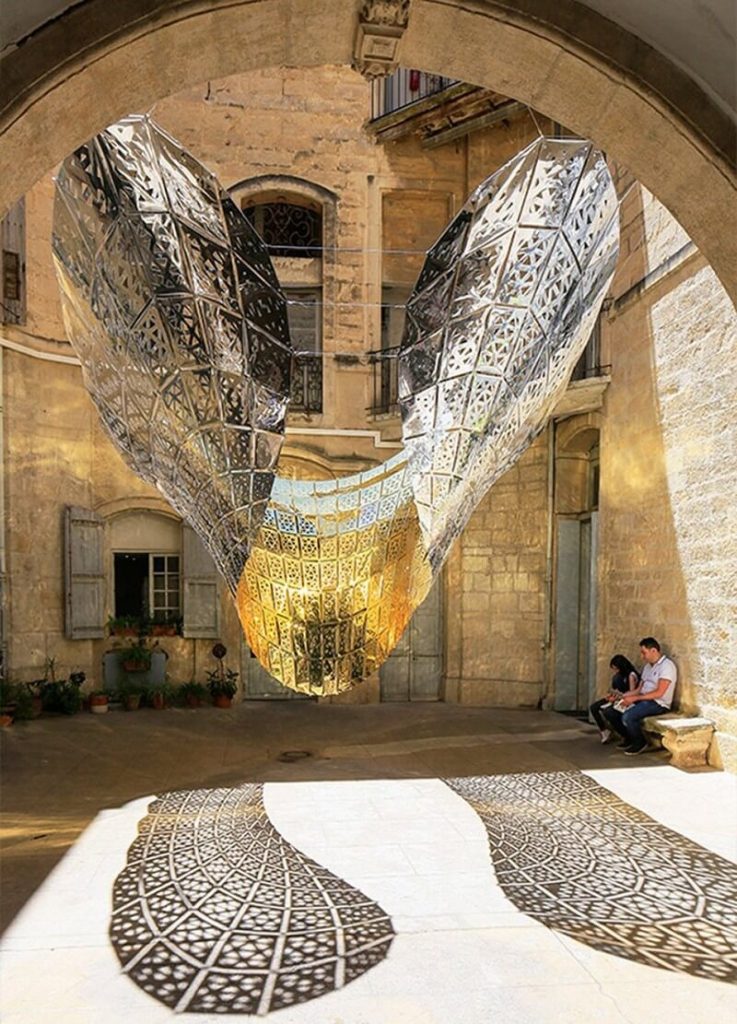 Previously, we have shown you 10 outstanding pavilions. Here we would like to show you 11 outstanding parametric sculptures: Some of these may remind you of pavilions while others are monuments and simply invite you to stay, photograph, or reflect on their meaning. In the words of Michele E. Bogart in the book Sculpture in Gotham: Art and Urban Renewal in New York City from 2018: "Old, flashy, whimsical, colorful, interactive, occasionally cerebral or didactic, and often tongue in cheek – public sculpture is a hot commodity in the contemporary city."
Public sculptures have a special role in architecture and urbanism. They are often central urban, public spaces and serve as landmarks or decorative elements but also propose certain topics to be socially relevant. Additionally, as Bogart states: "[p]ublic art also showcases the municipality's support for its creative classes." In terms of their design, parametric tools seem to offer sheer endless possibilities of colors, material, and form, making no shape impossible to create. Beyond this, parametric sculptures come with their own aesthetic and possibilities, which can make the art of public sculpturing even more enticing and broad. Here, parametric is understood in two different ways: as a solely aesthetic design language and as computer-generated design.
1.Sibelius monument by Eila Hiltunen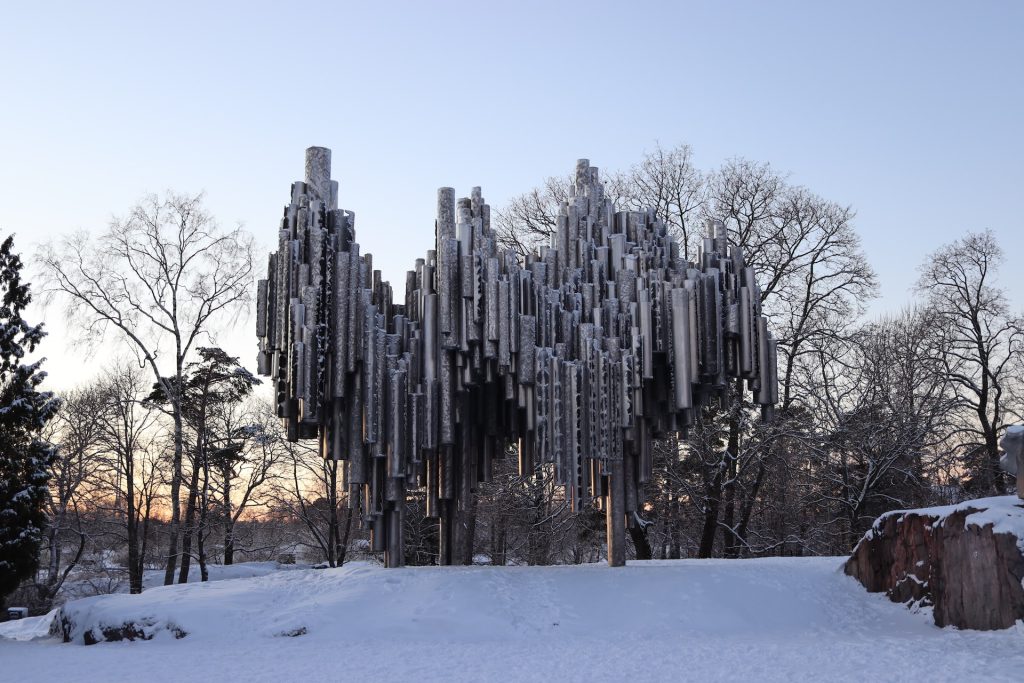 Project name: Passio Musicae
Designer: Eila Vilhelmina Hiltunen
Year: 1967
Location: Töölö, Helsinki, Finland
In honor of the Finnish composer Jean Sibelius in 1957, the Sibelius Society organized a sculpture competition which, after two rounds, was won by Finnish sculptor Eila Hiltunen. The final design weighs an incredible 24 tonnes and measures 8.5 on 10.5 on 6.5 meters. Despite not being computer-generated, Hiltunen has used formal repetition – known from contemporary parametric design – to define the monument and the space around it. Hereby, the 600 steel pipes are supposed to resemble organ pipes, however, an instrument the composer apparently only rarely used. To deal with critique and avoid ambiguity, Hiltunen added the face of Sibelius on the side of the monument. Additionally, there are two other versions of this monument existing: A smaller one at the UNESCO headquarters in Paris and a conceptually similar one at the Headquarters of the United Nations in New York City.
2.Columns of Bellaterra by Andreu Alfaro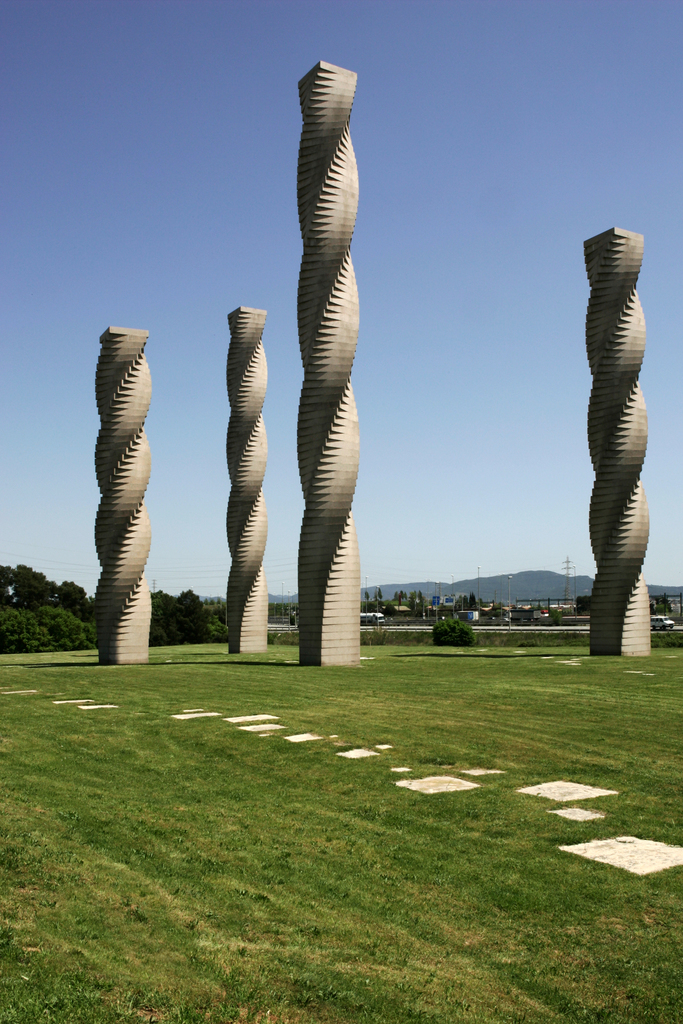 Project name: Columnes de Bellaterra
Designer: Andreu Alfaro
Year: 1999
Location: Barcelona, Spain
Located at the campus of the Autonomous University of Barcelona (UAB), these four columns rise between 25 and 40 meters in height and appear computer-generated. They represent the desire for knowledge, freedom of expression, cultural identity, and solidarity and were designed by Valencian sculptor Andreu Alfaro Hernández. The columns are made out of stacked granite boards – each placed on top of one other at a slightly different angle than the previous one, so that a modern twist, literally and figuratively, occurs. That is because the columns reference the historic, ionic Catalan columns by the Magic fountain of Montjuïc in Barcelona. The latter was destroyed in 1928 for political reasons but rebuilt in 2010 they were rebuilt. These columns symbolize perseverance, conviction, and firmness of the Catalan language, culture, and national identity.
3.See-through church by Gijs Van Vaerenbergh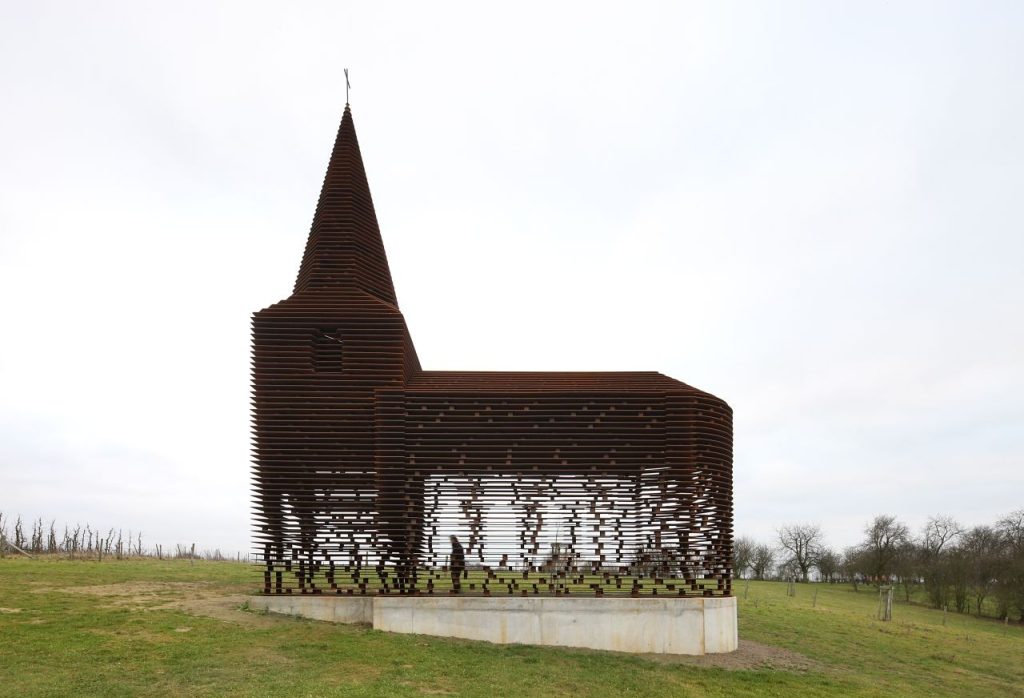 Project name: Reading between the Lines
Designer: Gijs Van Vaerenbergh
Year: 2011
Location: Borgloon, Limburg, Belgium
A quite astonishing church has been designed by Netherlands architect and designer Gijs Van Vaerenbergh. The church is located outside of the small town of Borgloon and measures 10 meters in height. The church relies on 100 stacked layers of weathered steel plates to achieve that. It was erected as part of a broader program organized by Z33 gallery in nearby Hasselt, Belgium, aiming at creating art in public spaces. It is possible to move inside the church and depending on the point of view, the church almost disappears from its landscape. This became only possible through a simple and repetitive design that reminds strongly of the visual language of parametric architecture. Gijs Van Vaerenbergh was also responsible for creating an upside dome inside an existing church in Leuven, Belgium. Church art and architecture prove once again to be amongst the most creative typologies, allowing to test new construction methods and materials in search of a divine spatial experience.
4.Nelson Mandela Monument by Marco Cianfanelli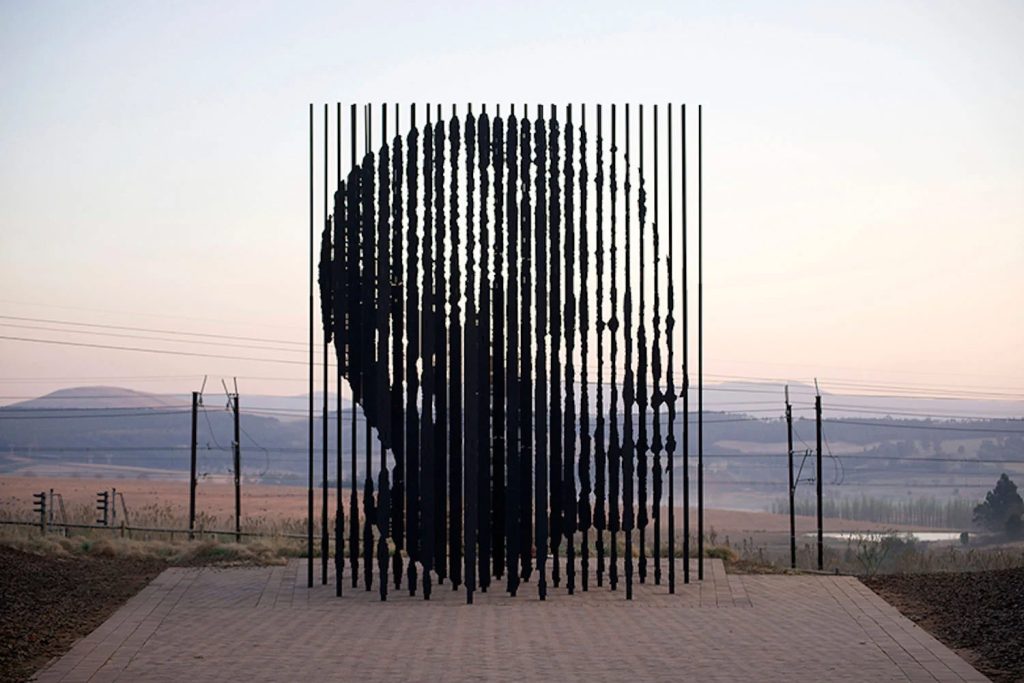 Project name: Nelson Mandela Monument
Designer: Marco Cianfanelli
Year: 2012
Location: Howick, near Durban, South Africa
60 years ago, Nelson Mandela was captured by the South African apartheid police. South-African artist Marco Cianfanelli reflects on this decisive moment in South African history with this monument, which shows Mandela behind bars. Built-in 2012, the 50 steel columns represent the 50th anniversary of the event. The highest of them measured nine meters and only from a certain frontal perspective, Mandela's face becomes visible. However, according to Cianfanelli, the columns can also be interpreted as abstract figures or people, appearing from one angle as standing next to one another before they find themselves in the solidarity of allowing Mandela's face to be seen. All metal columns have different cutouts and are placed apart so that one can walk through them like in a maze.
5.New York Clearing by Sir Antony Gormley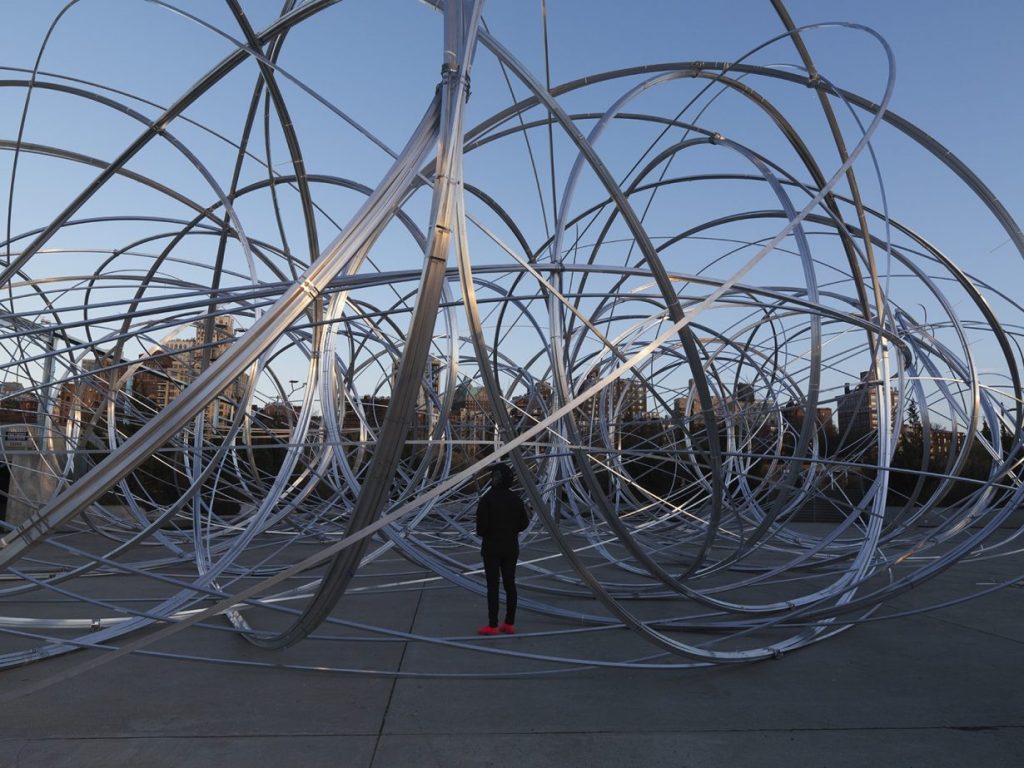 Project name: New York Clearing
Designer: Sir Antony Gormley
Year: 2020
Location: New York City, United States
In an open call, the South Korean boyband BTS asked artists from five cities around the globe to submit proposals for an installation about their own band's philosophy of diversity, love, and care. Using almost 18 kilometers of aluminum tubes, the successful British artist Sir Antony Gormley from London constructed the over 15 meter-high installation by himself, without an architect. The underlying idea is that of an energy field, connecting people visiting the installation as well as the artist with the audience. Aiming at connectivity with one another and oneself, the enormous sculpture next to Brooklyn Bridge comes without any labels for a more immersive experience.
6.Fungible Non-Fungible Pavilion by Iheartblob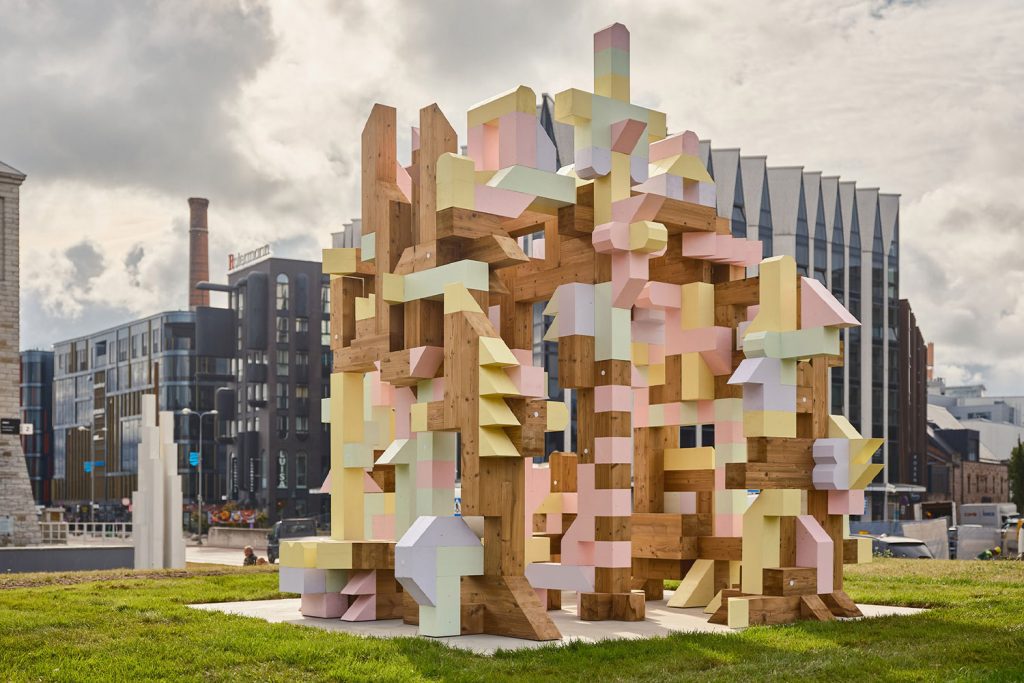 Project name: Fungible Non-Fungible Pavilion
Designer: Iheartblob
Year: 2022
Location: Tallinn, Estonia
This structure in front of the Tallinn Architecture Museum is part of the Tallinn Architecture Biennale. It was designed by the community under the guidance of the Estonian-British Architectural Office Iheartblob. Iheartblob built an NFT-generative tool, where everyone can participate in design processes and create objects. These objects are NFTs and their physical counterpart is used for the pavilion. Every NFT generated by this tool has a unique physical twin that is now used in the pavilion. The architects opted for exploring new ways of co-designing and have therefore created a structure that exists offline and online. Iheartblob assisted the process by offering guidelines – parameters – and limited the number of pieces, designed interlocking components, and added wooden pieces to ensure structural integrity. This sculpture was part of the biennale under the theme Edible; Or, the Architecture of Metabolism which focuses on sustainability by addressing and questioning linear product chains of making, using and disposing of.
7.Community Landscape by Bjørnådal Arkitektstudio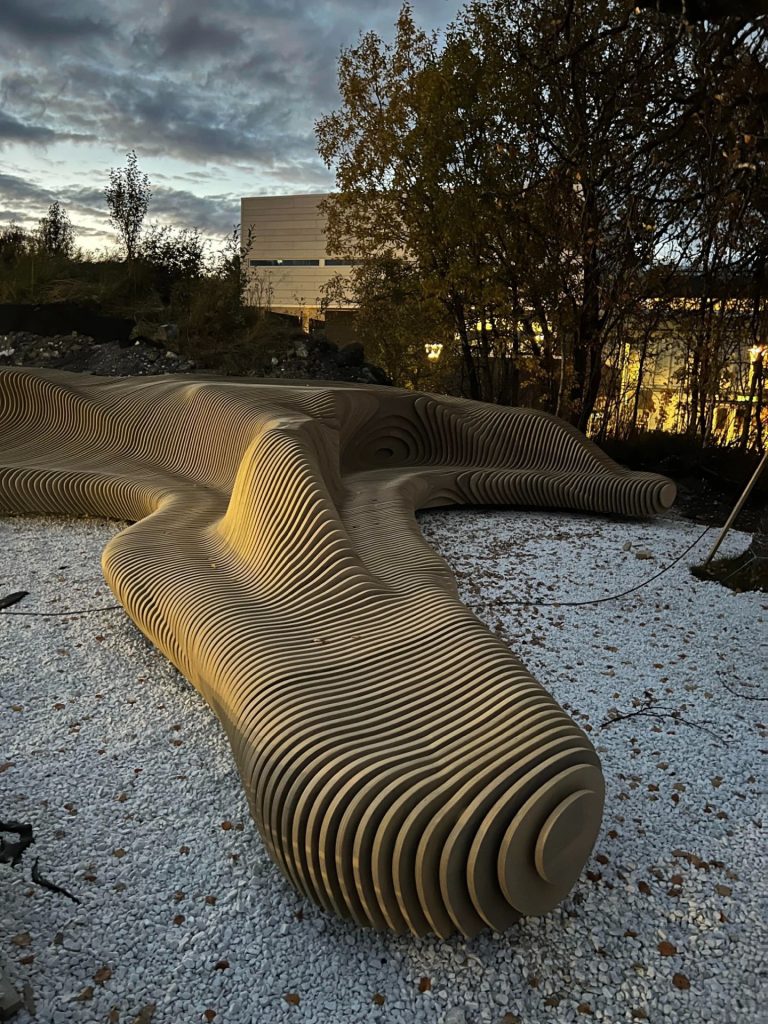 Project name: Community Landscape
Designer: Hans-Petter Bjørnådal, Bjørnådal arkitektstudio
Year: 2022
Location: Tromsø, Norway
The Grønnåsen middle school in Tromsø has received a large, bench-like structure to be used by its pupils as well as by residents alike. It is the largest art installation in the arctic city and has been designed for a maximum of 70 people. The overall aim was to create a natural design: both in terms of the wooden material – in that case, Duraply, a wooden material designed for intense outdoor use – but also in the way the structure opens up towards nearby hills and curves around nearby trees. Hereby, parametric design helped to find a perfect fit for the structure in its environment but has also allowed designing more private nooks and niches as well as spaces for groups.
8. Golden Butterfly by Cristina Nan, Dirce Medina Matatuchi, and Carlos Bausa Martinez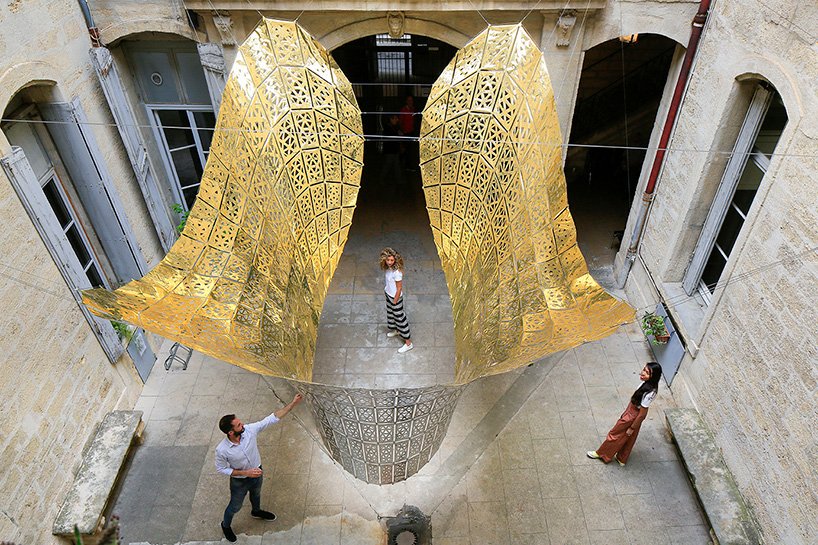 Project name: Papillon D'or
Designer: Cristina Nan, Dirce Medina Matatuchi, Carlos Bausa Martinez
Year: 2019
Location: Montpellier, France
This golden butterfly has been developed as part of the Festival des Architectures Vives in 2019, an architectural event seeking to shift focus on and revitalize existing urban structures, such as courtyards, in Montpellier. The project uses the idea of a butterfly, currently with its wings tucked in, to offer excitement and a play with light and shadow. It is made of golden dichroic holographic mirror vinyl, which reflects light and offers various sensory and visual experiences in the installation, depending on the vantage point. Working in the narrow space of a courtyard, parametric design has helped to optimize surface area and maximize the effectiveness of the installation.
9.Parametric Glacier by Didzis Jaunzems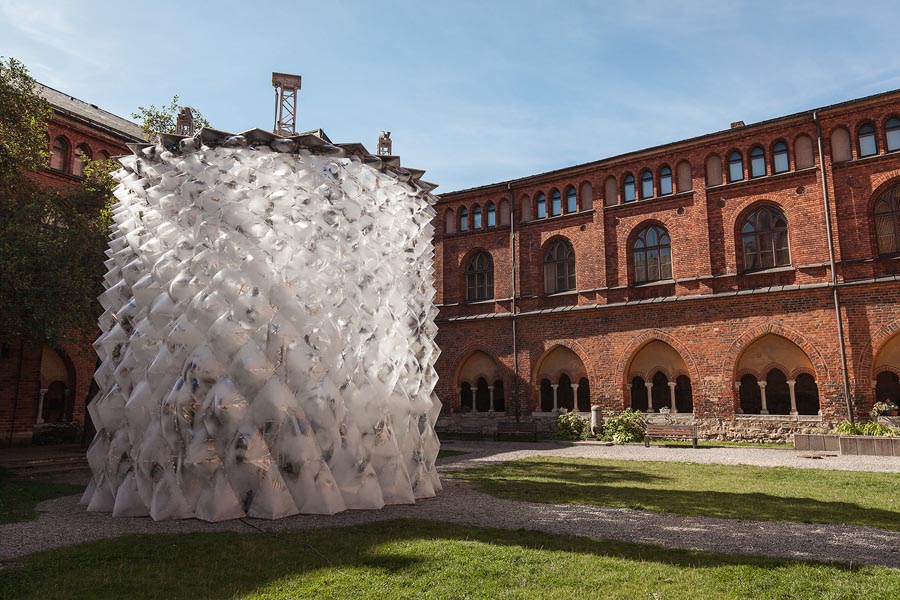 Project name: Parametric Glacier
Designer: Didzis Jaunzems
Year: 2016
Location: Riga, Latvia
Didzis Jaunzems is an architectural practice from Riga, working at the intersection of art and architecture. Their pavilion is located in the Dome Cathedral garden in Riga and was only installed for 24 hours. Part of an art forum titled White Night, it aims to raise various essential questions of human existence, mainly what can be considered natural and to what extent artificial design and intelligence can and might replace the natural environment. This pavilion has a computer-generated form and is made from an organic polymer material. Additionally, interactive sound installation and artificial light increase the immersive experience for the spectator. Here again, the parametric design allows offering contrasts to existing older urban fabrics by generating new forms with new materials.
10.NAWA by Oskar Zięta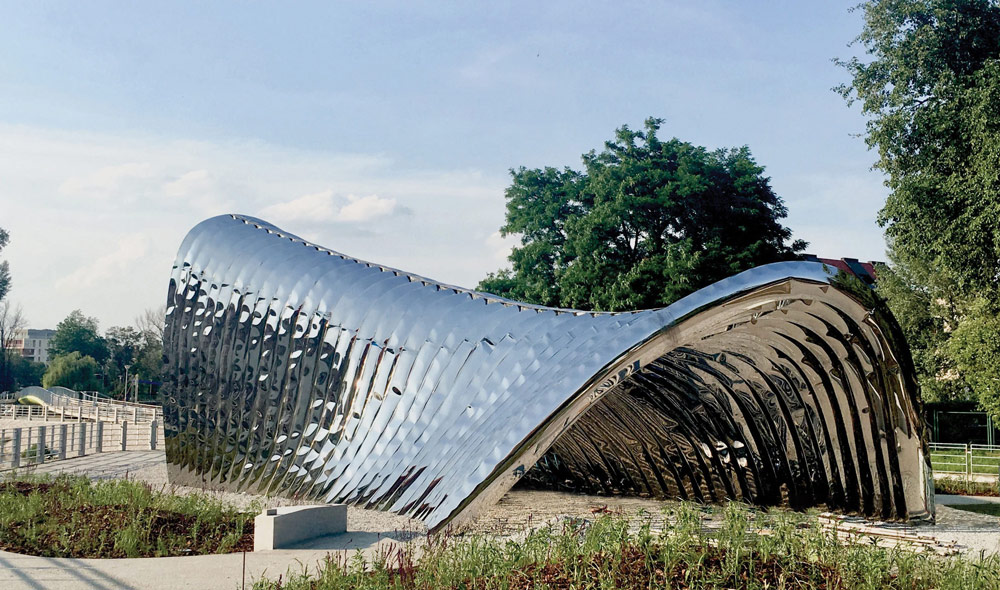 Project name: NAWA
Designer: Oskar Zięta
Year: 2017
Location: Wrocław, Poland
NAWA is a parametric sculpture located on a small island on the Daliowa river in the city centre of the Southern Polish town of Wrocław. It is designed with the help of advanced software and built using innovative technology invented by Zięta himself. Nevertheless, the sculpture reflects on the arches of some of the city's most iconic Gothic and Baroque buildings, connecting Wrocław's past to its presence. It is constructed with 35 bionic steel arches with the help of FiDU – a technology that 'inflates' sheet metal shapes that have been welded together along the edges by pumping compressed air into it. The structure reflects on the environment by mirroring its surroundings as well as reminding of the nearby water through its wavy facade, making it sometimes difficult to spot.
11.Hexigloo Pavilion by Tudor Cosmatu, Irina Bogdan and Andrei Raducanu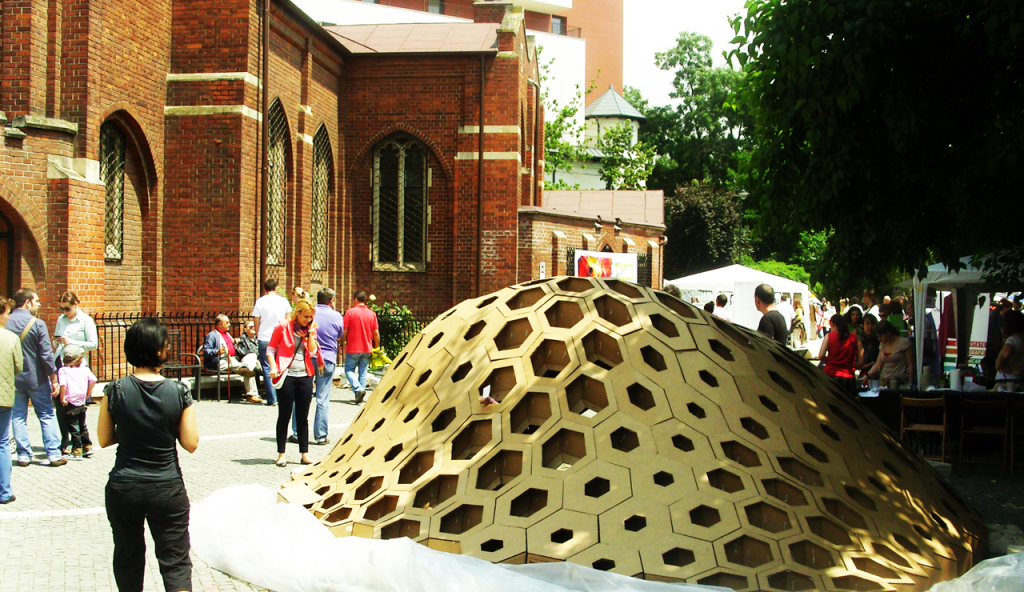 Project name: Hexigloo
Designer: Tudor Cosmatu, Irina Bogdan, Andrei Raducanu
Year: 2011
Location: Bucharest, Romania
Hexigloo is a pavilion based on the cellular structure of a honeycomb applied to an igloo surface typology. It consists of 196 individual elements. In total, 2200 linear meters were cut out of six-millimeter cardboard by a laser cutter for this installation. In the center, it is extruded at one point, allowing visitors to enter. Inside, visitors will experience sound and light. Hexigloo is a fully parametrically designed pavilion resulting from a seven-day workshop organized by the three designers in collaboration with guest tutors, amongst them Bence Pap from Zaha Hadid Architects in London. Fifty-five students participated in the workshop, learning the basic principles of parametric design and software, with the task to build a human-scale spatial installation.