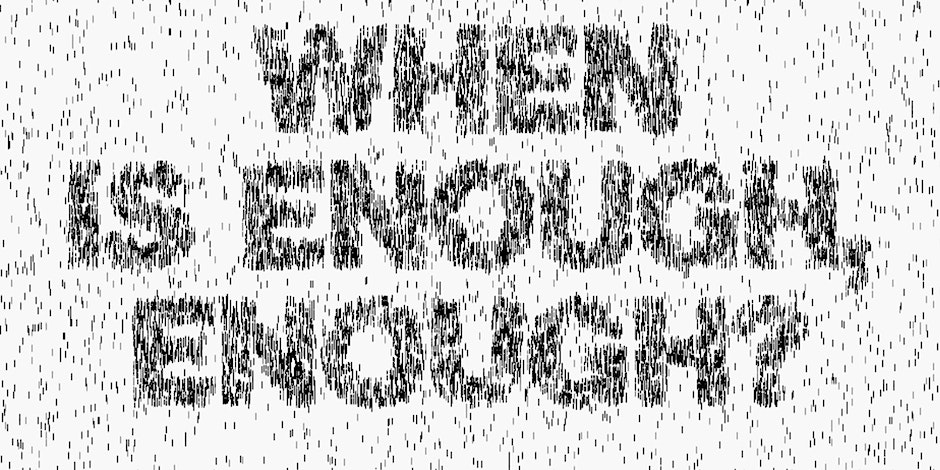 The Singapore Pavilion at the Venice Architecture Biennale 2023 explores the idea of measuring and evaluating intangible aspects of urban design in order to create more livable cities. The pavilion, co-commissioned by the Urban Redevelopment Authority and the DesignSingapore Council, aims to redefine "innovation in design" by linking the measurable standards of built environments with the community's interaction with and experience of their surroundings.
Led by curators Ar. Melvin Tan, Ar. Adrian Lai, and Ar. Wong Ker How, the exhibition titled "WHEN IS ENOUGH, ENOUGH? The Performance of Measurement" visualizes the measurement of intangibles through the centerpiece of the pavilion, the Values Measurement Machine. This machine consists of analog plotting machines that mark data on large calligraphic scrolls. Visitors are invited to respond to six questions that reveal the intangible elements of the city and reflect on qualities that can transform the urban landscape into a lovable and inclusive one. Their responses are registered and plotted on the scrolls in real time, showcasing a consensus or contradiction over the duration of the exhibition.
Here is a conversation between Adrian Lai of the Singapore Institute of Architects, on behalf of the curators, and Serra Utkum Ikiz of PA!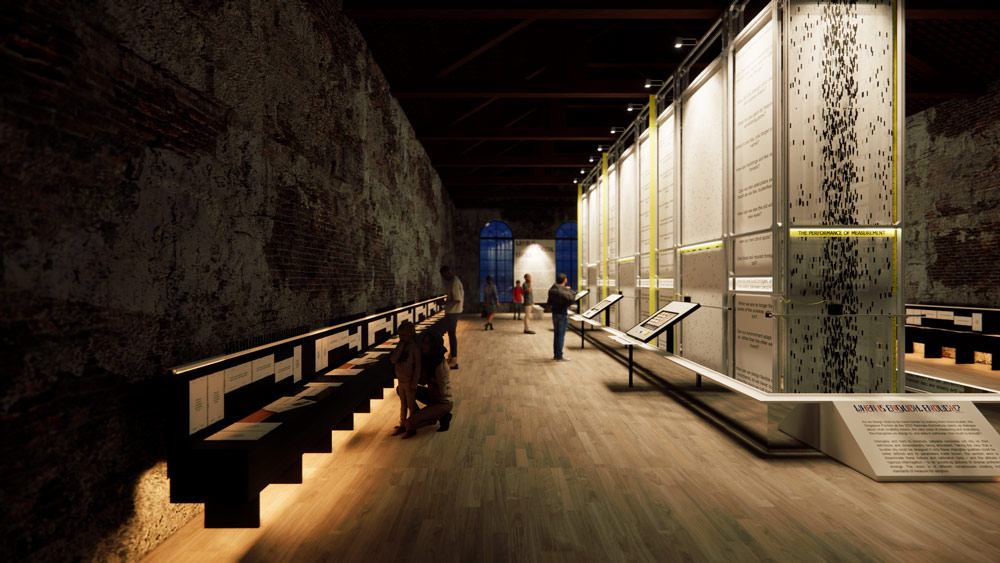 Serra Utkum ikiz (PA): What inspired you to focus on measuring intangible qualities in the built environment for the Singapore Pavilion at the Venice Architecture Biennale 2023?
Adrian Lai: Architects have long grappled with the issue of measuring intangible qualities in the built environment. Modern architect Louis Kahn stated: "A great building, in my opinion, must begin with the unmeasurable, go through measurable means when it is being designed, and in the end must be unmeasurable."
In Singapore, we are very good at working to agreed, systemic standards and guidelines within urban design, and the standards we devise are often picked up by other cities as best practices, but we are equally happy to challenge the limits of our current methodologies, to observe innovation, and to question how to use new insight to inform best practice. This is why we were inspired to boldly confront where the limits of measurable standards currently lie for us when dealing with the unmeasurable.
When Lesley Lokko's call for alternative voices to expand the conversation around the definition of architecture for this 18th Edition of the Biennale Architettura 2023 came, under the title: 'The Laboratory of the Future', we felt like this was the perfect platform to focus attention on this major challenge for the industry. We were inspired both by the great work going on around us, and its wider significance in creating lovable and livable cities.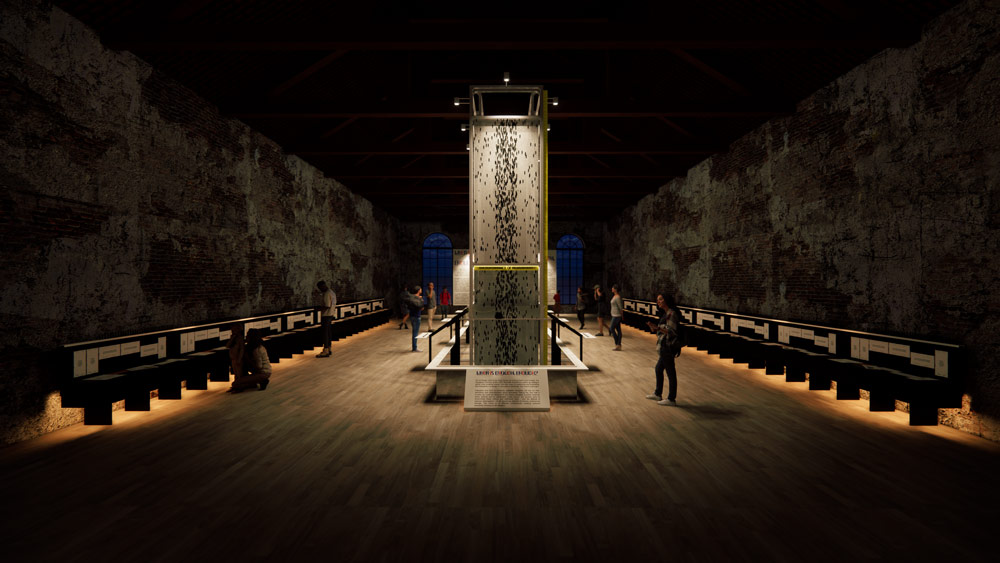 Serra (PA): What impact do you hope the Singapore Pavilion will have on the broader field of architecture and urban design?
Adrian: Singapore is a tiny island city-state and the joined-up thinking and execution that come from being a compact whole of city-state, and the tangible results this can bring make it a perfect test bed for innovation. On one level, therefore, the exhibition is our attempt to critically engage with the next design phase of our city.
But we are also seeking to raise broader questions for the wider industry. Most pressing is how we make intangible qualities – including agency, attachment, attraction, connection, freedom, and inclusion – part of the process by which the built environment is planned, built, and measured, on a more global scale.
Our long-term hope is that by raising these issues, we will help architects and urban designers expand design criteria and considerations to include this wider breadth of intangibles, including emotional and mental well-being, to create places that are not just more livable, but more lovable as well.
Serra (PA): So, in what ways do you hope it will spark new thinking and experimentation in these fields?
Adrian: The exhibition will feature the work of some practices already active in new thinking and experimentation in this field, for example, Singapore-based practice WOHA Architects, which has developed its own rating system that includes a civic generosity index, an ecosystem services index, a green plot ratio, a self-sufficiency index, and an ecosystems contribution index.
It will also feature a 'Values Measurement Machine' an installation that invites visitors to decide on the values that would help to define their 'ideal' building, or city. Asking visitors to weigh up their preferences will in itself bring to light many of the challenges and contradictions that arise when we embark on this mission to measure the intangible, sparking new thinking, and debate.
We look forward to seeing the conversations that different elements of the pavilion will give way to, and how it will create a shift in people's thinking, both at the exhibition, and when they come away from it. We hope visitors to the Pavilion will take this thinking back to their own studios and practices – and be inspired to embark on their own experimentation, collectively driving progress in this field.
Beyond Venice, we plan to reassemble the Values Measurement Machine in other locations, possibly with new intangibles, new ideals, and new questions being asked. In formulating the brief and consulting with increasingly diverse communities, we hope to widen the spectrum of intangible contributions that can be visualized and generate more data to guide how new measures and standards are formulated, sparking further thinking and experimentation in this field.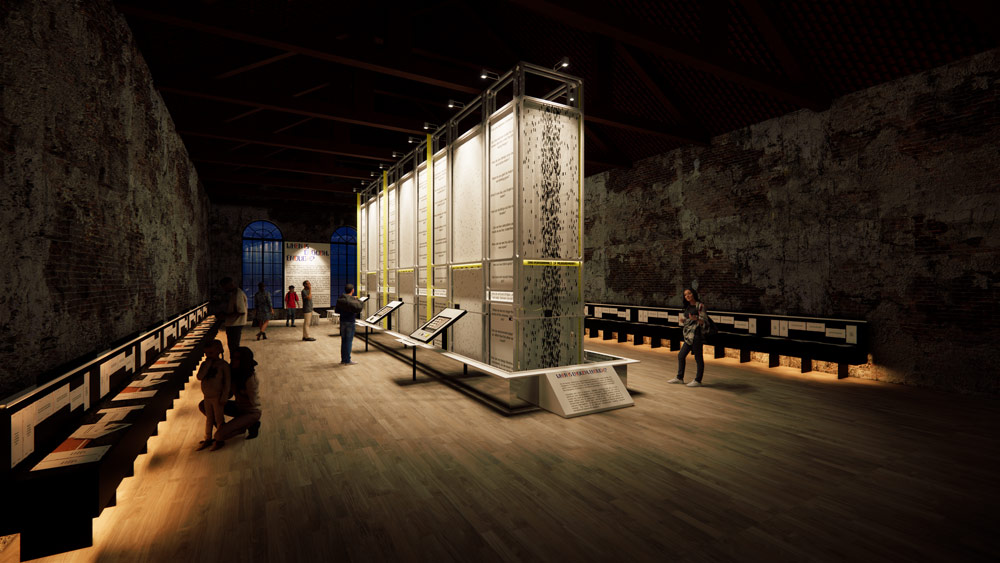 Serra (PA): What materials were used to construct the Singapore Pavilion at the Venice Architecture Biennale 2023? How were these materials selected, and why?
Adrian: The scrolls within the exhibit are textiles, while the cards are made from sustainably sourced paper. For the centerpiece of the exhibition, the Values Measurement Machine, we have used aluminum extrusions, selected for their easy-to-assemble and recyclable qualities. The lightweight material allowed us to achieve a totem-like structure in the exhibition space, commanding a strong presence that will beckon visitors to gather, and participate in the exhibition.
The ease of assembly will also allow us to transport the Values Measurement Machine to multiple locations, as a mobile exhibit, or in parts. The afterlife of the exhibition was always a key consideration, and our production team in Singapore and Italy have developed a bespoke DIY manual for its reuse.
Serra (PA): How might the Singapore Pavilion contribute to ongoing discussions and debates around the role of intangible qualities in urban design? What are some potential challenges or criticisms that might arise in this context?
Adrian: The issue of 'livability' already dominates a lot of urban design discourse, and it is encouraging that this conversation has already expanded into how we capture less tangible qualities that are key to the longevity, livability, lovability, and sustainability of our cities and cultures. Whether it is coming up with new parameters, or lending intelligence to find meaningful ways to capture these qualities, the space for new knowledge and innovation is immense.
Developing these evaluative feedback systems requires expertise and insight from disciplines ranging from social sciences, anthropology, and cultural geography to medicine, data science, and international development climatology. The interdisciplinary nature of the problem may give way to potential challenges, but architects and urban designers must be open to this range of knowledge, and perspectives, for real progress to take place. We hope, therefore, that the Pavilion will create a platform to address both the challenges and the potential for consensus in this field.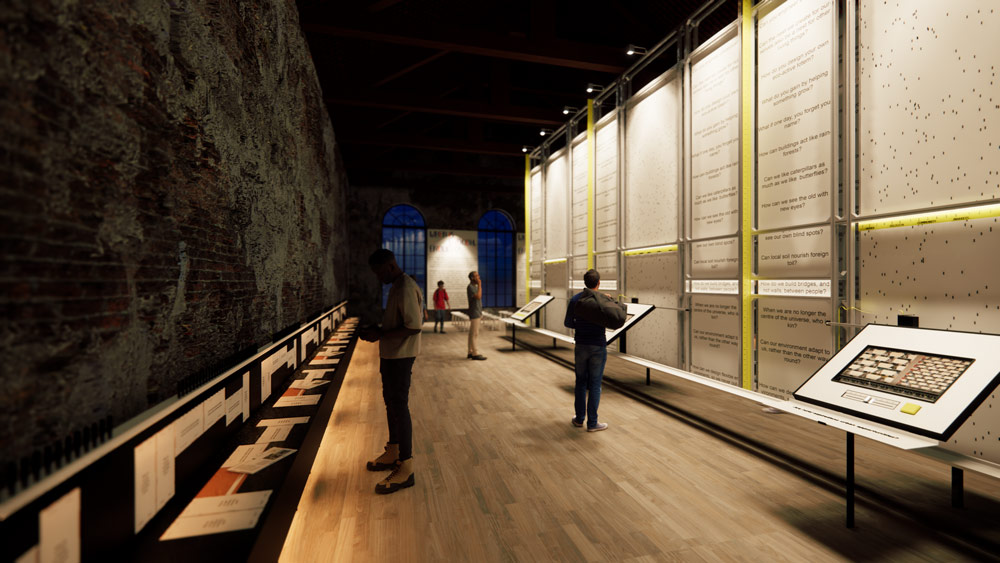 Serra (PA): How can the results collected by the Values Measurement Machine be used to inform urban planning and design in the future?
Adrian: The Values Measurement Machine is designed to work on a number of levels. First and foremost, it is an art installation, and as a cultural endeavor, it invites intrigue, wonderment, opinions, and discussions around the issue of measurement, and both its beauty and its futility.
However, through the participatory element, it will also be collecting real results, and it will be fascinating to see where consensus emerges, and diverges, around the topics it addresses.
The methodology employed by the Values Measurement Machine could be used to inform urban planning and design in the future, however, on a much broader scale. This experiment could be repeated online, in augmented or virtual form – and be used to engage large numbers of communities. It also holds the potential to help practitioners to capture richer data and formulate better policies, for long-term placemaking plans.
With today's technology, the types of data, analysis, and projections that the Values Measurement Machine experiments with are all within grasp. The pressing task ahead is defining the most significant parameters, and proxies to achieve the most meaningful outcomes for the long-term planning of our neighborhoods and cities of the future.
We encourage you to stay tuned to ParametricArchitecture for detailed updates on the Venice Architecture Biennale 2023.