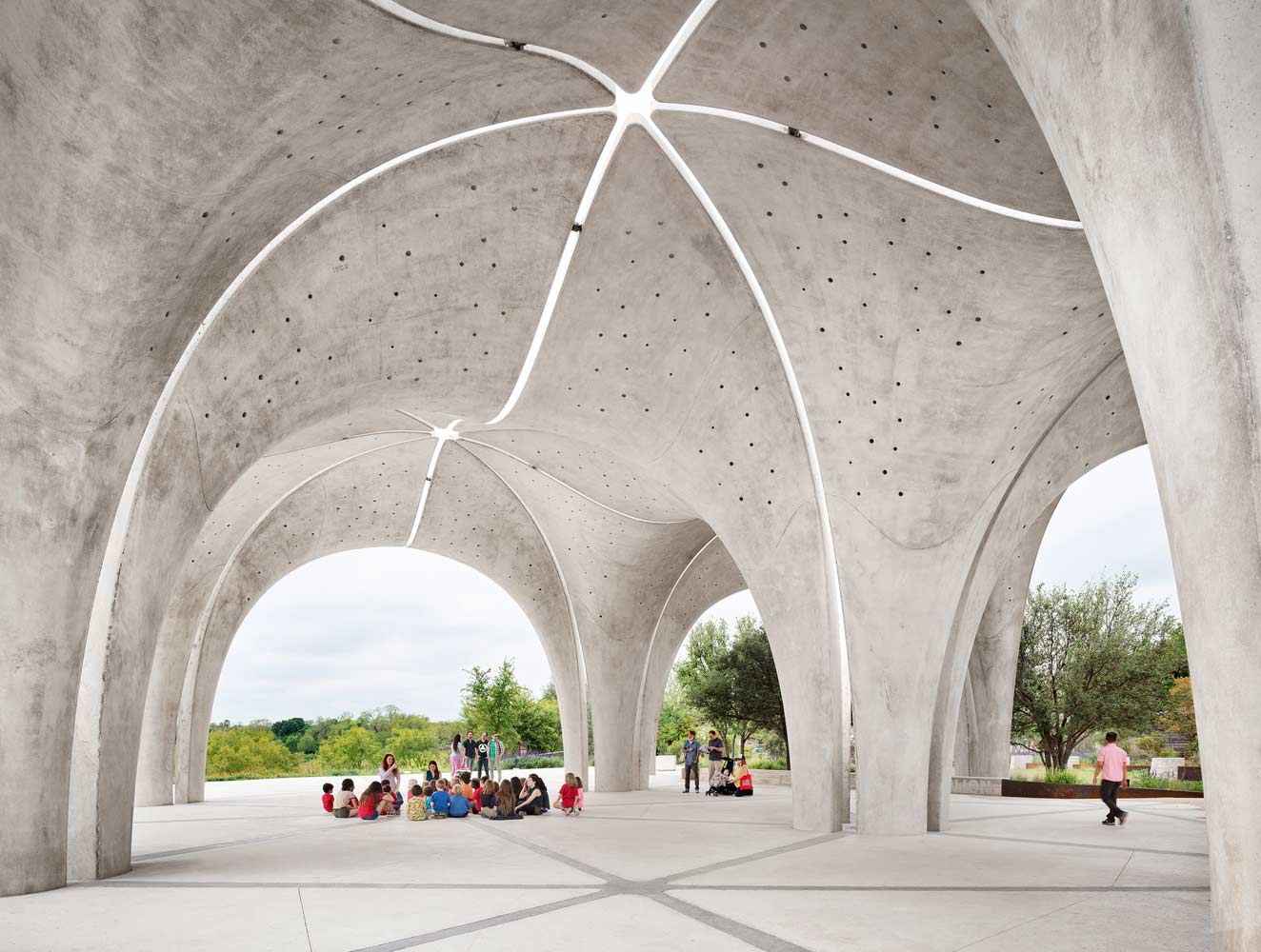 Computational Design: NEXT 6.0 included an enthralling set of masterminds showcasing their versatility in the field of parametric architecture and computational design. From engaging workshops, inspirational keynotes speakers, and Q&A sessions, this provided a first-hand experience to the audience to interact with the design minds and discuss new emerging technologies in art, architecture, design, and manufacturing.
The event stretched out the multiple possibilities of computational design methods and geometries to make human life on Earth much more enhanced and collaborative. Visionary speakers like Jenny Sabin, David Stasiuk, Travis Fitch, Mariana Popescu, Claudia Pasquero, Andrew Kudless, and many more. CD NEXT 6.0 was indeed a fantastic experience for the audience.
The Computational Design: NEXT 6.0 conference brought insightful discussions on the role of computation in architecture today. This sixth iteration was a step up in the journey of ParametricArchitecture towards narrating an intuitive approach into the future. You can register and watch the recordings of this event by clicking here.
Learn more about parametric and computational design from pioneers at the CD NEXT conference series:
Computational Design is a Two-Day Online Conference with global frontiers and design thinkers collaborating on a single platform through Live Presentations, Workshops, Tutorials, Interactive Sessions, one-on-one discussions, Live Mentorship & Panel Discussions. The event is a collaboration between ParametricArchitecture (PA) and DesignMorphine to initiate crucial subjects and thought-provoking ideas in the field of computational thinking and technology's role in it. The event took place on 02-03 October 2021 (Saturday & Sunday). This article is a gist of the Computational Design: NEXT 6.0 conference. Read more to find out!
Day 1
Day 1 started with a quick presentation from Michel Pryor, Design director at DesignMorphine and Author of Pufferfish Grasshopper3d Plug-in. They welcomed the audience by giving a comprehensive know-how guide of the entire 2-day event. He also talked about the possibilities of computational design in various typologies of architecture from macro to micro.
Hamid Hassanzadeh, Founder of PA, introduced PAACADEMY's work, portfolio, and generic know-how of the entire coursework, including some of the best architects in the field as academicians.
This talk was followed by an engaging keynote lecture by Jenny Sabin of Jenny Sabin Studio, an experimental architecture studio based in Ithaca, NY. Sabin introduced new horizons in design by investigating the journey between architecture and science. She also focused on the importance of being intuitive about climate change.
She addressed the use of technology to counter climate change through design, computation, and its processes. Sabin highlighted the points in the Paris Agreement and the responsibilities of a designer in regards to it. She showcased a few of her technologically driven structures that collaborate art, architecture, and science.
Chokoon (Settawut Leenavong), Bangkok-based architect and computational designer, showcased a Grasshopper 3d workflow with parametrized tiling that had an eclectic form, stirring the possibilities of the software.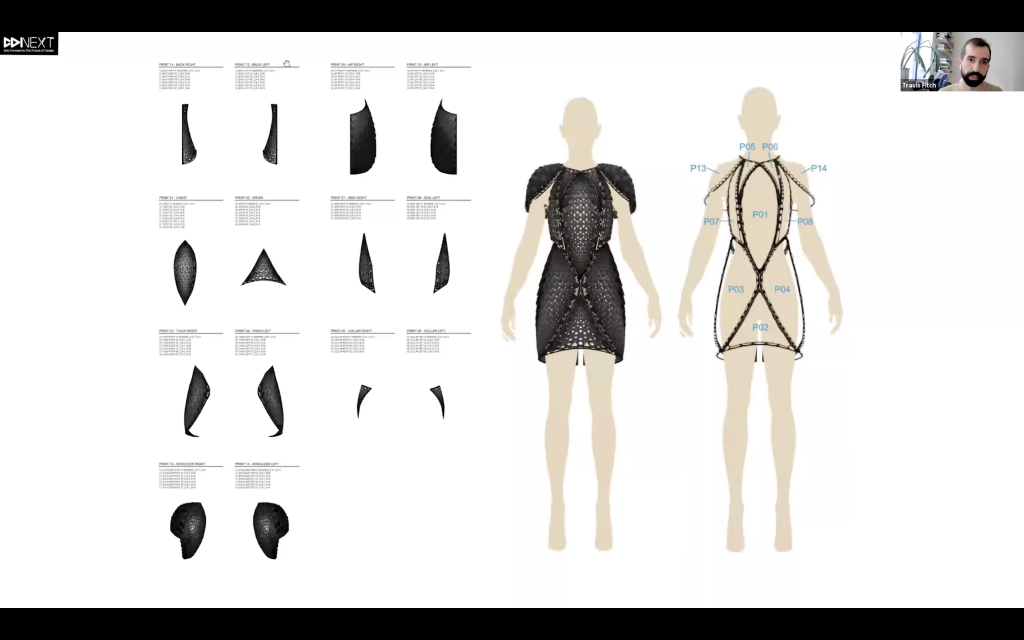 Travis Fitch, the principal of Fitchwork, addressed his collaborative architecture, fashion, and product design practice that explores novel design and fabrication tools to create radical-yet-rational forms. He elaborated the need to have symmetry in design through an engaging set of visuals. He showcased a few visuals that highlighted repetitions, volumes, and porosity in form-making.
David Stasiuk, senior algorithm designer at the NXT Advanced Studio for Nike Innovation in Portland, Oregon, was a guest speaker who showcased his diverse work in research-based architecture. He presented several results like the Trahan Architects Louisiana Sports Hall of Fame and Museum, made from robotically designed stressed skin of metal panel and bent rattan branches. David Stasiuk has contributed to creating several plugins and tools in the design arena that help in experimentation and advanced capabilities.
Michel Pryor, Design director at DesignMorphine, continued the event with the second Rhino + Grasshopper 3D workshop. It was an engaging, fun exercise that went from simple forms to complex geometries step-by-step.
Mariana Popescu, a computational architect, structural designer, and postdoctoral researcher at the Block Research Group (BRG), was a guest speaker at Computational Design: NEXT 6.0 conference. She showcased a novel and material-saving approach with the use of computation and geometry.
She narrated her clubbing sustainability, computation design, and fabrication to develop environmentally sensitive and explorative architecture. Popescu showcased her works that include bridge designs, commute-based architecture, and many more.
The endnote was delivered by Hamid Hassanzadeh, Founder of ParametricArchitecture, summarizing the entire day one while also giving in hints on Day 2. The day ended with inspiring lectures, workshops, and webinar series with Jenny Sabin, Travis Fitch, David Stasiuk, and Mariana Popescu. Along with workshop sessions demonstrated by Michael Pryor and Settawut Leenavong.
Day 2
Day 2 of the conference continued the same spirit with eclectic lectures and workshops from prominent names in the design industry like Leonardo Nuevo-Arenas of Kinetica, Oliver Thomas of BIG (Bjarke Ingels Group), Claudia Pasquero​ + Marco Poletto​ (ecoLogicStudio), and a closing speech by Andrew Kudless (Matsys). Along with engaging workshops by Emma Sanson.
Computational Design Director at Kinetica, Leonardo Nuevo-Arenas, gave an enticing guest lecture on complex geometries, emergent technologies, and fabrication processes. He showcased some of his detail-oriented works that take complex forms cues to achieve a possible result through fabrication methods.
Being a part of the first generation of Computational Design specialists in Latin America, Leonardo narrated his journey through implementing computational design strategies and digital fabrication schemes as a pioneer. A Q&A session followed this session.
Oliver Thomas, British architect, and Senior Design Technology Specialist at Bjarke Ingels Group (BIG) gave an inspirational lecture on BIM and its intersection of architecture in technology. He showcased his way of going from concept to reality with the help of the virtual realm.
He presented a survey of some of the recent projects done by BIG (Bjarke Ingels Group) from the vast portfolio that the firm has. He also gave us insights into the toolsets process in big while creating such enthralling structures. Some of them were Rhinoceros 3D for modeling, Grasshopper for computation, BIM, VRay, Enscape for visualization, virtual and augmented reality platforms for creating immersive experiences, and digital fabrication.
Thomas highlighted a unique thought that computational design needn't permanently be restricted to complex and twisted geometries. He narrated that BIG's way of functioning is not necessarily a form-driven process but rather a process that simplifies design to make buildable and affordable designs using computation and technology.
The conference continued with a fantastic workshop session by Emma Sanson, a Vienna-based architectural designer, and musician who demonstrated a Rhino 3d + Grasshopper 3d workflow combining it with music.
Marco Poletto, co-founder and director of ecoLogicStudio, gave an address on photosynthetic architectures and their recent award-winning work in relevance to it.
They showcased works that blend biology, computation, and design. He provided several applications and case studies that highlighted the blend of ecology in architecture through computational design.
Andrew Kudless, a Houston-based designer, gave an address that explored the emergent relationships between architecture, engineering, biology, and computation. His was the highlight keynote lecture. He presented his research projects and worked at Matsys, his studio.
He covered many relevant topics like the need for contemporary computation, drawings, material practices, and his pavilion at Confluence Park in San Antonio, Texas. This pavilion project became the highlight of the lecture. As for Kudless, his interpretation of computational design is to adopt an algorithm that can help work quickly. Unlike the famous belief that computation is all about 'twisting towers,' he explained his way of accessing these tools and still going back to his sketches.
The Computational Design: NEXT 6.0 conference saw various themes about the role of parametric and computational design in the new world order. All the speakers indeed attempted to bring out the ecological, rational, and naturistic side of using these tools for their projects to create a world where technology embraces society to develop value-based architecture.