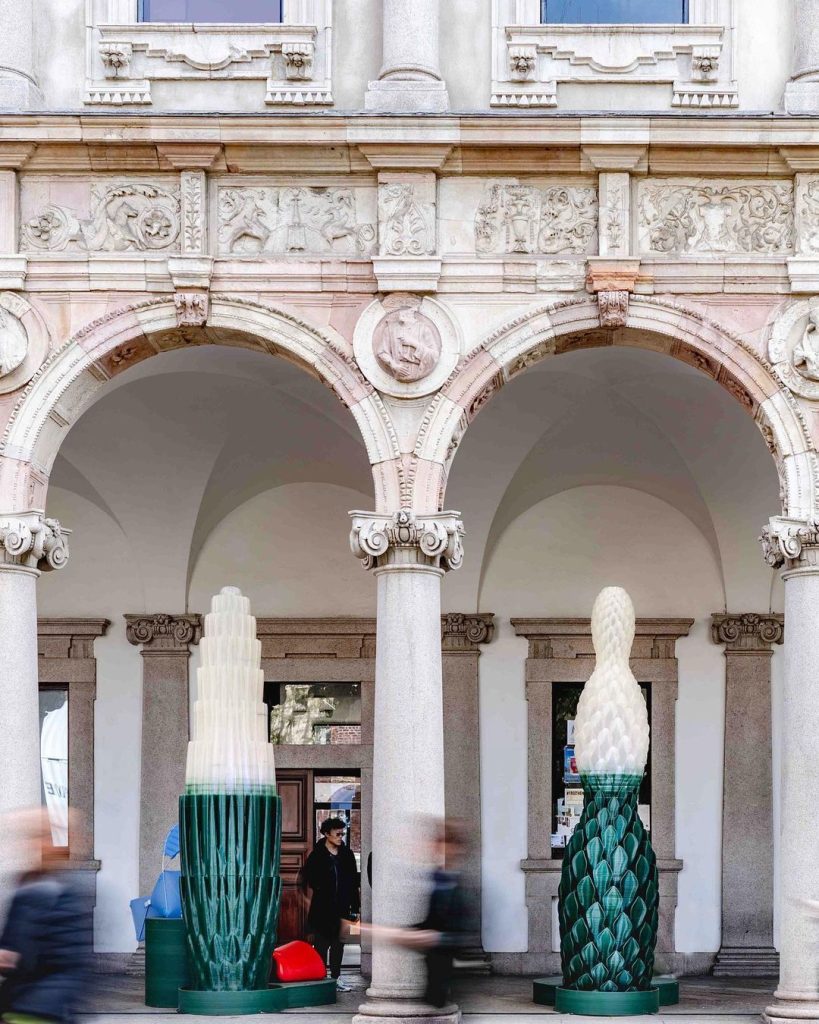 Milan Design Week is an annual event and is considered one of the most important design events in the world. The event typically includes exhibitions, installations, and presentations by designers, architects, and artists from around the world. Each year, it attracts visitors from various industries, including design, fashion, and technology, who come to discover the latest trends and innovations in design. During the event, the city of Milan transforms into a hub of creativity and design, offering a range of experiences that showcase the best in contemporary design.
This year Milan Design Week was between April 18-23. The week garnered a lot of attention with numerous exhibitions and pavilions. Here is a list compiled of 10 of these exhibitions and pavilions.
NUTURA – Re-experiencing Nature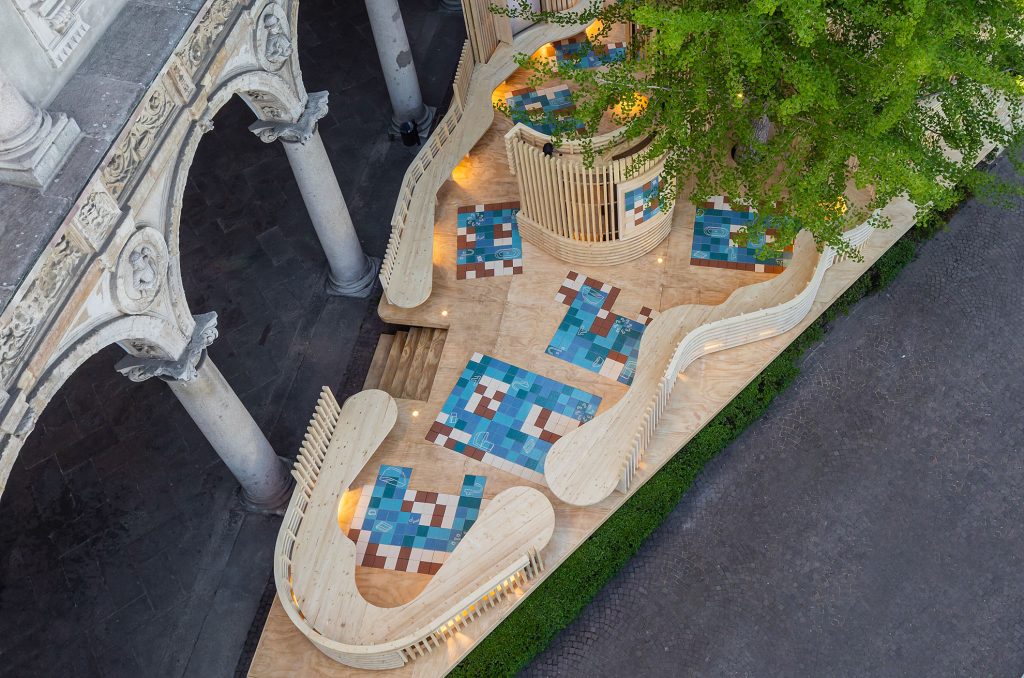 Benedetta Tagliabue – EMBT Architects
Benedetta Tagliabue – EMBT Architects designed a pavilion Nutura for the Roca's return to FuoriSalone 2023. Nutura offers a winding and immersive experience for its guests as they navigate through curving walls made of wood and ceramic. The presence of pylons and shutters adds to the visual interest by creating an interplay of light, shadow, and texture.
Benedetta Tagliabue says "Nutura can be enjoyed from the inside and from the outside. It is a place of peace, of rest, built with natural elements and discovered little by little. When you enter, it is like walking into a world that overlooks the sea, a world related to the Mediterranean Architecture of Coderch".
As the visitor walks through the space, they may notice a multitude of letters floating on the ground which, when viewed from a different angle, spell out a hidden message on the floor. The path leads to a square area where visitors can unwind and appreciate the Renaissance Cortile d'Onore picturesque view.
FLOW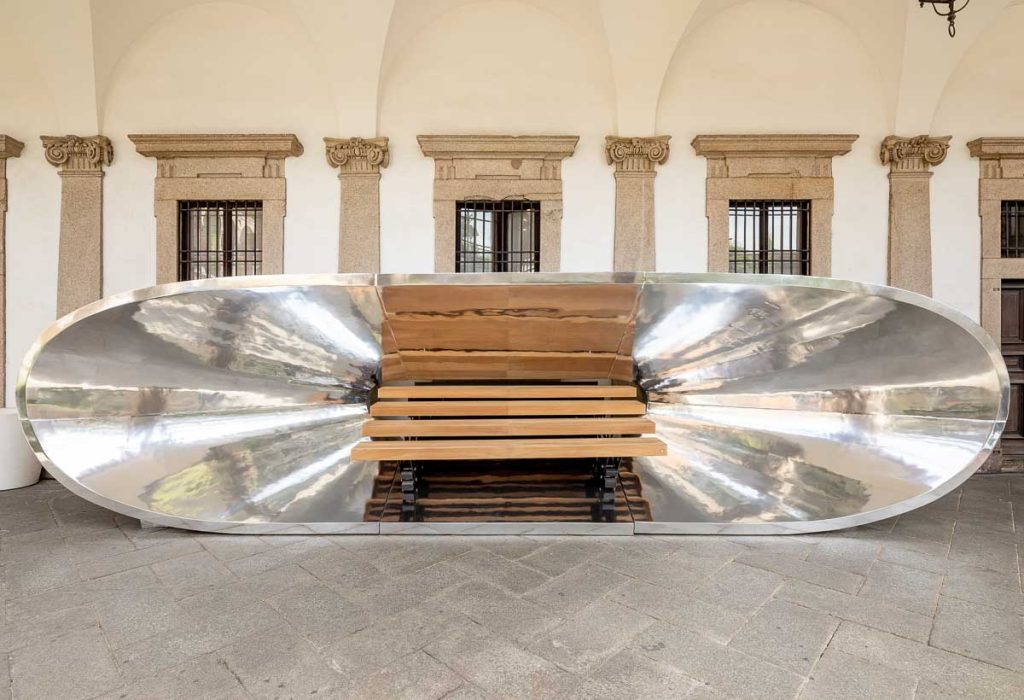 Francesco Forcellini with Besenzoni
Besenzoni, a luxury yacht solutions company, made its debut at this year's Milan Design Week with Flow. The installation, designed by Francesco Forcellini, features a suspended ladder enclosed within a mirrored shell. This design creates a sense of fluidity and represents Besenzoni's willingness to explore new areas beyond the nautical realm. The concept of the installation is inspired by the feeling of being suspended between the elements when boarding a boat, where the boundaries between land, sea, and sky merge into one dreamlike scenario. The installation was showcased at the prestigious Fuori Salone event, hosted by INTERNI Design Re-Evolution in the courtyards of the University of Milan.
Francesco Forcellini explains that this installation is a big sculptural concave mirrored surface that represents the flow of things, where change is evolution if at its center there is innovation. It showcases Besenzoni's transition from hydraulic to electric systems with a spacious ladder enclosed in a mirrored shell. The ladder represents a metaphor for travel and moving toward a new future. The installation aims to inspire visitors with Besenzoni's potential to innovate.
A Creative's Journey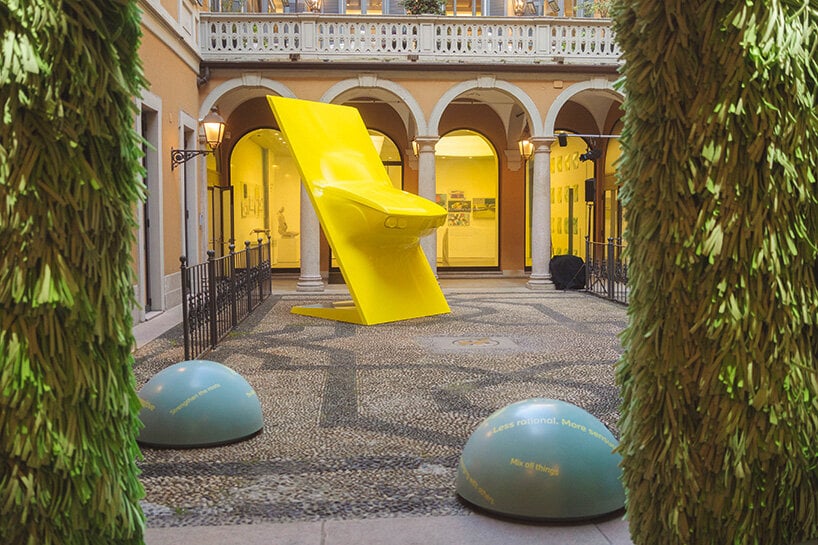 BMW Group
A Creative's Journey installation, designed by the BMW Group design team, met with visitors at the Milan Design Week with Salone del Mobile. The concept is to support designers in their search for innovative solutions for future transportation. The exhibit not only offers a glimpse into BMW Design's creative approach but also functions as a gathering spot, prompting visitors to take a moment to relax and enjoy the surroundings. The entrance structure, bordered by pillars on either side, resembles a car wash, representing the beginning of the creative process where designers eliminate any limiting ideas that may impede their creativity.
PAVILION NOMAD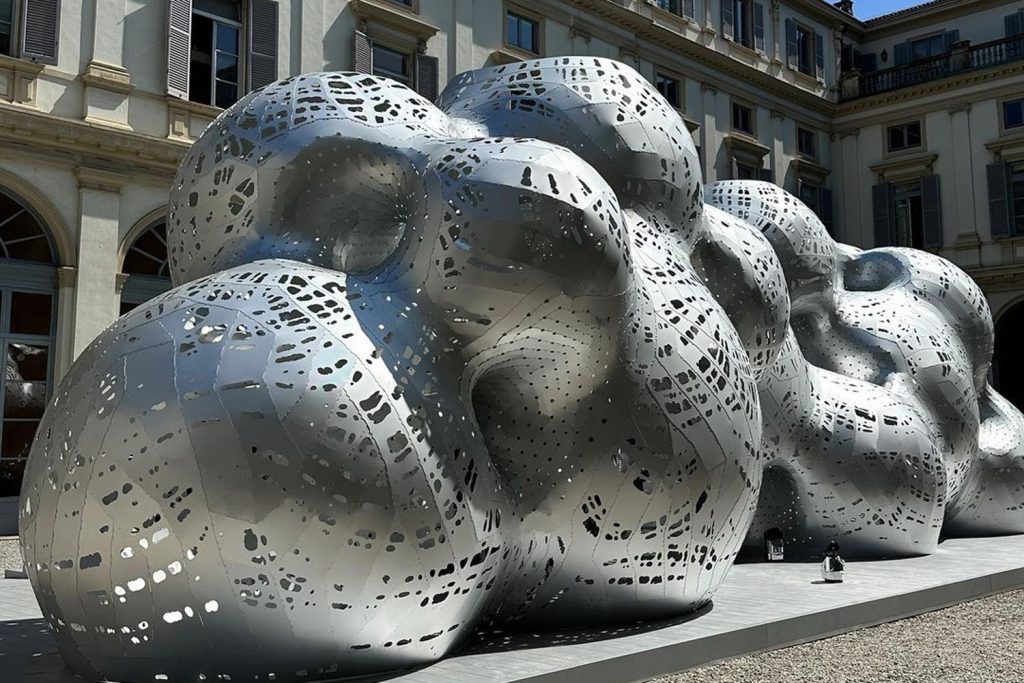 MARC FORNES / THEVERYMANY
Louis Vuitton presents its new Nomadic Objects collection during Milan Design Week 2023 and also hosts the Pavilion Nomad designed by Marc Fornes, also known as THEVERYMANY, in the courtyard of Milan's ancient Palace Serbelloni.
The shimmering, organic structure and unusual structure resemble a living organism that has grown naturally from the palazzo's courtyard. It is constructed using a complex assembly of more than 1600 anodized aluminum sheets that are individually shaped and patterned, with some being as thin as 1 millimeter. The bulbous, metallic, and coral-like creation welcomes visitors to explore within.
MOMENTUM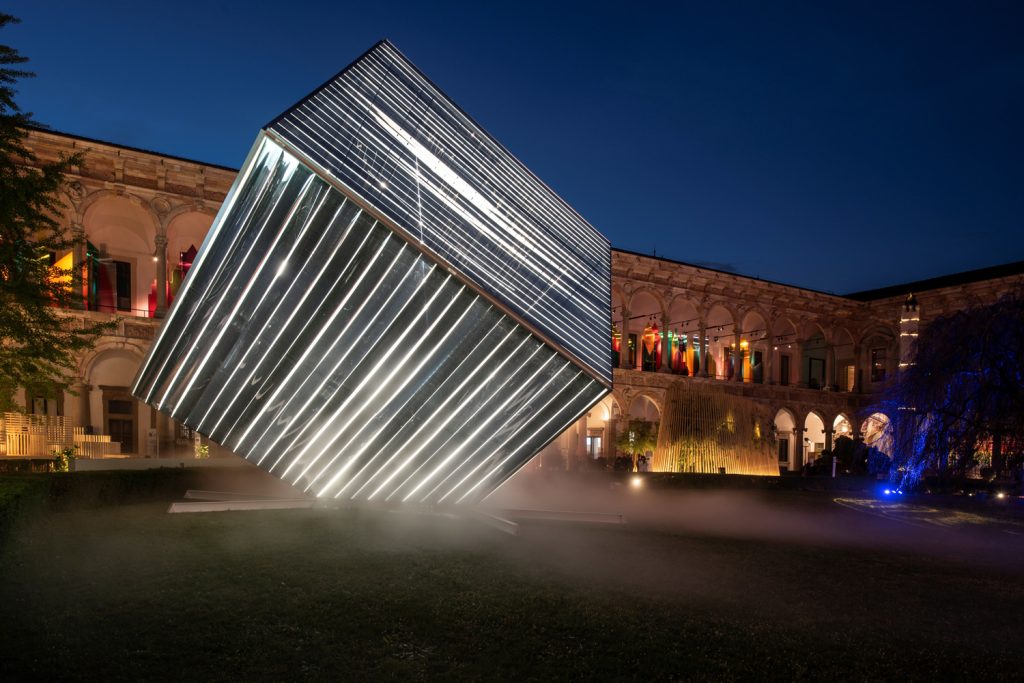 MAD Architects
Momentum was in the main atelier of this year's Milan Design Week. The installation was designed by MAD Architects led by Ma Yansong in collaboration with Interni and AXA IM ALTS. The aim of Momentum is to capture the moment of artistic creation by using a simple cube as a medium for various forms of artistic expression. The installation, which was showcased during Salone del Mobile, seeks to represent the solidification and refinement of time through this form.
During the day, the installation reflects the surrounding environment of Statale University's courtyard, creating a constantly changing art form. At night, the cube becomes transparent and ethereal, with interior lighting illuminating a new character.
Momentum is a combination of physical and virtual art installations. It offers an AR (Augmented Reality) art experience that allows viewers to enjoy virtual art by scanning a QR code on Instagram. Through this, they can become creators in their own right.
NOLI TIMERE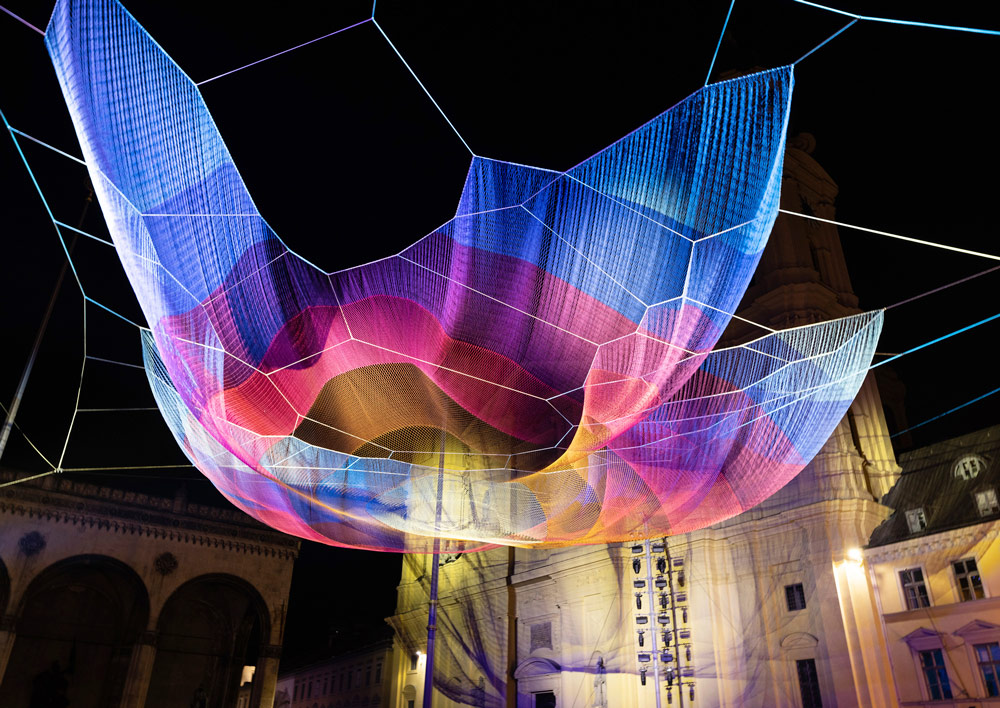 Janet Echelman
Noli Timere in Latin means "don't be afraid" – the last words written by Nobel Prize-winning poet Seamus Heaney, written to his wife in the moments before his death. The installation was designed by Janet Echelman in collaboration with Kohler. The temporary sculpture was floating gently above the courtyard of Palazzo del Senato.
The sculpture portrays two sculptural forms that intersect at a single point. However, the colors of the forms blend together seamlessly, creating an illusion that the space between them is diminishing. Echelman draws inspiration from artworks where the spaces between objects are infused with emotion, such as Picasso's depictions of lovers and Michelangelo's representation of the gap between the hands of God and Adam in the Sistine Chapel.
SWING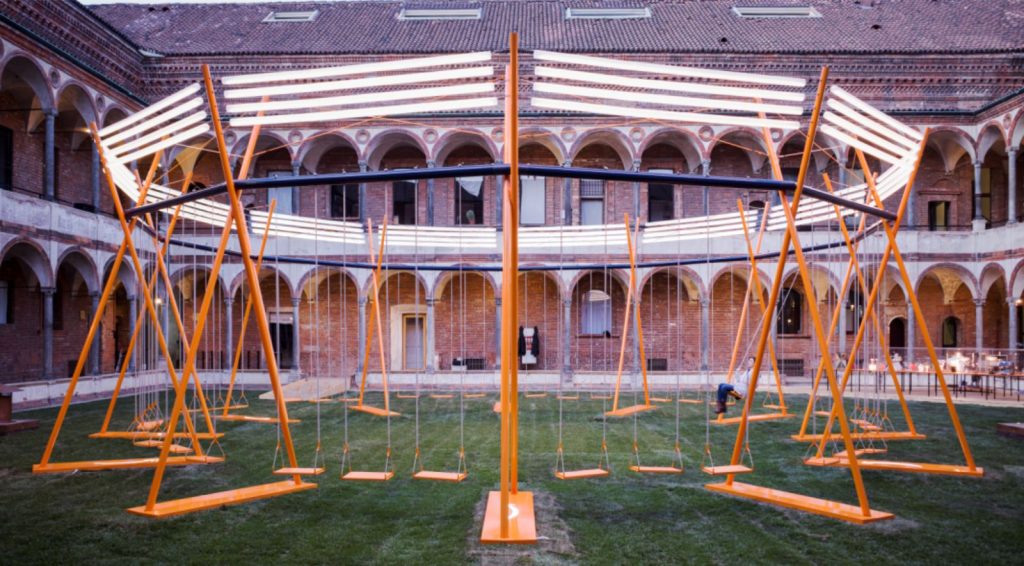 Stefano Boeri Interiors
Stefano Boeri Interiors unveiled SWING, a unique swing that takes center stage at The Amazing Playground – a vast interactive and immersive area that Amazon is showcasing at the INTERNI Design Re-Evolution exhibition during Milan Design Week located at the Cortile della Farmacia of the University of Milan. The design consists of 36 seats that create a communal swing, which takes inspiration from the Spanish Surrealism movement of the early 20th century, as well as the American Circus in Madrid.
The entire structure is created with circularity in mind. The materials used, including steel and wood for the seats, can be repurposed in other settings by breaking down and reassembling the individual modules. This can be done while maintaining the original circular configuration or creating new shapes and sizes based on design requirements and location.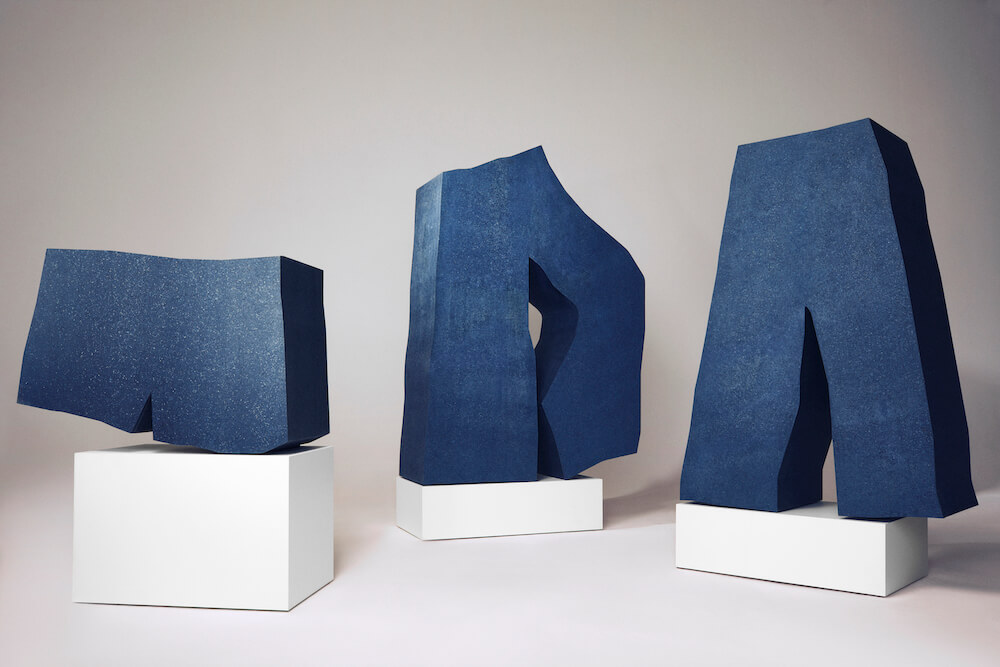 G-Star RAW with Maarten Baas
In the exhibition 'More or Less', G-Star Raw has collaborated with Dutch designer Maarten Baas to delve into sustainable practices. This thought-provoking partnership seeks to expand the limits of denim design while tackling concerns related to waste, consumerism, and mass production.
The exhibition showcases a triptych of cabinets in the shape of jeans and a fifteen- meter long private jet – all made using recycled G-Star jeans. They are made of a textile board material that is specially developed by Danish textile innovators Really/Kvadrat. The material is created from recycled G-Star jeans and all three cabinets resemble a pair of jeans. They can be used to store denim items, including pairs of jeans. The jeans used in the production of the cabinets were collected from G-Star stores across Europe via the 'Return your Denim' program, which allows customers to recycle their old jeans.
SHAPED BY WATER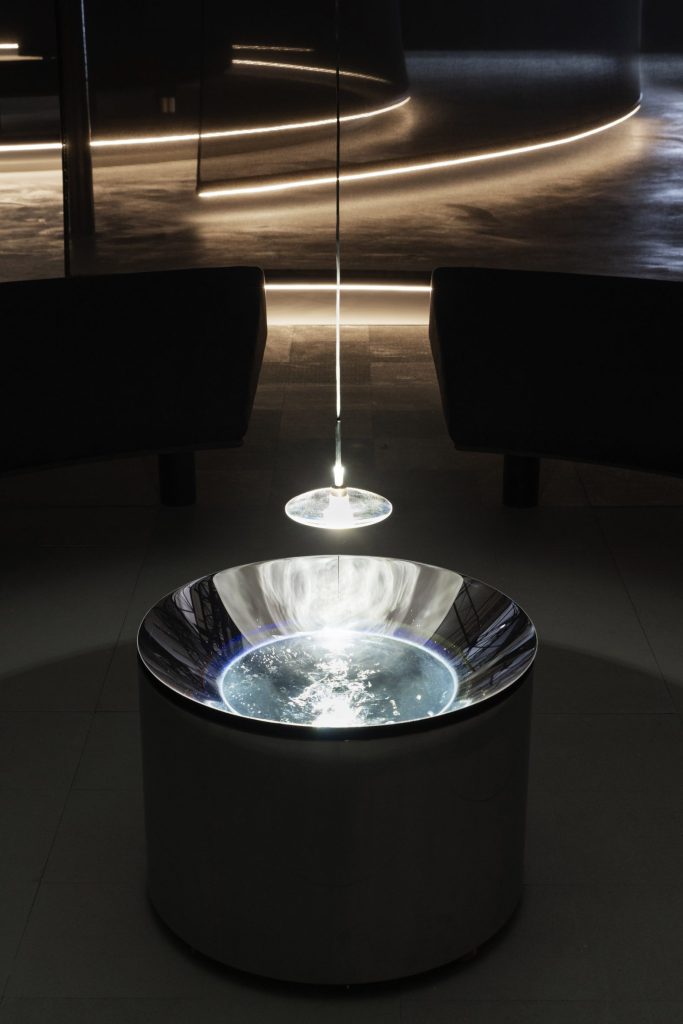 Lachlan Turczan
In collaboration with water, light, and sound artist Lachlan Turczan, Google Design Studio investigated our relationship with water. This led to the creation of a three-chapter-based installation called "Shaped by Water", where water was used as a source of artistic and design inspiration.
The first area of the exhibit showcased water as an invisible element through the use of shimmering water drop bowls. These were created to provide an optimal way to explore the optical and sonic characteristics of water.
The second section of the exhibit focused on providing a complete sensory encounter, in which water, acting as a natural lens, was shaped to unveil immersive light artwork that carried visitors into a water-filled space. The use of synchronized music, combined with cymatics science, enabled the real-time formation of wave patterns that were then projected onto sizable overhead disks.
In the third and last part of the exhibition, visitors had the chance to contemplate water up close and in direct connection to how it inspired the design of Google's hardware portfolio.
WOOD YOU BELIEVE?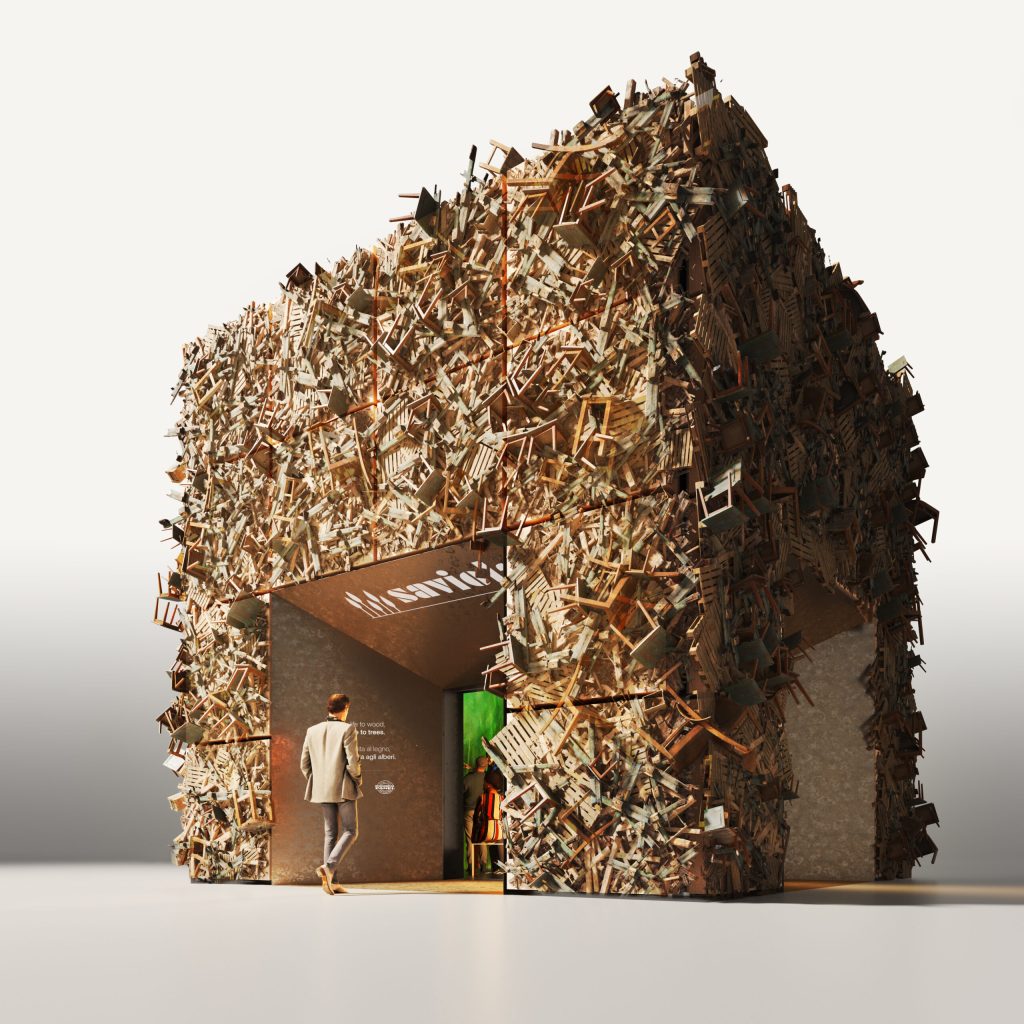 CRA-Carlo Ratti Associati & Italo Rota for Gruppo Saviola
Gruppo Saviola marks its 60th anniversary by joining the Salone del Mobile and showcasing an installation called "Wood You Believe?". The installation was created by Carlo Ratti Associati and Italo Rota. The cubical structure consists of various discarded wooden objects such as desks, chairs, pallets, and fruit crates. These items are stacked together in three-dimensional collages, resembling a wood recycling facility. One of the purposes of this installation is to remind people of the significant amount of waste generated by the furniture industry.
Carlo Ratti says: "The use-and-dispose consumption pattern is one of the main underlying causes of the environmental problems we are facing now… Wood You Believe? taps into an enormous pool of resources that have always been available to us. With the support of digital technologies, what was made redundant becomes something to treasure."