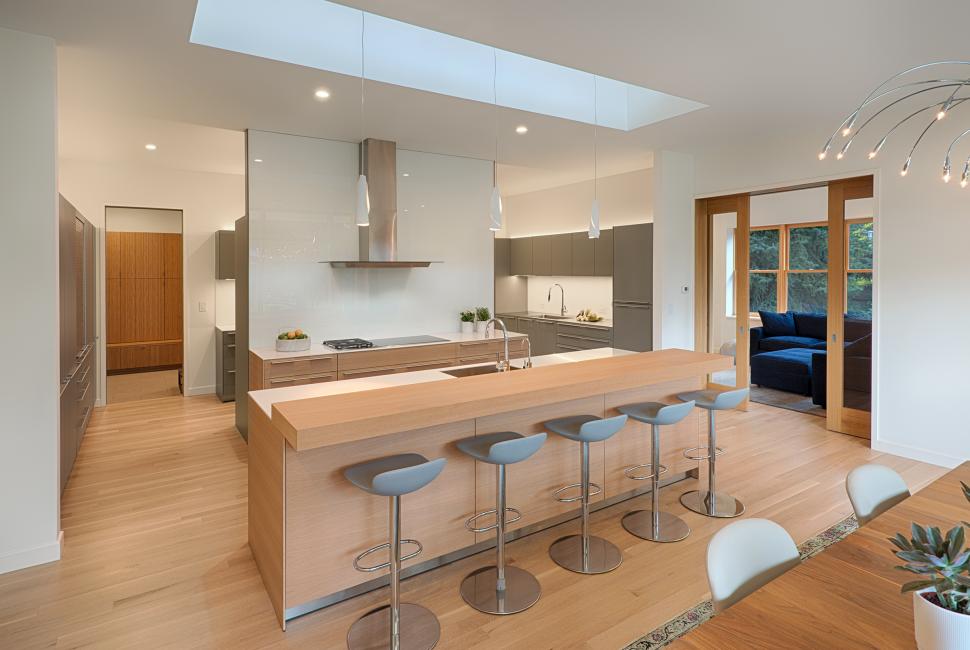 Minimalist Kitchen
Take a look around your kitchen. Is it everything you always wanted? Do you find yourself wishing for just one more appliance that could bring happiness? If you find yourself in a perpetual state of desire, you need minimalism in your life. When trying to decide where to apply minimalist techniques, start in the kitchen. This article describes some techniques for you to create a minimalist kitchen.
Kitchen design companies will rightfully tell you the kitchen is the most important room in the house; your home's central gathering place, the place where the magic happens. Cooking should bring family and friends together, it shouldn't breed consternation. Get rid of the items that don't have a proper location. Every item should have a home. Every item should have a purpose. If they don't have a distinct place for storage and you don't need them, what are they doing in your house? You might as well start charging them rent.
This article discusses some actionable tips to apply to your minimalist kitchen. Minimalism starts with an honest appraisal of what you need and what you don't. Then it trickles down to individual items and decorating techniques that continue to reduce the superfluity. Don't be shy, let the ax fall, and watch your bloated kitchen morph into a place where you love to gather and share meals.
Learn more about parametric and computational design from pioneers at the CD NEXT conference series:
What Is Minimalism?
What is minimalism? Many people criticize minimalism, going so far as to associate it with socialism, positing that it requires people to own less than 100 things, ridding themselves of their cars or homes, and neglecting to have children.
Minimalism doesn't directly deal with any of those things, though it can be taken to an extreme. Healthy minimalism is an approach to your belongings that forces people to question whether they truly need the things they have and whether those things bring joy to their life. If they don't, and you find yourself in a perpetual state of happiness, thinking you don't have enough and over-consuming.
This examination can help bring freedom to your life. And one of the easiest areas to apply this philosophy towards is your kitchen. Applying minimalism to your kitchen will rid you of the guilt of over cluttered eating areas, letting food items expire, and being forced to confront those unused cutlery items and appliances.
Minimalism doesn't require you to eschew material possessions. It simply means you consider whether you actually use those material possessions or whether you're simply feeding your addiction to them. Do you really need that impulse buy from the infomercial five years ago? Probably not. That's why you should declutter your kitchen.
Declutter
The first step to minimalism in the kitchen is decluttering. Decluttering doesn't only describe throwing away old magazines and the bills spread across the counter, It requires relentless elimination of all the objects you think you need, but don't. Look at your smaller appliances. How often do you use your toaster? How many times have you used the large fruit bowl permanently stored in your dish cabinet? Do you really need the carafe you bought at that farmer's market five years ago?
The most important aspect of creating a minimalist kitchen design is ridding yourself of the things that are simply occupying space. The following items are a good place to start:
Knife block
Bread maker
Espresso machine
Rice maker
Panini press
Wok
Extra mugs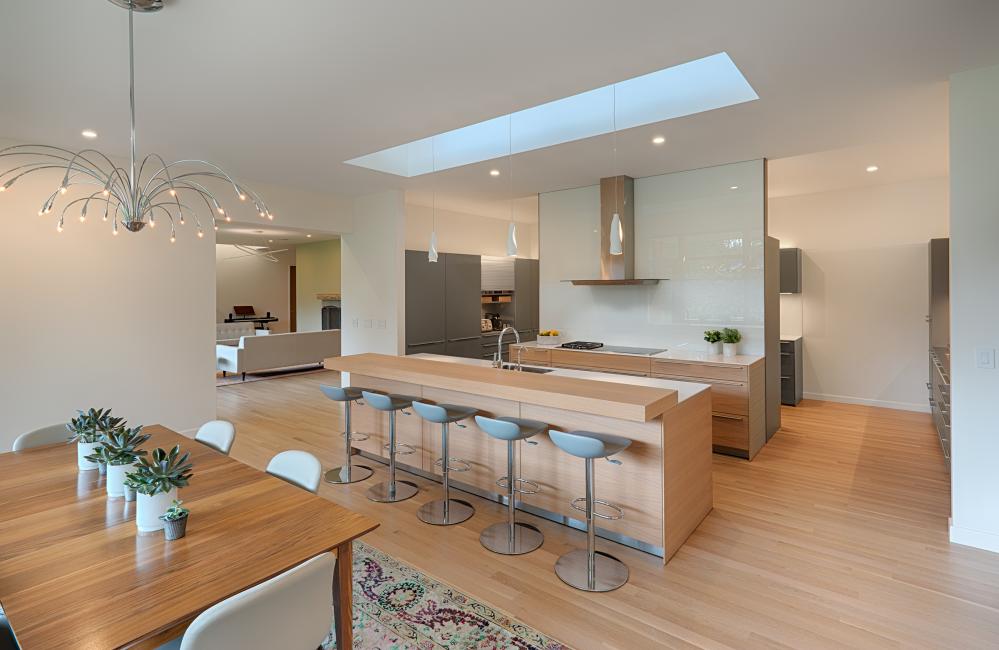 Rethink Your Color Scheme
When trying to create a minimalist kitchen design, grab the paintbrush and start browsing color schemes. Solid color palettes in neutral tones are critical for creating a minimalist decoration theme. As an added bonus, the strategy makes the room look simpler and more spacious than it actually is.
Switch Out Your Faucets
You may think of faucets as relatively unimportant in the broader sense. However, your sink is an excellent place to start when building your minimalist kitchen design. Switch out your clunky faucets for some sleek, chrome options that breathe a modern feeling into your life.
Get Rid of the Knobs
If you're ready for a weekend project, you can simplify your kitchen by replacing your busy, overly complex cabinets with plain, solid-colored doors without knobs. If you're insistent about having knobs on your cabinets, then opt for a simple bar instead of a more traditional round knob.
If you're looking to reduce the time of your project, you can simply switch your current knobs with a simpler option.
Every Item Has Its Respective Location
To create a cleaner kitchen, you need to understand where your items belong. Kitchens shouldn't become collection areas for odds and ends. You need a strategy when approaching your kitchen. Designate drawers for silverware and cookware. Store plates, containers, and small appliances in cabinets and larger, less-used appliances, and foods in closets, pantries, or on shelves.
Hide Daily Appliances
Avoid occupying your counter space with items such as toasters, coffee makers, and spice racks. Though these items are there for your convenience, these items and appliances don't receive enough usage to justify their prominent display. Avoid letting these appliances take up too much space. Find a new, easily accessible spot for items like a cupboard or closet. Instead of looking at your counter as a convenient storage space, modify your mentality and clear your counters, taking a large step towards minimalist clarity.
Remove the Extra Items
Look at your dishware. Is there anything in the cabinets collecting dust? You don't need to dispose of the china that has been in your family for decades. Rather, minimize your items as much as possible. We all have more plates and glasses and cups than necessary, cluttering the cabinets.
You might also be tempted to keep extraneous items in your space. Do you really need the avocado slicer when the knife will do the same job? Make a kitchen essentials list and stick with only those things.
Key Takeaways
Incorporating minimalism in your kitchen doesn't mean you have to act like a hermit who survives off the land. You can still go to the grocery store and you can still use your kitchen stove and dishwasher. However, if you find yourself consumed by consumption, minimalism can be the answer.
When applying minimalism to your kitchen, start by removing everything that doesn't give you a sense of enjoyment. Paint your kitchen with more neutral colors and make sure every appliance and piece of cutlery has its own distinctive location and use. You will feel much better.