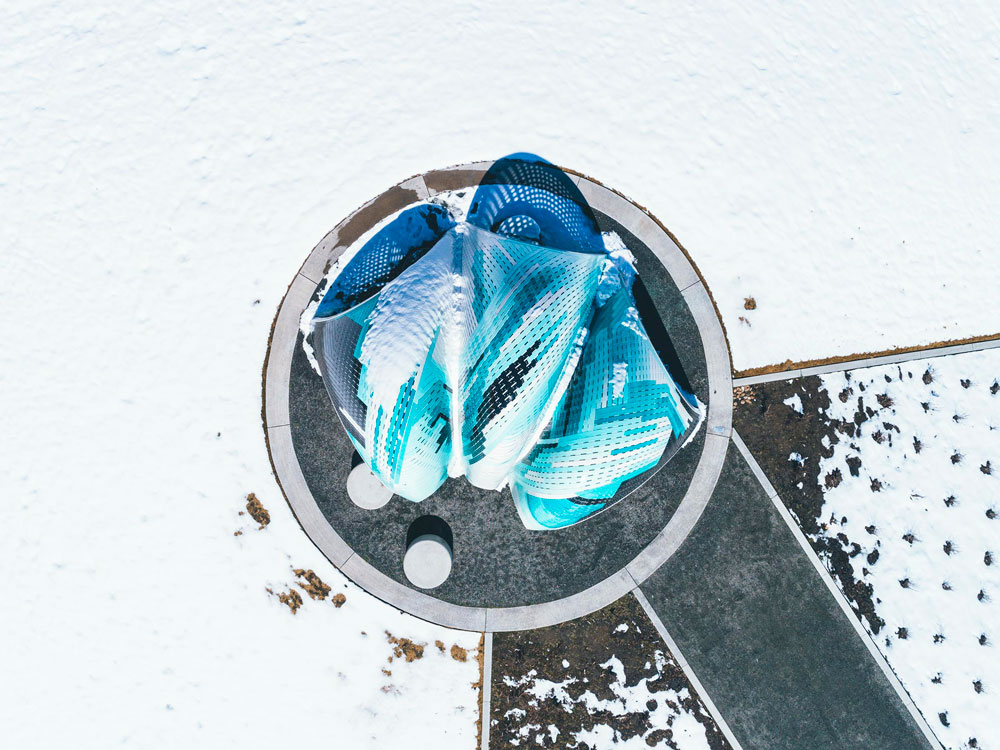 The hyperbolic paraboloid shapes mounted atop the cape of Prairie Basin Park are a sight to adore. Designed by Volkan Alkanoglu, the Phantom Pavilion located at Stapelton, CO is conceived as a light-weight curved structure. Aesthetically assembled with two cross-laminated layers of aluminum acting as the structural shell.
The sculpture assembled with 1,162 painted cross-laminated aluminium elements creates a vibrant hue on the visitors. Following each independent structural shell, with its dynamic shape and silhouette, appears to be in motion. Simultaneously altering its visual look. The pavilions especially follow a symmetrical language of three iconic vaults hovering 16 feet at its pinnacle.
The canopy has exciting shades of blue that gradients from left to right and top to bottom. Furthermore invoking a joyous mood. The skin features complex patterns and openings which induces dynamic shadows on the ground, along with ambiguous visual effects during the day and as the seasons' change.
The Phantom Pavilion has magnificent shading and seating elements to intrigue the visitors. As they obviously engage in creating a colorful ambiance in the park. The structure invites visitors, guests, and the local community with its fluid form and landscape of colors. In addition, it provides a platform for the community to interact in formal and informal events throughout the year.
Nevertheless, from afar, the Phantom Pavilion reminisces like a vision or mirage embedded into the sweeping landscape. The artist Volkan Alkanoglu has indeed created a fascinating identity in the park as the pavilion stands in brilliant hues of blue.
Design: VA | DESIGN
Project Team: Volkan Alkanoglu, Matthew Au, David Moore, Ishrat Lopa
Structural Engineering: YetiWeurks, Nick Geurts
Consultants: AKT II Engineering, Design Development Associates, inc.
Fabrication and Installation: Demiurge
Client: City of Denver
Location: Prairie Basin Park, Stapelton, CO
Photography: Keenan Hock