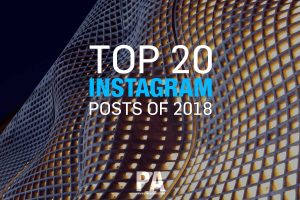 Talking about Instagram always have been interesting for us. We are living in a digital age that a photo sharing application is affecting Architecture and Design. Instagram has over 1 billion monthly users and as it continues to grow it becomes more vital tool in architecture. During 2018 we have posted more than 300 projects and we gained more than 130K followers. In this article we are shared the 20 most liked Instagram posts of 2018.
Thanks for following us.
20. The Street in Mathura, India by Sanjay Puri Architects, 2017
19. The proposal for SANGAN Hotel in Khorasan, Iran by Farshad Mehdizadeh | FMZD
18. Miyahata Ruins Museum in Jukushima, Japan by Furuichi and Associates, 2016
17. Bombay Sapphire Distillery in by Heatherwick Studio in Laverstoke Mill, UK, 2014
16. Dancing Columns of the students at The Programmed Column 2 course at ETH, Zurich, 2010
15. Wooden Roof of Pre-school in Lugano, Switzerland by Architect Bruno Fioretti Marquez, 2014
14. Landscape design by Bryum Orgin in in Basel, Switzerland
13. Exhibition Center of Otog in Erdos, China by Kuan Wang
12. White Forest Concept by Khoa Vu
11. The Wave by Henning Larsen Architects in Vejle, Denmark
10. Student works at Final Jury of Structures III at the Torcuato Di Tella University
9. Connected Small Cubes by Erik Aberg
8. 3d Printed Models by Visual CommunicationsSstudents (ARC1022) at the University of Toronto
7. "Drift" Sculpture by Matthias Pliessnig at the Renwick Gallery in Washington, USA
6. International Museum of Form and Design, Concept by John Demaio
5. Brick Curtain is a small office building by Firki Studio in Karnal, Haryana, India
4. 3DPprinted Concrete by Siam Research & Innovation Company (SRI)
3. Curving Birch Plywood Bench by Architecture Professor Robert Trempe
2. Bahá'í Temple by Hariri Pontarini Architects in Santiago, Chile, 2016
1. The "Baori" Project by Nuru Karim
Follow Parametric Architecture on Instagram!
Article by Hamid Hassanzadeh