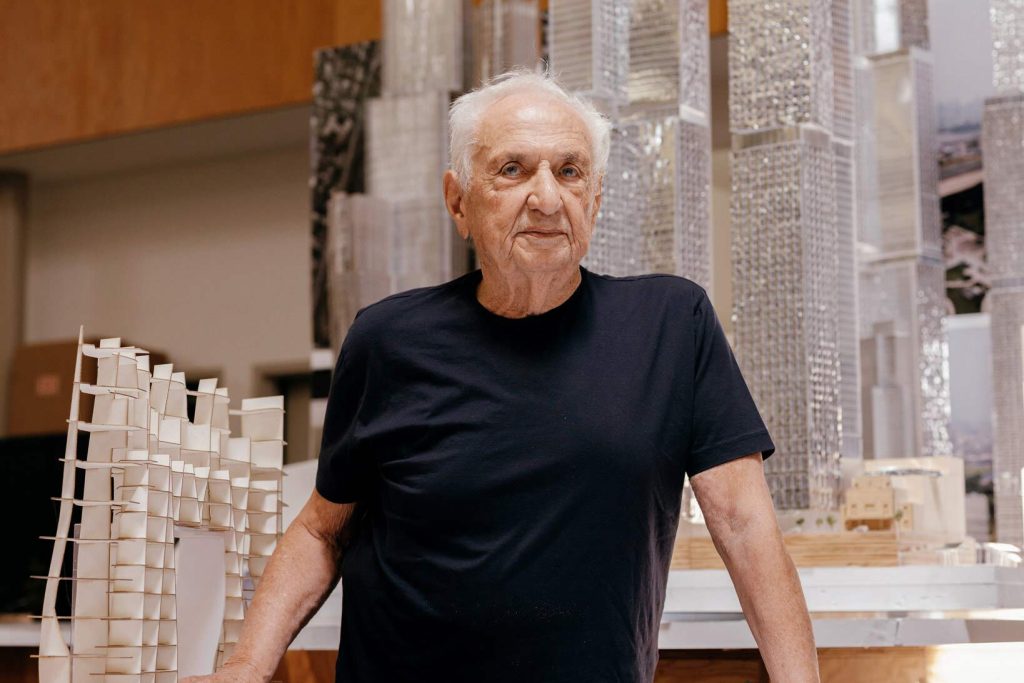 Frank Gehry is an illustrious architect whose innovative and avant-garde designs have consistently challenged the conventions of modern architecture. Born in Toronto in 1929, Gehry established his architectural practice in 1962 in Los Angeles, where he continues to cultivate his legacy as a visionary architect.
Gehry's works are characterized by his distinctive approach to architecture, employing non-traditional materials and a deconstructivist style. During his career, he designed some of the most iconic and unconventional structures around the globe. In this article, we shall explore a selection of Frank Gehry's most eminent works that created a profound impact on the world of architecture and design.
"For me, every day is a new thing. I approach each project with a new insecurity, almost like the first project I ever did. And I get the sweats. I go in and start working, I'm not sure where I'm going. If I knew where I was going I wouldn't do it."

Frank Gehry
Here are 10 significant architectural works by Frank Gehry:
Guggenheim Museum Bilbao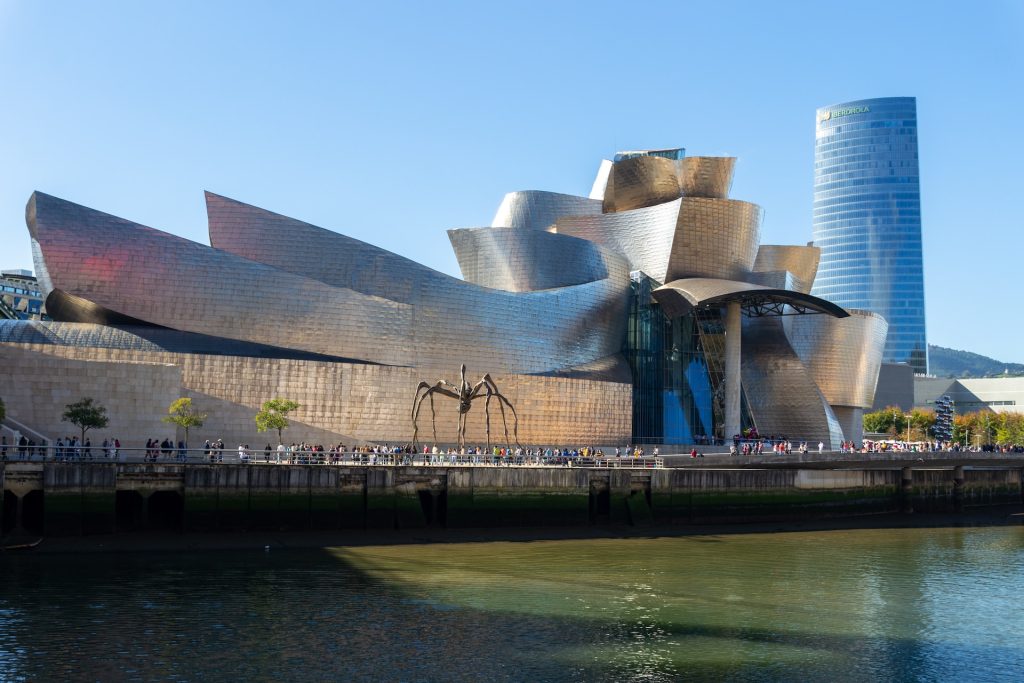 Year: 1997
Location: Bilbao, Spain
Type: Museum
The Guggenheim Museum Bilbao is a pioneering work of contemporary architecture, located in the Basque city of Bilbao, Spain. Commissioned by the regional government to revitalize the area's economy, the building's dynamic and undulating exterior, featuring curved titanium panels, has become an iconic symbol of the city's industrial history and cultural identity.
The museum's interior is equally impressive, with an atrium and galleries arranged on multiple levels that offer great flexibility and adaptability to diverse exhibitions. The museum's impact has been profound, both locally and globally, with its unparalleled success being a testament to Frank Gehry's visionary approach to design.
Walt Disney Concert Hall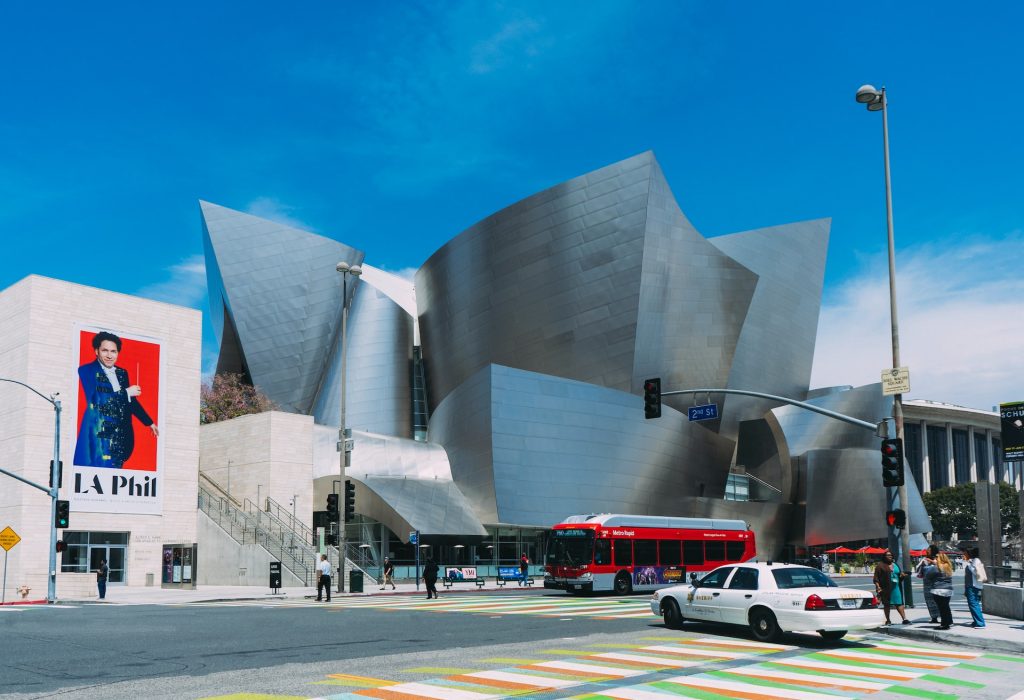 Year: 1999–2003
Location: Los Angeles, California, US
Type: Concert hall
The Walt Disney Concert Hall is a landmark building located in the heart of downtown Los Angeles, California. The concert hall is known for its striking and innovative design, which features sweeping curves and a shimmering stainless-steel exterior that reflects and amplifies the city's vibrant atmosphere.
The structure's design was inspired by the acoustical needs of a modern concert hall, and it is widely considered to be one of the finest in the world. Gehry's masterful use of complex geometries and materials, such as the curved stainless-steel panels that cover the building's exterior, creates a sense of fluidity and movement that is both dynamic and visually stunning.
The interior of the concert hall is equally impressive, with a warm and intimate atmosphere that is designed to enhance the experience of live music. The hall's seating is arranged in a vineyard style, with the audience surrounding the stage, creating a sense of intimacy and connection between performers and audience members. Its innovative design and state-of-the-art acoustics have made it a favorite of musicians and architects alike and has hosted some of the world's most renowned orchestras and performers.
Museum of Pop Culture- MoPOP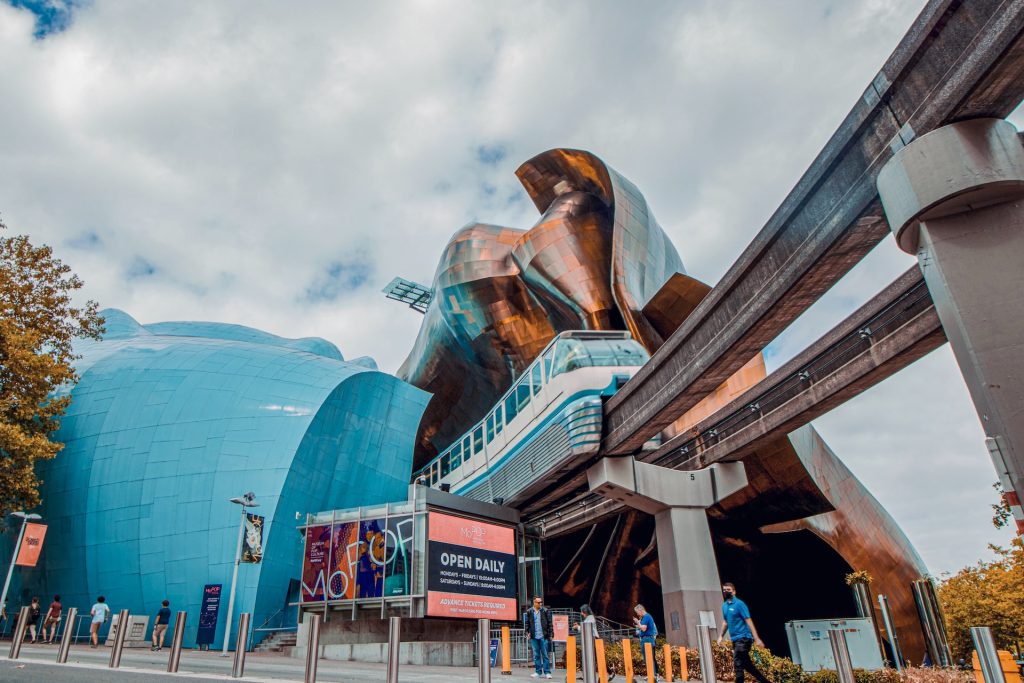 Year: 1995-2000
Location: Seattle, Washington, US
Type: Museum
MoPOP (Museum of Pop Culture), originally called the Experience Museum Project – EMP (Experience Museum Project), was designed by Frank Gehry and constructed between 1995-2000. MoPOP is a unique cultural institution located in Seattle, dedicated to exploring the history of music and its impact on culture. It is one of a kind destination for music enthusiasts and historians alike.
The building's design is characterized by its use of vibrant colors and bold, undulating forms that create a sense of movement and dynamism. The museum features a mix of steel and aluminum panels, which reflects the surrounding landscape and changes color depending on the time of day and the angle of the sun.
The museum's innovative design and groundbreaking approach to presenting music history have earned it international acclaim and have inspired a new generation of museums and cultural institutions around the world.
Dancing House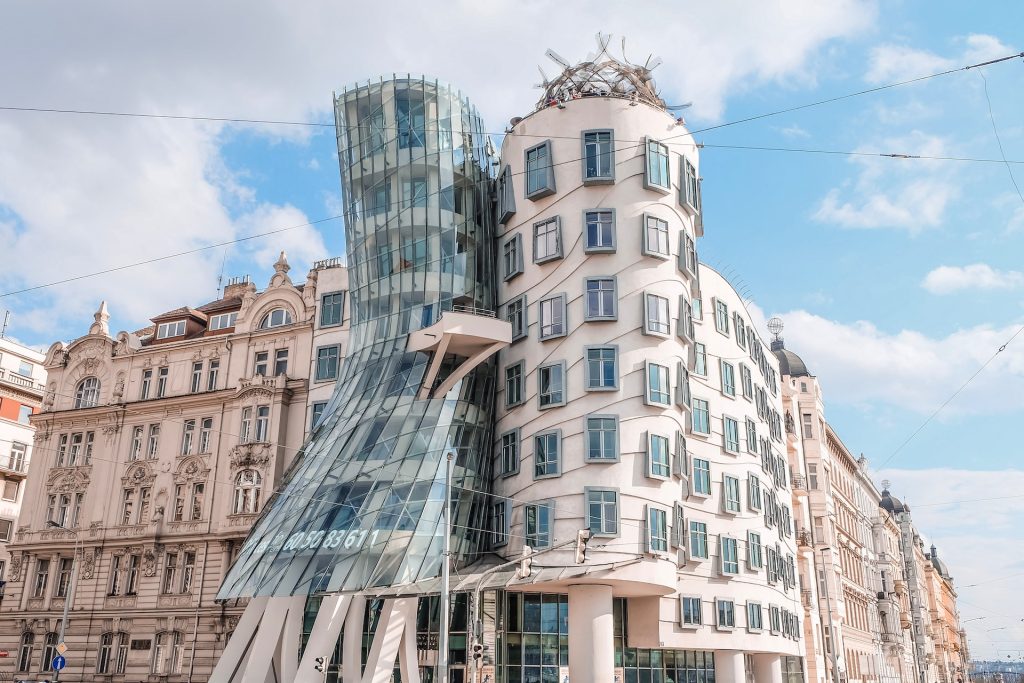 Year: 1992
Location: Prague, Czech Republic
Type: Offices and conference center
Dancing House is an architectural masterpiece that is located in Prague, Czech Republic. Originally known as the Fred and Ginger building, it was named after the famous dance duo Fred Astaire and Ginger Rogers, due to the building's curvaceous forms that resemble a pair of dancers.
The building's design was conceptualized to be a departure from the traditional architecture of Prague, which is characterized by Gothic, Renaissance, and Baroque styles. Instead, the Dancing House is a prime example of deconstructivist architecture, which challenges traditional notions of form and function. On an empty riverbank land, it was designed by Croatian-Czech architect Vlado Miluni in collaboration with Canadian-American architect Frank Gehry.
When the building's unconventional design was first unveiled to the public, it was greeted by a mixture of admiration as well as criticism. While some considered the building to be too modern and out of place, others praised the architect's visionary thinking for its bold form. Despite the controversy, the Dancing House has become one of the favorites of Prague and an icon of contemporary architecture.
Foundation Louis Vuitton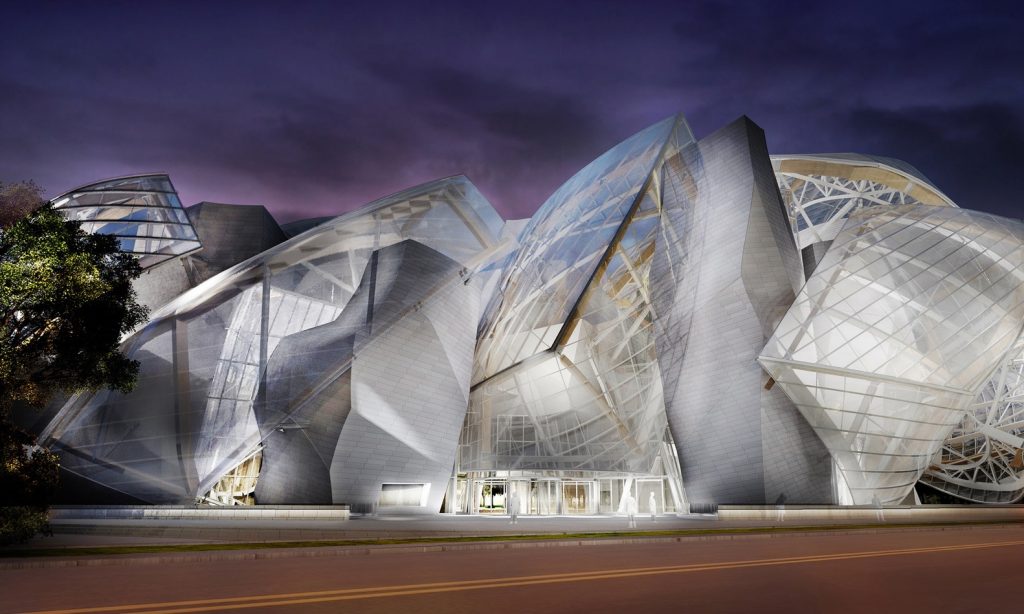 Year: 2014
Location: Paris, France
Type: Art museum and cultural center
The Foundation Louis Vuitton is an avant-garde art institution situated in the heart of Paris, France. Designed to take a sail-like form, the building is composed of complex geometric shapes made of glass and steel, giving it a sense of weightlessness and grandeur. This building's unique design is characterized by the dynamic interplay of light and shadow, creating a visually engaging and constantly changing environment for visitors.
The structure is dedicated to promoting contemporary art and culture through its innovative programming, which includes exhibitions, performances, and educational activities that engage with the public and stimulate critical thinking.
Overall, Its stunning form, innovative use of materials, and commitment to promoting contemporary art and culture make it a true cultural landmark and a must-see destination for art lovers and architecture enthusiasts alike.
New World Center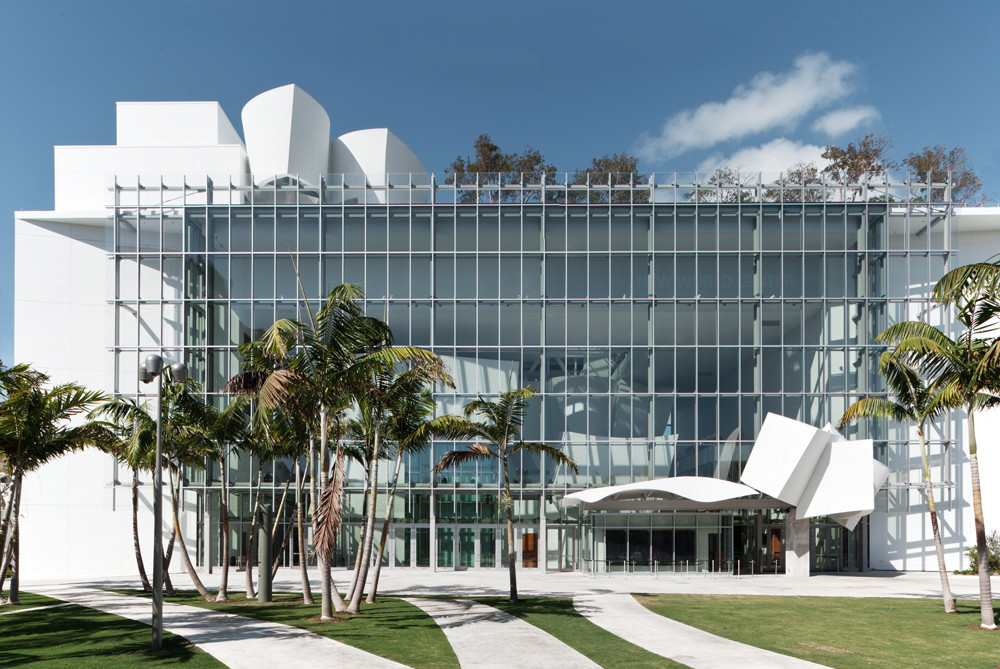 Year: 2011
Location: Florida, US
Type: Concert Hall
The New World Center is an exceptional architectural masterpiece manifested by visionary imagination of Frank Gehry. Situated in Miami Beach Florida, this building's striking form features a complex, angular design that defies traditional notions of symmetry and balance, that challenges conventional architectural norms, and pushes the boundaries to maximize the creative output.
The building flaunts its exceptional facade covered in thousands of individual glass panels that reflect the vibrant colors and energy of the surrounding city. However, it is the acoustically advanced feature of an immersive audio-visual environment that truly sets it apart for any audience.
The building's innovative design, advanced technology, and commitment to music education make it a beacon of creativity and artistic expression, and a testament to the transformative power to change the current architecture and design scene.
Weisman Art Museum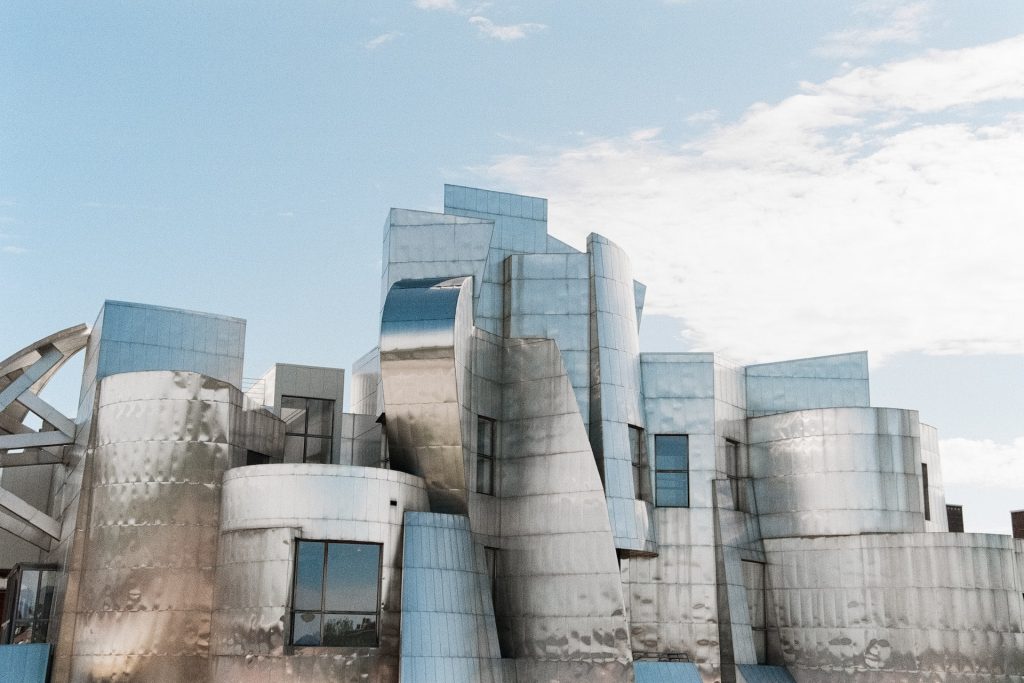 Year: 1993
Location: Minneapolis, Minnesota, US
Type: Art museum
The Weisman Art Museum, located in Minneapolis, USA, is a landmark building distinguished by its singular and audacious aesthetic. Similar to the form of the Walt Disney Concert Hall, this building is also characterized by an asymmetrical form and the inclusion of curved surfaces.
The structure is adorned with a distinctive metallic skin, which acts as a canvas for the play of light and shadow, creating an ever-changing interplay of light and reflections as time passes through the day.
The museum's unique design has become a symbol of the city of Minneapolis and acts as a source of inspiration for architects and designers around the world.
Biomuseo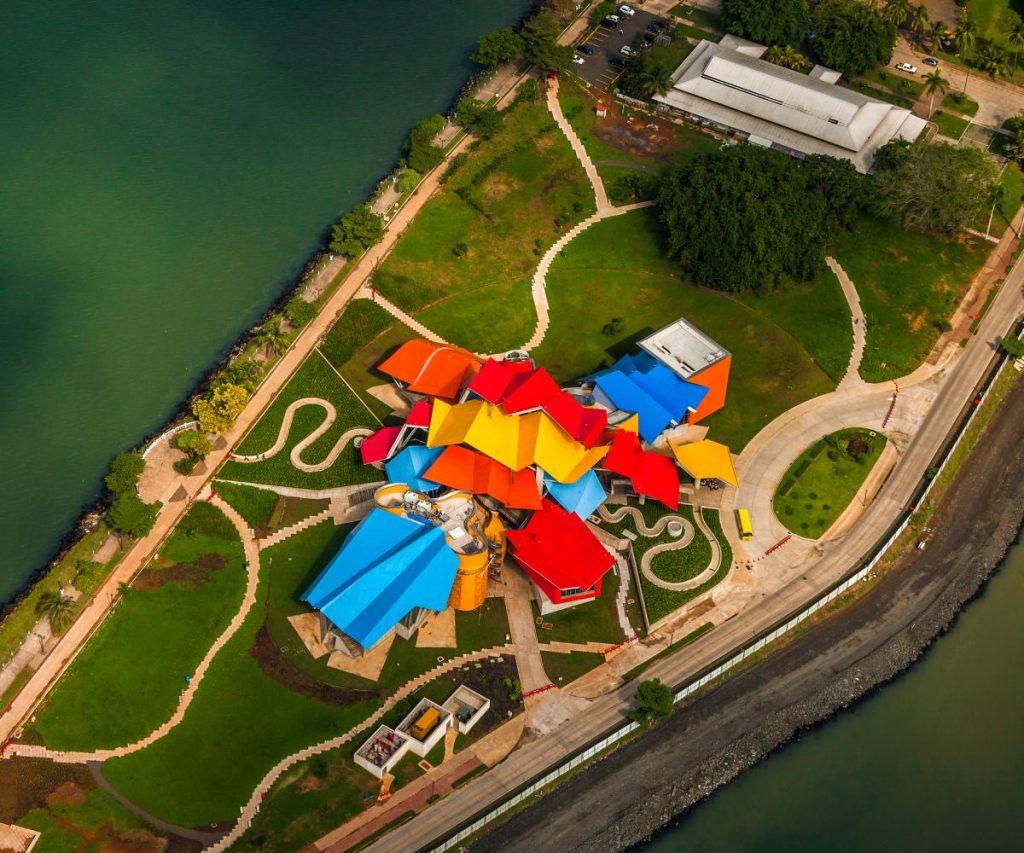 Year: 2014
Location: Causeway Islands, Panama City, Panama
Type: Museum
Biomuseo, located in Panama City, is a strikingly innovative museum dedicated to conserving the natural history and biodiversity of Panama. The building's vibrant and angular forms are intended to evoke the country's unique natural landscape and the importance of biodiversity conservation.
The building's complex geometry is composed of a series of intersecting volumes that convey a sense of motion and energy. The structure's central atrium along with the surrounding landscape forms an integral part of the museum's design, providing visitors with a sense of immersion in the natural world. The selection of materials, external cladding, and textured contrast justify well with the local context and create an aesthetically stunning and deeply meaningful design.
Stata Center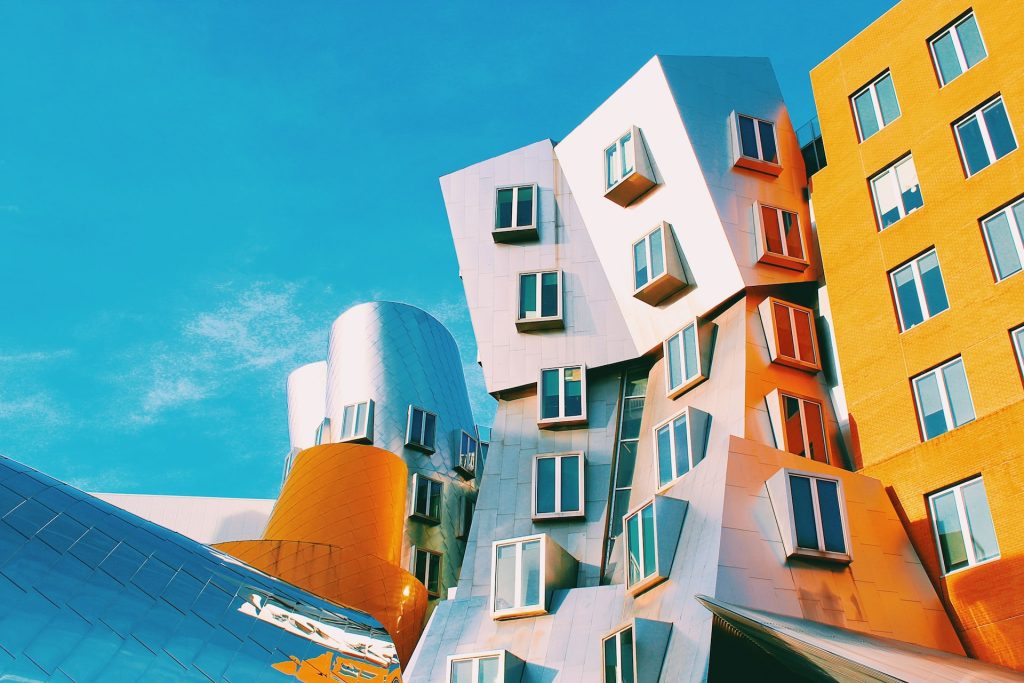 Year: 2004
Location: Cambridge, Massachusetts, US
Type: University facility
The Stata Center is a labyrinthine complex of interconnected spaces, designed to promote collaboration and innovation among MIT researchers and students. The structure is composed of a series of dynamic and asymmetrical forms, which appear to be in a state of constant flux and change.
One of the most innovative aspects of the design is the incorporation of cutting-edge technology into the building's architecture, which flowed with the essence of Frank Gehry. It also features a series of interactive installations and digital displays, which serve as a reminder of the building's purpose as a center for research and innovation.
Its dynamic and unconventional design serves as a fitting tribute to MIT's culture of innovation and creativity, and to its playful and organic forms, creating a sense of wonder and delight for visitors and occupants alike.
8 Spruce Street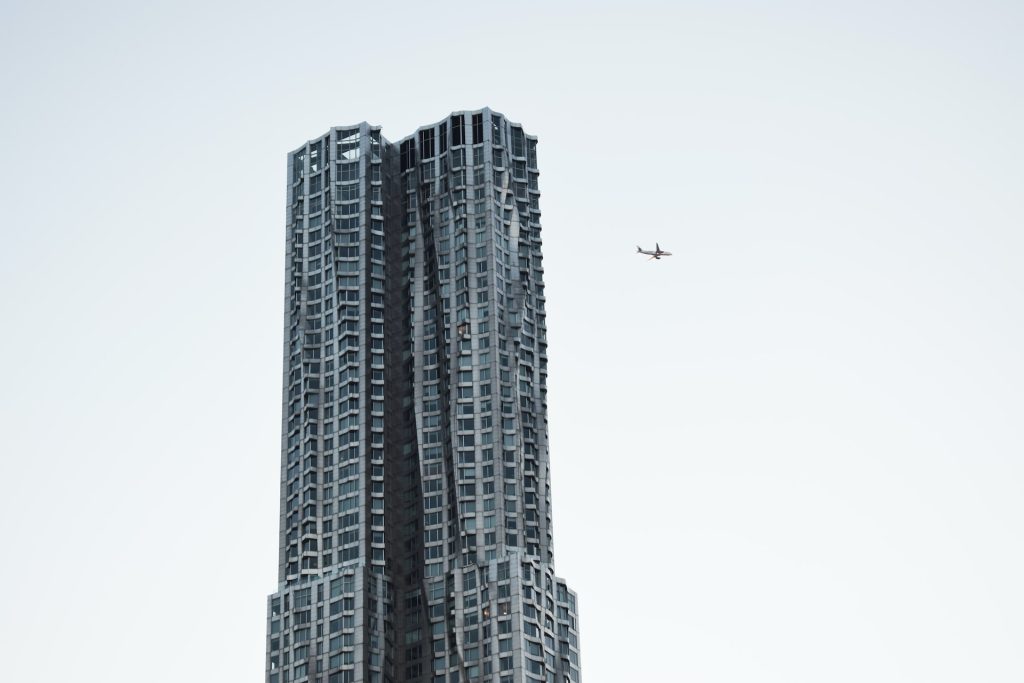 Year: 2006-2010
Location: Manhattan, New York City, US
Type: University facility
Located in the Financial District of Manhattan, is a stunning residential skyscraper named 8 Spruce Street. At 76 stories and spanning up to 870 feet tall, it is one of the tallest residential buildings in the Western Hemisphere. Its distinctive design features along with a striking stainless steel exterior that curves and undulates create a dynamic and fluid form that is unlike anything else in the city's skyline.
The intricate and complex design of the façade is a result of Gehry's masterful use of parametric modeling, a process that involves utilizing complex algorithms to generate and manipulate digital models, allowing for a highly detailed and customizable final product.
Its innovative and complex designed form, combined with its extensive amenities and luxurious interior spaces, make it a true icon of the New York City skyline.
In conclusion, the architectural legacy of Frank Gehry is marked by an unparalleled combination of innovation, creativity, and technical mastery. His designs represent a triumph of the imagination, where form and function fuse to create truly iconic structures that challenge our preconceptions of possibilities in architecture.