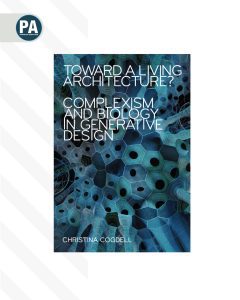 [maxbutton id="14″]
Christina Cogdell is an associate professor and chair of the design department at University of California. She is also the author of award-winning book "Eugenic Design: Streamlining America in the 1930s". Cogdell teaches design history, theory and criticism through a large number of lectures and seminars with a focus on bio-design, self-organization and emergence. In the last few years, she has been researching generative architecture and design for her current book "Toward a Living Architecture? Complexism and biology in Generative Design" with fellowships she received from the Mellon Foundation, American Council of Learned Societies, The Canadian Centre for Architecture and Penn Humanities Forum.
Toward a Living Architecture? Complexism and Biology in Generative Design are published by the University of Minnesota Press and it investigates the field of generative architecture and its relation to biology and computation. The book contains Cogdell's critical evaluation and profound research that she conducted in several architecture studios and biological labs, regarding the work of generative architects. Her evaluation reveals that generative design is environmentally unsustainable, contrary to what is commonly believed.
This outstanding book is a must-read in order to avoid and to understand the reasons for misleading guidance on sustainability and biology in generative design.