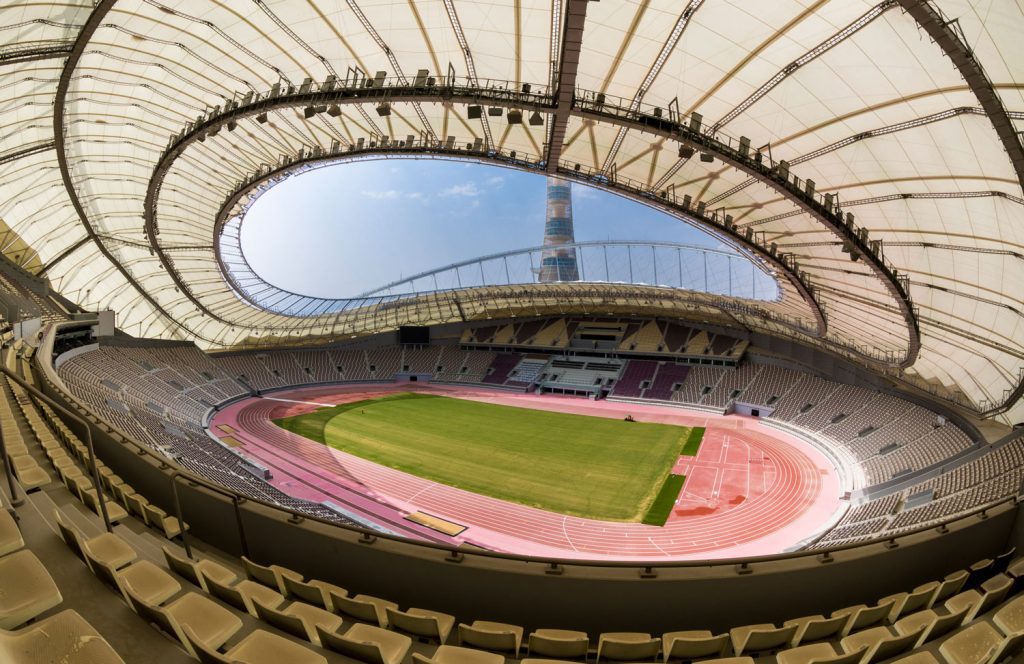 Qatar is preparing for the 2022 FIFA World Cup by building modern stadiums to accommodate large crowds. The 2022 FIFA World CUP will kick off in Qatar on Sunday, November 20.
The 64 matches of the tournament will take place across eight venues – Al Bayt Stadium, Khalifa International Stadium, Al Thumama Stadium, Ahmad Bin Ali Stadium, Lusail Stadium, Stadium 974, Education City Stadium, and Al Janoub Stadium.
The Khalifa International Stadium also known as the National Stadium built in 1976 by architect Dar Al-Handasah. It was renovated and expanded in 2005 for the 2006 Asian Games and hosted the ISF World School Games in 2009. Also, the final of the Asian Cup and the Pan-Arab Games was played in 2011.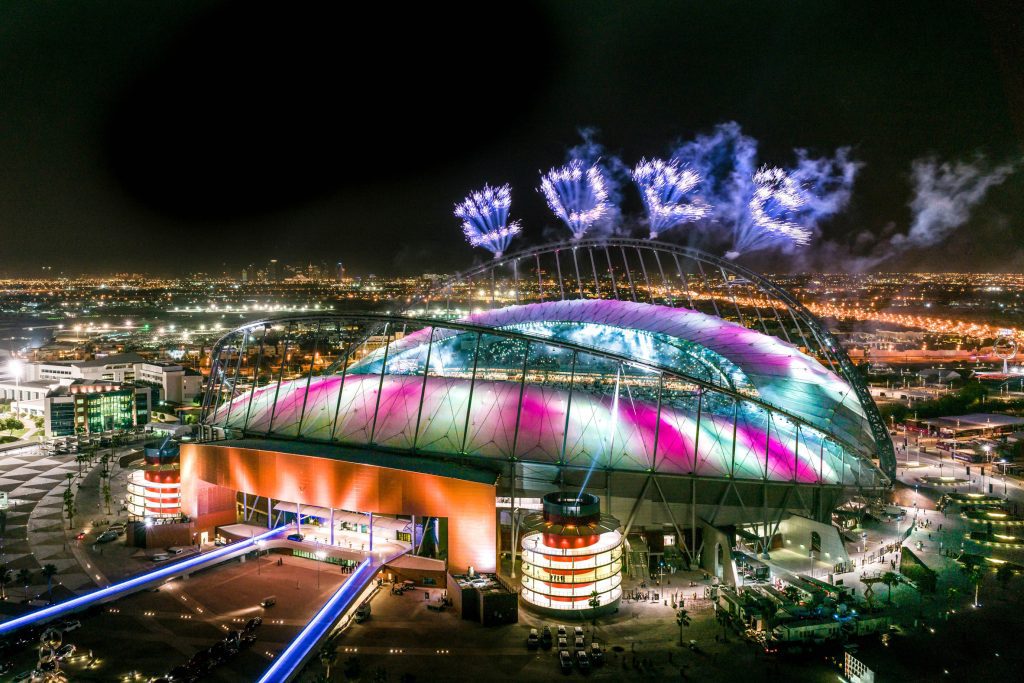 After a new extension and renovation, 2014 – 2017, facing the 2022 World Cups, the stadium hosted the 2019 World Athletics Championships. To meet FIFA's hosting standards, 12,000 seats were added, bringing the total capacity to 40,000. The project was developed by local architect Dar Al-Handasah and the GHD Studio. After this renovation, the stadium transformed into a modern place with cutting-edge features.
The facade has been renovated, and the ceiling has been extended throughout the spectator area with a complex network of tensioned steel cables weighing 4,000 tons and supporting the 92 panels that make up the structure. Tension cables connect the inner ring of this roof to the two existing arcs.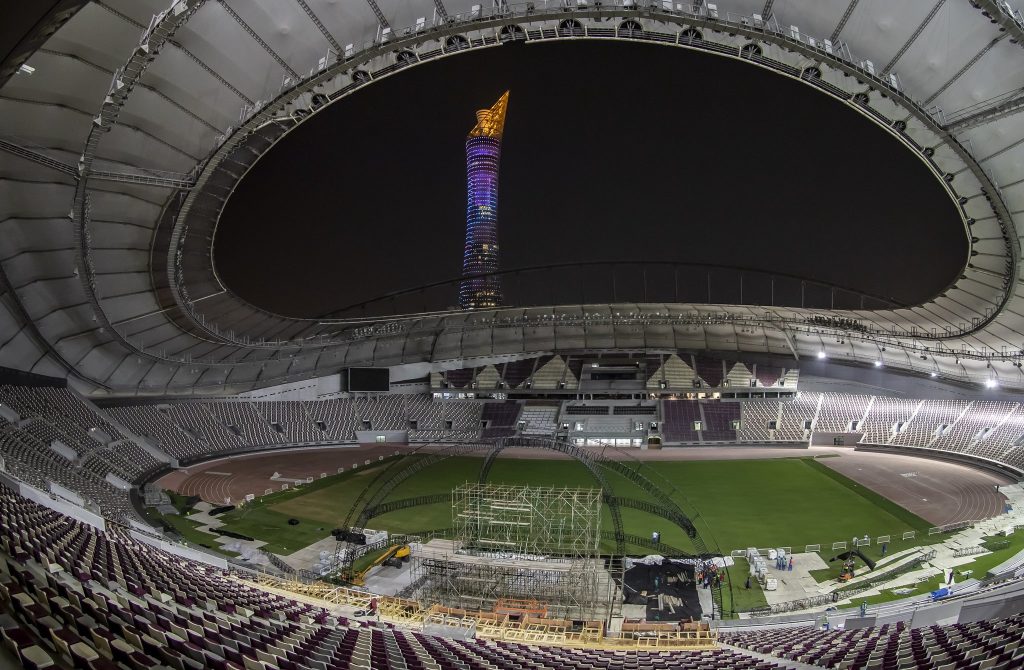 A new building with VIP lounges, 61 guest suites, a media area, food courts, shops, multipurpose rooms, a health center, a sports museum, and services to improve the changing rooms has been added to the east wing.
One of the most recognizable features of the Khalifa Stadium has always been its double arches that stand out from the horizon, acting as a magnet for Middle Eastern and Asian football fans.
An advanced cooling system has been installed on the pitch, which keeps the temperature at 26oC and the stands at 24-28oC all year while using 40% less energy than traditional methods.
The Khalifa International Stadium is the world's largest outdoor cooling system. For this purpose, "urban refrigeration," a system that reduces energy consumption while keeping both players and spectators comfortable regardless of outside temperatures, has been used.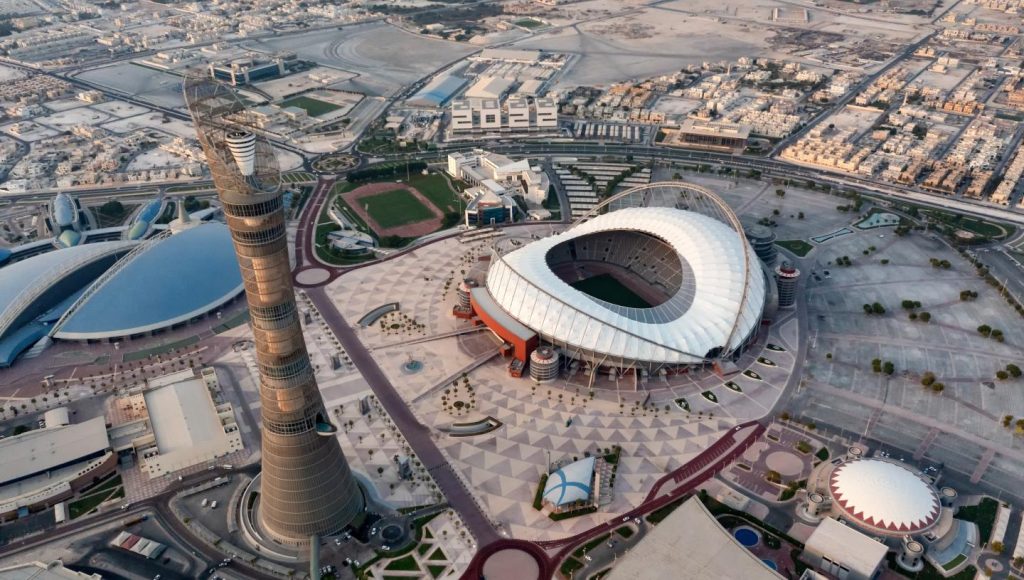 Project Info
Architect: Dar Al-Handasah
Remodelation Architect: Dar Al-Handasah, GHD
Structural Engineer: Maffeis Engineering SpA
Construction Company: MIDMAC-PORR-Six Construct JV, Projacs
Construction Manager: Mohemed Ahmed
Built-in: 1976
Remodeled in: 2005, 2014 – 2017
Built-up Area: 44,000 m2
Location: Al-Waab Street, Baaya, Doha, Qatar