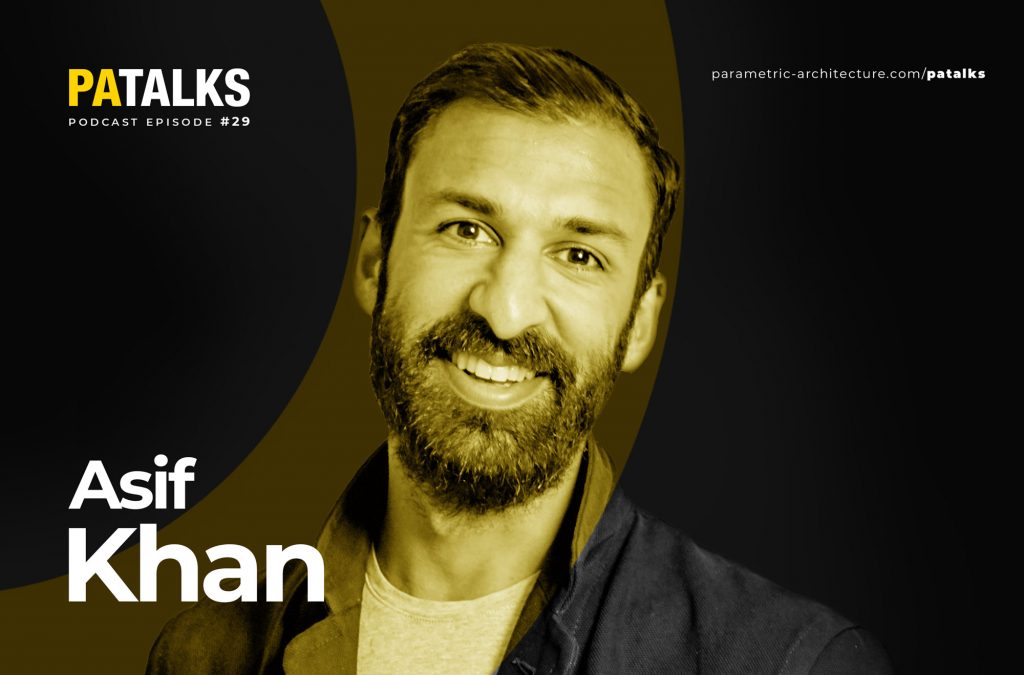 Asif Khan, the London-based architect was part of the PATalks series discussing his alluring works, exciting career trajectory, and his works in multiple disciples with Hamid Hassanzadeh, founder and editor in chief of ParametricArchitecture.
The throbbing architect is known for his tremendous work that uniquely stands apart. His work indeed allures with glamour and practical exposition. Subsequently exploring and experimenting invigorating ideas and delivering thoughtful outputs for the world to experience.
Asif Khan started his design studio in East London in 2007. Since then, he crafted distinct masterstrokes across various scales and explored different materials that interact with the context and people. His studio works internationally on a wide range of projects. They explore from cultural buildings to landscapes, exhibitions, and installations. Primarily his work engages the public in different settings.
Watch on YouTube:
Khan's practice investigates how technology, matter, nature, and human sensibility can be utilized to enhance the atmosphere and specificity of place and space. His interest expands into how material and social innovations can alter the way people experience as well as shape their environment.
Current major projects include the Museum of London at West Smithfield. Some of the notable projects include the 'MegaFaces' pavilion at the Sochi 2014 Winter Olympics that won the Cannes Lion Grand Prix for Innovation, the Coca-Cola Beatbox at London 2012 Olympics, and a Summer pavilion for the Serpentine Gallery which was located in Kensington Gardens, London during Summer 2016.
Most recently he designed the award-winning UK Pavilion at Astana Expo 2017. Khan currently lectures globally on his work. He also is a part of the Board of Trustees for the Design Museum. His studio is based in East London.
Listen on Spotify:
In the PATalks interview series, PA's founder and creative director, Hamid Hassanzadeh, sits down with leading architects and designers to discuss their lives, careers, and visions for the future. Watch/Listen to the episode or subscribe on YouTube, Apple Podcasts, Spotify, and Google Podcasts to catch the whole series.
I hope you enjoy this discussion. Don't forget to subscribe to our YouTube Channel. Please give us your idea about the podcast. Make sure to follow the platform on Instagram, Youtube, and Twitter, and support us on Patreon. Also, you can listen to our podcasts on Spotify, Apple Podcasts, and Google Podcasts. Also, you can use #patalks on Twitter, Instagram, and Facebook to give us feedback about the podcasts. Thank you!