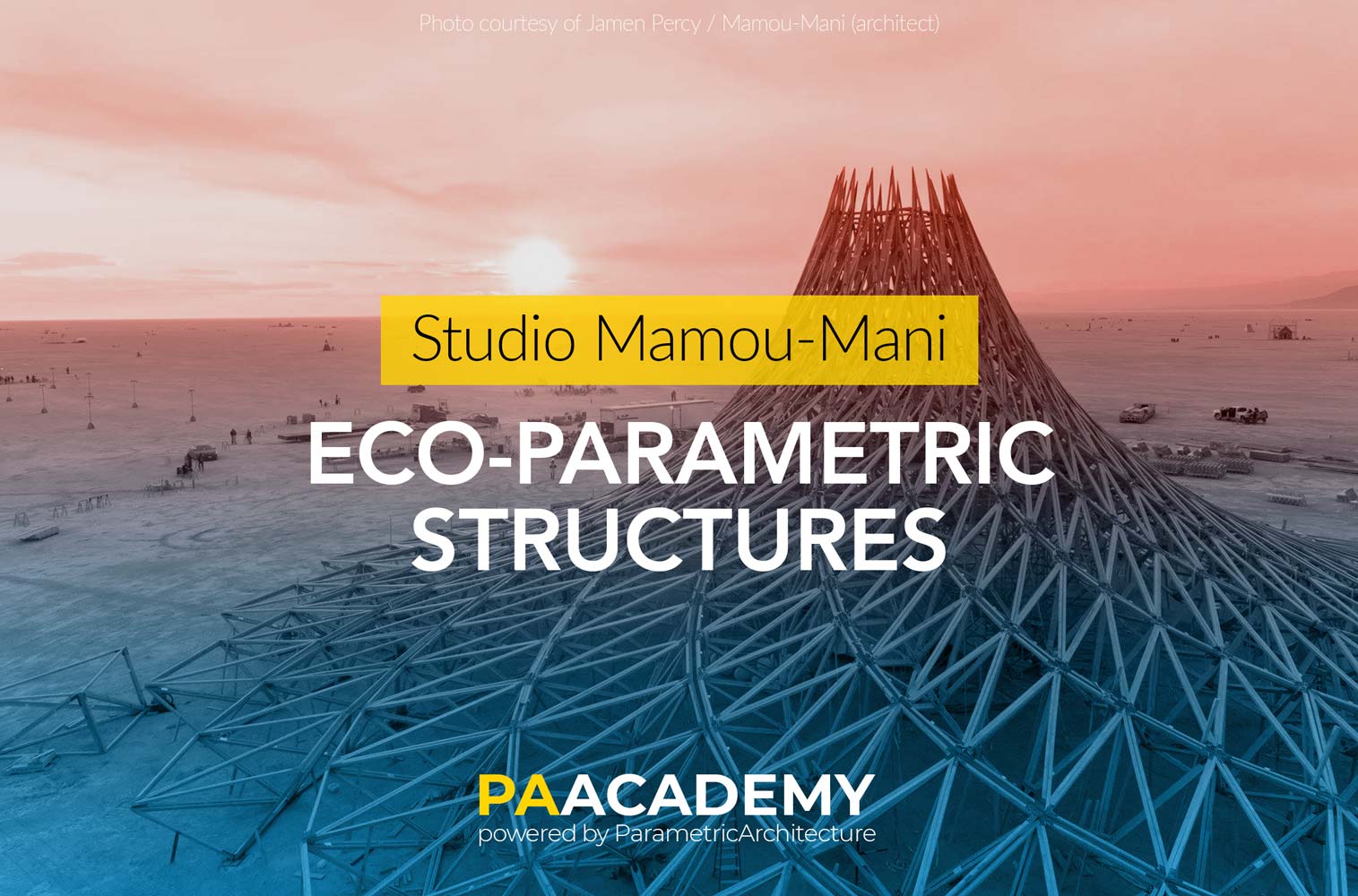 Time: 2nd March – 6th April 2021
Location: ZOOM hosted by PA
Format: Online
Duration: 6 Sessions
Total Hours: 24 Hours
Topic: ECO-PARAMETRIC STRUCTURES
Workshop Type: Online Workshop
Registration Deadline: 25th February 2021
Seats Available: 30 Seats
Organized By: PAACADEMY
Studio: Studio Mamou-Mani
Tutor: Arthur Mamou-Mani & Team
Note: The studio workshop has been ended. You can register and watch the videos.
A look at all forms of wood for construction and how to develop parametric, modular, and environmental architectural systems. 6-week long project-based online studio by PAACADEMY with Studio Mamou-Mani.
Watch PATalks 37 with the instructor, Arthur Mamou-Mani
Syllabus
In the course we will be looking at all forms of wood for construction and how to develop parametric, modular and environmental architectural systems.
From timber to plywood we will study how to develop systems of struts, nodes and surfaces responding to environmental and structural and programmatic factors.
We will learn about lattices, assembly sequences, digital fabrication as well as extracting information from a complex parametric model to create unique and adaptable projects, maximizing inexpensive materials into realistic and exciting architectural projects.
We will look at bottom-up design, and how to grow modular systems through creating and learning from matrices of parametric variations.
We will study the history of algorithmic and parametric design, how it enables the collaborative development of holistic systems and reproduces natural processes for environmental design.
More importantly, we will learn how to let our emotions guide us through this mathematical process.
Draft schedule: activities and faculty
Intro to parametric and timber design techniques
Rhino+grasshopper, geometry fundamentals
Grasshopper intermediate, complex data trees and integrating digital fabrication 4. Grasshopper advanced, using plugins such as kangaroo, weaverbird, hoopsnake, octopus, karamba, parakeet to create fully integrated models using timber.
Workshop, creating parametric matrices, both digitally and physically
Project development iterating and developing timber structure.
Final presentations
Software requirements
Rhinoceros 6.0. Or 7 The 90-day trial version can be downloaded from the website www.rhino3d.com/eval.html
Adobe Suite (Premiere, Adobe After Effects, Adobe Illustrator, Photoshop, InDesign). The 30-day trial version of Adobe Products can be downloaded from the website www.adobe.com/downloads.html.
Exercises
We will be doing regular software workshops and you will be asked to produce portfolio pages including drawings, diagrams, renders, and well as video captures of your parametric systems. These will be used as learning tools but also to help illustrate your progress. You will be asked to produce matrix drawings and models showing variations of your systems in relation to the parameters used.
Deliverables
Every student will need to keep a portfolio and produce videos of their work towards the final presentation. The work will be divided into the following parts:
Research into timber structures, struts and nodes
Research into geometrical 2d and 3d lattices, model making
Implementing first research into a parametric model
Informing models with reality
Creating physical and digital matrices of parametric models
Implementing learnings from matrix to suggested different spatial applications
Final presentations
Eco-Parametric Structures:
With and Beside Measure: Parametric Symmetry

I often wonder if our lack of understanding of the symmetry groups often led us to uninspiring grids or uncontrolled complexity.
In this workshop, we will start with simplicity and build up complexity together.
We will look at the granular and apply symmetry to create crystalline and biophilic architectural systems. From circles, splines, and vectors, we will use reflection, rotations, rotoreflection, and double rotation.
From the struts to the plane and the node, we will explore lattice-like structures and their relationship to external and internal parameters. We will let them grow and test them both digitally and physically with simple models, building the complexity from the bottom-up.
We will be using Mirrorlab, Rhino 7, and Grasshopper to create matrices of options. We will document our complexity like gardeners and display all possibilities.
This is an applied workshop, we will learn through involvement, so expect homework! You will work in groups of 5 to distribute the tasks and produce a more complete project.
Week 1: 3 hours long lecture + 1 hour GH/mirror lab intro
Week 2: 1 hour long lecture + 2 hour Presentation from students + 1 hour GH Class
Week 3: 2 hour Presentation from students + 2 hours GH Class
Week 4: 2 hour Presentation from students + 2 hours GH Class
Week 5: 2 hour Presentation from students + 2 hours GH Class
Week 6: 4 hours presentations from students in front of jurors.
Important Notes:
Studio Mamou-Mani by PAACADEMY will start on 2nd March on Tuesday at 14:00 UTC and will continue each Tuesday till the last session on 6th April.
Start date: Tuesday, 2nd March 2021
End date: Tuesday, 6th April 2021
Total sessions: 6 Sessions
Daily schedule: 14:00 – 18:00 UTC (4 hours each session)
Each session and the entire studio will be recorded and videos will be available for participants just a day after the class.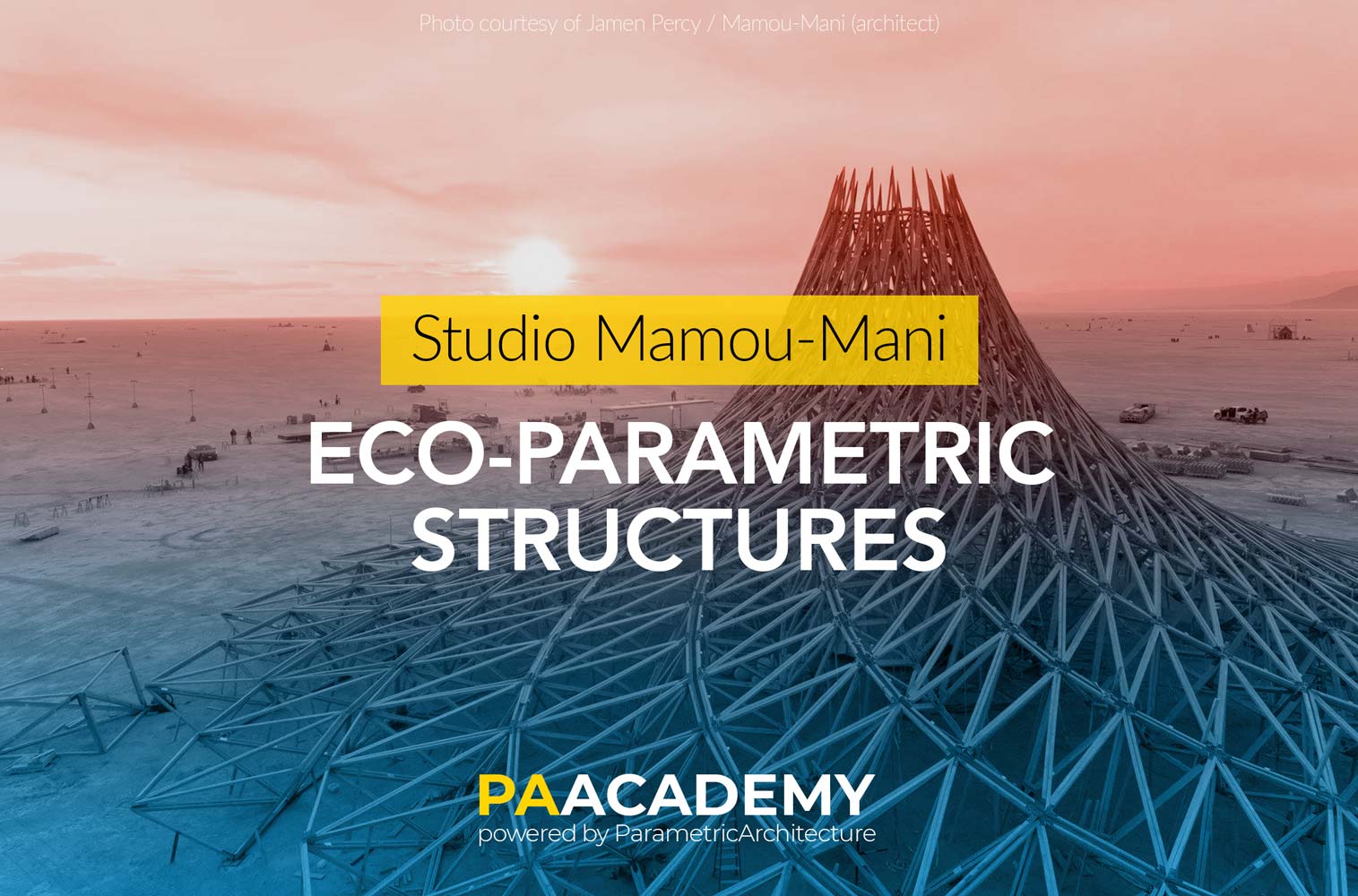 Time: 2nd March – 6th April 2021
Location: ZOOM hosted by PA
Format: Online
Duration: 6 Sessions
Total Hours: 24 Hours
Topic: ECO-PARAMETRIC STRUCTURE
Workshop Type: Online Workshop
Registration Deadline: 25th February 2021
Seats Available: 30 Seats
Organized By: PAACADEMY
Studio: Studio Mamou-Mani
Tutor: Arthur Mamou-Mani & Team