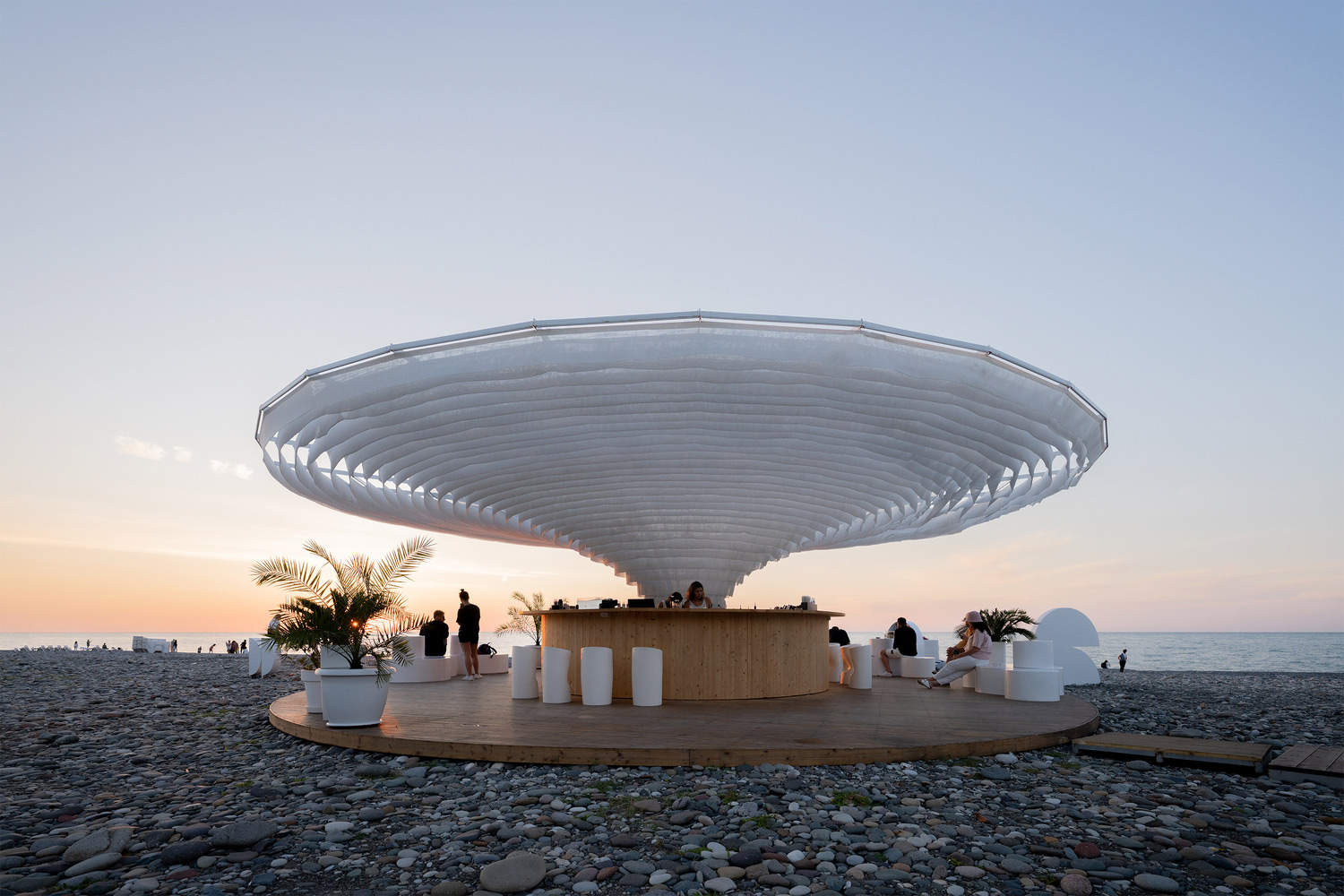 Meama Collect Beach is a space that would become a meeting point with a small beach. People would go about daily, hang out, unwind, and enjoy the beach. In response, Khmaladze Architects created a simple but essential gesture that might become a minor focus point nearby.
Meama Collect Beach bars are impermanent, seasonal installations on Batumi seaside that serve as some of the brand's anchor points. The project location is between Batumi Boulevard and the shore. It calls the visitors to experience the installation and the atmosphere.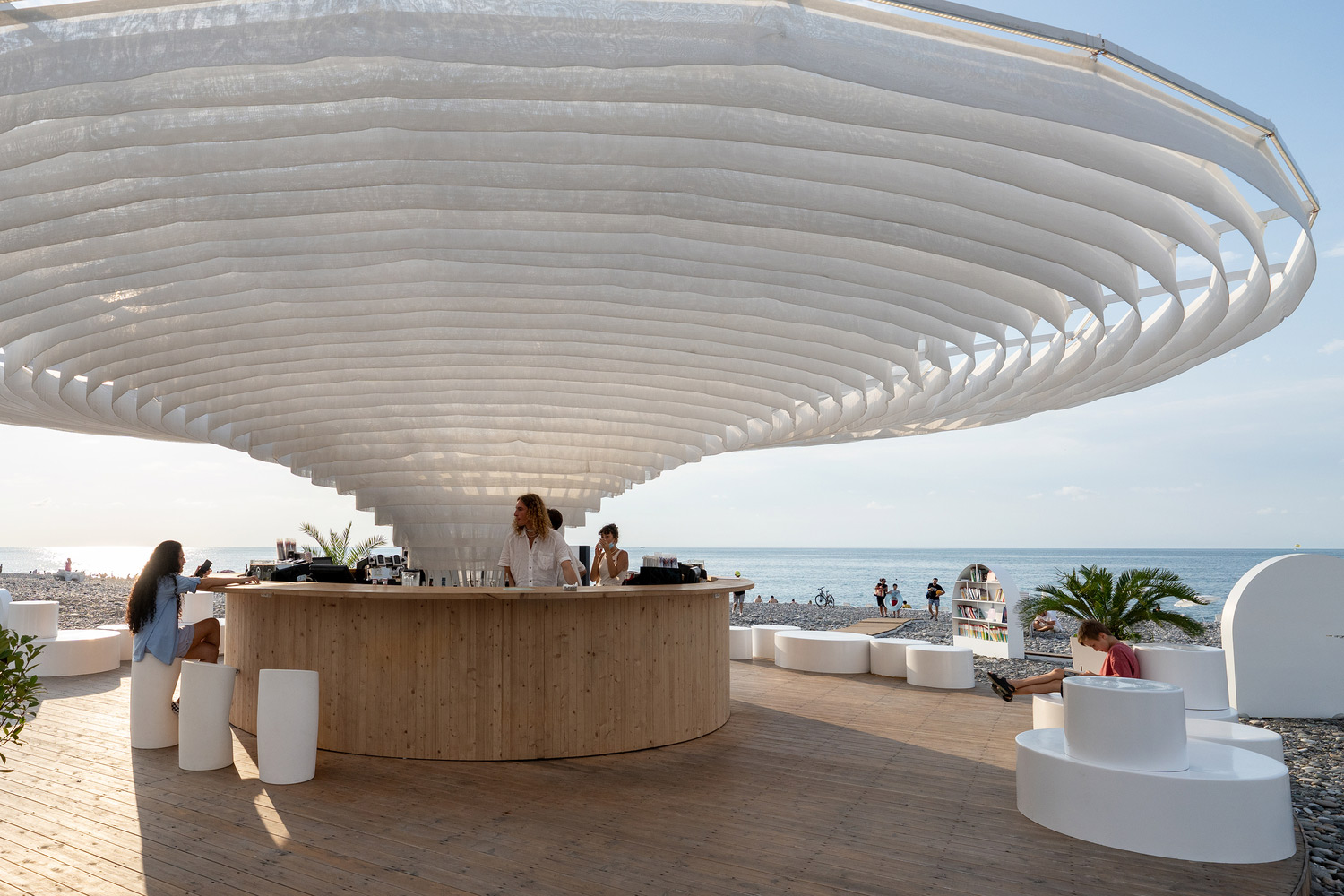 According to Giorgi Khmaladze, founder of Khmaladze Architects, The place itself inspired the project. They wanted to use the waves and breeze that produce different rhythms along the seashore as a force to build a structure that would react to these rhythms and, in a sense, engage in dialogue with its surroundings. Additionally, The seashore is a huge expanse of perpetual activity.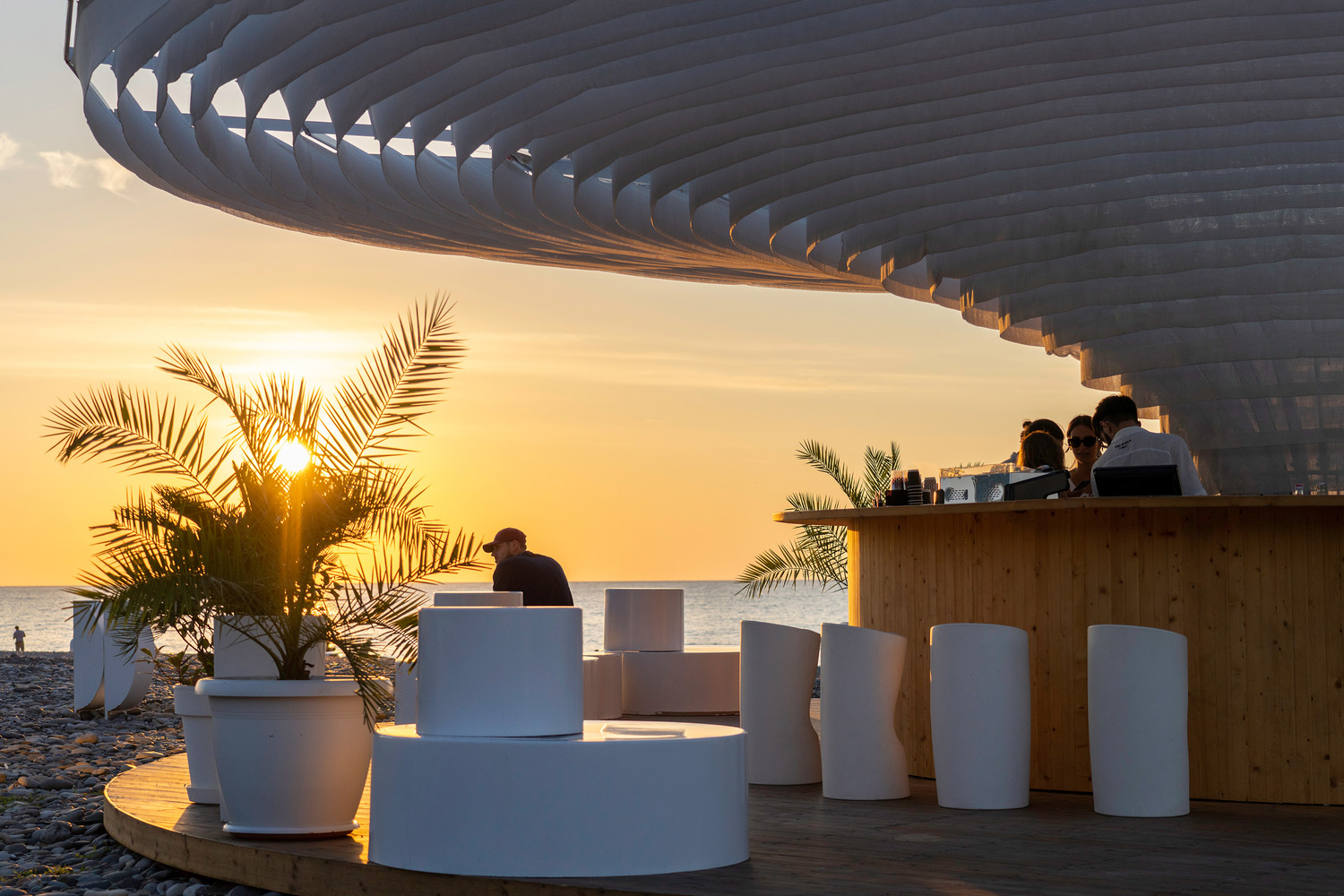 Structure & Lighting
The eye‐catcher is the cloud‐like, lightweight, dynamic canopy that interacts with the constant wind. The key objective was to create a temporary assembly that would dismantle and reassembled. The structure touches the ground, and as it rises, it expands into a 100-square-meter canopy. The frame encloses with fabric belts to respond to the beach atmosphere and avoid a heavy appearance. This lightweight creates the feeling of the sea waves. For this mesmerizing lighting, Khmaladze Architects has worked with Lightstudio.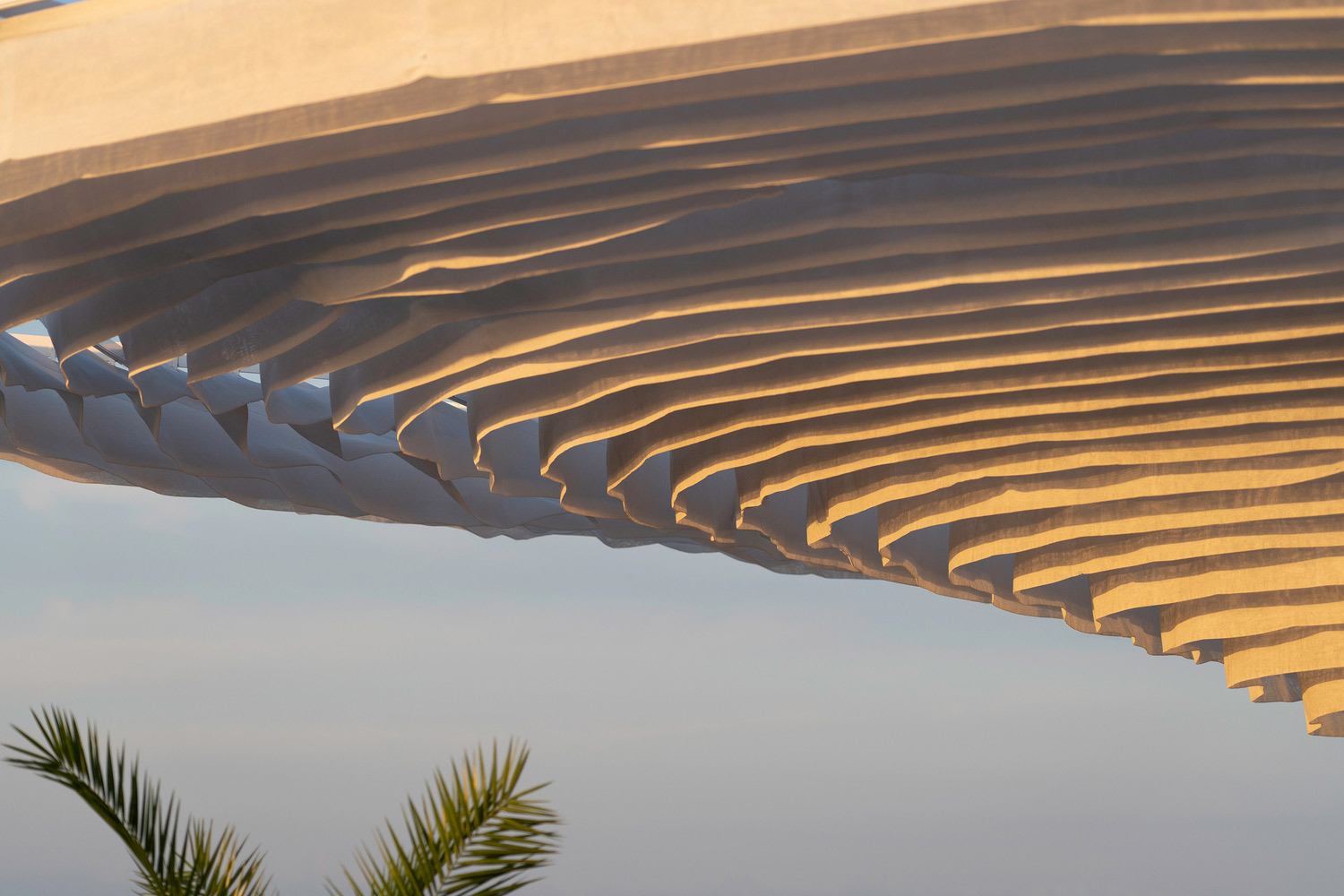 One of the project's main challenges was creating a structure that would be strong enough to withstand strong winds and look aesthetic. It would need to anchor in one place, but the foundation couldn't be deep, owing to the requirement for a temporary building. Khmaladze Architects has closely worked with the structural engineers of Cubicon and made numerous modifications to the shape, profiles, and design of all the elements to make this possible.
This installation is always moving, which fits well with the beat and cool ambiance of the beach. In that way, the space surrounding the bar may be easily reconfigured to accommodate various visitor groups as needed.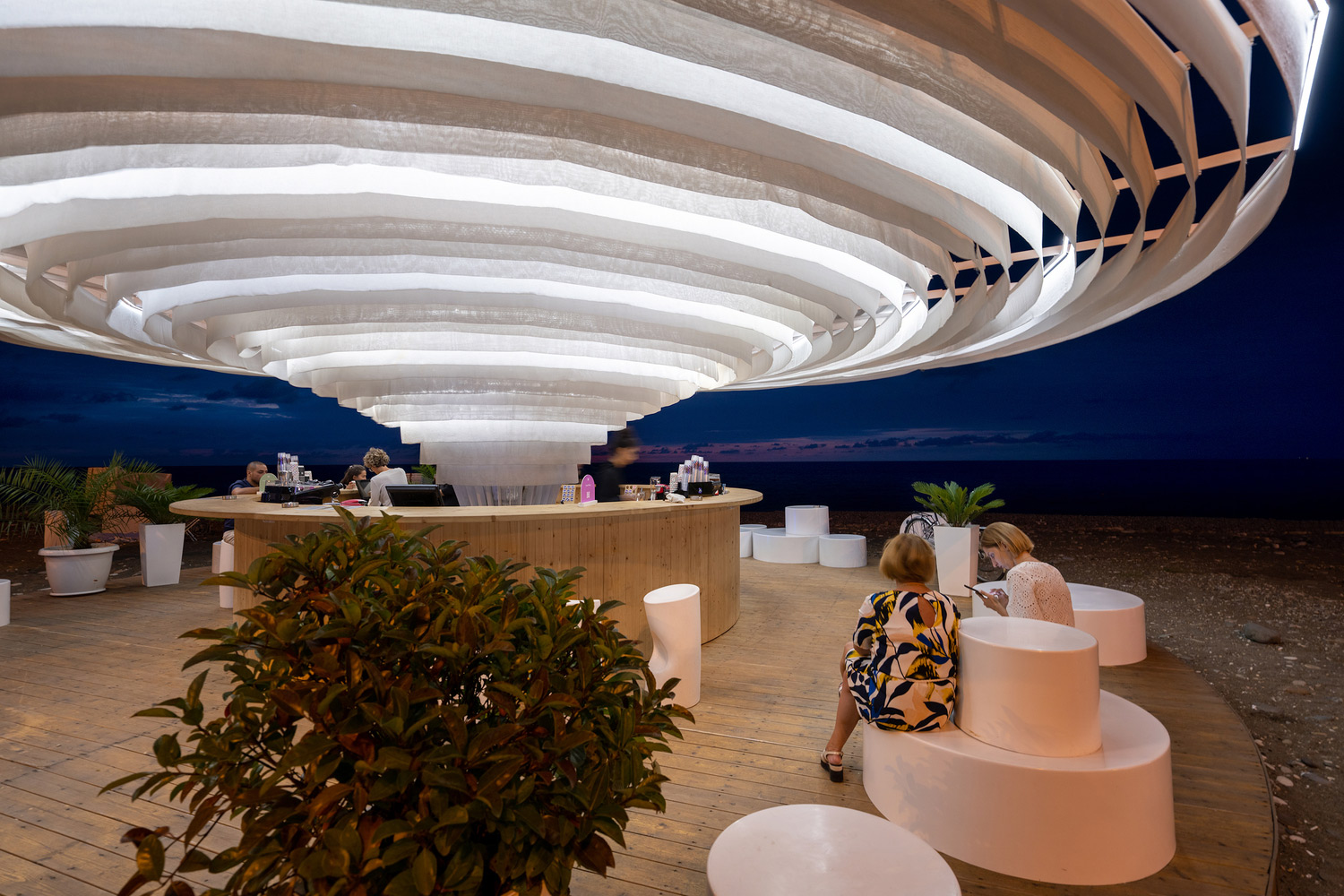 Project Info
Firm: Khmaladze Architects
Type: Commercial, Pop-Up Retail
Status: Built
Year: 2021
Location: Batumi, Georgia
Size: 0 sqft – 1000 sqft
Structural Engineers: Cubicon
Lighting: Lightstudio
Photographs: Giorgi Khmaladze