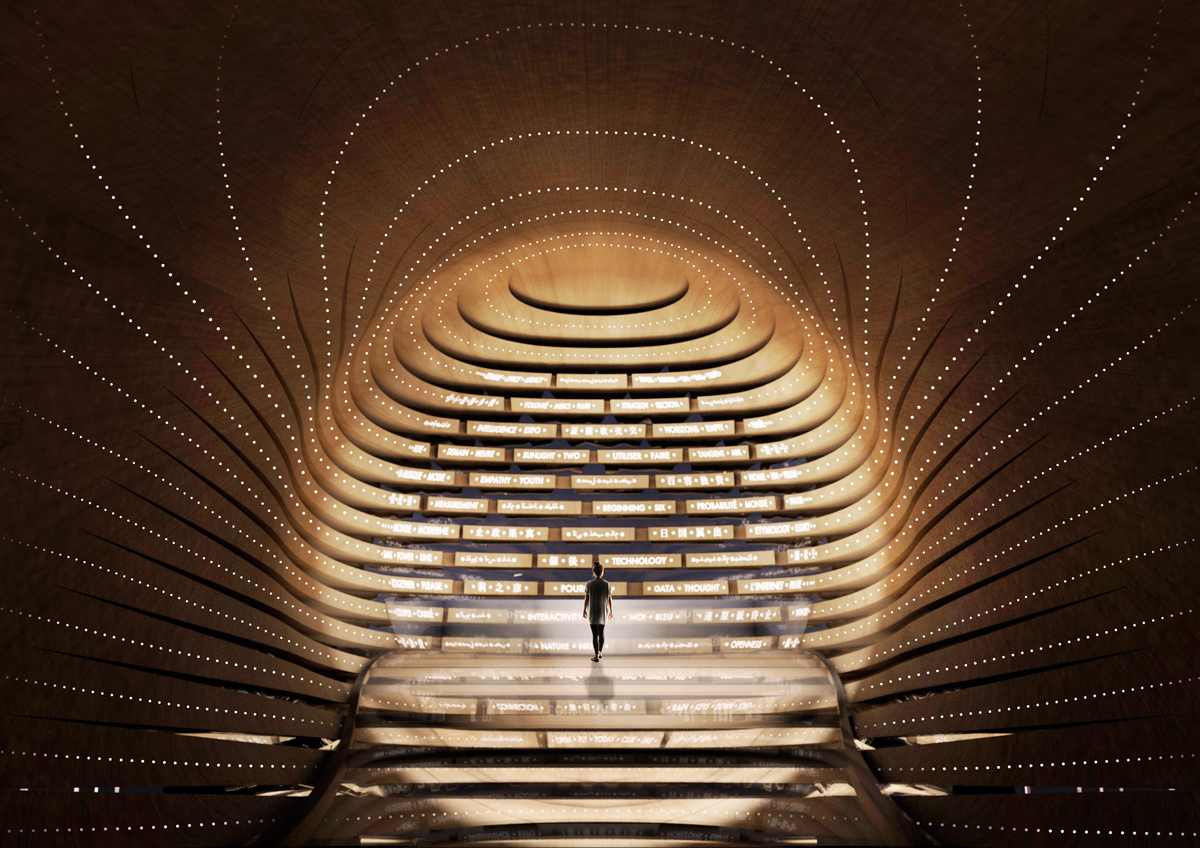 Poetry predates written text, from ancient times it was sung, recited and orated to now being compiled to books and digital audio formats. UK Pavilion also known as Poem Pavilion visioned by the leading artist and designer Es Devlin at Expo 2020 Dubai, takes a leap at collectively bringing together the world. The design strikes as a conical giant wooden instrument, with each elemental part exhibiting words input by the visitors. Integrating advanced machine learning algorithm aids in generating the cumulative collective poem that illuminates upon the twenty-metre diameter facade.   
Learn more about parametric and computational design from pioneers at the CD NEXT conference series:
Devlin, being the first woman designer of the UK pavilion since 1851, conceives the building to express Britain as a cultural gathering arena, with an influx of assembling and blending ideas and languages from across the globe. Along the Expo's six-month run, twenty-five million visitors stroll through the magnificent structure, and they would implore each to donate a word at the 'mouthpiece' of the pavilion.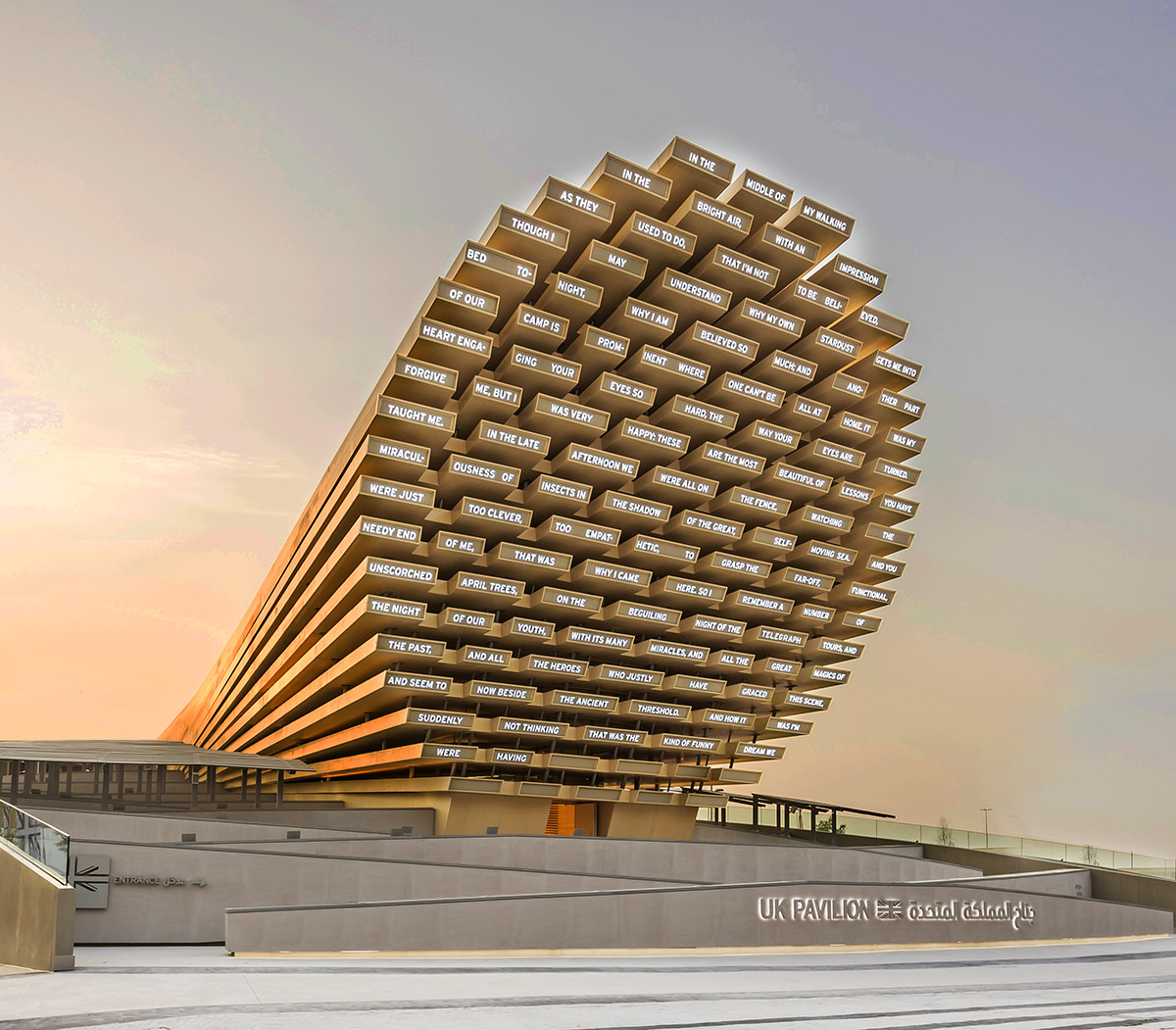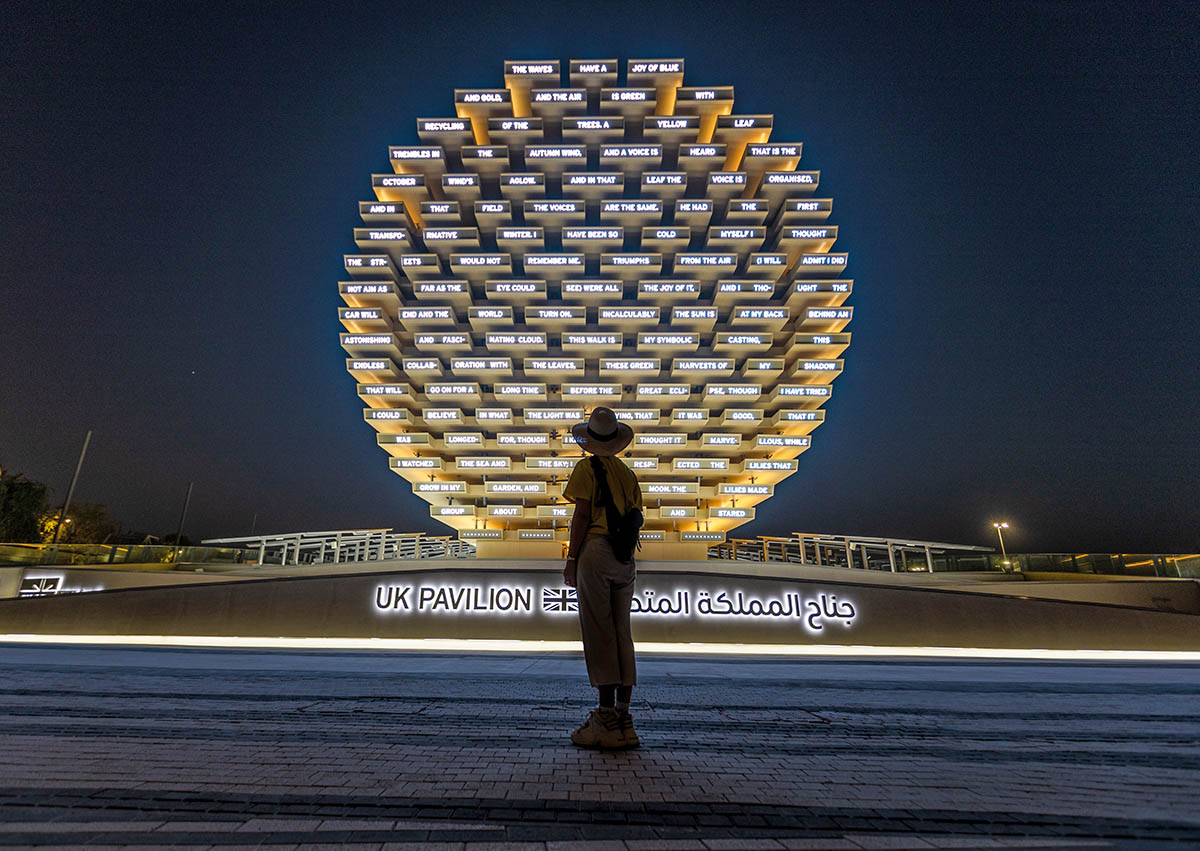 As you enter within the heart of the instrumental structure, a glorious array of glimmering words captivates you in illuminated Arabic and English. The scintillating experience also underscores a soundscape gathered from multicultural choirs across the UK. As you emerge through the pavilion's facade, you channel through the twenty-metre diameter composition of displayed collective text: Here you stand, take a breath and gaze up to a new poem being generated every minute.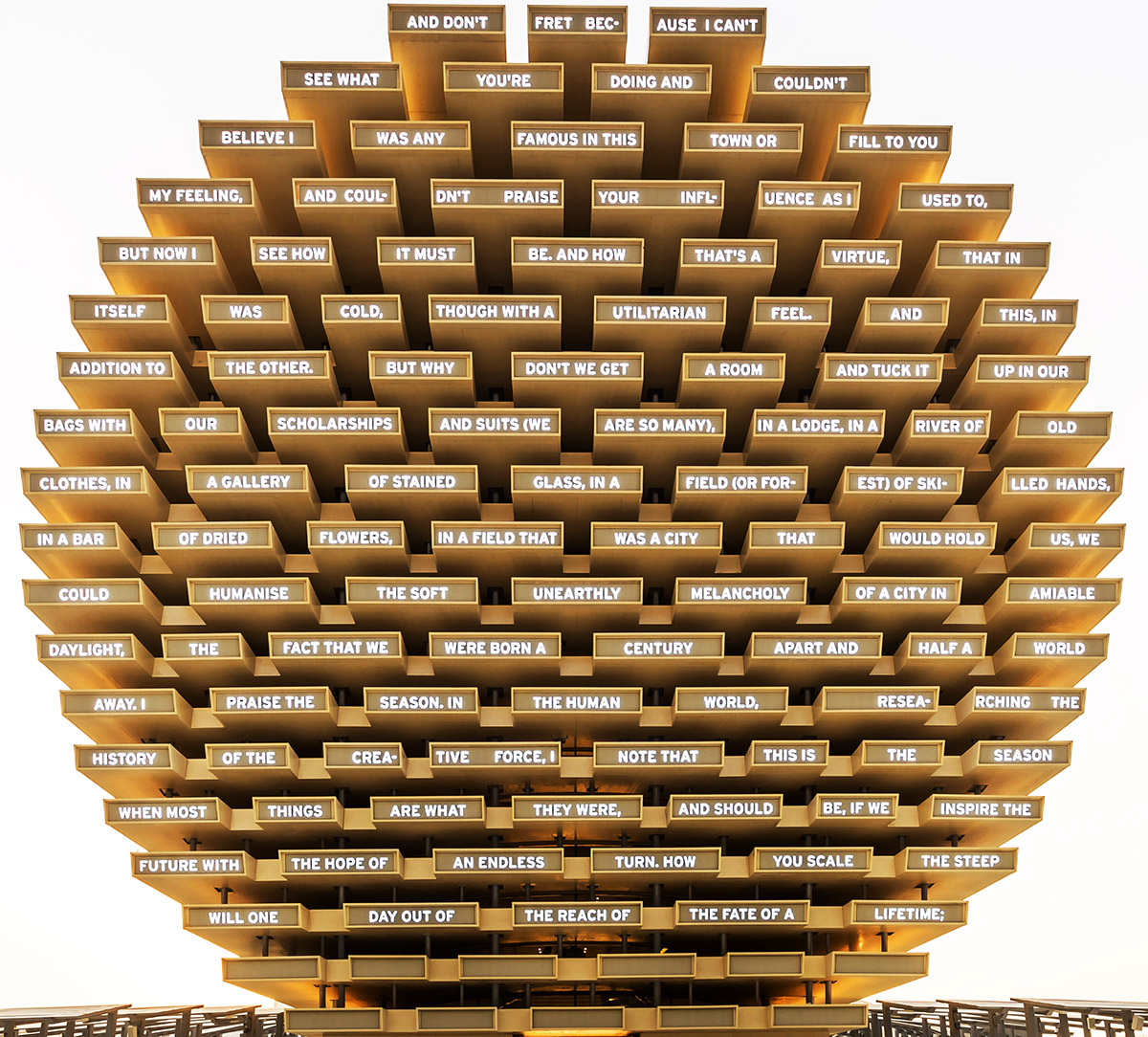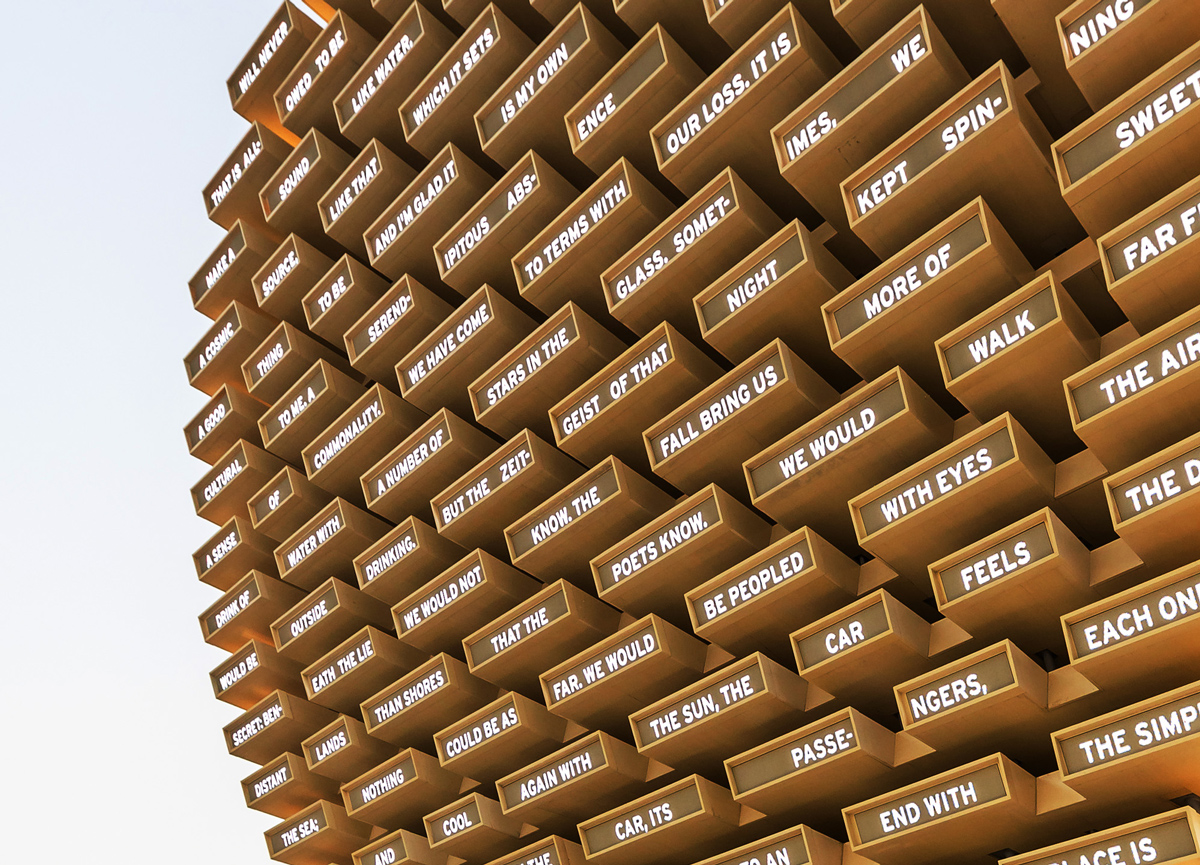 "Algorithms are among us. They are an ever-growing part of our culture; their output is based on what they are trained on and who trains them. The pavilion is at once an expression of the ideal of a culturally diverse Britain that I grew up with, tempered with our growing awareness of the part algorithms play in shaping the future of our culture." – Es Devlin.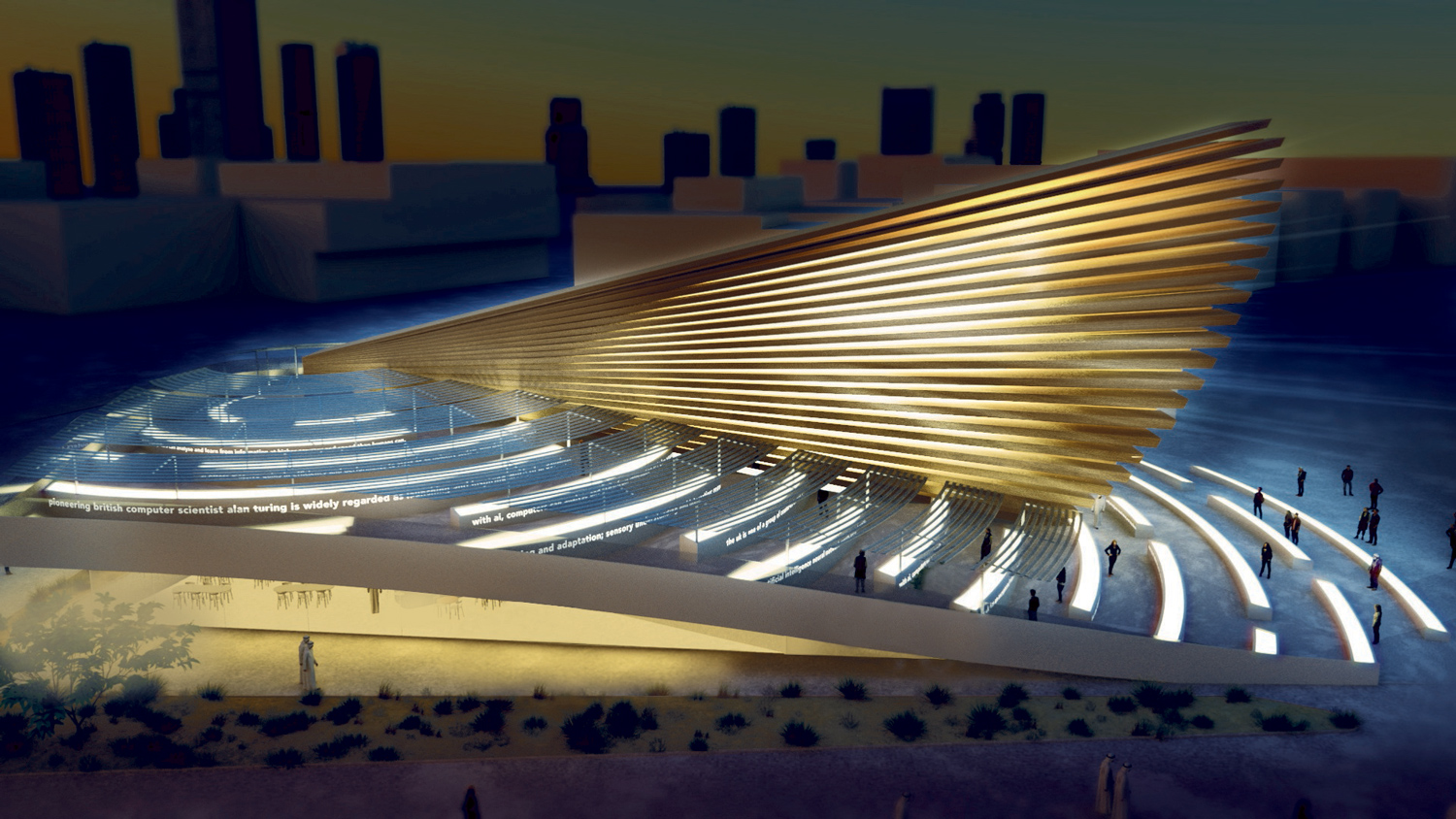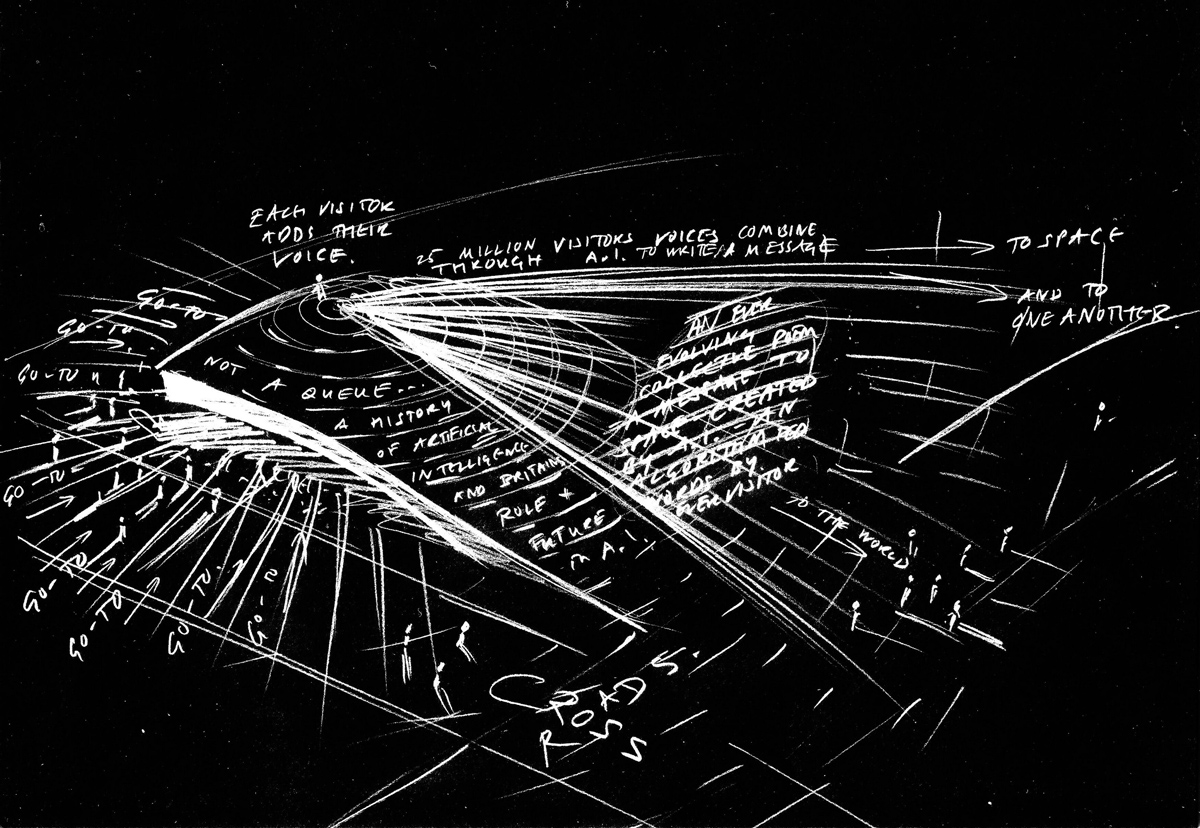 Devlin had close collaborations for design with structural engineers, Atelier One, environmental design consultants Atelier Ten, executive architects Veretec and creative agency Avantgarde to streamline her dream to reality. The engineers' expertise guided in sustainable construction methodologies. The design team forayed to use cross-laminated timber as the UK pavilion's prime material. They could source the material from sustainably managed European forests in Austria and Italy, also got advocated by engineers as a sustainable alternative to concrete and steel. The cross-laminated timber crafts around LED tiles engineered in Belgium and manufactured in China, installed by local British and UAE teams. Creative technologists from California developed the poetry generating algorithm with the ability to weave words into meaningful lines. Expression by the notion of cultural inclusivity, the pavilion conceives and executes its feat as a European and international collaboration.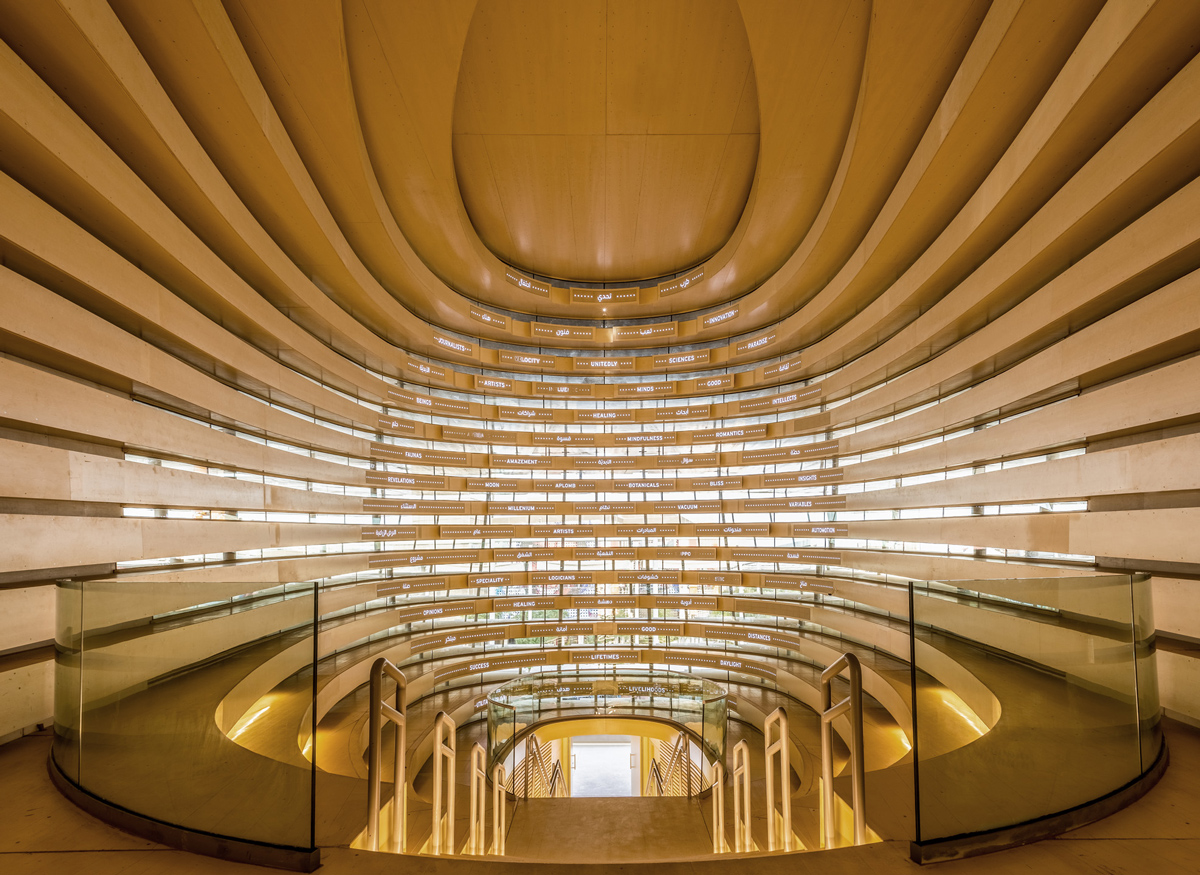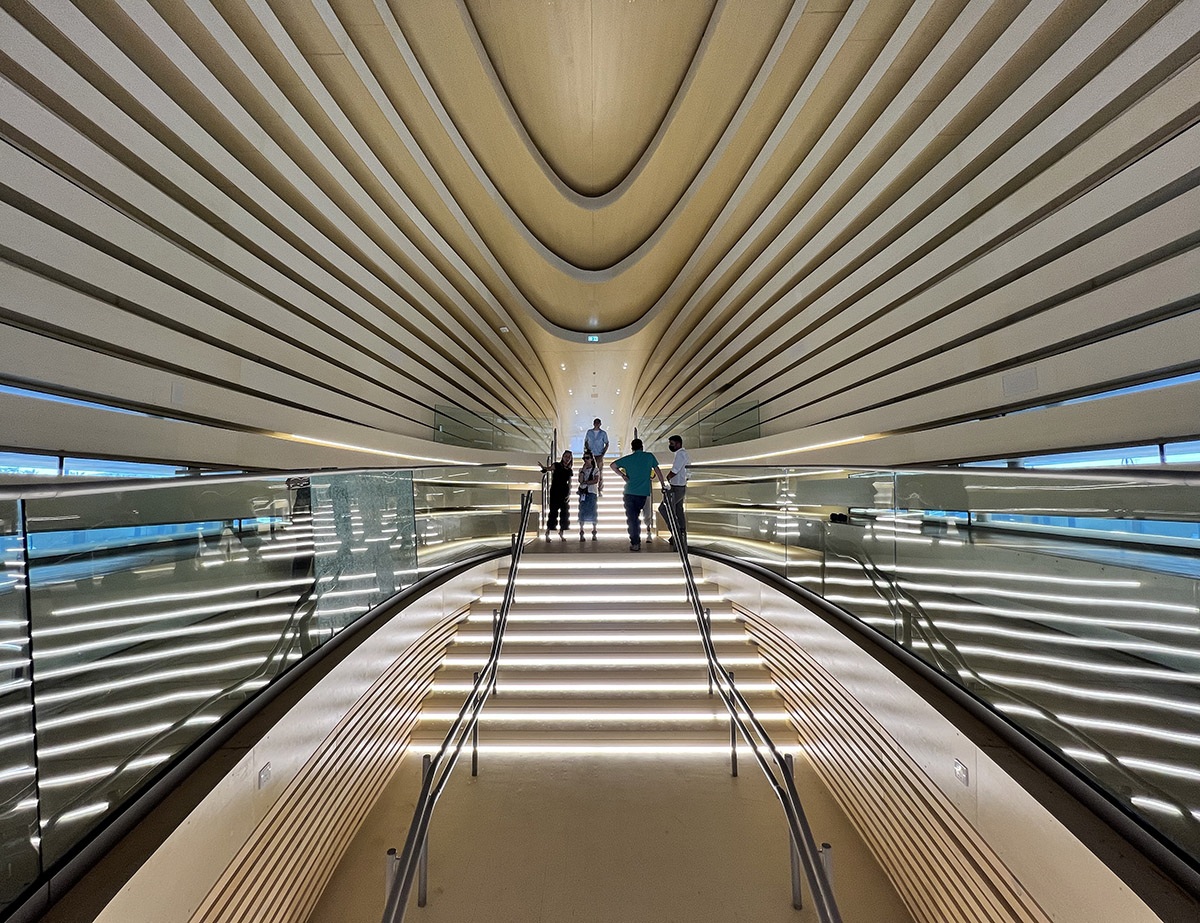 Devlin's machine-generated poetry exploration began with Poem Portraits at the Serpentine Gallery in 2016 in response to curator Hans Ulrich Obrist's invitation to reflect on the idea of a 'social sculpture'. In 2017, she undertook her explorations to the Victoria & Albert Museum, espousing their annual artist-conceived Christmas tree into a collective carol. In 2018, visitors donated words at one of the lion's mouths in Trafalgar Square and observed their collected text forming poetic stanzas projected along the Nelsons column.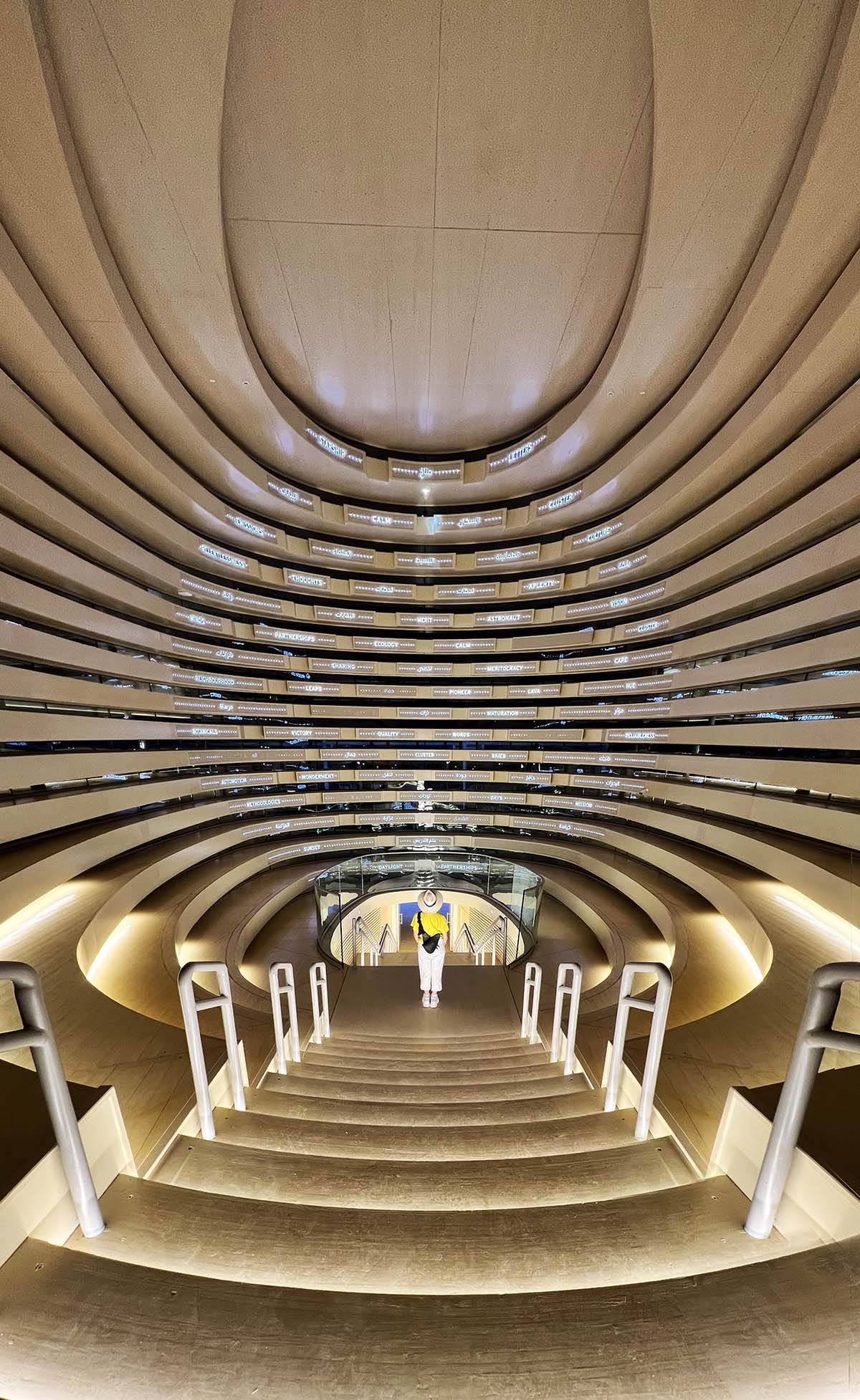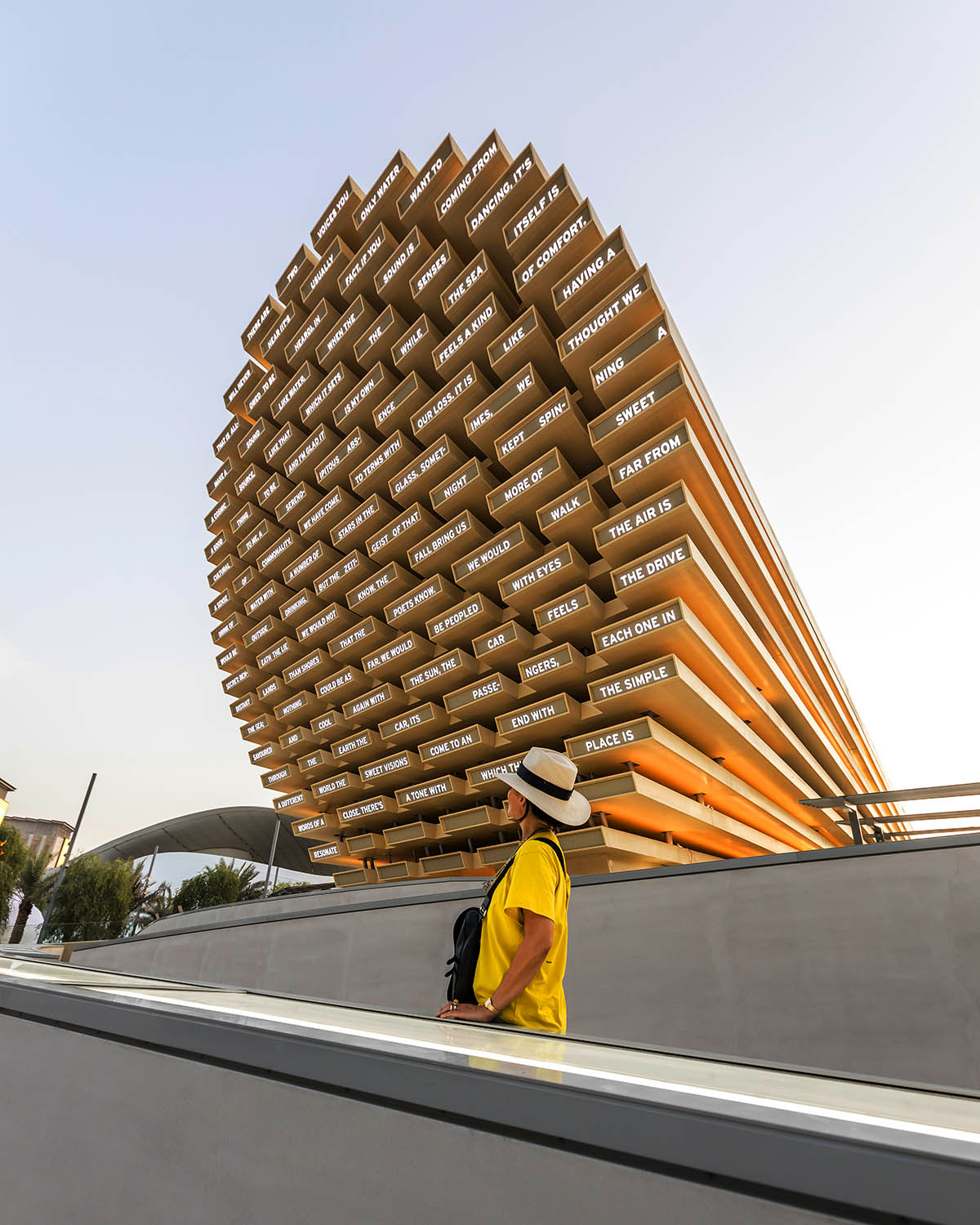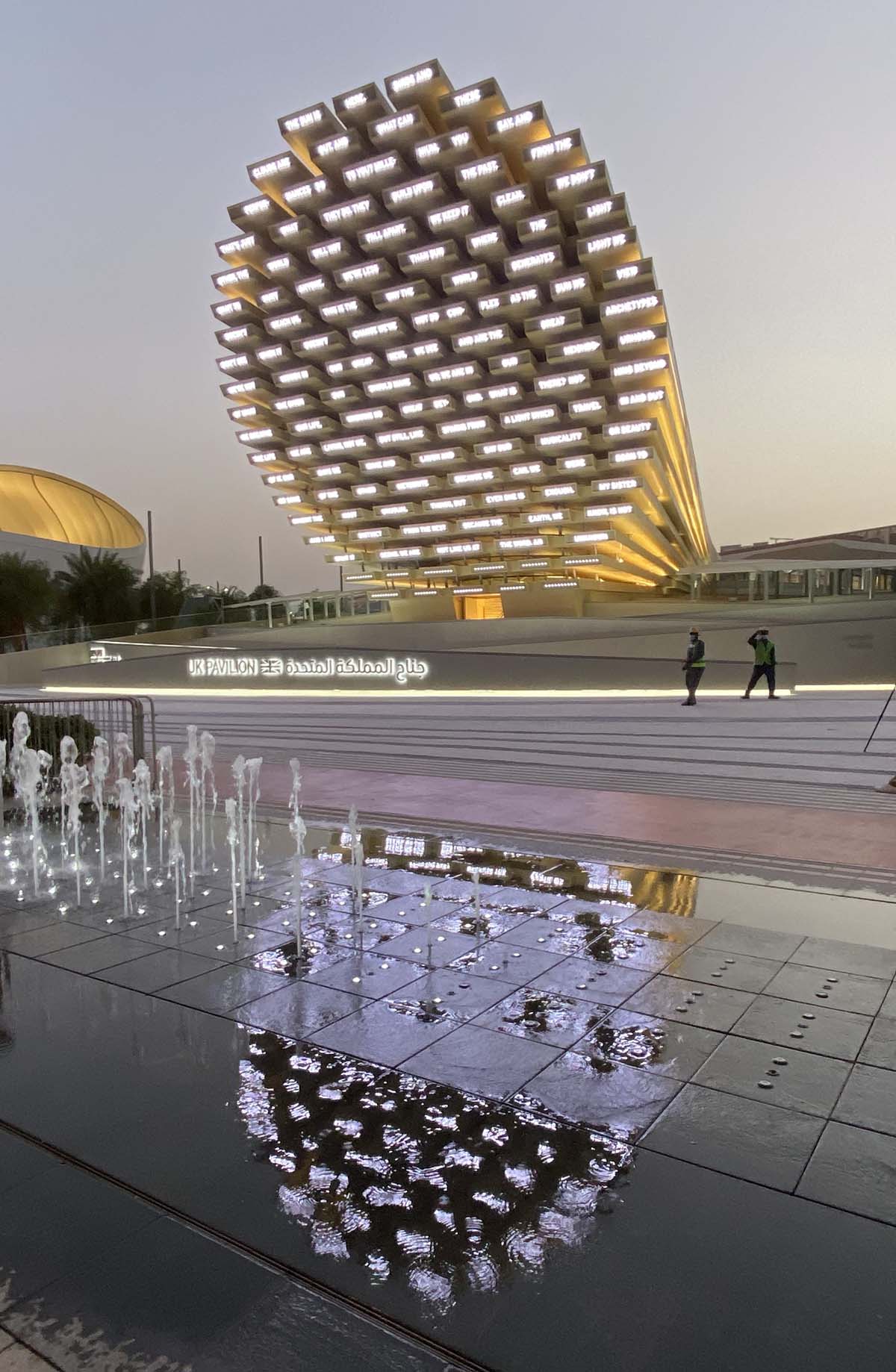 The UK Pavilion/Poem Pavilion integrates a machine learning model called GPT-2; an exclusive language model defined by 1.5 billion parameters. GPT-2 went aboard and trained on a broad spectrum of internet text, then fine-tuned on a diverse and carefully curated collection of over five thousand poems—that inculcated two hundred thousand lines of poetry refined and repeated over months of iterative feedback from the diverse poetry curators' team.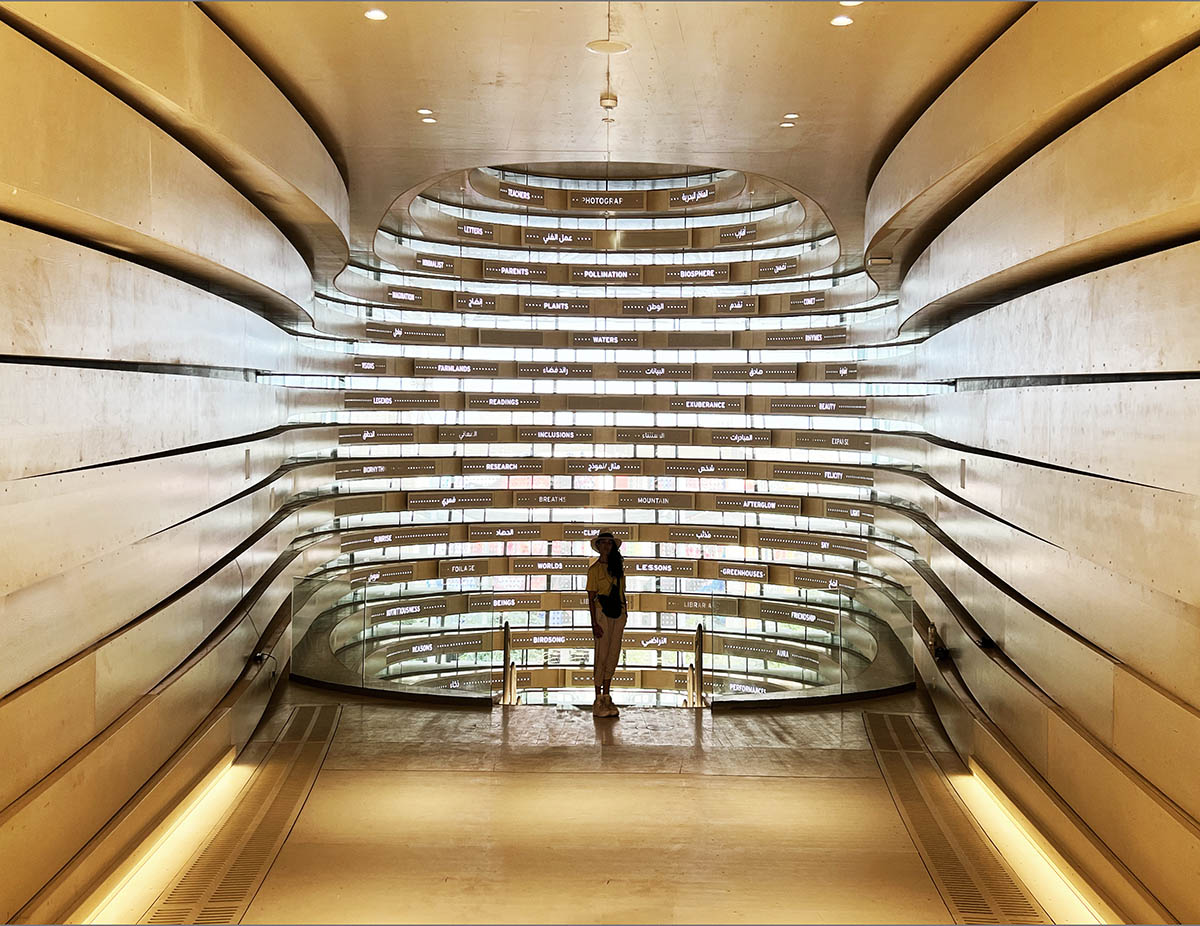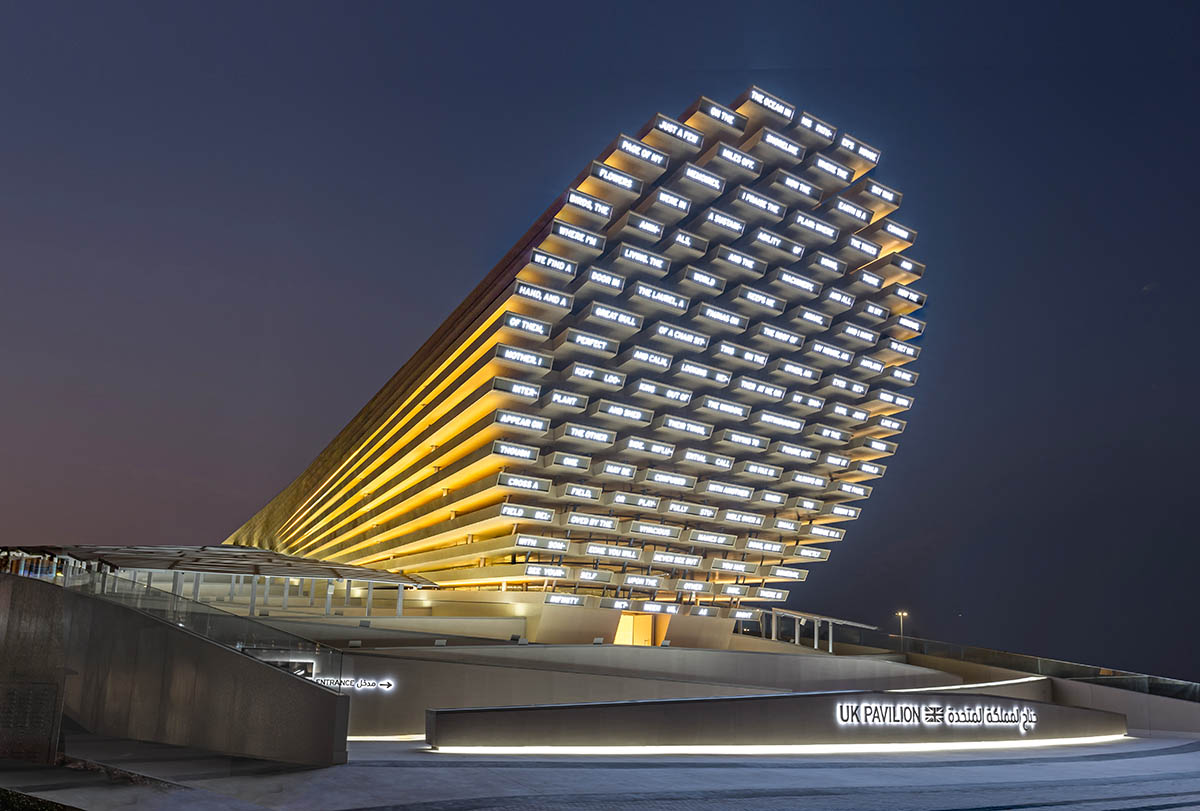 UK pavilion stands bold with a definitive architectural sparkle, while making a statement and literally fashioning words in poetic phrases.
Photographs: Alin Constantin Photography