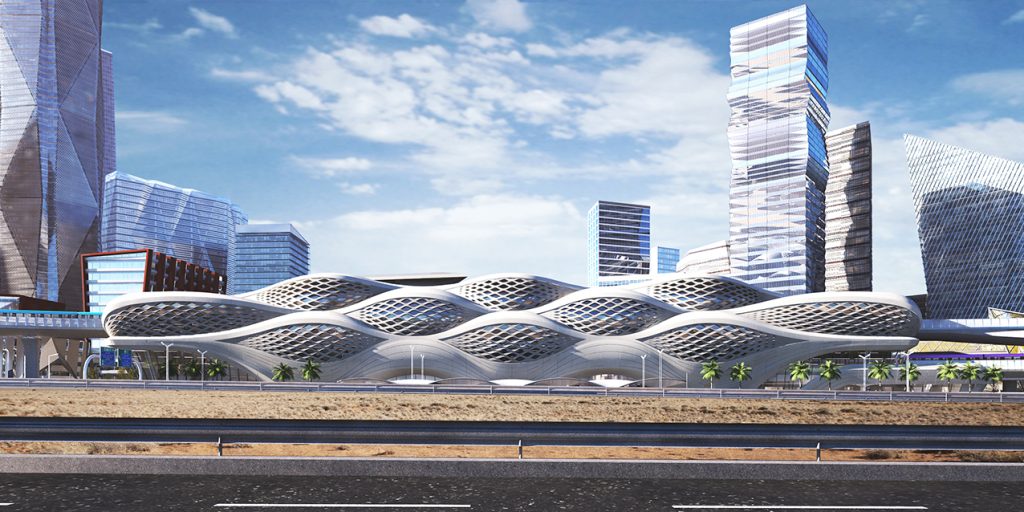 The KAFD Metro Station, designed by ZHA (Zaha Hadid Architects) with assistance from the RDA Architects team, is made up of a subset of elements that are highly correlated through repetition, symmetry, and scale to simplify technical challenges without sacrificing spatial quality or design ambition. The station's design incorporates future possibilities for additional renewable energy capabilities that can achieve LEED Gold accreditation, with a goal of LEED Silver certification.
The KAFD Metro Station is a key interchange on the new network for the Blue Line (Line 1), the Yellow Line to the airport (Line 4), and the Purple Line (Line 6), as well as a sky bridge connecting to the local KAFD monorail. The station, which has six platforms on four public levels and park-and-ride facilities, is an important multimodal transportation hub as well as a new public space for the city that is completely integrated into the district.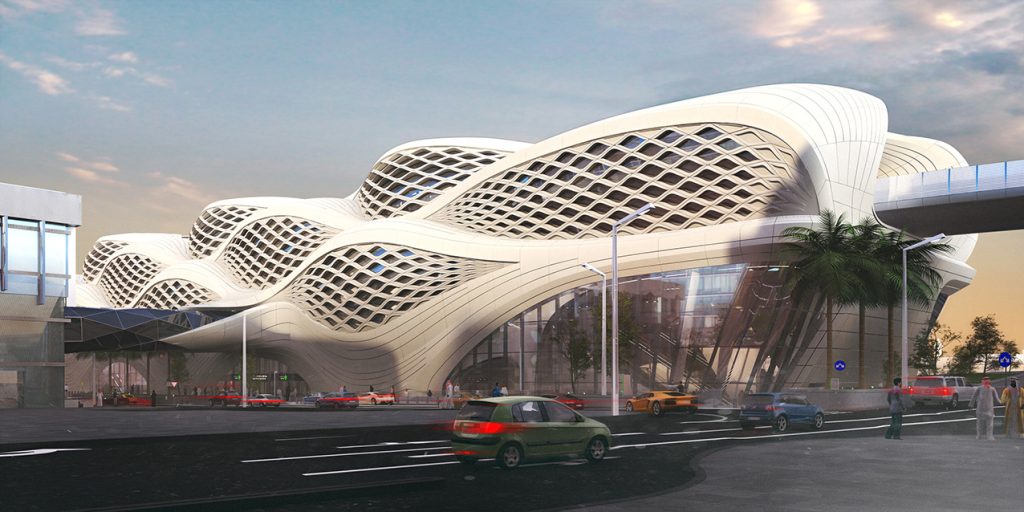 A sky bridge connects the station to the local monorail. The KAFD Metro Station will be integrated within the urban context of the financial district, with six platforms spread across four public floors and two levels of underground car parking, responding to the functional requirements of a multimodal transport center and the district's future vision.
The project goes beyond the uncomplicated station typology to highlight the building's reputation as a dynamic, multi-functional public space; not only an intermediate place perceived through quick evolutions but also a public space for the city.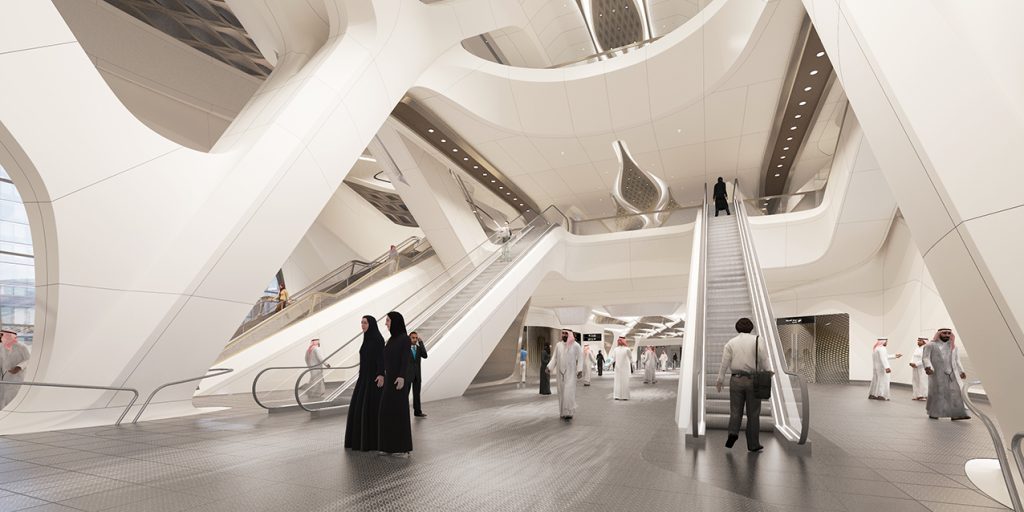 Traffic and connectivity diagrams have been mapped and structured across the site to clearly delineate pedestrian routes within the building, optimize internal circulation, and avoid congestion. The resulting configuration is a three-dimensional lattice defined by a series of opposing sine waves that serve as the building's circulation spine. These sine waves are extended to the station's envelope and are strictly associated with its internal layout, bringing the architectural concept to the outside.
Parenthetically, If you are curious to learn more about hyper patterns, and complex geometries you can check the Hyper Patterns – Studio Arian Hakimi by PAACADEMY.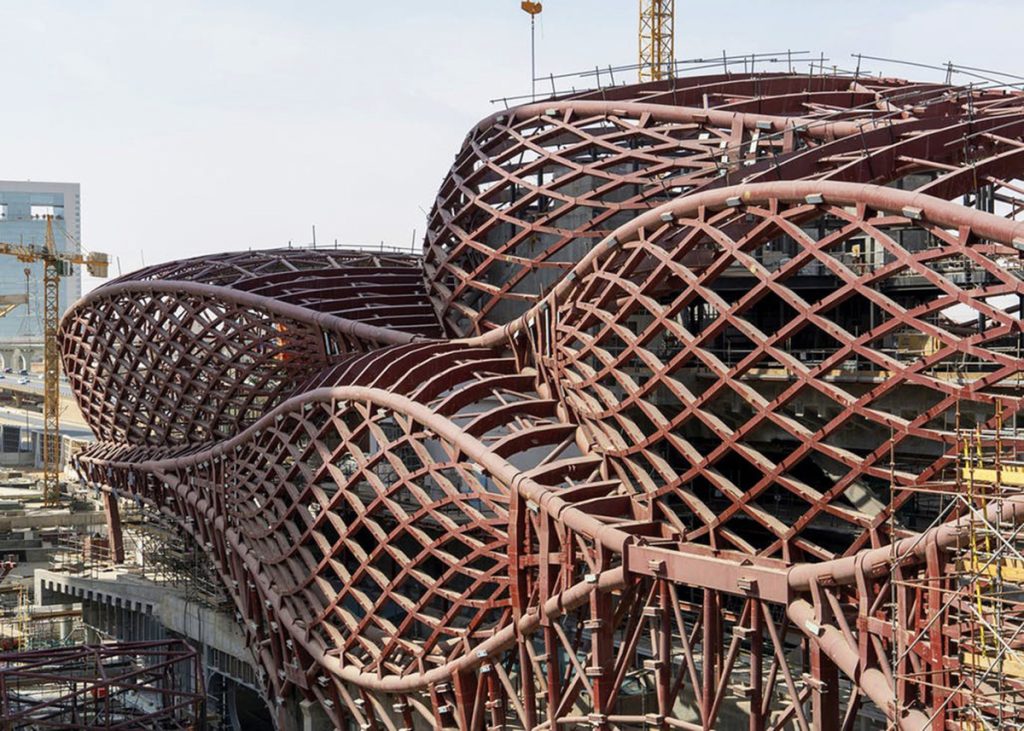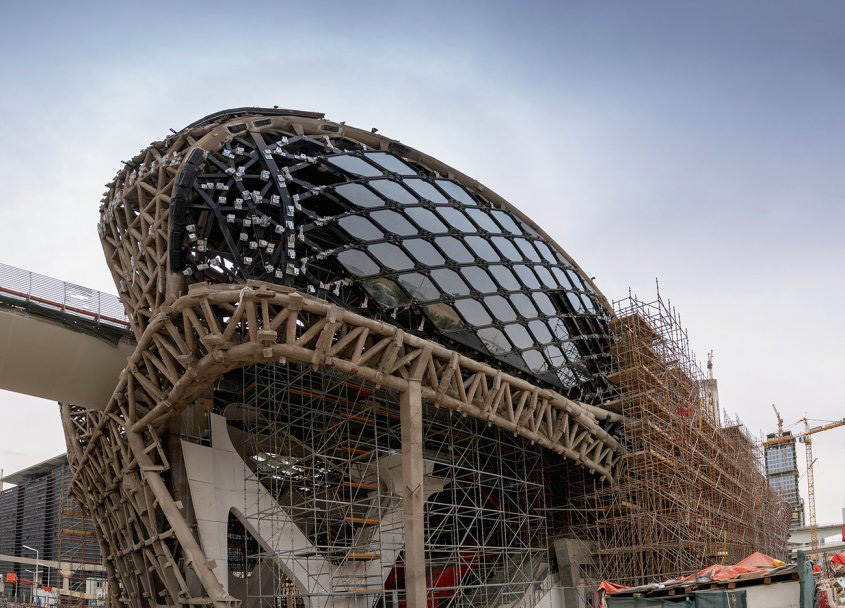 Project Info
Architects: Zaha Hadid Architects
Project Director: Gianluca Racana, Filippo Innocenti
Project Architect: Fulvio Wirz, Gian Luca Barone
Area: 20,434 m2
Status: Under Construction
Design Team: Alexandre Kuroda, Fei Wang, Lisa Kinnerud, Jorge Mendez-Caceres
Project Team: Marco Amoroso, Vincenzo Caputo, Abdel Halim Chehab, Lee Cubeddu, Rawan Al-Derjem, Domenico Di Francesco, David Fogliano, Manuele Gaioni, Subharthi Guha, Alexandros Kallegias, Lisa Kinnerud, Alexandre Kuroda, Stefano Iacopini, Carolina López-Blanco, Jamie Mann, Mohammadali Mirzaei, Arian Hakimi Nejad, David Wolthers, Nicola McConnell, Mario Mattia, Massimo Napoleoni, Niki Okala, Carlos Parraga-Botero, Sohith Perera, Izis Salvador Pinto, Carine Posner, Neil Rigden, Paola Salcedo, Nima Shoja, Thomas Sonder, Vincenzo Reale, Kate Revyakina, Roberto Vangeli, Seungho Yeoz
Competition Team: Alexandre Kuroda, Fei Wang, Lisa Kinnerud, Jorge Mendez-Caceres
Structural Engineer: Buro Happold
Services: Buro Happold
Transport and Civil Engineering: Buro Happold
Fire Engineering: Buro Happold
Façade Consultant: NewTecnic
Cost Consultant: Davis Langdon