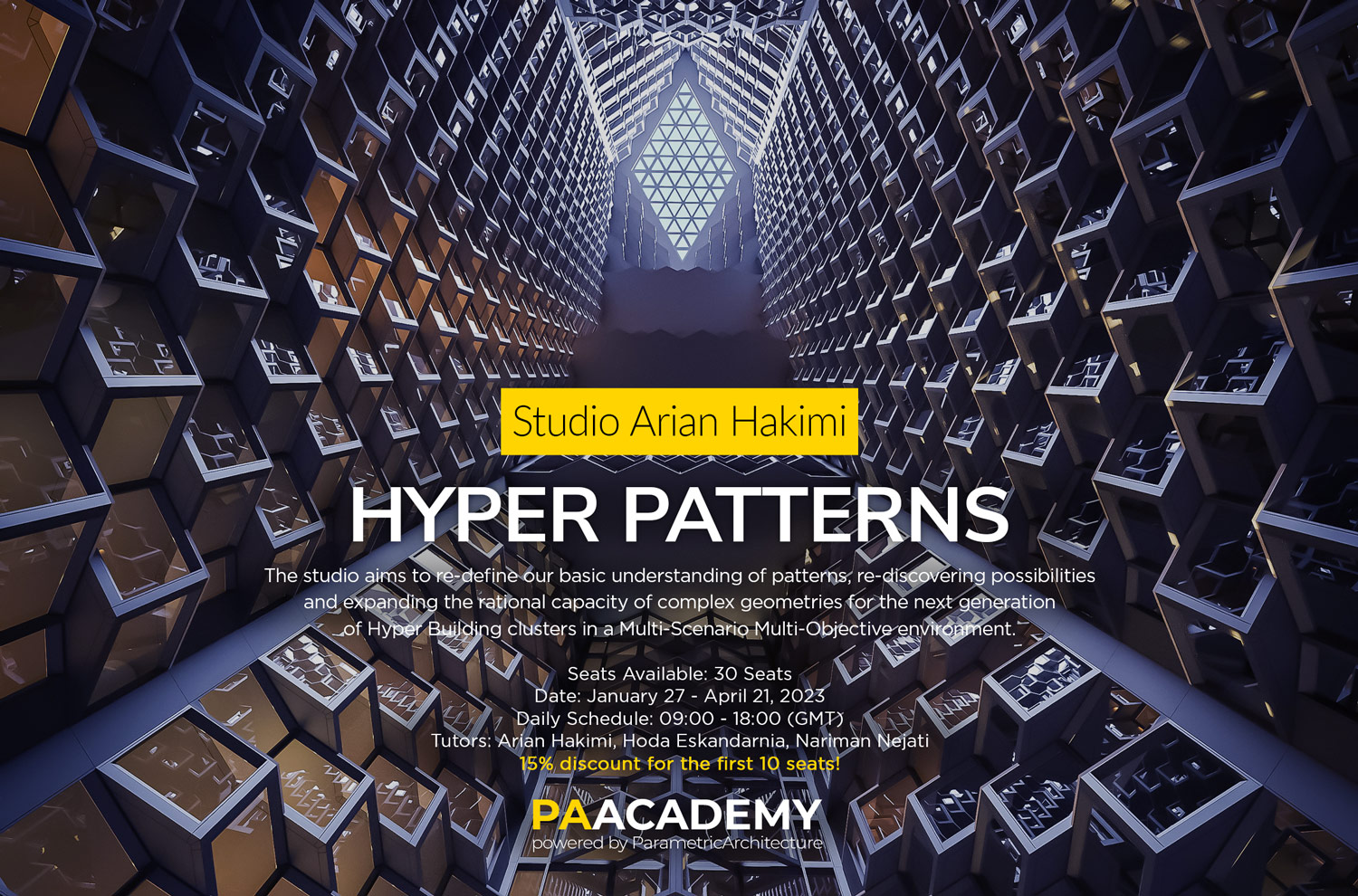 Topic: Hyper Patterns
Dates: January 27 – April 21, 2023
Time: 09:00 – 18:00 GMT
Format: Online – Zoom
Duration: 9 + 1 Sessions (90 Hours)
Price for Digital Members: €475 (Closed)
Early Registration Fee: €580 (15% discount for the first 10 seats)
General Registration: €680
Recordings On-Demand: €800
Registration Deadline: January 26, 2023
Total Seats: 30
Organized By: PAACADEMY
Tutors: Arian Hakimi – Nariman Negati – Hoda Eskandarnia
The studio aims to redefine our basic understanding of patterns, re-discovering possibilities and expanding the rational capacity of complex geometries for the next generation of hyper-building clusters in a multi-scenario multi-objective environment.
Hyper Patterns studio
The Hyper Patterns design studio offers a fusion of academic knowledge and professional experience. Each applicant's contribution to the final project will vary to reflect their own individual background and interests. Due to the intense nature and task deliverables, participants will work in groups. Each design phase will manifest itself in the meticulous production of digital model series of matrix-based catalogs. As for the final project, the design studies will be materialized in tower typology research.
Our future is set to be urban. As we move forward in the 21st century, the global population will likely continue growing. Today, more than half of the population [4.4 billion inhabitants] live in urban areas, and 1.5 million people are added to the global urban population every week. "70% of the world population projected to live in urban areas by 2050" UN Department of economic and social affairs. The next golden age of skyscrapers is upon us; between 1924 and 1934, 49 buildings over 150m in height were completed, all in the US. Between 2006 and 2016, there will be a total of 2296, with new towers on every continent.
Design Prologue
Pattern, by definition, means series/sequences that repeat. It can be represented as visible regularities in nature within a form of geometric shapes such as symmetry, fractals, spirals, bubbles, tessellations and …
From galaxy formation to an atomic orbital, almost every phenomenon in our cosmos is governed by rules that can be described as patterns in physical form. For over millennia, mankind has been attempting to explain the order in the universe, using mathematics seeking to discover and explain abstract behaviors in nature. This year, the Hyper Patterns program aims to re-define our basic understanding of patterns, re-discovering possibilities and expanding the rational capacity of complex geometries for the next generation of hyper building clusters in a multi-scenario multi-objective environment.
Design methodology
The form-finding mechanism is based on a rigorous and morphological process (to describe a scientific approach) constituted by 4 interconnected phases of exploration:
Component Study[CS]
Each group will select from a range of pre-rationalized components corresponding to the final project scenario. They will dichotomize by the inherent spatial characteristics of the component. Through sets of experiments by manipulating and variating each of the defining geometrical parameters, students become familiar with the geometrical logic and document their findings in a matrix-based catalog.
Objectives:
Humanizing architecture by reintroducing the human body as a measure of dimension and proportion
Define a set of individual units that could be expressed within larger interconnected parts
The geometric relationship between dimensions
Growth System[GS]
Recognizing and understanding the relationship between components within a controlled aggregation system, investigating the most compact and efficient assembly of components that can lead to a conceptual framework [formal-organizational possibilities Subsystem]
Objectives
Develop a problem-solving pattern cluster language (formal-organizational possibilities) (Subsystem correlation)
Experiments in optimizing the use of space in 2d and 3d
Program
Each group will set out their experimental design strategy based on their self-defined program brief corresponding to the selected scenario. This process also includes the narrative, a source of inspiration that can justify the objective of the final project.
Design Development/Documentation
Consolidating the design repertoire into formal strategy and methodology concerning site/brief condition without losing its structural unity secures an intrinsic, three-dimensional expression in spatial form or building mass that would reflect spatial design organization.
Software:
Rhino3D
Grasshopper3d
Adobe Illustrator
Adobe InDesign
Important Notes:
The Hyper Patterns Studio workshop by PAACADEMY will start on Friday, January 27, at 09:00 (London Time).
Total sessions: 7 (teaching sessions) + 2 (projects review) + 1 (final presentation)
Schedule on each Friday: 09:00 – 18:00 (London Time).
The teaching duration per week will be around 5-7 hours only.
Students will have time for a break between the teaching hours and be given time to work on their projects during the session.
Each session and the entire studio will be recorded, and videos will be available for participants just a day after the class for unlimited time.
Certificate of attendance will be provided by PAACADEMY only for students who deliver a final project.
No previous knowledge of any software is required. You will learn everything in the workshop.
The studio has limited seats. Tickets are non-transferable & non-refundable. Please read carefully before you register.
Instructors:
Arian Hakimi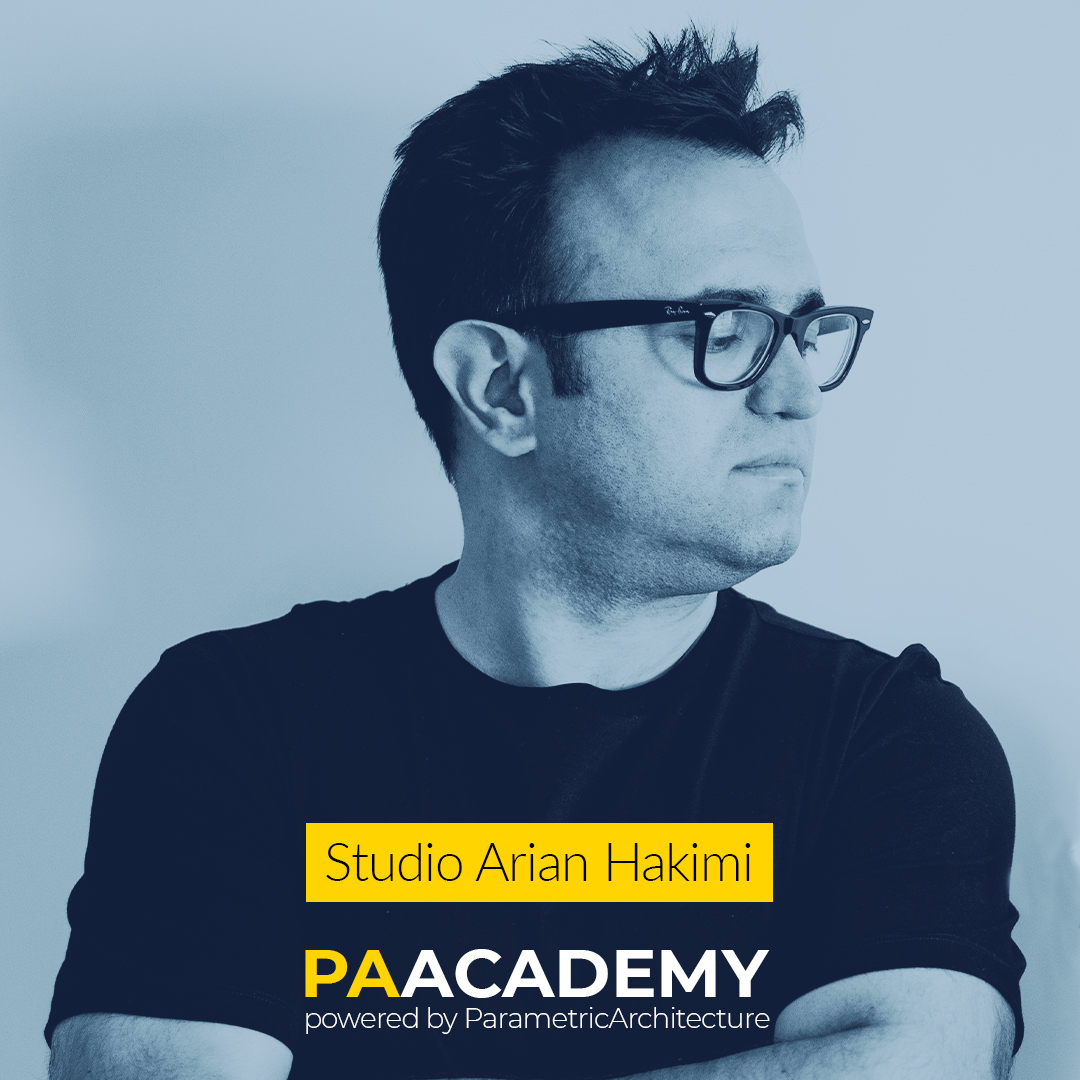 Arian Hakimi is the founder of Arian Hakimi Architects, a multidisciplinary studio for Architecture, Urbanism, and design, rooted in systematic design strategies. His academic background starts in India, where he attended the University of Pune and later transferred to the University of Tehran to finish his B.Arch focusing on the lost arts of Iran. He then studied M.Arch at IaaC-UPC, focusing on Urban Design & computational-morphogenesis design methodology.
He has been lecturing on the field of Parametricism and systematic design methods. He has tutored over 17 international workshops promoting bottom-up design methodology to unfold new territories in the design field. Including in Zaha Hadid Architects, the internship summer program resulted in an exhibition of the extraordinary process," the late Zaha Hadid's final show at Maison Mais Non-London."
ZHA Experience
Lead Designer [Zaha Hadid Architects] 2013-21
He joined ZHA in 2013 and has been involved in more than 26 projects, ranging from residential and mixed-use buildings to transportation infrastructure and masterplan development, including 2 projects under construction. Unicorn Island in Chengdu and KAFD, an-award winning Metro Station in King Abdullah Financial District in Riyadh. In both projects, he has contributed in implementing advanced parametric design strategies and automation in architectural workflow and complex geometry rationalization.
Hoda Eskandarnia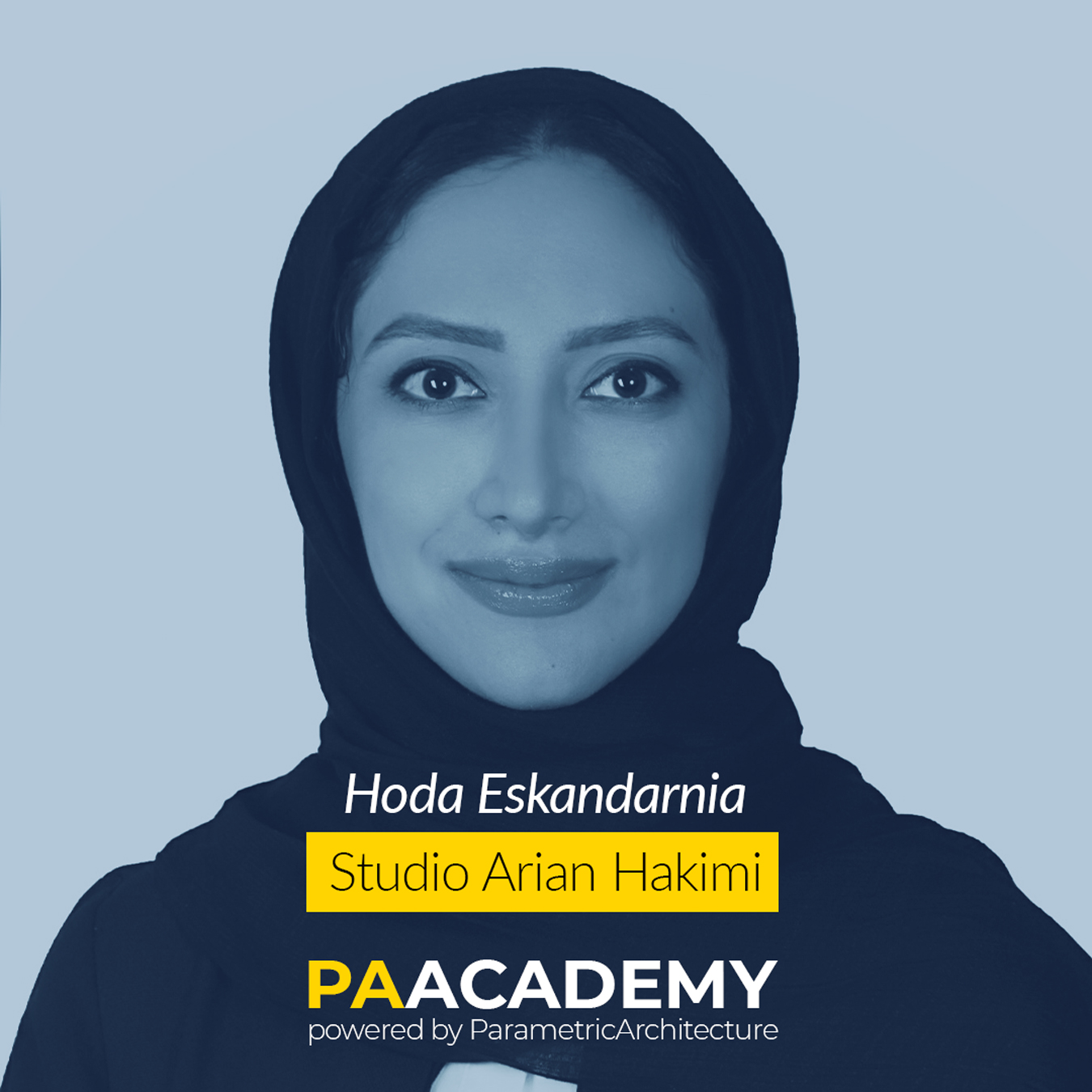 Hoda Eskandarnia is an architect and an interdisciplinary designer working at the intersection of science and technology. She is a founder and director of Nia Design Studio, an innovative architecture and design practice based in Iran that works on the nexus of design and emergent technologies. Hoda completed her master's degree with distinction in MArch-Architectural design from the Bartlett School of Architecture, UCL, where she received a B-Pro Gold Prize for design excellence. Her work has been exhibited worldwide in venues such as biofabricate (NewYork), TAB-bioTallinn Architecture Biennale (Estonia), and The Royal Society (London). Hoda has presented her design research as a published paper by Springer at Human-Computer Interaction (HCI) International Conference (Denmark). Also, she received the first prize in the poster competition at the 3rd IEEE UK & Ireland Robotics Automation Society Conference (London).
Nariman Nejati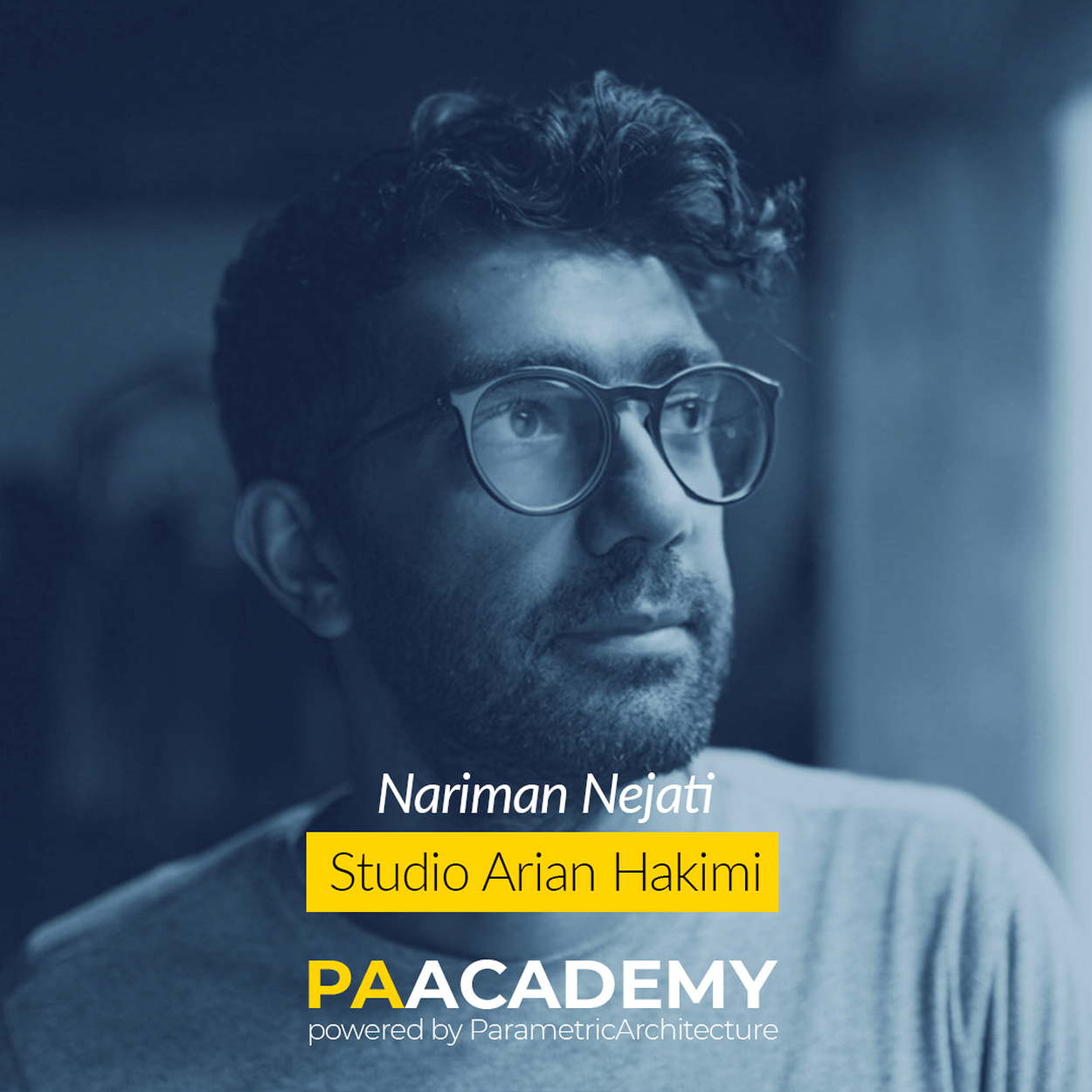 Nariman Nejati is an architect and multidisciplinary designer. He has been involved in various projects from competition to construction at [DDA/DYBAN 2013-2019]. He is currently a general manager at Arian Hakimi Architects [AHA] [AHD], working on various design disciplines, from fashion design to architectural buildings.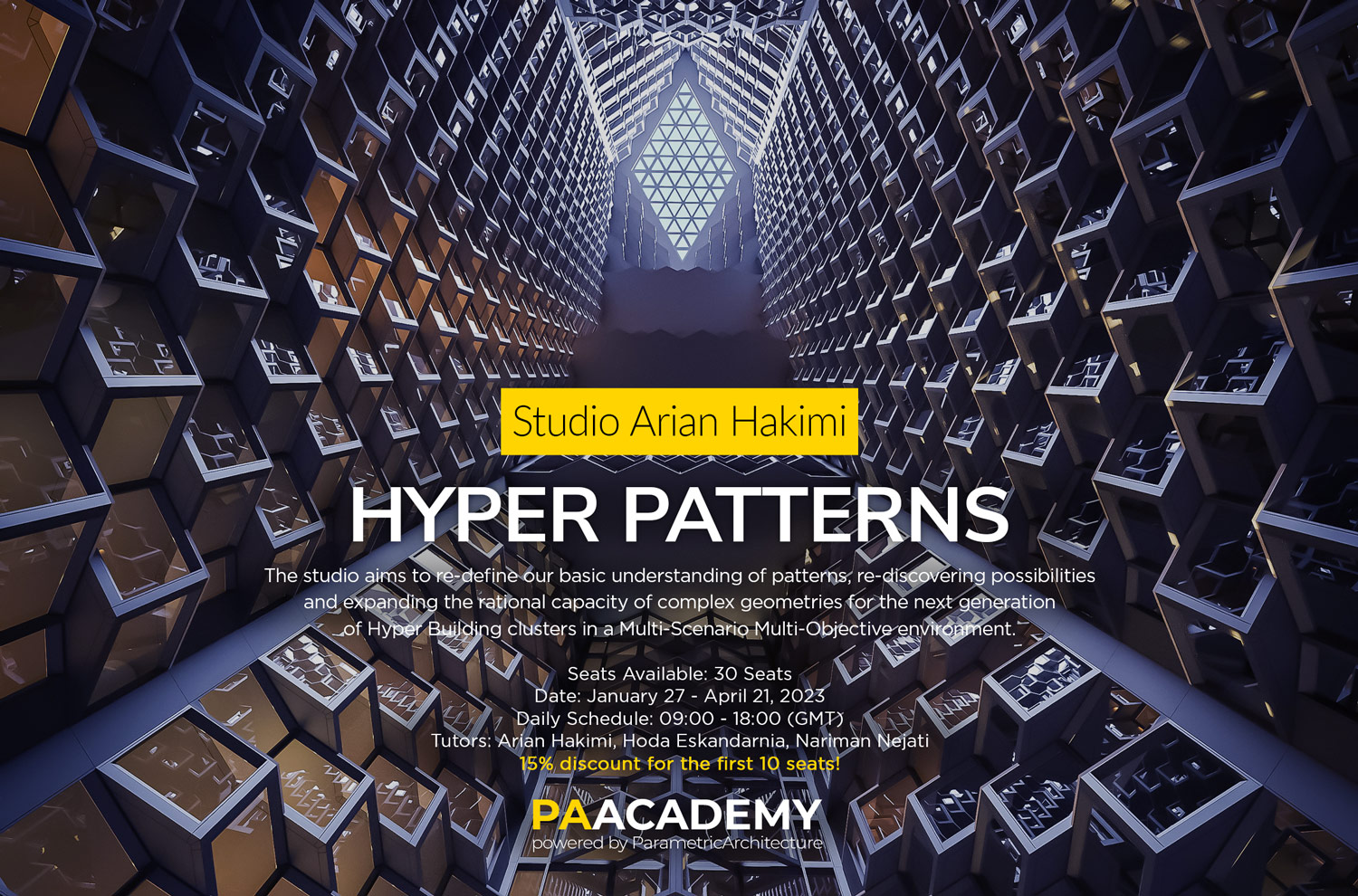 Topic: Hyper Patterns
Time: January 27, 2023 – April 21, 2023
Location: ZOOM hosted by PA
Format: Online
Duration: 9 + 1 Sessions (90 Hours)
Workshop Type: Project-based online studio workshop
Price for Digital Members: €475 (Closed)
Early Registration Fee: €580 (15% discount for the first 10 seats)
General Registration: €680
Recordings On-Demand: €800
Registration Deadline: January 26, 2023
Total Seats: 30
Organized By: PAACADEMY
Tutors: Arian Hakimi – Nariman Negati – Hoda Eskandarnia