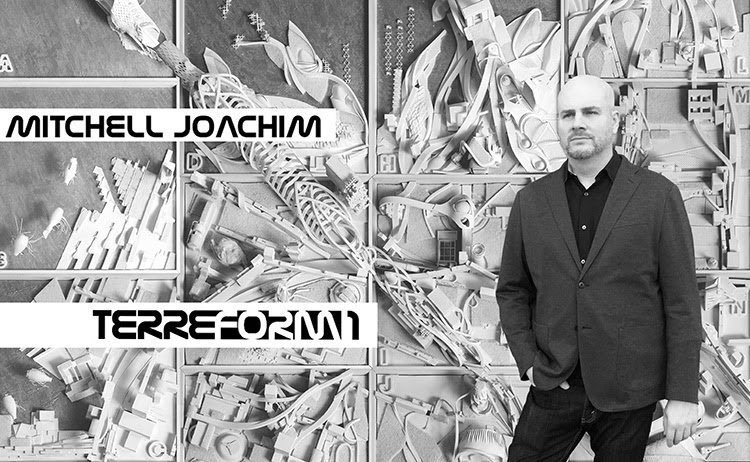 Mitchell Joachim is an expert on ecological design and urbanism. He is looking beyond the classical design methods, focusing on socio-ecological and computational design. As an urban designer and architect with degrees from Harvard and Columbia Universities and a Ph.D. in computation from MIT, Mitchell is co-founder of the New York-based research group Terreform ONE and an Associate Professor of Practice at NYU's Gallatin School of Individualized Study. Also, he is an elected University Senator and Co-Director of Global Design NYU.
Formerly he was an architect at Gehry Partners and Pei Cobb Freed and won many awards, including the Moshe Safdie Research Fellowship, History Channel Infiniti Award for the City of the Future, and Time Magazine Best Invention with MIT Smart Cities.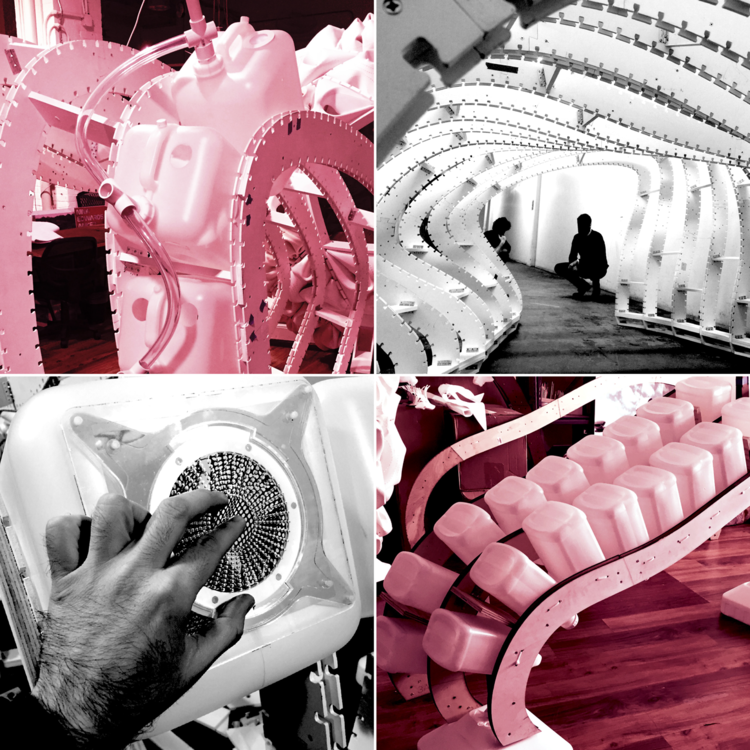 When he was a kid, he used to be obsessed with the famous rock band KISS, and in one rock star magazine, the lead guitarist showed the design of his house. According to him, the house was made of ice and glass, and a hot tube was heated with steam and fire. It had a significant impact on his career choice. Aside from that, he added, Gaudi's works influenced him greatly. He is completely enamored with Gaudi's works.
Mitchell Joachim believes it would be more practical to use trees as they are, essentially utilizing pre-existing ecosystems. That is how he came to choose this profession. His investigation uncovered methods used for centuries, such as gardening techniques and inoculating matter together to form different structures. He realized that, he could build walls and homes out of living trees without using fuel or cutting down trees. He said in an interview, "For example, a cherry tree doesn't just produce cherries. It can grow three other trees and produce thousands of cherries. It's a kind of culture of abundance, which can essentially be applied to other organisms that rely on the nutrients of other life forms for survival."
Cricket Shelter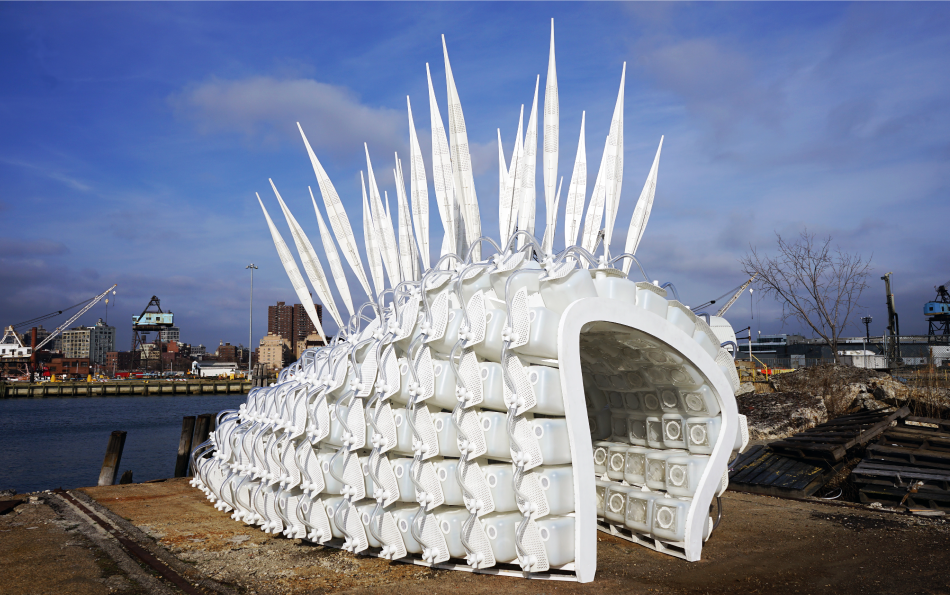 Cricket Shelter is a self-contained, interconnected network of structural pods that creates an ideal environment for cricket life cycles. Mitchell designed this shelter with his team in 2016. The embedded ecosystem was created to permeate the structural system, with each independent module connected by tubes connecting the elements to allow the crickets to "free-range." Whereas entomophagy is more common in many parts of the world, contamination is more likely; Cricket Shelter's innovative process provides a sanitary and hygienic solution.
Mitchell Joachim states, "The UN has mandated that insect-sourced protein will become a major component in solving global food distribution problems. This impacts people globally since continuing to raise livestock is not possible at our current rate of consumption and resource extraction." he added, "Cricket Shelter is a prototype for an urban farming strategy that minimizes the ecological footprint of protein-rich food production."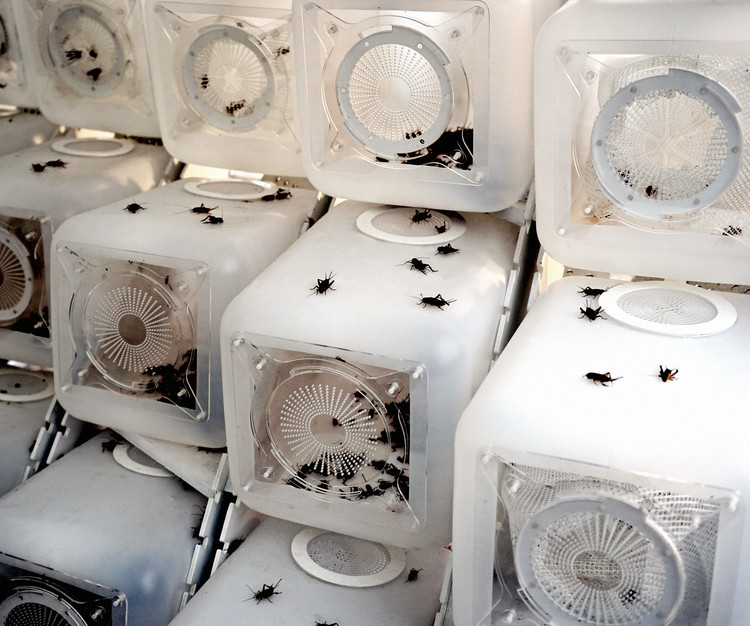 Cricket Shelter was designed as a hybrid architectural typology that provides parallel solutions for food and shelter in disaster-stricken areas worldwide. It lends itself to simple construction and deconstruction in various site-specific orientations as a modular structural system, making it simple to educate consumers on use and maintenance. As an architectural object, the shelter can contribute to the public realm by occupying vacant lots, pocket parks, and rooftops, bringing agriculture and entomophagy into focus for local populations. We will be able to achieve our goal of educating the public about their role in sustainable consumption in this manner.
Plug-in Ecology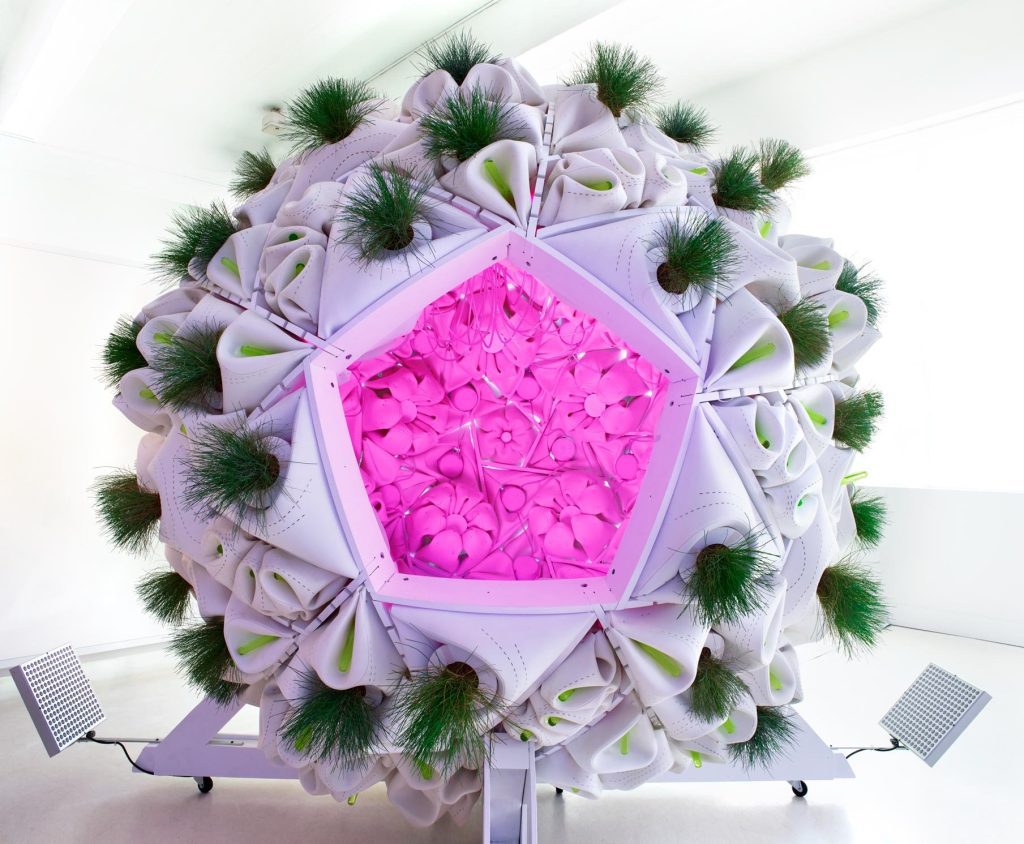 The Plug-In Ecology, Urban Farm Pod, is a "living" cabin where individuals and urban nuclear families can grow and supply their daily vegetable needs. It is an interface with the city, with potential applications including urban farming, air quality levels, DIY agronomy techniques in test tubes, algal energy production, and bioluminescent light sources, to name a few.
The under-grid structure of the Plug-In Ecology cabin sphere prototype is made of reclaimed flat-packed materials and a robotic milled integrity ball. As sleeves for the potting elements and agronomy tissue culture for micropropagation, a fully operational sub-irrigation system and shaped foam panels are used.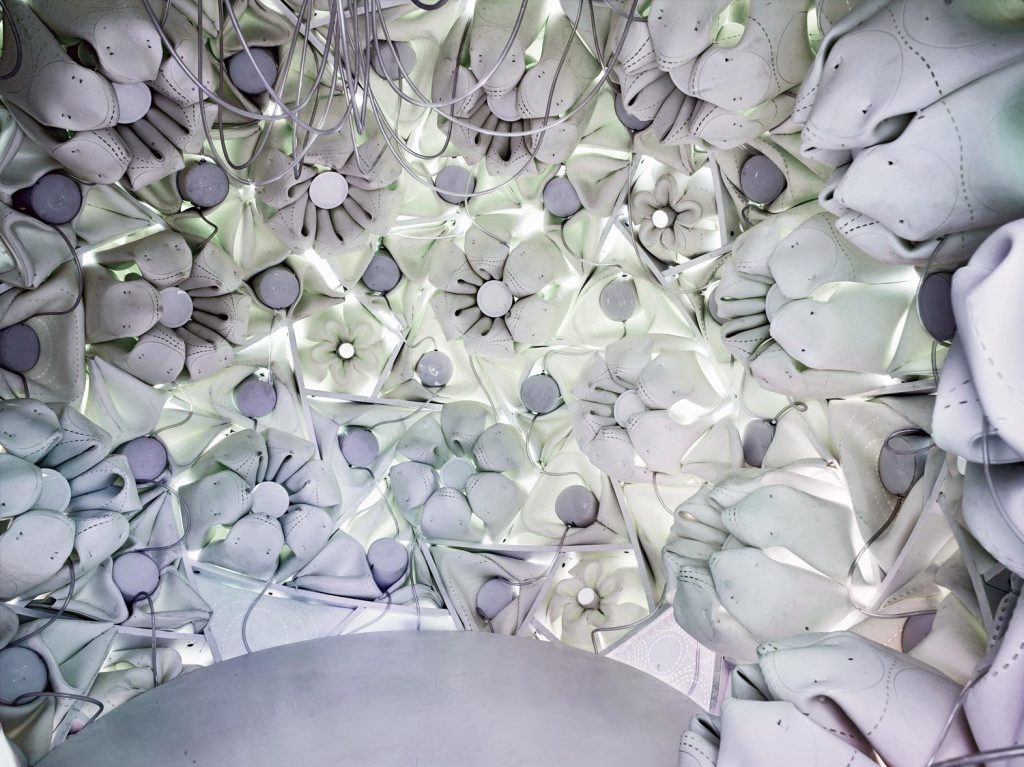 A digital monitoring platform sends data about specific plant health to the internet. Our vision for future iterations of the pod is to naturally grow structures over time within a new type of mediated arboreal culture, to more closely integrate biological and mechanical elements, and to transform the object into one that grows and changes symbiotically.
Bio-Informatic Digester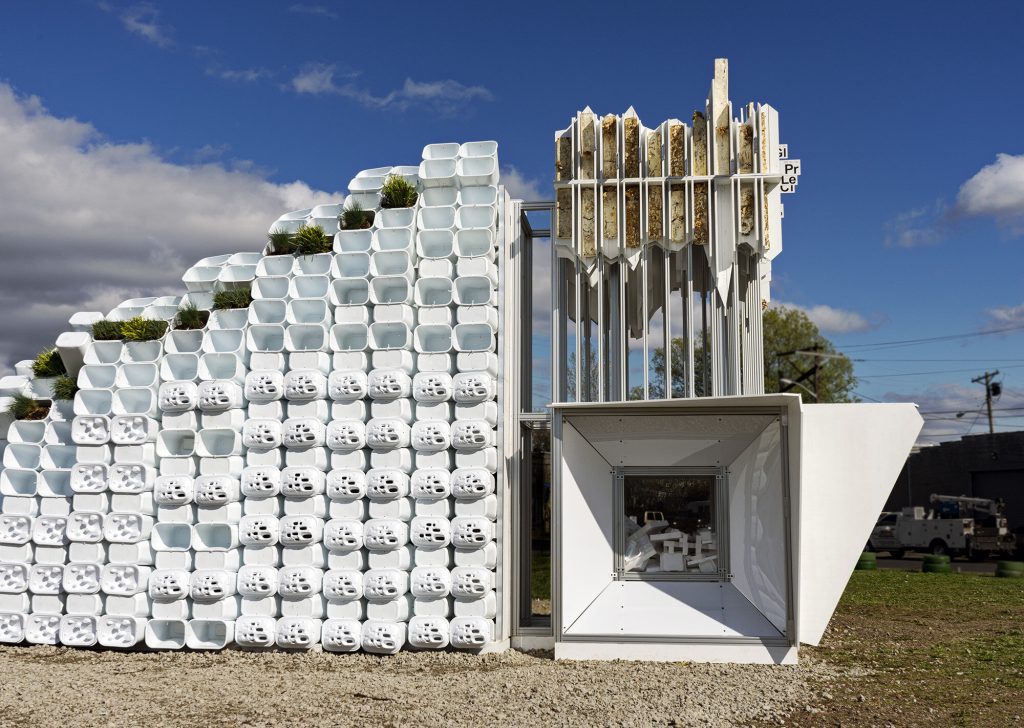 The Bio-Informatic Digester is a living machine that feeds Styrofoam packaging e-waste to mealworms (Tenebrio Molitor). Because styrene is a synthetic aromatic hydrocarbon monomer, it is considered non-biodegradable (PS). On the other hand, Mealworms have an uncanny ability to reduce and mineralize polystyrene into a perfectly safe compostable mulch for gardening. The transparent tesseract cube at the project's core displays mealworms devouring community-donated Styrofoam.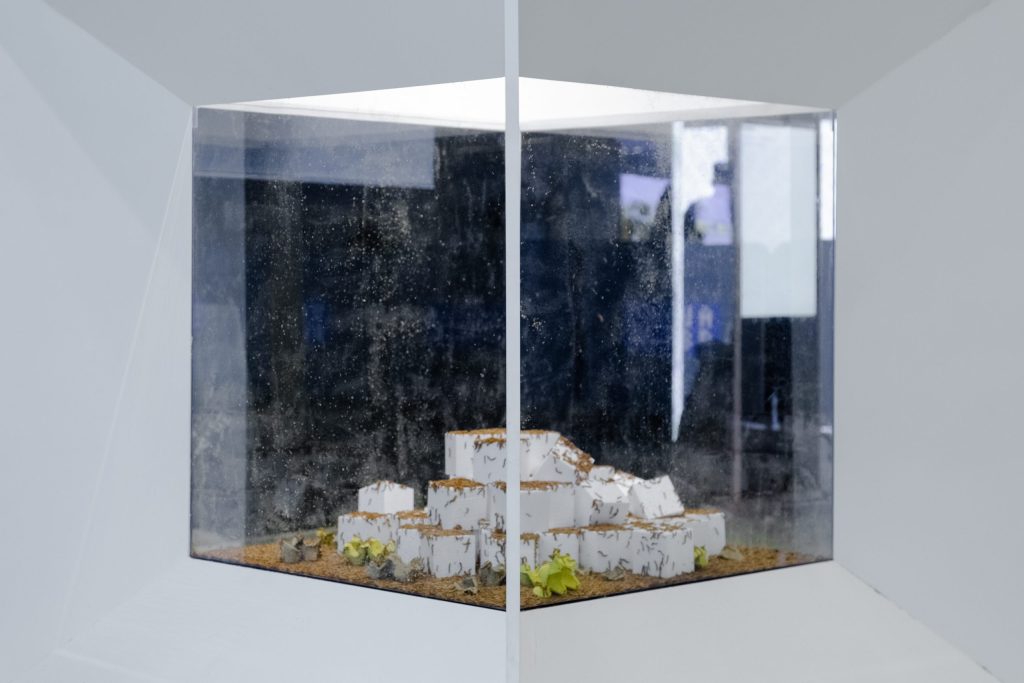 This project demonstrates a new method of regenerative biologically-driven upcycling that promotes urban biodiversity. Furthermore, the project capitalizes on insects' often-unnoticed beneficial behavior.
Rather than burying or concealing urban metabolic infrastructure, reversing its presence has become a desire. Nature is depicted in this system as an aestheticized and functional event in all of its forms. It will allow the public to see waste, energy, and agricultural systems in motion, emphasizing their importance and immediacy. Mealworms are commonly produced for livestock worldwide, so it is completely orderless and simple to manage.
Mitchell Joachim will lecture at Computational Design: NEXT 12 on December 10-11, 2022. Register for the program to learn more about Mitchell Joachim's works and more!