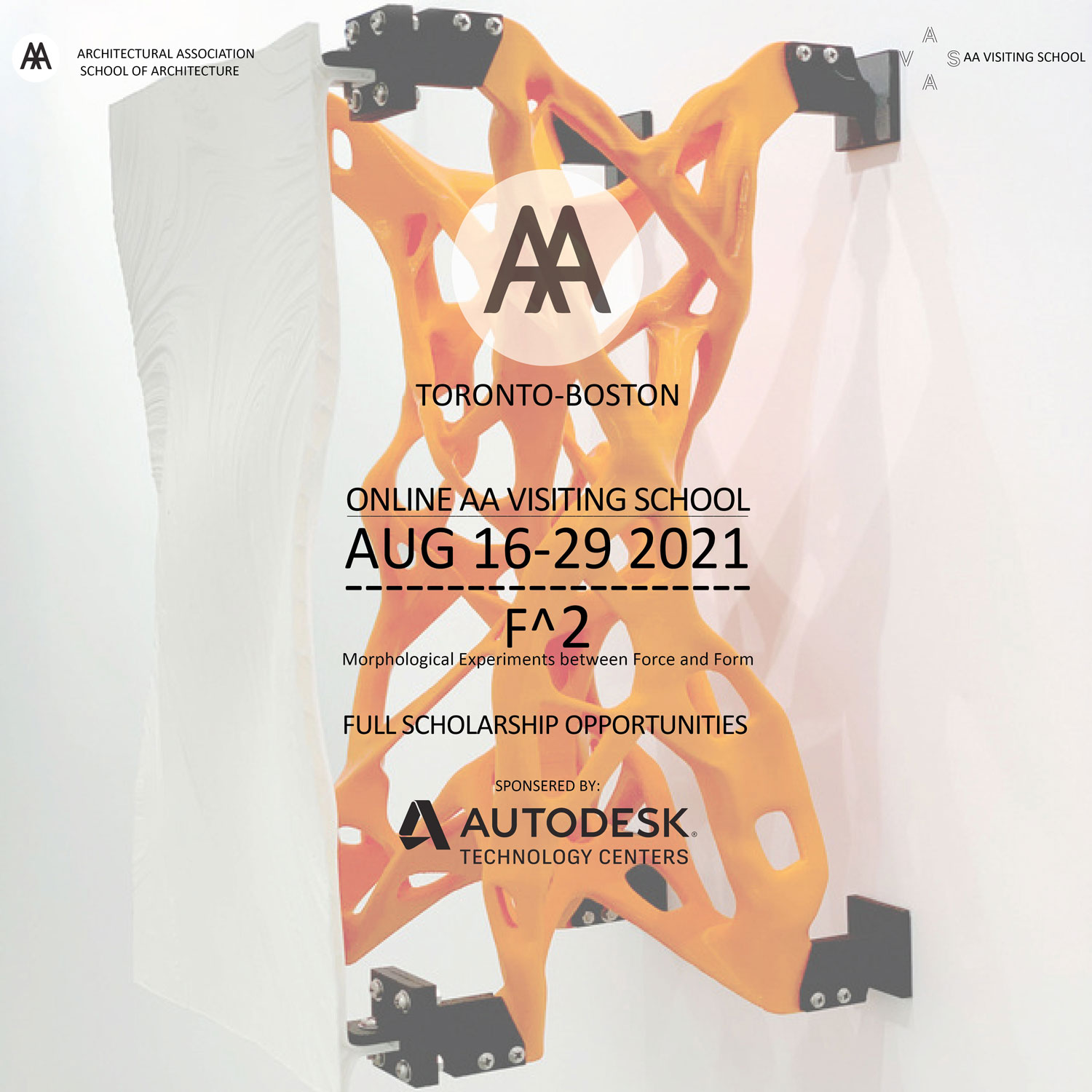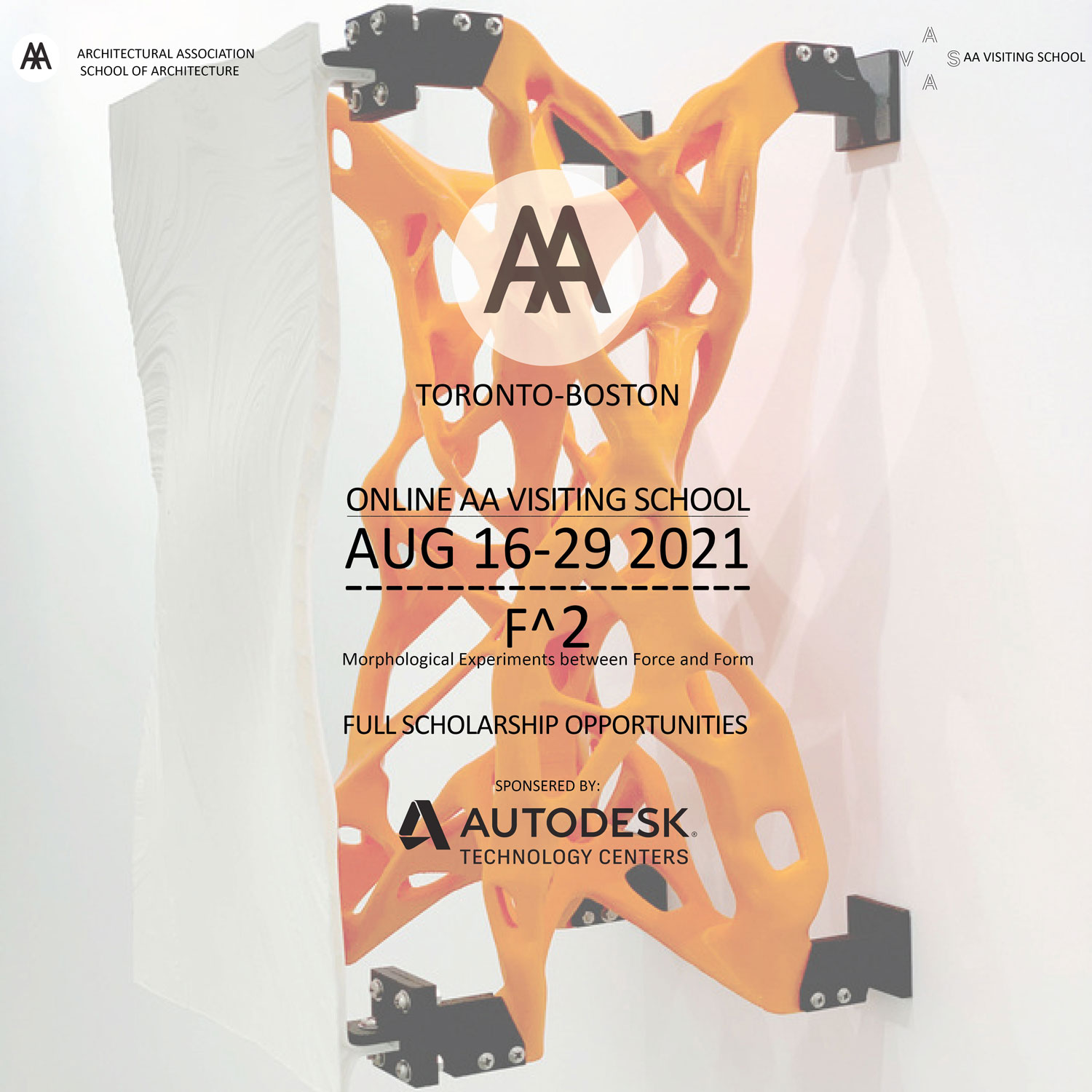 Morphological Experiments between Force and Form
The AAVS_Toronto proposes a research agenda with support from the AUTODESK TECHNOLOGY CENTERS, to be hosted at their TORONTO AND BOSTON locations, focused on understanding generative structural systems in nature and their application in design. During the Toronto Visiting School students will study how patterns form in nature and evolve over time, often as a direct result of an optimum load path that over time defines the underlying structure of the system. In structural design, the concept is theorized as "topology optimization," which is the addition or reduction of mass according to an optimum load path network based on a specific load case scenario. Such systems are prevalent in all architecture scales, from networks at the urban scale to structural systems at the architectural scale.
The Toronto Visiting School will use computational tooling techniques to simulate the generative models found in nature as a new approach to designing, modelling, and fabricating furniture and products. Students will learn how to simulate optimum load paths, refine their design, and fabricate furniture-scale products using 3D printers. The advantages of integrating such models include reducing material in design, analytical models capable of calculating performance, and novel techniques of fabricating highly complex geometries.
The AAVS Toronto is supported by Autodesk Technology Centers. The network of Autodesk Technology Centers sites in San Francisco, Boston, Toronto, and Birmingham, UK, along with their global online community, brings together industry, academic, and entrepreneurial communities to create a shared vision of the future of making. In these spaces, they help bring to life solutions that enable people to turn ideas into realities and shape a better future.
Prominent Features of The Workshop/ Skills Developed
TEACHING TEAM: Tutors are meticulously selected from professionals and academics highly expert in generative design and procedural tools as well as advanced digital fabrication with the main focus on 3D printing.
FACILITIES: The Toronto Visiting School will operate with support from the Autodesk Technology Centers to be hosted at their Toronto and Boston facilities.
COMPUTATIONAL SKILLS: The Toronto Visiting School will use computational techniques and procedural design tools to simulate the generative models, and the Autodesk Technology Centers team will support the students with Autodesk software such as Fusion 360 and Bifrost for Maya. The tutors will also be introducing their own tools and methodologies that may also include other design software programs
THEORY: Understanding fundamental design techniques and relevant critical thinking methodologies through theoretical sessions and seminars
LECTURES/THEORY: A series of lectures throughout the visiting school is by diverse leading professionals and academics in the area of generative design and fabrication techniques.
Applications
1) You can make an application by completing the online application found under 'APPLY' on the right-hand column of this webpage. If you are not able to make an online application, please contact the Visiting School Office for instructions to pay by bank transfer.
2) Once you complete the online application and make a full payment, you are registered onto the programme. Please note that a deposit payment holds your place on the course but does not confirm it. A CV or a portfolio is not required.
3) Full/ Partial Scholarships are available. Please contact the [[email protected]] for further information.
4) Early Bird Concessions of £625 are available for the programme if you complete your application by 17 JULY 2021.
The deadline for applications is: 31ST JULY 2021.
Eligibility
The programme is open to current architecture and design students, PhD candidates and young professionals.
Fees
The AA Visiting School requires a fee of £695 per participant, which includes a £60 Visiting Membership fee, payable by all participants.
Fees do not include flights or accommodation, but accommodation options can be advised. Students need to bring their own laptops, digital equipment and model making tools.
Visas
All participants travelling from abroad are responsible for securing any visa required and are advised to contact their home embassy early. An official letter can be issued by the Programme Head(s) confirming enrolment onto the programme once an applicant has settled their full fees, this letter can be used when applying for a visa.
Insurance
All participants are responsible for securing their own travel and health insurance. Please ensure that your travel insurance also covers your personal belongings i.e. laptop, equipment, tools, passport etc. The AA takes no responsibility for lost/ stolen property.
Sponsors
Autodesk Technology Centers
Biographies
Ali Farzaneh received his PhD in Architectural Design, at the Architectural Association in London. He has worked at Coop Himmelb(l)au in Vienna and SOM in DC and has taught architectural design in Denmark and the USA. His research focuses on the formation of complex systems in design and their evolution over time. In 2018 he established his practice in the USA.
Vahid Eshraghi is a MArch graduate in Architecture and Urbanism (Design Research Lab) from Architectural Association in London and a MArch graduate in Architectural Technology from University of Tehran. He has worked at Zaha Hadid Architects and has taught at Art University of Tehran and Islamic Azad University. He has also been director of several research-based workshops in Tehran in collaboration with University of Stuttgart (ITKE) and Contemporary Architects Association of Iran.ApplyEnquire to Study
Location
661 University Ave
Toronto, ON,
M5G 1M1, Canada