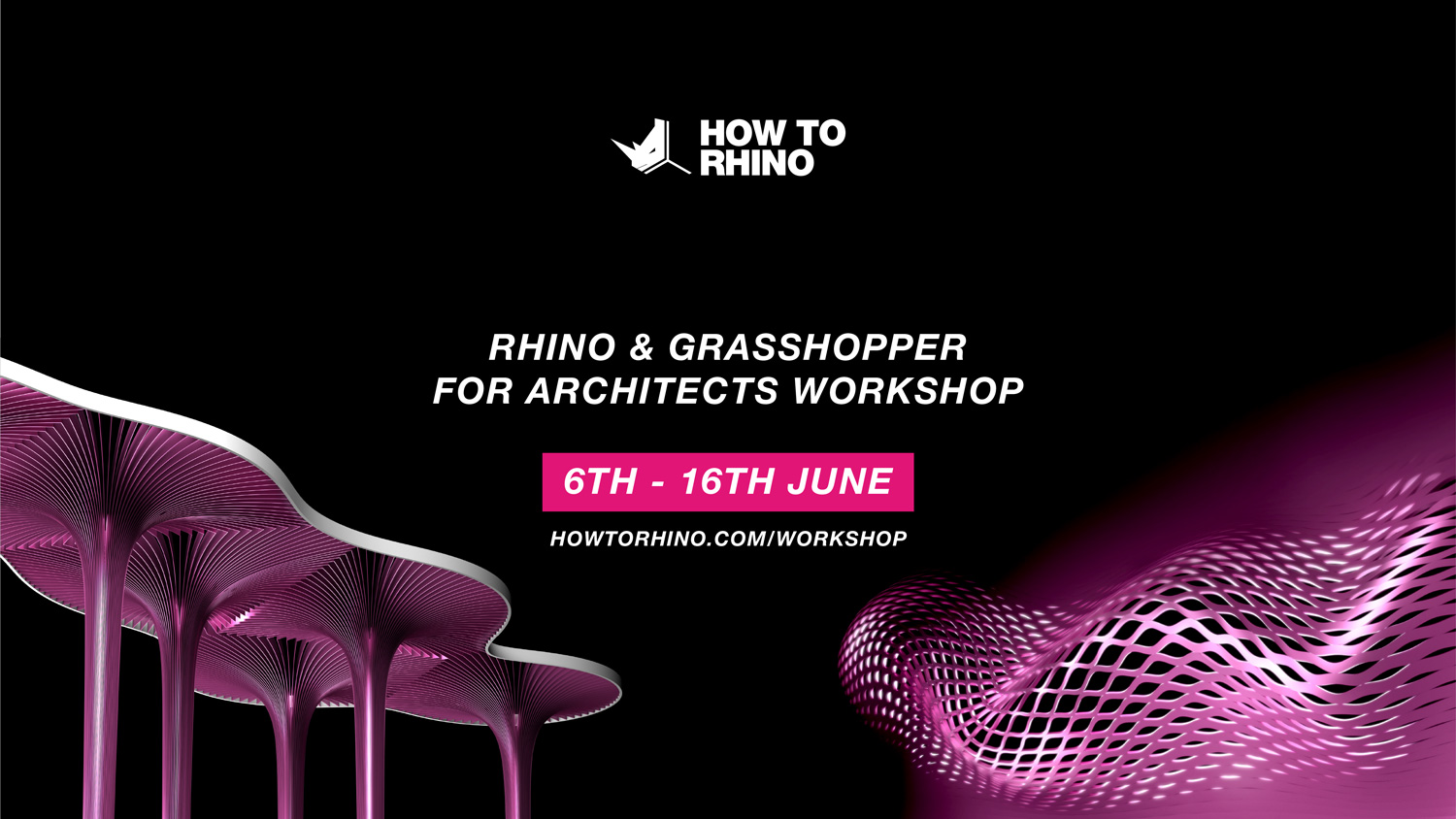 If you're an architect or a designer and you have a strong interest in learning Rhino3D, Grasshopper3D, and Rhino Inside Revit specifically for architecture, How to Rhino will host a workshop called Rhino & Grasshopper for Architects from June 6th to June 16th.
The focus of this workshop will be on how to use Rhino3D efficiently when modeling basic and more organic and fluid geometries, how to start using Grasshopper from scratch with a beginner-friendly learning approach, and how to understand the logic behind parametric modeling.
Another big topic will be the newest tech from McNeel called Rhino Inside Revit and how to make a seamless connection between parametric designs in Grasshopper with BIM capabilities in Revit. You'll learn how to fuse the design phase of the project from Rhino3D and Grasshopper with the construction phase in Revit.
The workshop is held by Dusan and Lazar, architects from Serbia and founders of the How to Rhino – a platform that helps architects to learn how to use Rhino3D and Grasshopper for Architecture.
There will be 4 workshop videos, 4 live streams, and 2 QnA sessions.
The workshop will be online, it is FREE to attend, but there are limited seats available, so make sure you register as soon as possible.
About the founders:
Dusan Cvetkovic is a professional architect from Serbia with international experience in architecture working throughout Europe. Dusan's been using Rhino3D for over 8 years in architecture and he's been teaching Rhino3D to thousands of architects through the How to Rhino community via various social media channels and online tutorials on YouTube and the website.
Lazar Djuric is a professional architect and computational designer with international experience around Europe and Asia where he had an opportunity to implement his knowledge of parametric design on a multitude of projects, all sorts of scales and typologies. Currently, he is teaching architects through their community, where he is responsible for parametric modeling and digital fabrication using Grasshopper.
Together they are giving out their best knowledge to help their international colleagues to learn Rhino3D and Grasshopper.