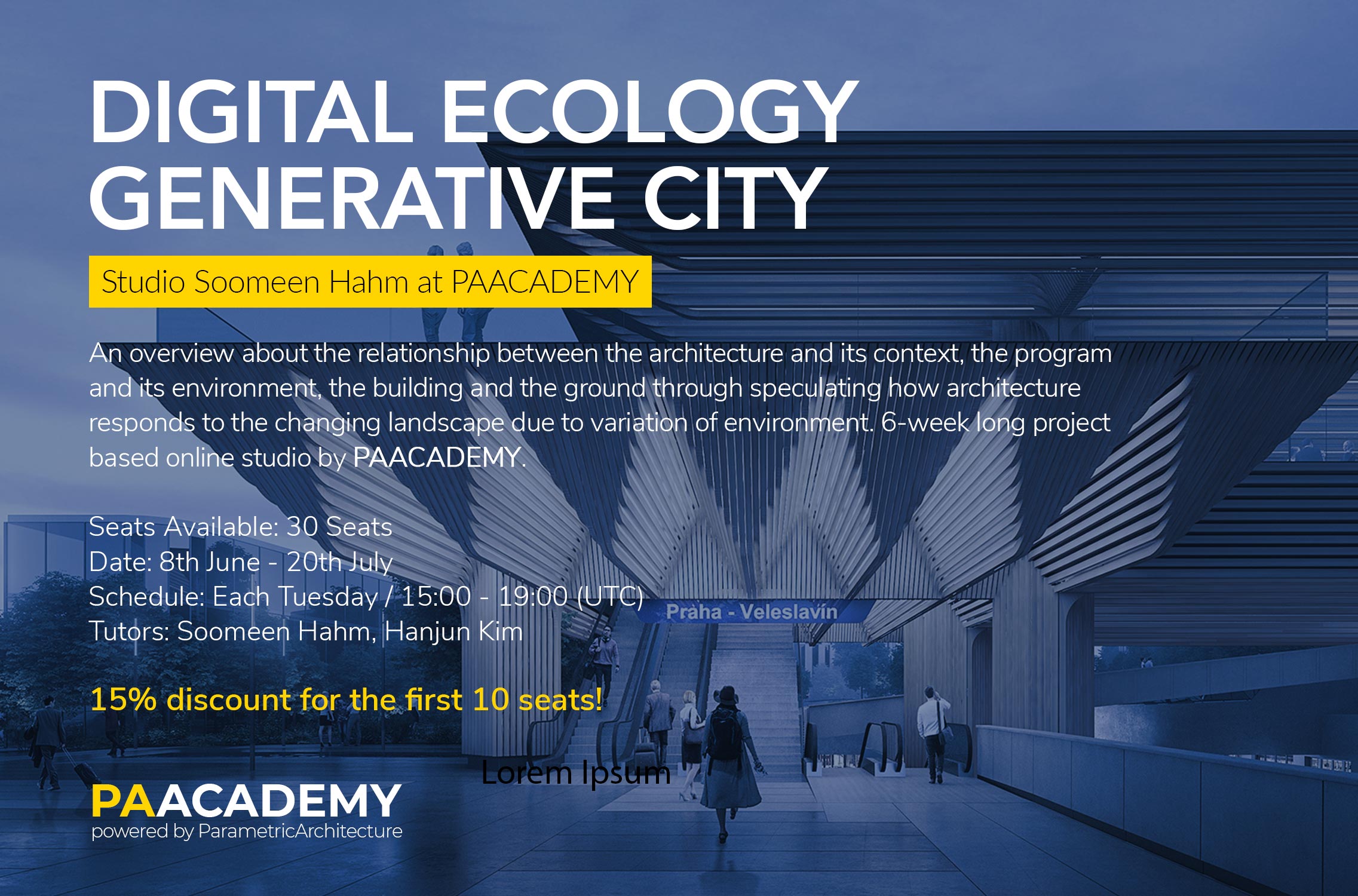 Topic: Digital Ecology – Generative City
Time: 8th June – 20th July 2021
Location: ZOOM hosted by PA
Format: Online
Duration: 6 Sessions
Total Hours: 24 Hours
Workshop Type: Online Workshop
Registration Deadline: 6th June 2021
Seats Available: 30 Seats
Organized By: PAACADEMY
Studio: Studio Soomeen Hahm
Tutors: Soomeen Hahm, Hanjun Kim
Registration Fee: €350 EUR
Early-Bird Registration: €300 EUR (15% discount for the first 10 seats) (Closed)
Brief
Digital Ecology – Generative City by PAACADEMY will make participants think about the relationship between the architecture and its context, the program and its environment, and the building and the ground by speculating how architecture responds to the changing landscape due to variation in the environment. The studio will run and lead by Soomeen Hahm and Hanjun Kim from Soomeen Hahm Design. 6-week-long project-based online studio by PAACADEMY.
We will start by building a digital landscape in a virtual environment using Unity, then generate a city on the virtual site. Participants will work with 2-3 teammates to progress their own approach and methodology to develop the city. The final proposal will be represented in an animated film, which will showcase the design of the building, the ground, and the context.
Schedule
Week 1: 8th June
Learn Unity C# script basic
Build terrain
Create flocking objects
Week 2: 15th June
Generate geometries
Control geometries
Control camera
Week 3: 22nd June
Basic UI
Improve user experience and interaction
Make an animation of people and objects
Use AI navigation
Project Review
Week 4: 29th June
Sound effect
Graphics improvement1: post-processing
Project Review
Week 5: 6th July
Graphics improvement2: Adding minimap + UI design
Build PC/Mobile App
Project Review
Week 6: 20th July
Review/Discussion of final work
Start date: Tuesday, 8th June 2021
End date: Tuesday, 20th July 2021
1st session: 8th June
2nd session: 15th June
3rd session: 22nd June
4th session: 29th June
5th session: 6th July
6th session: 20th July
Total sessions: 6 Sessions
Daily schedule: 15:00 – 19:00 UTC (4 hours each session)
Important Notes:
Please read the information below before you register.
Digital Ecology – Generative City of the Studio Soomeen Hahm by PAACADEMY will start on Tuesday, 8th June on at 15:00 UTC and will continue each Tuesday till the last session on 20th July.
Each session and the entire studio will be recorded and videos will be available for participants just a day after the class for an unlimited period of time.
The studio has limited seats. Tickets are non-transferable & non-refundable. Please read before you register.
You have to develop a project in the studio. This is an applied workshop, we will learn through involvement, so expect homework! You will work by groups of 3 to distribute the tasks and produce a more complete project.
Software requirements: Unity (2020.3.x version), Visual Studio
Sign up, download, and install Unity by clicking here. Also, click here for Visual Studio.
Tutors:
Soomeen Hahm:
Soomeen Hahm is the founder of SoomeenHahm Design Ltd. She is a design researcher, educator, and architectural designer as well as a design faculty and a robotic researcher at SCI-Arc. Pursuing the fast-shifting computational paradigm in architecture across multiple scales and perspectives, her research and practice are focused on examining the ecology of computational power, technology, and human intuition and studying how this collaboration impacts the design industry and the built environment.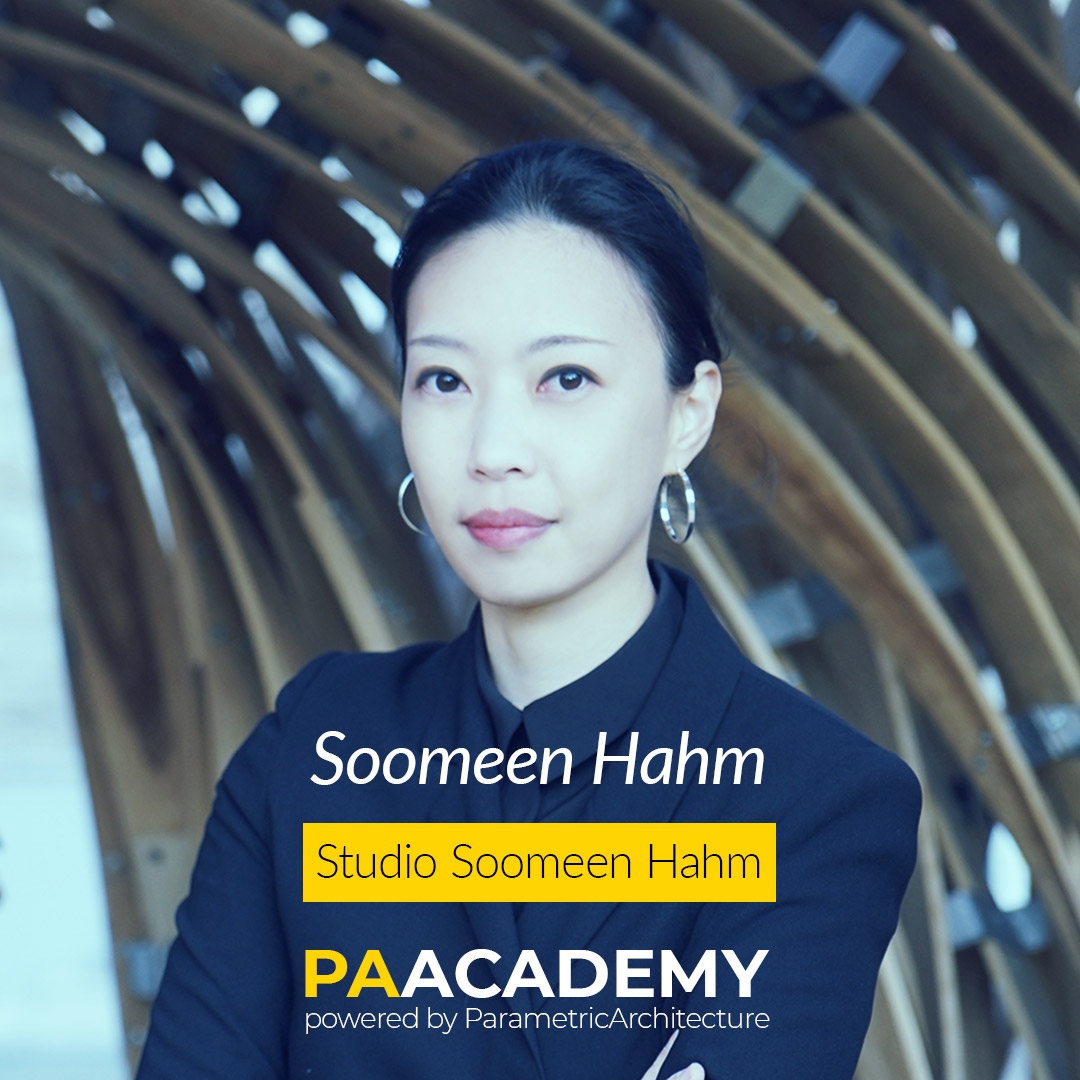 Soomeen's most recent work is on the use of Augmented Reality and Virtual Reality to execute complex and creative forms which are digitally created with human craftsmanship. This work examines and questions the future role of humans, robots, machines, and computers in the age of AI. Approached by this strong academic driver, her practice bridges academic projects and commercial practices. Soomeen's office practice provides expertise in conceptual design solutions that span from a range of small products to large architecture and urban design.
Hanjun Kim:
Hanjun Kim is an architectural designer based in London, where he works as an associate at Soomeen Hahm Design Ltd. In addition to this, he is a technical tutor at the UCL Bartlett B-Pro program and a coordinator of the AA Visiting School Seoul. He completed his Master of Architecture degree at the Architectural Association Design Research Lab in London.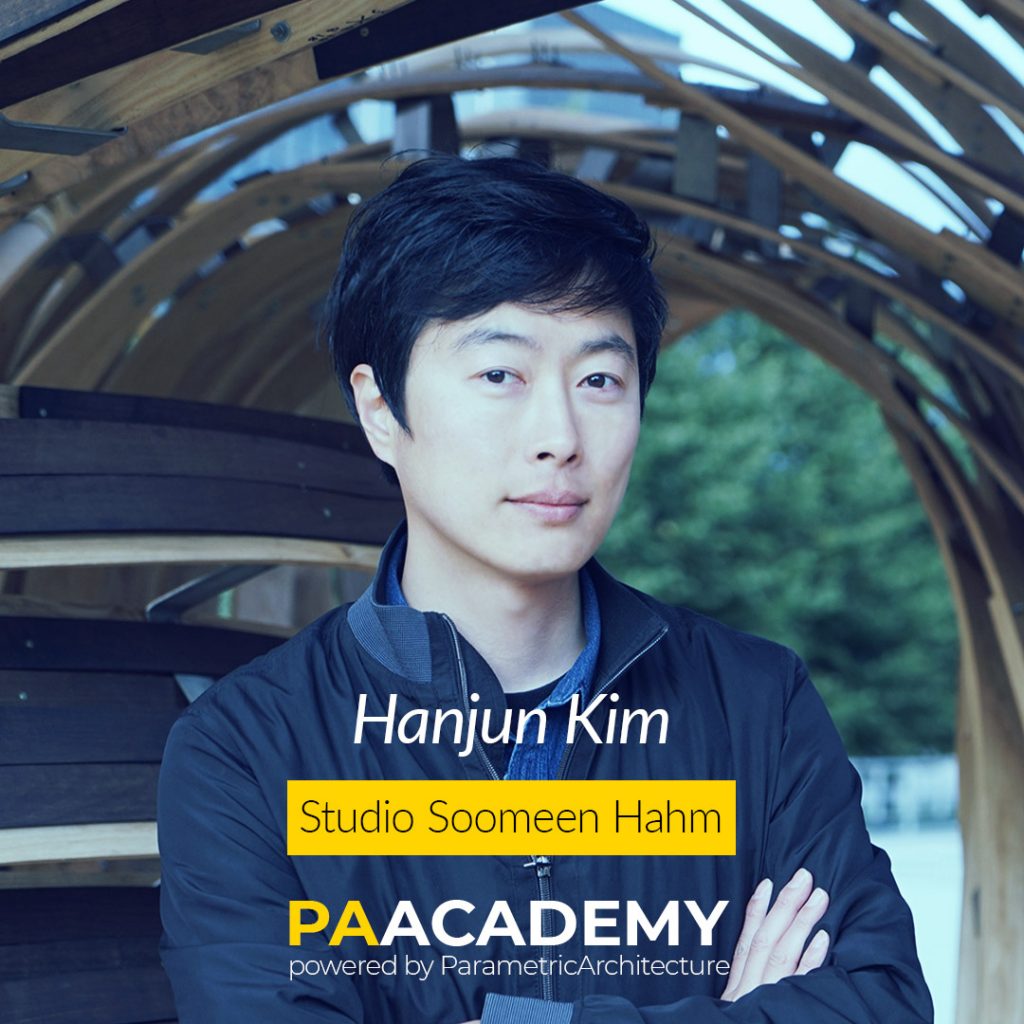 He explores the realms of computation in architecture and design, and the methodology of interactive ways between humans and technologies, while his recent research focuses on the use of Augmented Reality and gamification in architectural fields. He specializes in scripting, generative design, digital fabrication, and multimedia production. More broadly, he is also interested in autonomous systems, and spatial networks of human behavior with machine learning and artificial intelligence.
Learn more about the studio workshop from our interview with Soomeen Hahm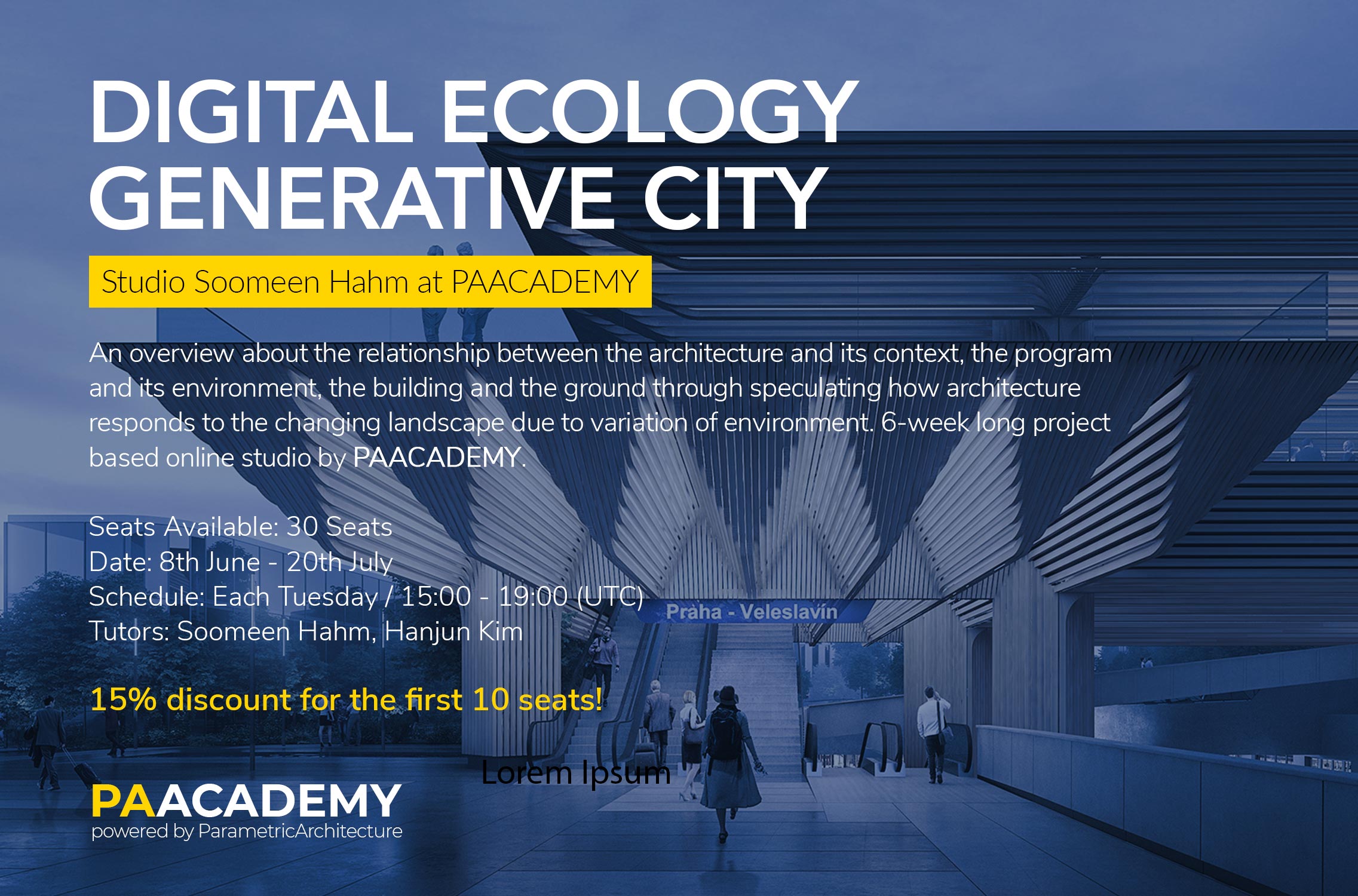 Topic: Digital Ecology – Generative City
Time: 8th June – 20th July 2021
Location: ZOOM hosted by PA
Format: Online
Duration: 6 Sessions
Total Hours: 24 Hours
Workshop Type: Online Workshop
Registration Deadline: 6th June 2021
Seats Available: 30 Seats
Organized By: PAACADEMY
Studio: Studio Soomeen Hahm
Tutors: Soomeen Hahm, Hanjun Kim
Registration Fee: €350 EUR
Early-Bird Registration: €300 EUR (15% discount for the first 10 seats) (Closed)