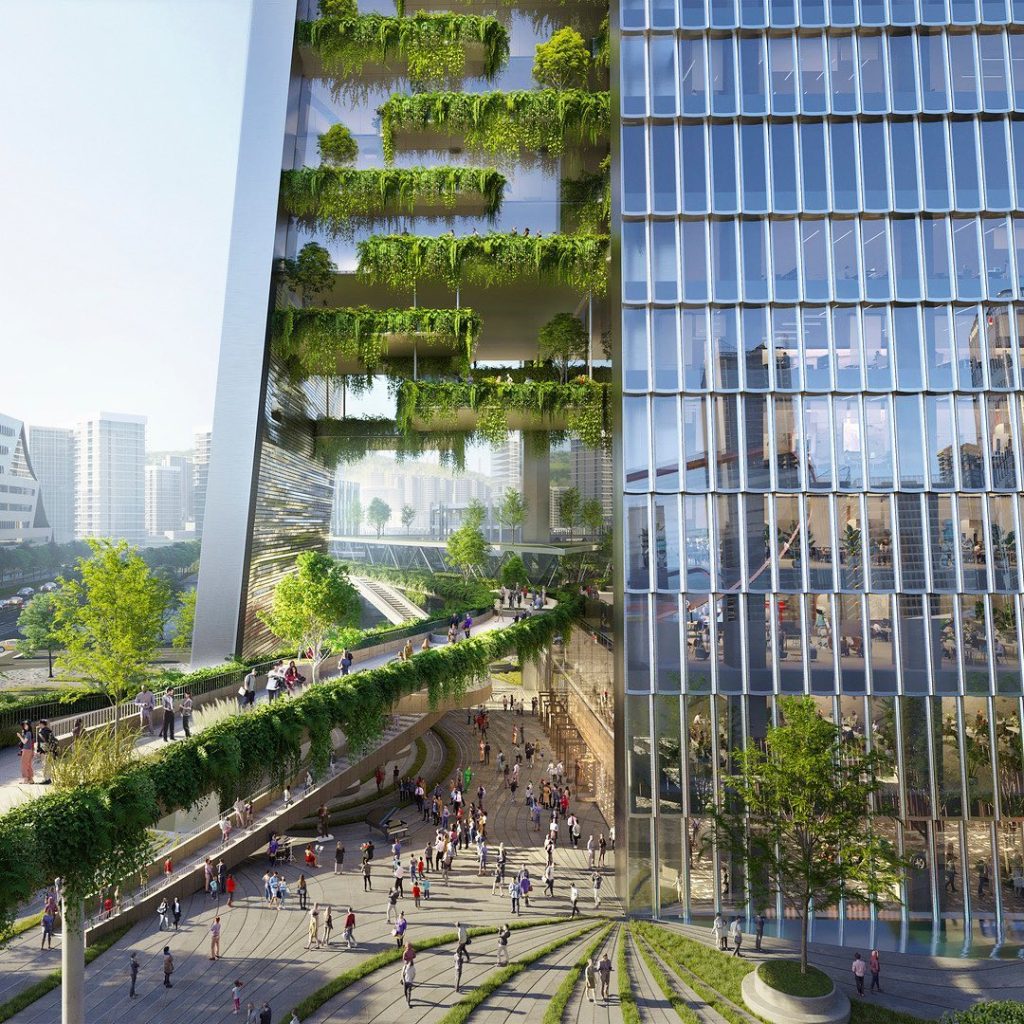 The winning proposal by Bjarke Ingels Group (BIG), named 'Prisma', is set to revolutionize the Qianhai area in Shenzhen, China. This awe-inspiring project includes a 300-meter-tall residential tower and a 250-meter-tall office tower, both toward the sky at a sleek angle. The towers' innovative design features a subtle crevice of green balconies, creating a harmonious blend of natural elements and structural efficiency. The silhouette of the Prisma towers is further accentuated by the generous use of glazing, providing stunning views throughout the day and creating a subtle shimmering effect in the skyline.
This visionary project is part of a grand development plan for Qianhai Bay, which aims to elevate the area's status as an emerging financial and cultural center in Shenzhen. Located in the Guiwan District of Qianhai, the Prisma towers will stand proudly on both sides of the Shenzhen-Hong Kong Plaza, also known as the 'Green Belt', marking the entrance of Guiwan. The scheme will provide new office spaces, residences, and over 20,000 sqm of multi-story public spaces, all in close proximity to the comprehensive regional transportation hub and Qianhai Bay. This project is set to commence construction in 2025, ushering in a new era of innovation, sustainability, and in the heart of Shenzhen.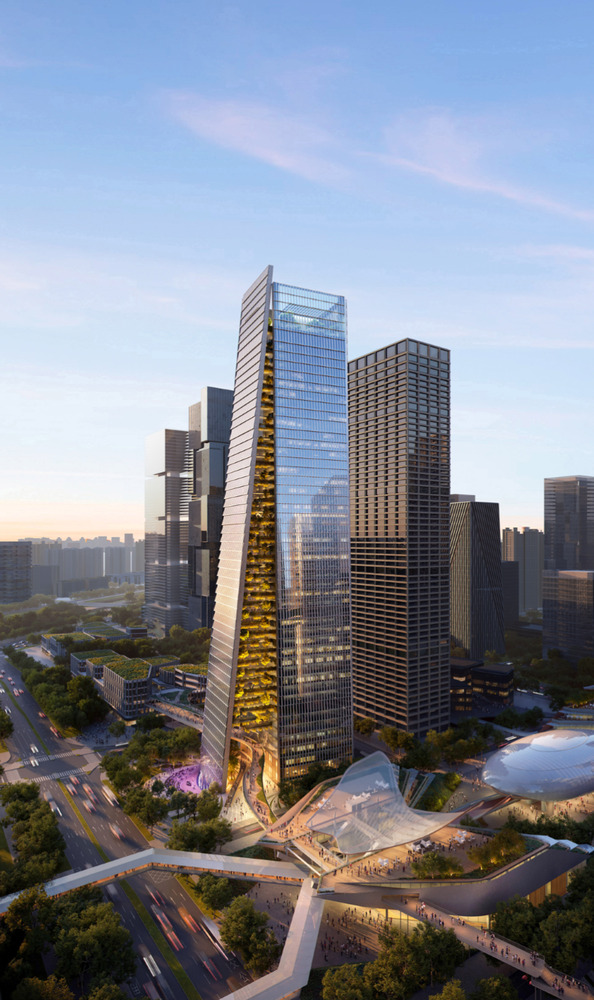 The famous Shenzhen-Hong Kong Plaza, also known as the Green Belt, serves as the project's backdrop. The ground floor is intended to be completely open, resulting in an urban living room. The towers are gesturally connected through the ground plane to the famous sky bridge "green belt", and a nearby shopping mall. This results in a pedestrian network with multiple transitions that eventually leads to the Qianhai Bay Waterfront. The ground floor public spaces include an amphitheater, tree-shaded social spaces, and an under-porch bar, all of which are located beneath the building's tree canopy and overhangs.
"Both towers are conceived as simple prismatic building envelopes split open to make room for public space on the ground where they stand. The open seams and gaping corners allow the green spaces to ascend from the ground to the sky leaving wedges for outdoor gardens and terraces for the life of the people living and working within. With its timeless simplicity and inviting openness – the architecture of the two towers is firmly rooted in the urban values underpinning Shenzhen – a vertical modern city of 1000 parks." Bjarke Ingels, Founder & Creative Director, BIG.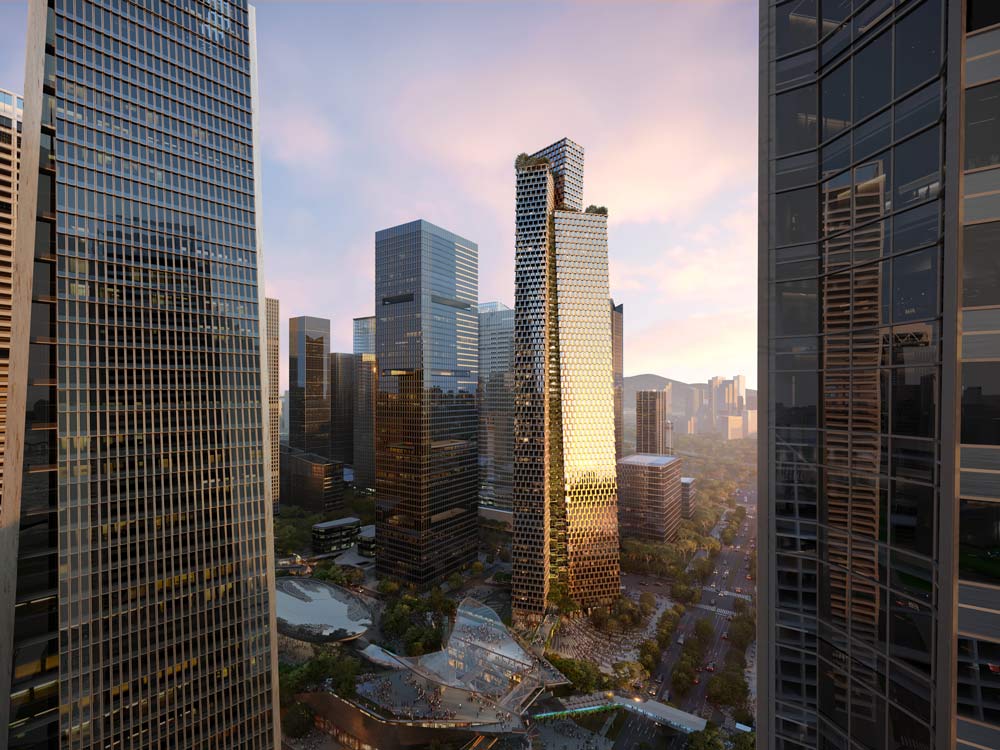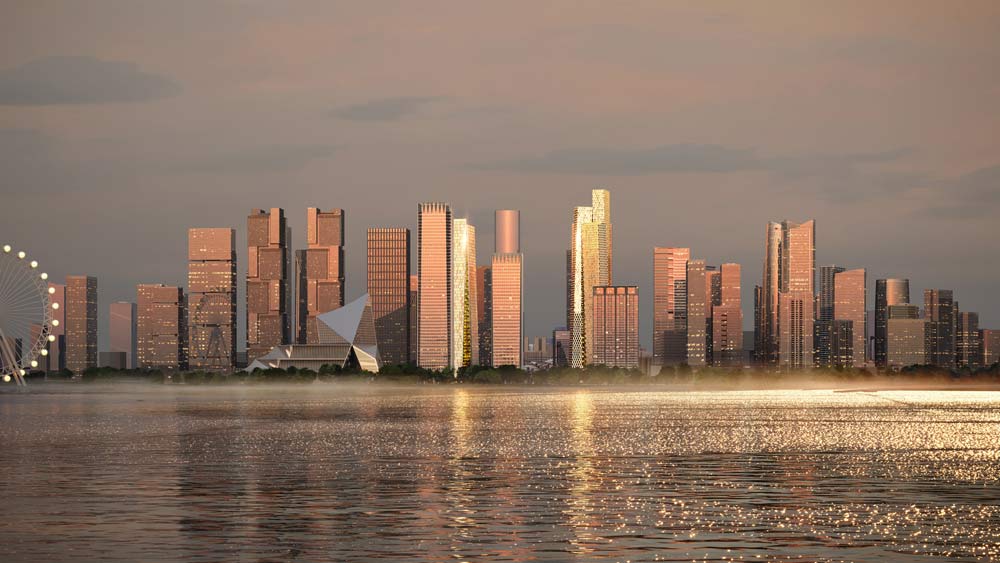 Project Team
Partners-in-Charge: Bjarke Ingels, Martin Voelkle, Douglass Alligood
Project Manager: Flora Bao
Project Architect: David Holbrook
Design Lead: Ricardo Palma
Team: Amie Yao, Bianca Blanari, Chris Tron, Eric Li, Florencia Kratsman, Jacob Li, Margaret Tyrpa, Mama Wu, Ryan Duval, Shu Du, Sungmin Kim, Yanan Ding, Yao Tong, Yimin Wu, Zhonghan Huang.
Collaborators: CADG (local architect), BPI (Lighting), ARUP (Fire Safety), Buro Happold (Traffic, Sustainability, VT), RFR (Façade, BMU), Thornton Tomasetti (Structure), Turenscape (Landscape), CADG (Architecture, MEP), Atchain (Visuals), RJ Model (Physical Model)