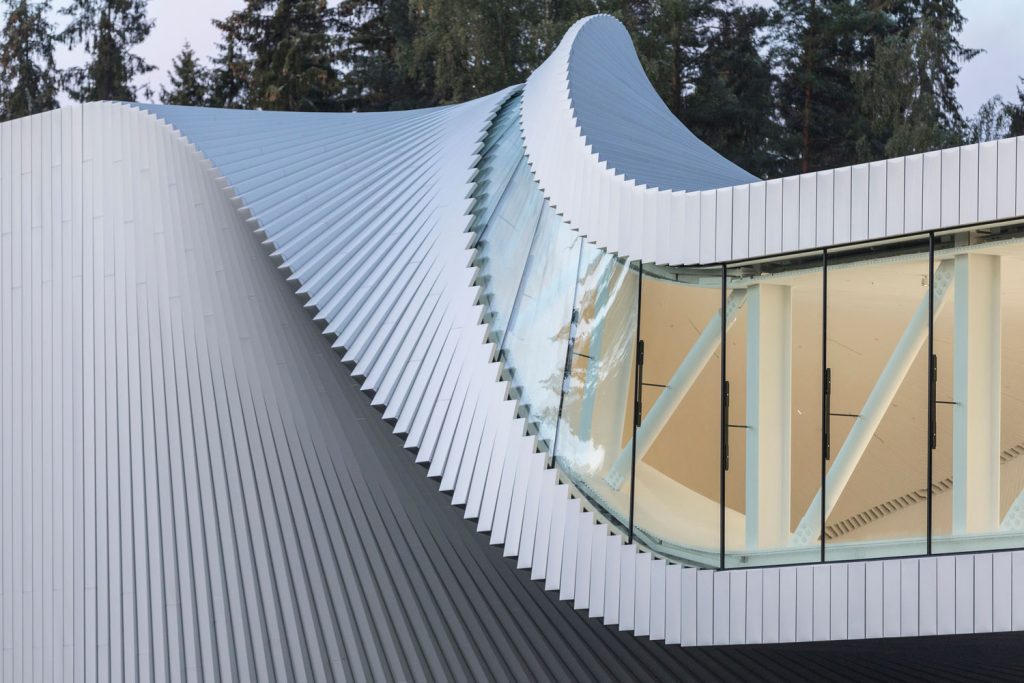 Bjarke Ingels Group (BIG)'s Twist Museum is located in Kistefos Sculpture Park in Jevnaker, Norway, and crosses the Randselva River with its curve shape. Twist has become a new experience point in Kistefos Museum.
1,000m2 contemporary art institution Twist Museum completes the cultural route through Northern Europe's largest contemporary sculpture park in Jevnaker, Norway.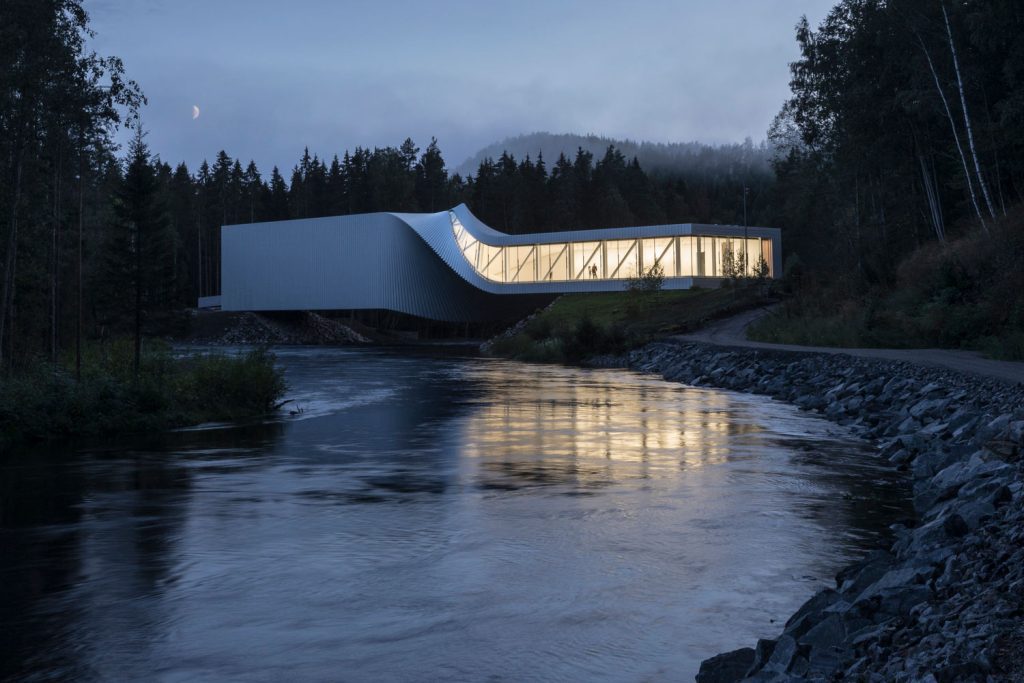 The sculptural form reveals a beam that bends at 90 degrees while visitors wander the park-specific works of international artists such as Anish Kapoor, Olafur Eliasson, Jeppe Hein, and Fernando Botero cross the Twist to complete the art tour.
The simple twist in the building's volume allows the bridge to rise from the lower, forested shore in the south to the hillside area in the north. Accessible from both sides, the building offers an uninterrupted path through the landscape. The structure, which functions as a bridge and an exhibition hall, consists of flat aluminum panels. White panels repeat themselves in the interior with white fir slats.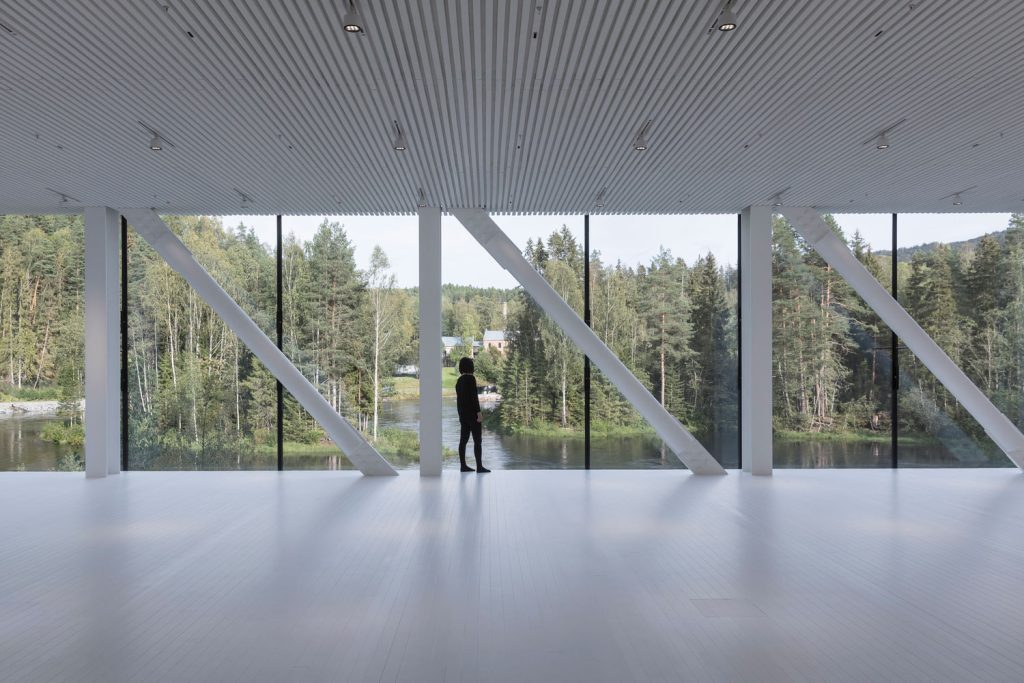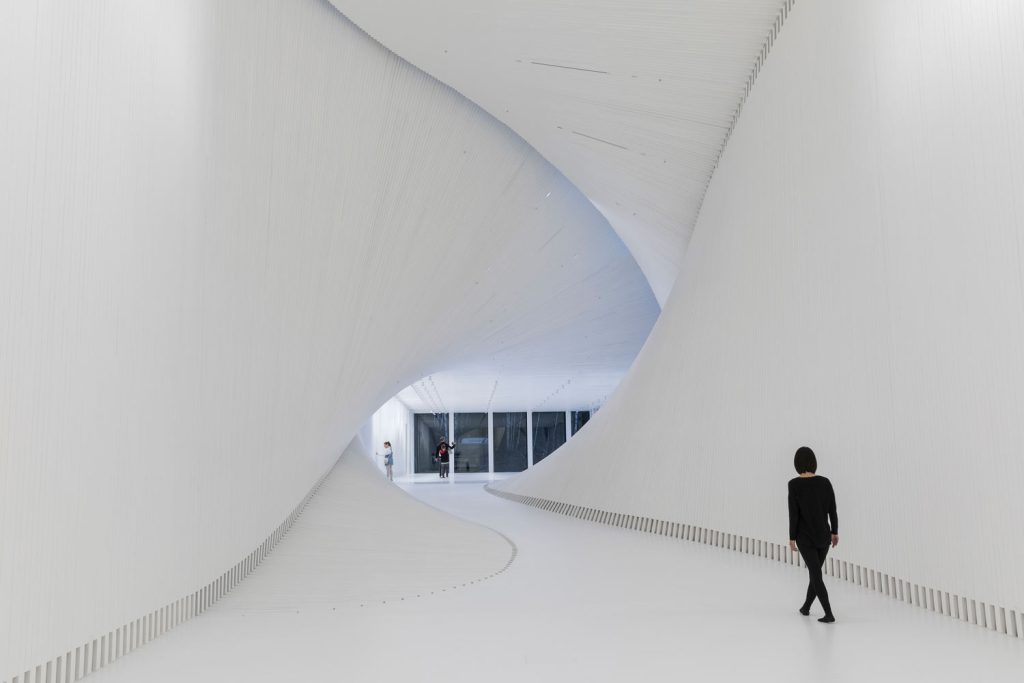 Visitors experience the gallery, which is twisted in both directions, feeling as if they are passing through a camera shutter. Visitors cross a 16m aluminum-clad steel bridge from the south entrance to get the double-height space with a clear view to the north end, similarly connected with a 9m pedestrian bridge.
Twist Museum structure's northern end, with a 25 cm wide skylight, has a glass wall that offers panoramic views of the pulp mill and river delicacies. Due to the curved form of the glass windows, the daylight entering the museum is diversified.
A large, naturally lit gallery with panoramic views on the north side; On the south side is a long, dark gallery with artificial lighting; and between the two is a sculptural space with a twisted roof light. The options for dividing and combining gallery spaces create opportunities for different artistic activities.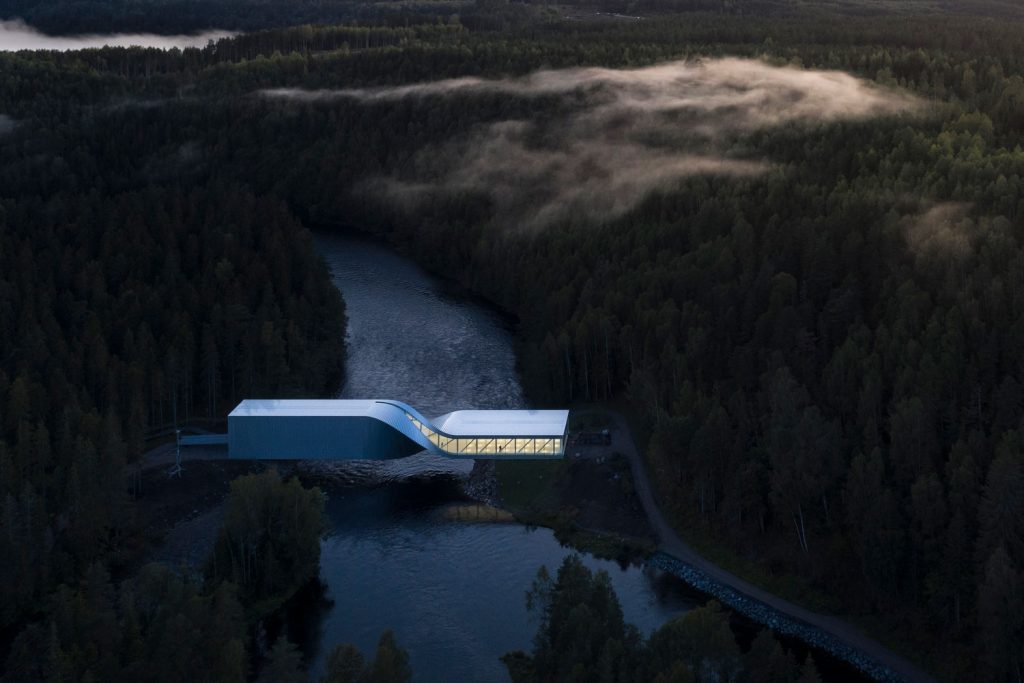 Project Info
Architects: Bjarke Ingels Group
Area: 1000 sqm
Year: 2019
Manufacturers: Aloxide by Coil, din Sicherheitstechnik
Structural Engineering: AKT II
Partners In Charge: Bjarke Ingels, David Zahle
Project Leader: Eva Seo-Andersen
Project Architect: Mikkel Marcker Stubgaard
Project Team: Aime Desert, Alberto Menegazzo, Aleksandra Domian, Aleksandra Sobczyk, Alessandro Zanini, Alina Tamosiunaite, Andre Zanolla, Balaj Alin Ilulian, Bjarke Ingels, Brage Mæhle Hult, Brian Yang, Carlos Ramos Tenorio, Carlos Surrinach, Casey Tucker, Cat Huang, Channam Lei, Christian Dahl, Christian Eugenius Kuczynski, Claus Rytter Bruun de Neergaard, Dag Præstegaard, David Tao, Edda Steingrimsdottir, Espen Vik, Finn Nørkjær, Frederik Lyng, Jakob Lange, Joanna M. Lesna, Kamilla Heskje, Katrine Juul, Kekoa Charlot, Kei Atsumi, Kristoffer Negendahl, Lasse Lyhne-Hansen, Lone Fenger Albrechtsen, Mads Mathias Pedersen, Mael Barbe, Marcelina Kolasinska, Martino Hutz, Matteo Dragone, Naysan John Foroudi, Nick Huizenga, Nobert Nadudvari, Ovidiu Munteanu, Rasmus Rosenblad, Richard Mui, Rihards Dzelme, Roberto Fabbri, Ryohei Koike, Sofia Rokmaniko, Sunwoong Choi, Tiina Liisa Juuti, Tomas Ramstrand, Tore Banke, Tyrone Cobcroft, Xin Chen
Facade: Baumetall Design
Photographs: Laurian Ghinitoiu