MVRDV Designed A Leisure Complex With Golden Facades and Imprints of Surrounding Structures in Seoul, South Korea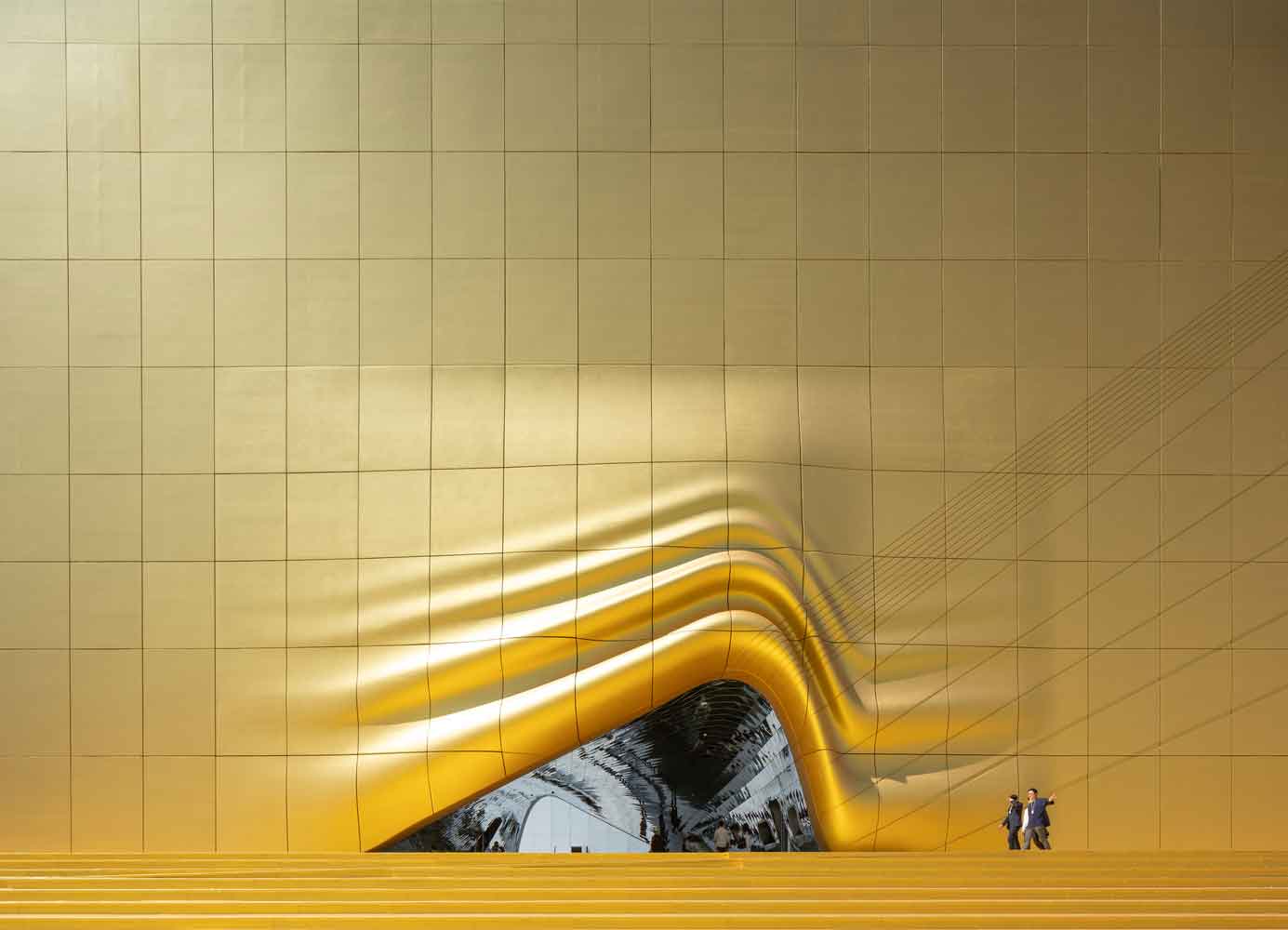 MVRDV's The Imprint, a dual structured entertainment facility, sits as the centrepiece of a new tourist hub in Incheon near Seoul, South Korea. The sibling buildings, the Wonderbox and Nightclub, share an architectural language; both becoming an echo of their family, the immediate surrounding buildings. A golden spot floating over the building and the plaza in front boldly marks the Nightclub entrance; a blast of light before the contrasting dark interior.
The concrete monolithic forms have no visible windows to the outside world, concealing an introverted shopping centre and nightclub; segments of façade rotate open in their place. The question of how to design an interesting façade whilst only offering glimpses into the building was solved by echoing the surroundings and then manipulate them further. Whilst maintaining their mystery, these structures connect to the urban plan, lifting up at points like a draping curtain, opening up to visitors. As a result, the massive concrete forms distort, suddenly taking on a more fluid aesthetic and becoming softly creased.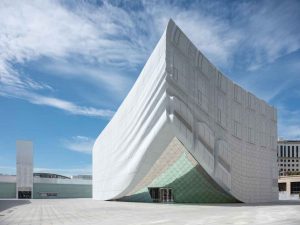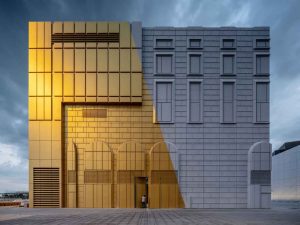 The 3,600m2 Wonderbox, a theme park and entertainment complex, whilst the Nightclub of 6,200m2 sits adjacent to it, maintaining its rectilinear position, and hosts not only a nightclub but also a water club and sky-garden on the upper floor. Partygoers are led into the structure up a golden tribune, with an integrated ramp, from the drop-off area and through the centre of the sunspot where the gold wall is lifted, creating an opening through which to enter. The Imprint the spectacle that entertainment architecture calls for, yet at the same time balances it with a certain calm simplicity.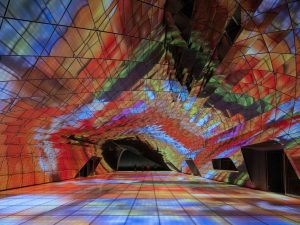 The urban platform of The Imprint is raised, sitting above service spaces and an underground carpark. Glass flooring in both the Nightclub and Wonderbox reveal the inner-workings of the site, the exits and entries of a site which is in a constant state of transition.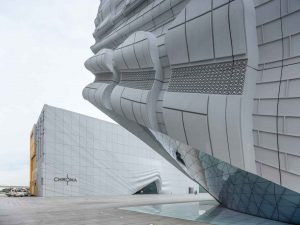 At just a 10 minute walk from Incheon airport, the new complex comprises of four main zones; a hotel with a casino and convention facilities; the Plaza, with a boutique hotel, food-court, and galleries; a spa; and the Entertainment Square, with theme park and a nightclub. The complex, which completed in 2018 is purposed for tourists who visit the city and will have a direct monorail link to the airport. The project has already attracted big names in Korea's social scene, with actor Kim Soo-hyun, now named as an ambassador for the The Imprint development.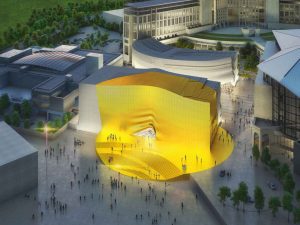 Architects :  MVRDV
Location : Incheon, Seoul, South Korea
Principal-in-charge : Winy Maas, Jacob van Rijs
Partner : Wenchian Shi
Design Team : María López Calleja with Daehee Suk, Xiaoting Chen, Kyosuk Lee, Guang Ruey Tan, Stavros Gargaretas, Mafalda Rangel, Dong Min Lee
Area : 9800.0 m2
Project Year : 2018
> Via MVRDV