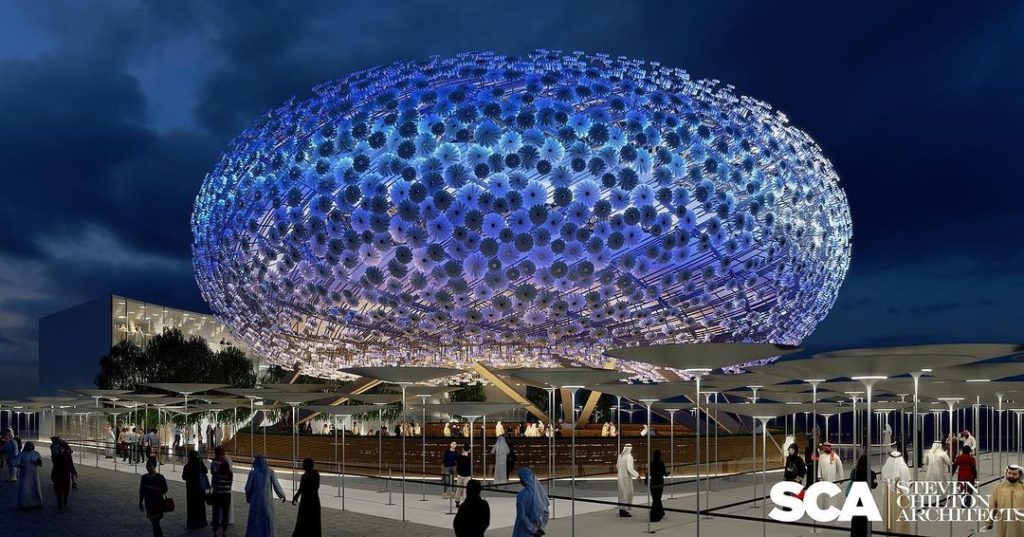 SATELLITES, by Steven Chilton Architects for Dubai Expo UK Pavilion, has a concept that aims to articulate and celebrate the distinctive contribution to this momentous occasion of Britain showcasing how imagination, innovation, and collaboration can change and enhance people's lives all around the world. SCA's initial focus for the Expo was to investigate the concept of orbit. They began with a globe but were unable to expand to a sufficient enough volume due to height restrictions on the site. Instead, they looked at a torus, which was intriguing because its surface can be represented by a satellite orbiting the Earth for a year. It gave them a head start to create a narrative and in a simple, geometric form the structure was engineered and fabricated efficiently.
Britain has always been at the forefront of technological development and advancements in the science field. Britain's brightest minds foretold it long before satellite technology became a reality. Scientific interest in space travel existed in the United Kingdom before World War II. Britain continues to mold the future and create a better society by combining satellite and Artificial Intelligence advancements. It was expected that 6000 satellites will be operational and orbiting the Earth by 2020.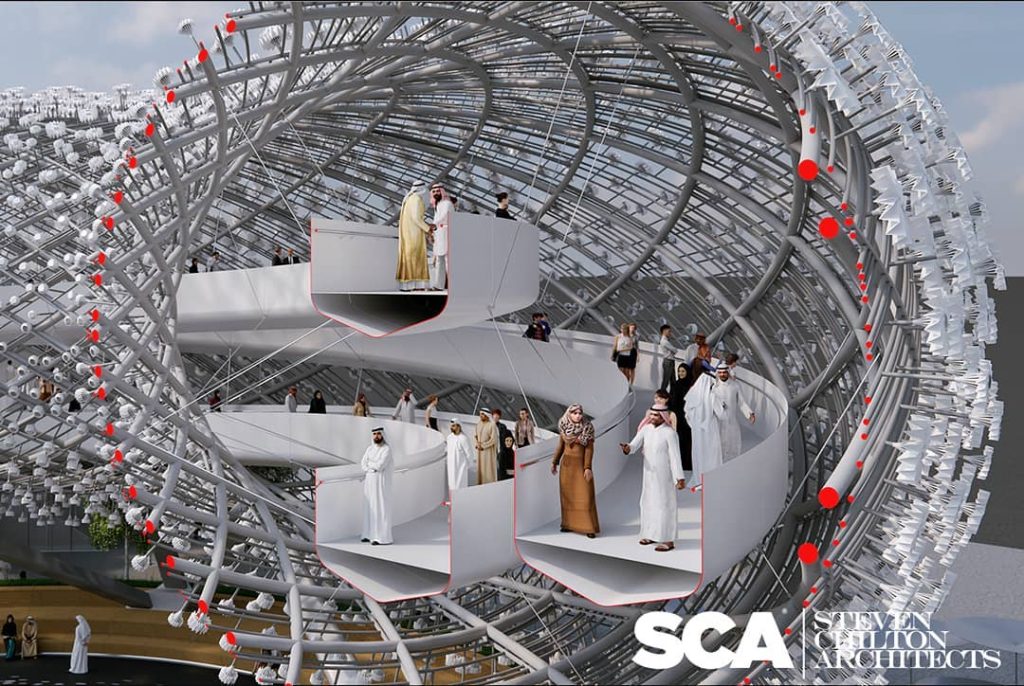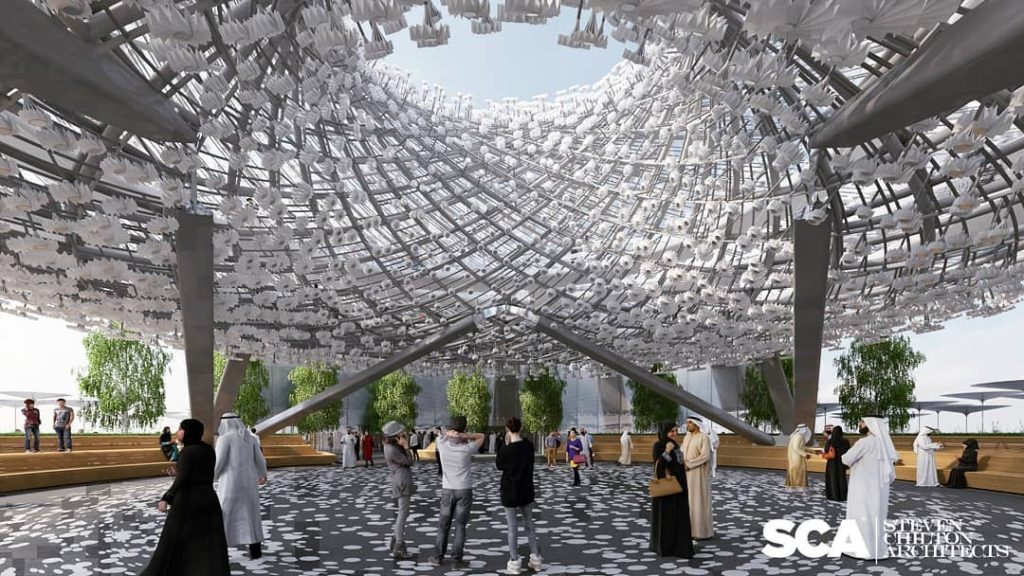 In three distinct but interconnected portions, the tale of Britain and its scientific interest in satellites and other space endeavors revealed itself for visitors to the SATELLITES exhibit. Visitors as they enter will discover how the satellite and AI sectors are opening up new doors for us to a modern and scientifically advanced world in the future, beginning with the UK's Visions of a Connected Future, rising to a crescendo in Ascent to Orbit, and culminating in an exploration of our Intelligent Future. The visitors enter the SATELLITES pavilion and rise into orbit on a fascinating, immersive, and interactive trip inspired by the satellite's life cycle. The physical metamorphosis of the pavilion surface via user-induced inputs affecting movement, music, and light expresses themes such as conception, construction, and launch.
Its surface is covered with 6000 dynamic SATELLITES umbrellas, each of which represents a real satellite in orbit over the world throughout the Expo year. A new folding pattern utilized in the space industry to construct satellite-related deployable structures inspired the SATELLITE Umbrellas. The structure looks modern and high-end due to its innovative façade design. Each SATELLITES umbrella is individually controlled in real-time by AI through haptic sensors that recreate the sense of touch by creating a combination of force, vibration, and motion sensations for the visitors arranged along the orbiting ramp inside the pavilion. SATELLITES promises each visitor a unique, engaging, and dynamic experience, ensuring the UK's status as the creative center of the Universe.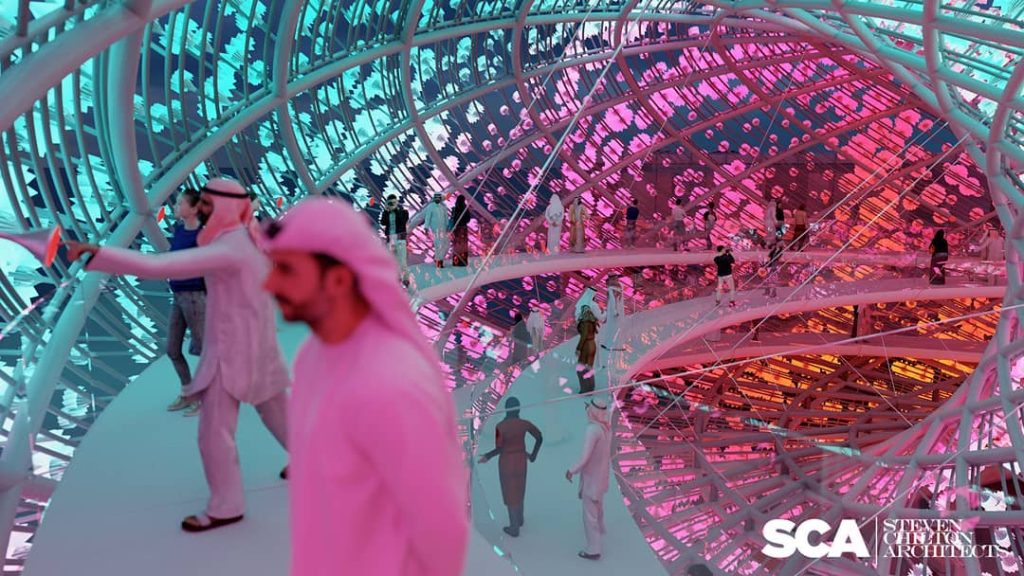 Project Info
Project Title: 'SATELLITES' UK Pavilion Expo 2020
Architect: Steven Chilton Architects
Client: Department of International Trade
Cost: £17m
Status: Competition Runner-Up
Location: Dubai