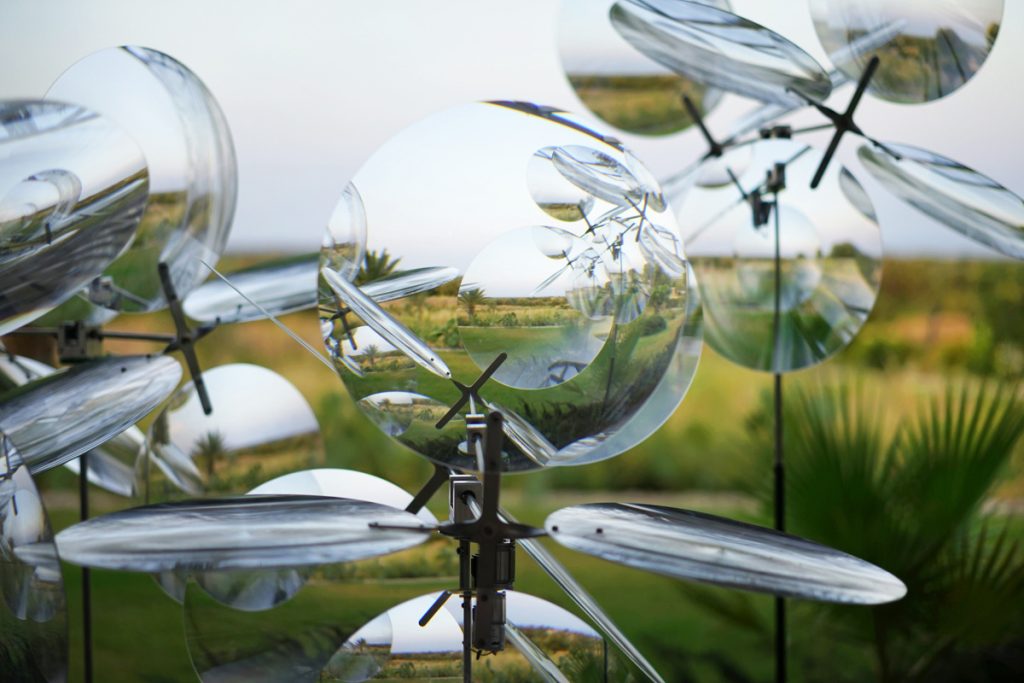 Kinetic sculptures are usually large, interactive, and can move. These kinds of artworks can be found in public areas and gardens all around the world. You may have seen some of them without even realizing it!
Here is a list of kinetic installations build in 2022!
Sustainable Locks by Breakfast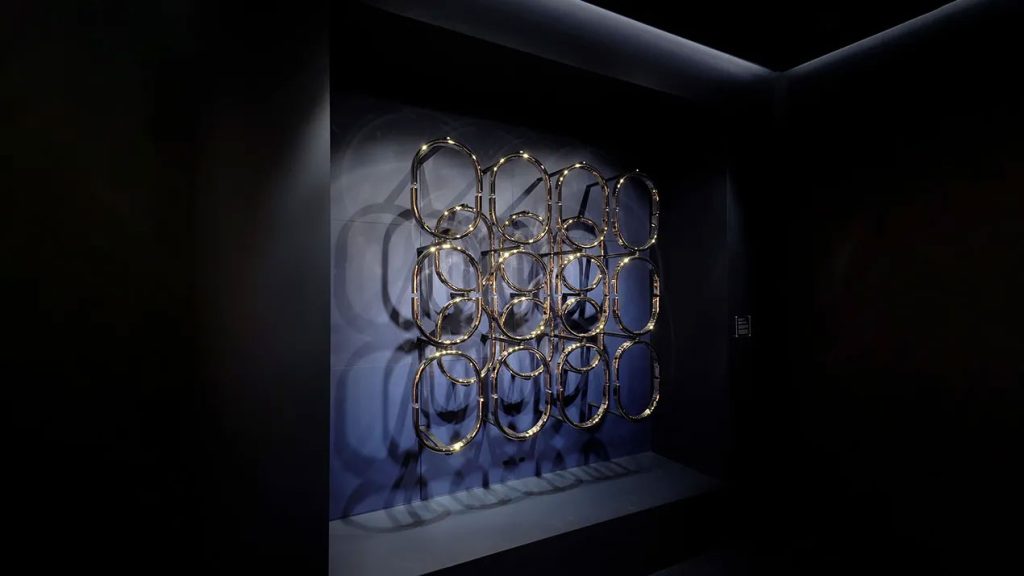 "Sustainable Locks" is a kinetic art sculpture created by BREAKFAST and Tiffany for their Manhattan flagship location. The installation was inspired by Tiffany Lock Bracelet. This kinetic artwork visualizes the real-time use of the term "sustainable" across social media, with the sculpture's movements being driven by the current rate at which the term is being used.
Ghost Halo by Vincent Leroy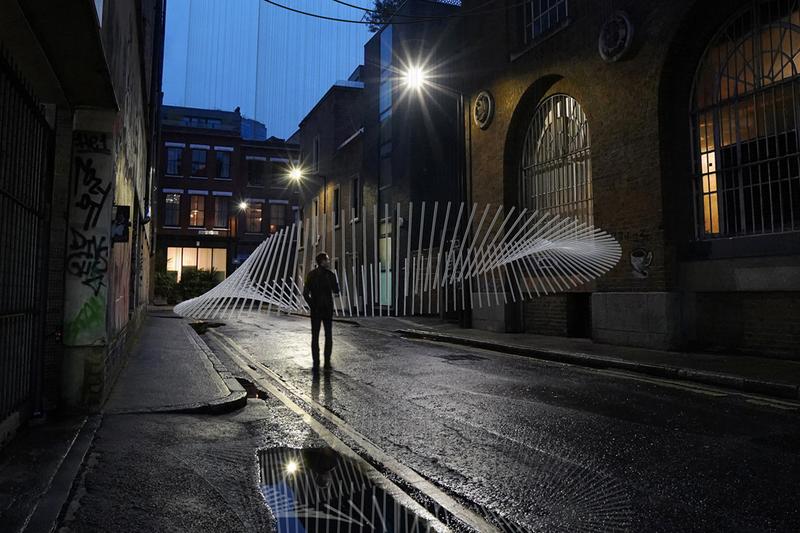 Vincent Leroy's kinetic installation, 'Ghost Halo', takes the form of a suspended glowing ring that lights up the streets of London's Shoreditch arts district. This dynamic ring, made of 120 twisted acrylic tubes suspended on a rotating structure, slowly undulates and deforms dramatically under the gaze of passers-by.
ESPEJO by John Grade Studio
Designed by John Grade Studio, ESPEJO inspired by a Great Basin bristlecone pine growing at high altitude in the United States and a ceiba tree growing near Guatemala's capital, is integrated into the interior of the new US embassy in Guatemala designed by Miller Hull architects.
A:Live by LASVIT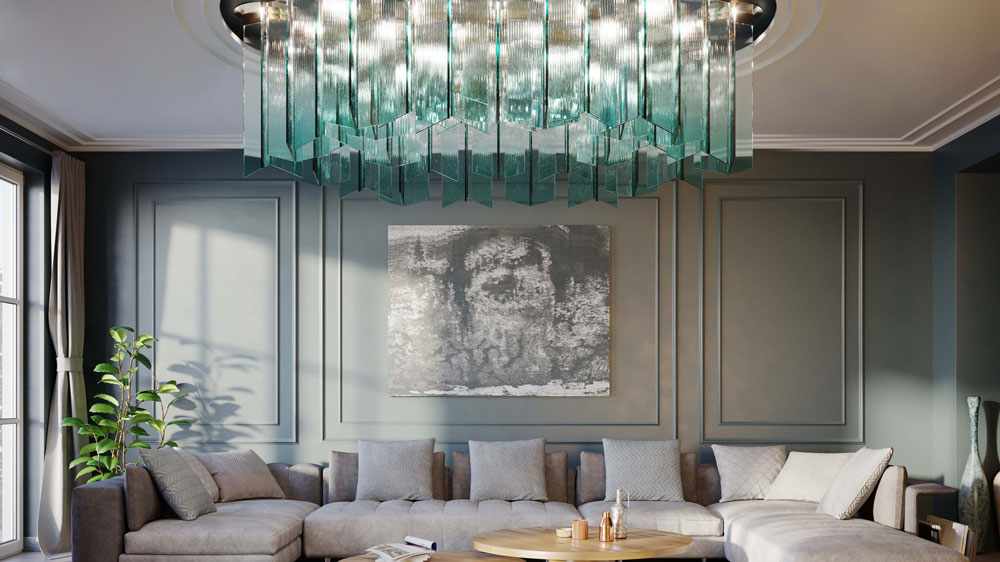 A:Live is a glass kinetic sculpture by Serbian LASVIT in-house designer Stefan Mihailović, which is designed to reference the "constant motion of life." Stefan Mihailovič said, "Life is never stagnant. On the contrary, it is in constant flux. Just as we are constantly moving and changing, so too does the A:Live installation. With a set of simple movements, it creates complex and seemingly living compositions." The concept envisages fused glass containing different textures and surface treatments (e.g., color gradients, gold paint, iridescent coating, etc.).
Filament by Reuben Margolin
The filament is approximately five feet in diameter and combines three waveforms. Two waves move in and out radially, while the third moves up and down. The top mechanism is powered by a single small electric motor that moves the mechanism via levers and a complex string pattern. One of the difficulties was that the lower aluminum elements had to squeeze together when they were close together and then spread apart when they were far apart. Reuben experimented with a few different designs before settling on spheres made of two aluminum rings that nestle together.
Entanglement by Alyson Shotz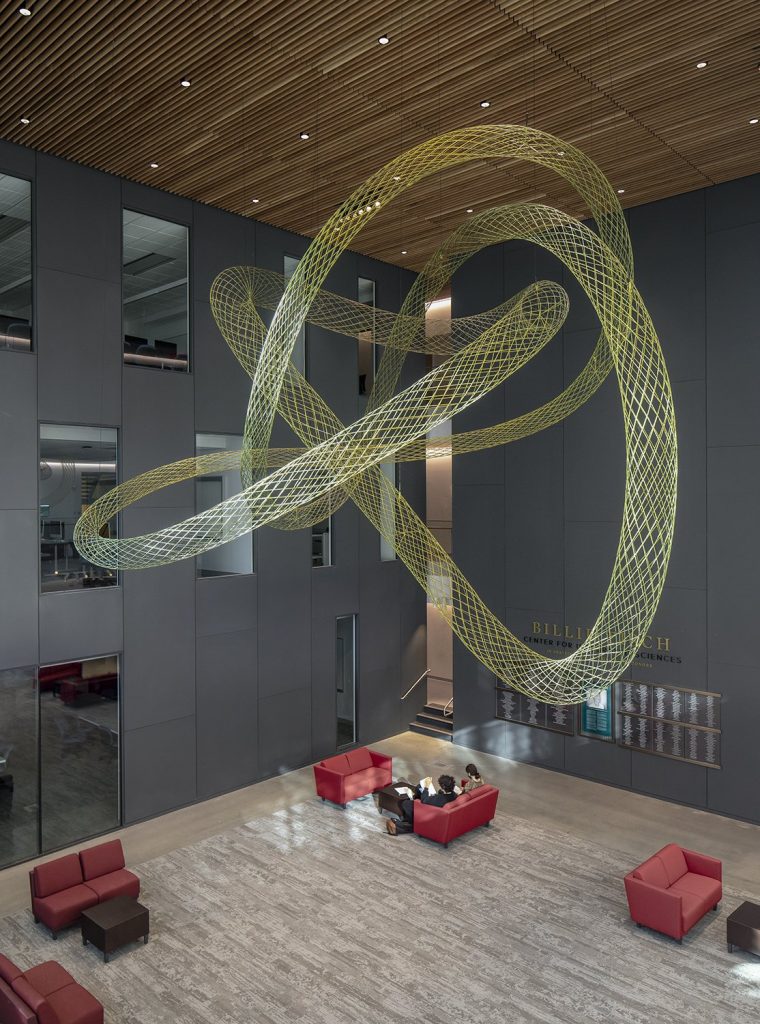 Entanglement is a massive site-specific sculpture by Alyson Shotz in the new Billie Tisch Center for Integrated Sciences. The 750-pound sculpture twists and turns in midair like a giant open knot or a Mobius strip, leading the eye in an endless movement around its sinewy curves. Moving beneath the sculpture, the painted steel shimmers and the colors change from gold to green to blue.
Shiver House V2 by NEON
Shiver House is a kinetic "animal-like" structure that moves and adapts in response to natural forces around it. This cabin is an investigation into the idea that architecture can be used to create a stronger emotional connection between its inhabitants and the natural world. Furthermore, the project investigates the idea that architecture can be made to appear "alive," with the intention of fostering a deeper and longer-lasting emotional relationship between people and the structures we inhabit.
breathing chandeliers by Mischer'traxler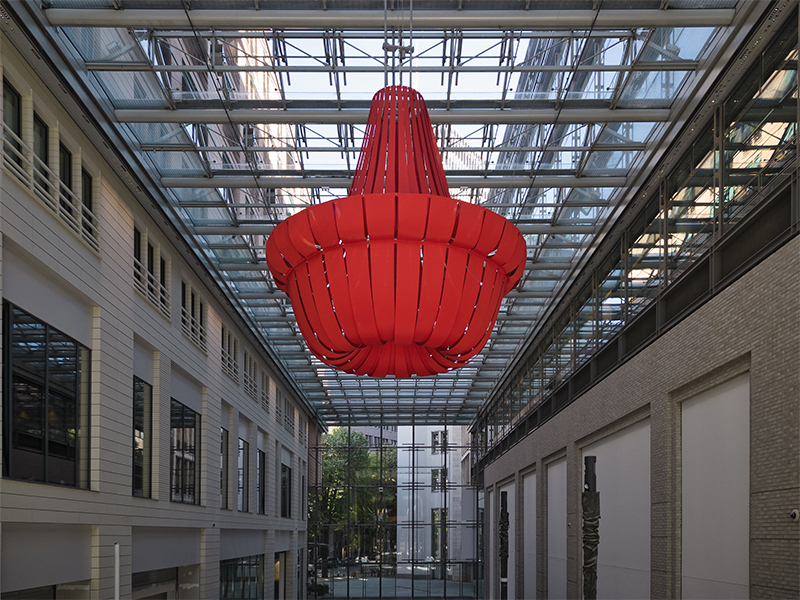 breathing chandeliers is a kinetic artwork inspired by the grandeur of 1920s ballrooms. Five grand kinetic chandeliers move slowly and continuously in the Potsdamer Platz Arcades. The colored bodies appear to breathe slowly, giving the space a lively rhythm and tempo and creating a dormant vitality.
The kinetic volumes' shapes are inspired by traditional chandeliers from the countries of origin of many current Berlin residents (Germany, Turkey, Poland, Syria, and Italy). The vibrant volumes are made of lightweight, airy material and range in size from 350 to 400 cm in diameter with lengths ranging from 430 to 550 cm, leaving an impression when entering the Arcades.
Lens Cloud by Vincent Leroy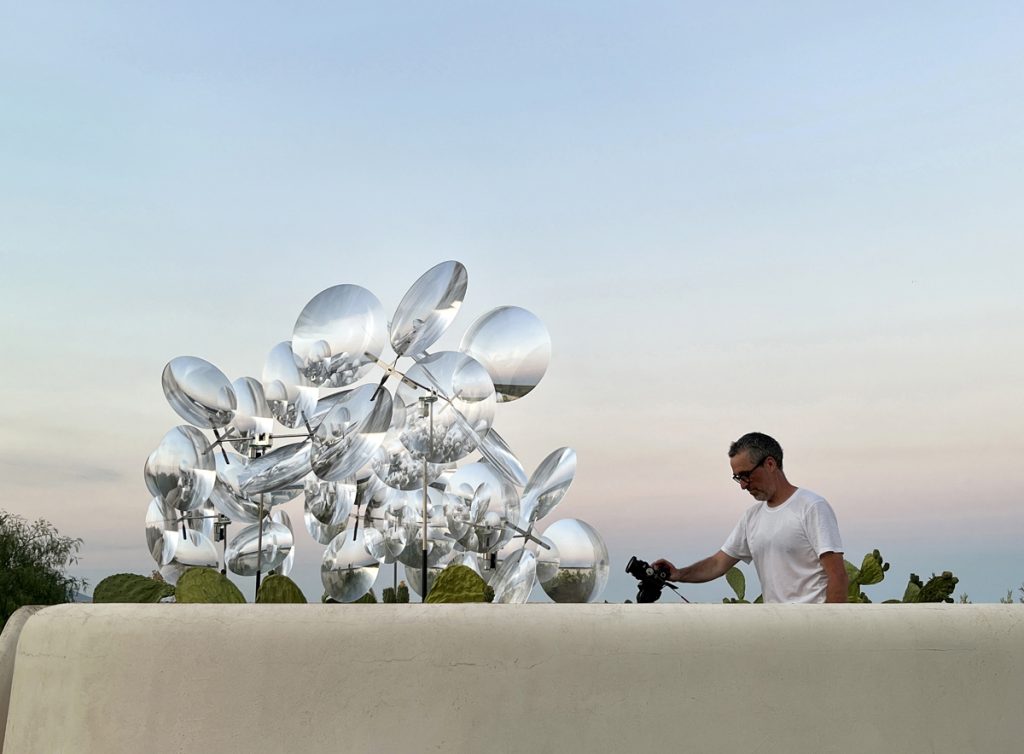 Lens cloud installation created by French artist Vincent Leroy using an electronic device lens. The work is made of optical lenses similar to projectors and electronic equipment. Light and the sky cross and overlap on these magnifying lenses, forming a series of changing and undulating transparent forms. The multiple images produced by the superposition blur the boundaries of the installation.
From certain angles, the mobile is placed between vegetation and cacti, almost at one with nature; while the transparent discs reflect natural light according to the changing hues of the Sicilian sky. From another perspective, the multiple forms generated through the magnifying glass can refract the surrounding scenery into a kaleidoscopic poetic scene.
Isla by John Grade Studio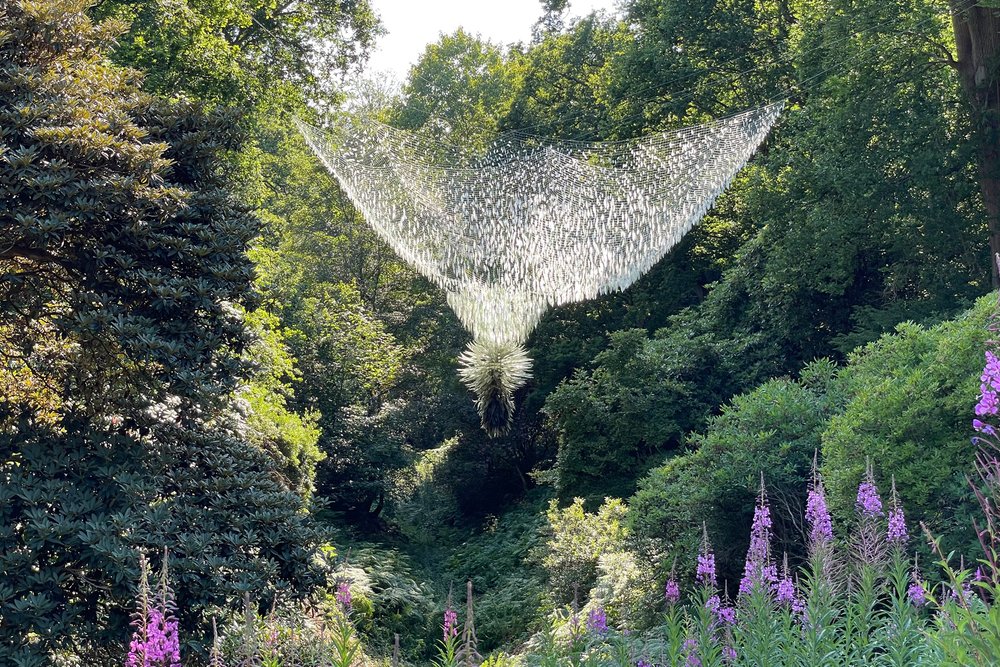 Isla is suspended across Westwood Valley in Wakehurst's Kew Gardens. The sculpture was inspired by Kew's research into the paramos, a high-altitude tundra ecosystem in the Colombian Andes. The sculpture divides in half when water is collected by channeling rain through its cast leaves into its lower base. As the water collected in reservoirs within the sculpture's lower half gradually evaporates, it gradually rises back into sync with the sculpture's upper half.
The sculpture measures 40 feet across and 25 feet tall. The 6000 cast resin parts of the sculpture range in size from 28″ long in its lower section to only 3″ long at its upper perimeter. The sculpture weighs 260 pounds without water and spans 100 feet between the trees on either side of the valley that supports it.