The urban design task of the Dalian International Conference Center is to create an instantly recognizable landmark at the terminal point of the future extension of the main city axis. As its focal point the building will be anchored in the mental landscape of the population and the international community.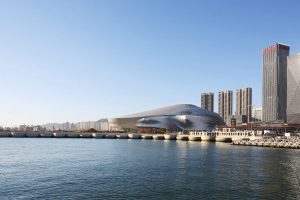 The footprint of the building on the site is therefore arranged in accordance with the orientation of the two major urban axis which merge in front of the building. The cantilevering conference spaces that penetrate the facades create a spatially multifaceted building volume and differentiate the close surroundings.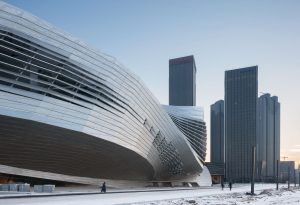 The various theaters and conference spaces are covered by a cone-shaped roof screen. Through controlled daylight input good spatial orientation for the visitors and atmospheric variety is assured.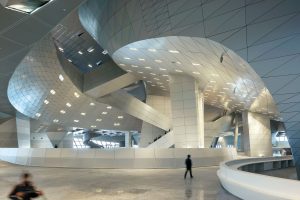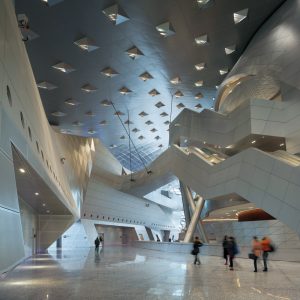 A public zone at ground level allows for differentiating accessibility for the different groups of users. The actual performance and conference spaces are situated at +15,30 m above the entrance hall. The grand theater, with a capacity of 1.600 seats and a stage tower, and the directly adjacent flexible conference hall of 2.500 seats, are positioned at the core of the building.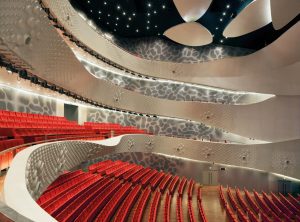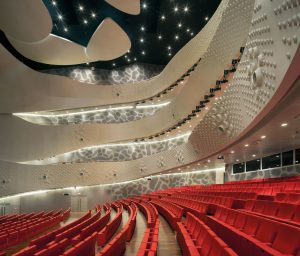 With this arrangement the main stage can be used for the classical theater auditorium as well as for the flexible multipurpose hall. The main auditorium is additionally equipped with backstage areas like in traditional theaters and opera houses. This scheme is appropriate to broaden the range of options for the use of this space: from convention, musical, theater even up to classical opera, with very little additional investment.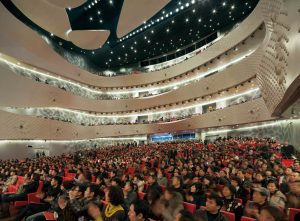 The smaller conference spaces are arranged like pearls around this core, providing very short connections between the different areas, thus saving time while changing between the different units. Most conference rooms and the circulation areas have direct daylight from above.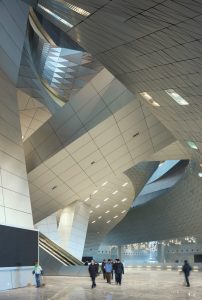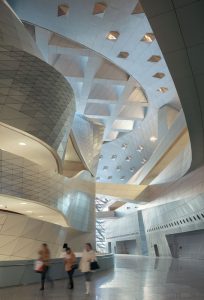 Through this open and fluid arrangement the theater and conference spaces on the main level establish a kind of urban structure with "squares" and "street spaces". These identifiable "addresses" facilitate user orientation within the building. Thus the informal meeting places, as well as chill-out and catering zones, and in between the halls, gardens with view connection to outside are provided as required for modern conference utilization.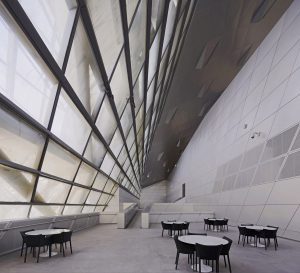 The access to the basement parking garage, truck delivery and waste disposal is located at the southwest side of the site, thus freeing the front driveway to the entrances from transit traffic. The main entrance from the sea side corresponds to the future developments, including the connection to the future cruise terminal.
Architects : COOP HIMMELB(L)AU
Location : Dalian, China
Design Principal : Wolf D. Prix
Project Partner : Paul Kath (until 2010), Wolfgang Reicht
Project Architect : Wolfgang Reicht
Design Architect : Alexander Ott
Design Team : Quirin Krumbholz, Eva Wolf, Victoria Coaloa
Project Team : Nico Boyer, Liisi Salumaa, Anja Sorger, Vanessa Castro Vélez, Lei Feng, Reinhard Hacker, Jan Brosch, Veronika Janovska, Manfred Yuen, Matthias Niemeyer, Matt Kirkham, Peter Rose, Markus Wings, Ariane Marx, Wendy Fok, Reinhard Platzl, Debora Creel, Hui-Cheng, Jessie Chen, Simon Diesendruck, Yue Chen, Thomas Hindelang, Pola Dietrich, Moritz Keitel, Ian Robertson, Keigo Fukugaki, Gaspar Gonzalez Melero, Giacomo Tinari, Alice Gong
Model Building : Nam La-Chi, Paul Hoszowski, Taylor Clayton, Matthias Bornhofer, Katsyua Arai, Zhu Juankang, Lukas Allner, Phillip Reiner, Moritz Heinrath, Olivia Wimmer, Silja Wiener, Katrin Ertle, Maria Zagallo, Logan Yuen, André Nakonz, Arihan Senocak, Rashmi Jois, Sachin Thorat, Marc Werner
Area : 117650.0 m2
Project Year : 2012
Photographs : Duccio Malagamba and Shu He
Manufacturers : Hunter Douglas US
> Via Coop Himmelb(l)au