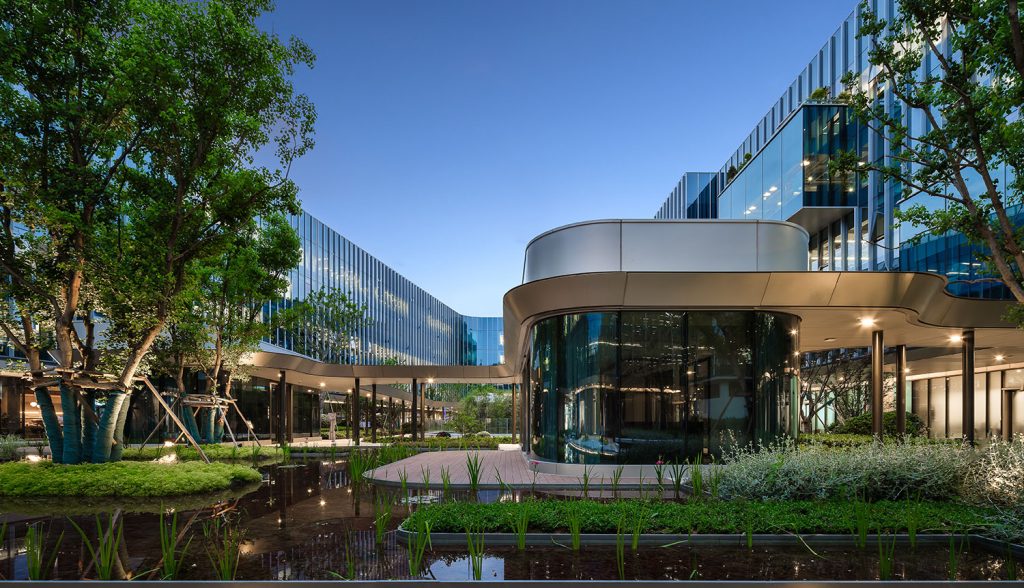 Cainiao Headquarters, located in Yuhang District of Hangzhou, comprises of a five-story office building with an abundance of communal areas. Aedas Global Design Principal Cary Lau and Executive Director Henry Chau have transformed the Hangzhou headquarters of Cainiao into a collaborative centre.
The headquarters of the industry-leading global logistics services provider is located west of Future Technology City Yuhang. It is well-connected to the city via highways and metro lines, as well as natural attractions and a green corridor, allowing for easy access and a beautiful view of the surrounding area.
Layout design with dense connectivity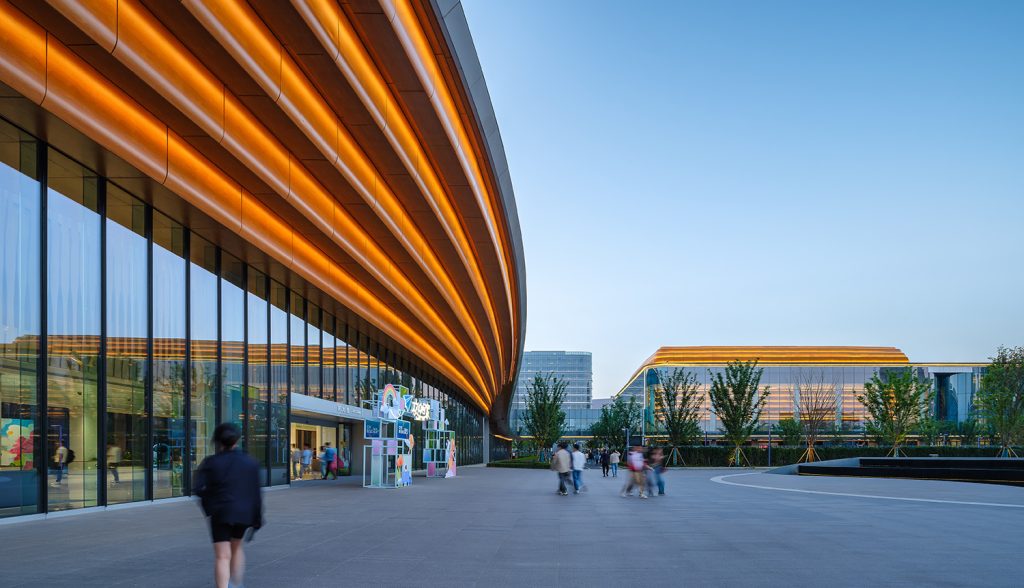 "Inspired by space station, the planning emphasises 'circulation' and 'connectivity' to reflect Cainiao's corporate identity and belief." Aedas Global Design Principal Cary Lau describes. At the entrance, a visitor centre facilitates access for employees and visitors. The main structure is adjacent to the centre, with diagonal connections inside to improve accessibility and shorten the distance between each other. By optimizing the cores and elevations it creates four distinct internal courtyards that are connected by an atrium. A covered walkway connects all courtyards and provides all-weather access to all areas beginning at the entrance. The design generates a porous structure, which improves airflow and permits natural ventilation to pass through.
Architectural design that reflects the identity of Cainiao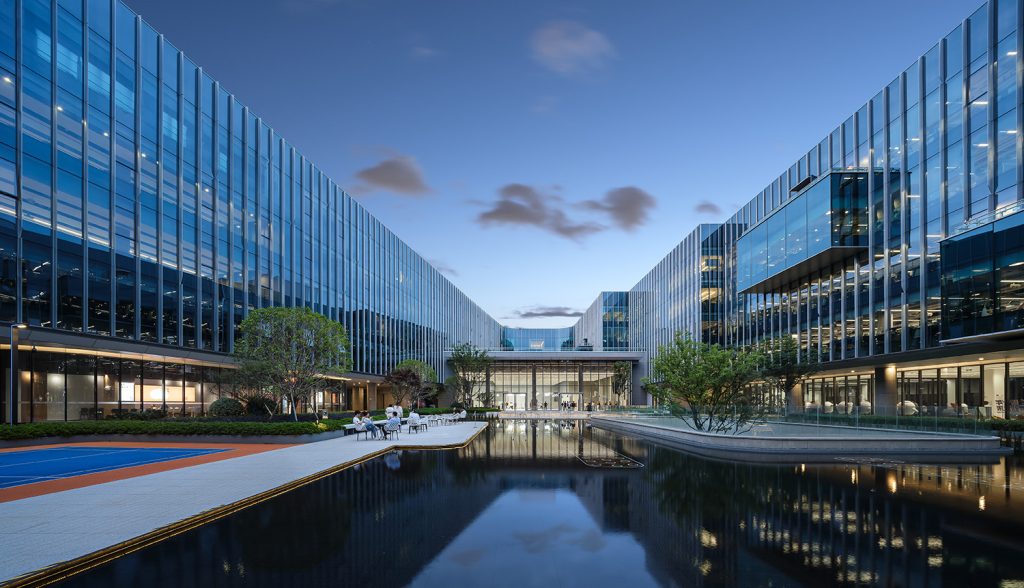 The entrance resembles the shape of a bird's beak in order to create a modern layered canopy. It mimics the design of a visitor centre, employing insulated low-E glass panels to bring natural light into interiors and reduce heat gain to create a work-recreation environment centred on people. The overall facade design is inspired by the company logo, which is articulated to form a 'nest' that encompasses the entire headquarters. The pattern's repetition integrates the logo and nest and ensures the interiors' visibility and privacy. It also represents the seamless relationship between Cainiao, its collaborators, and its robust global network.
Flexible interior office conditions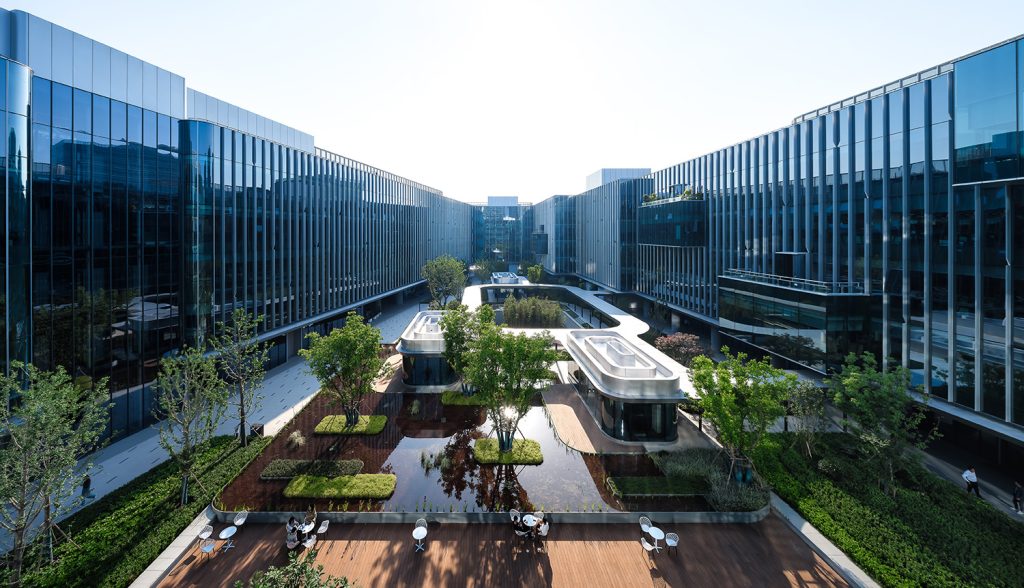 Cantilevered meeting rooms Aedas Executive Director Henry Chau says, "The spaces are linked through the diagonal connection, offering a flexible and open working environment for the workers." With full-height glass, workers can appreciate sunlight and landscape view during working time. Multiple meeting rooms are designed and allotted throughout the building to accommodate various requirements. Creating cantilevered meeting spaces to inject vitality into the headquarters and provide an unobstructed view of the courtyard. To further enhance communication and stimulate collaboration, sufficient pantry and break-out space is distributed uniformly.
Open public courtyards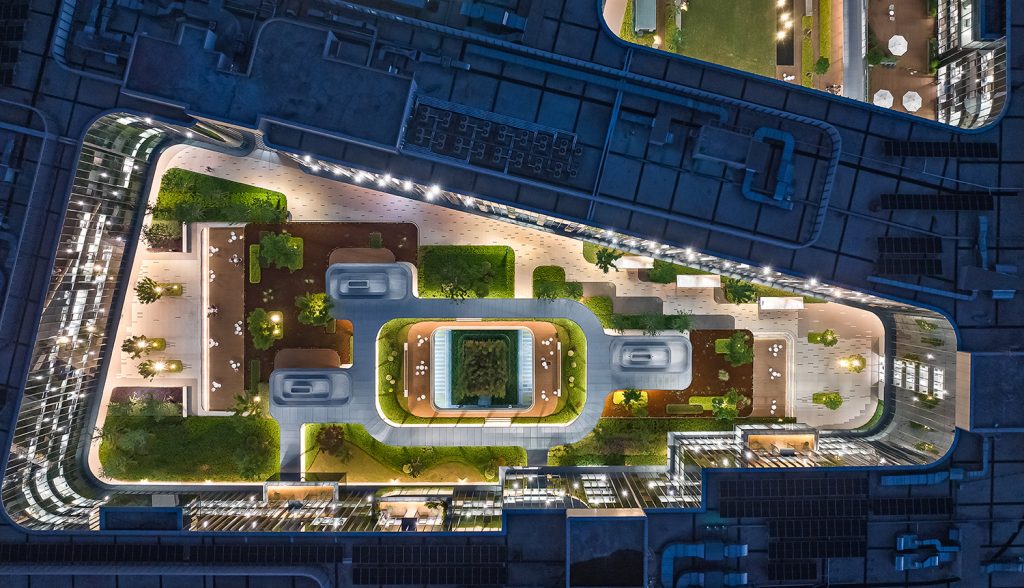 Four courtyards with distinct functions provide open communal areas for company activities, food and beverage, recreation, and wellness.
The east courtyard is connected to the main entrance and features a multi-purpose hall for hosting large-scale events, such as the renowned 11th November festival. The south courtyard has a view of the lake and recreational amenities.
As a location to dine and socialize, the West Courtyard features numerous F&B outlets and outdoor seating with a terrace. Ample vegetation is included to create a restful area for employees. The north courtyard features a tranquil garden that connects to nature.
Collaboration courtyard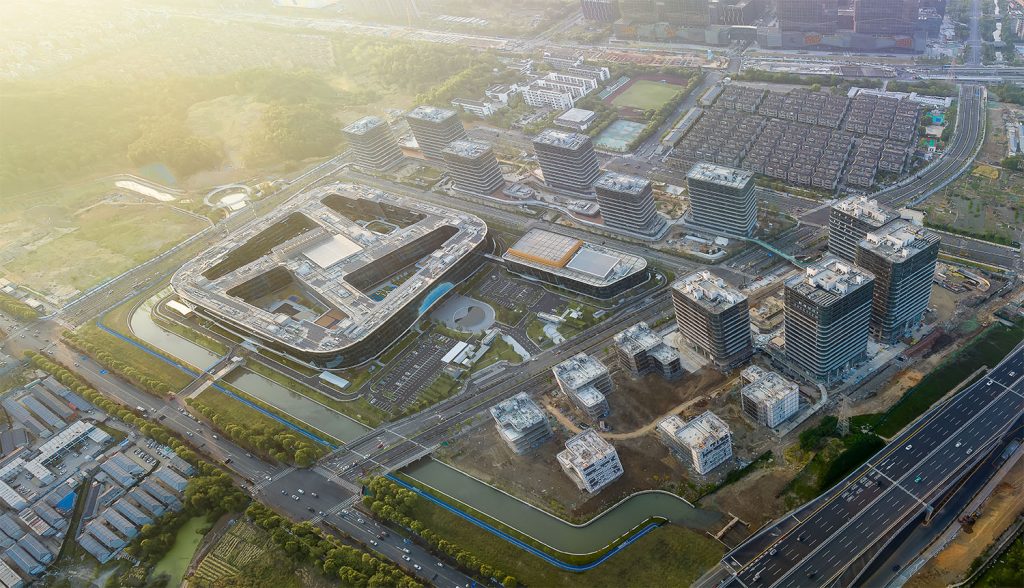 The four courtyards are connected by a central atrium that functions as the headquarters' communal hub. Staircases and elevators are designed to facilitate connectivity and direct employees to the atrium. It is a place-making venue for amusement and collaboration, as well as a cradle for incubating creativity, because it is filled with natural light and light-colored finishes.
Cary states, "The headquarters project will result in a well-connected, powerful, and elegant structure that will provide workers with a comprehensive working environment." It paves the way for the company to enter a new age.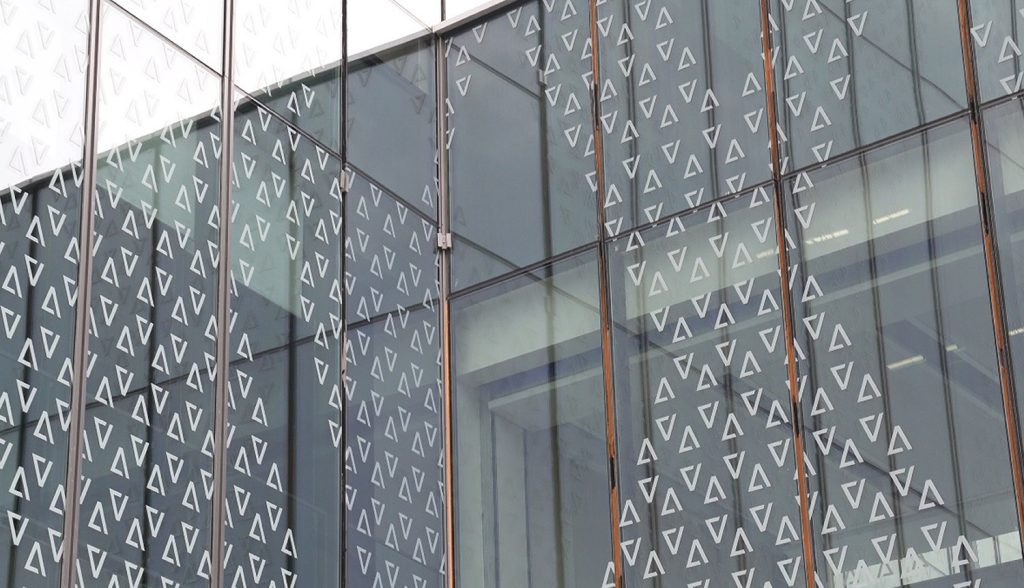 Project Info
Project: Hangzhou Yuhang Cainiao Headquarters & Industry Park
Location: Hangzhou, China
Client: Cainiao Smart Logistics Network Limited
Design and Project Architect: Aedas
Gross Floor Area: 164,286 sqm
Design Directors: Cary Lau, Global Design Principal; Henry Chau, Executive Director
Completion Year: 2023
Photography: Terrence Zhang